In celebration of Scotland's Climate Week, this post is part of our Make It Green series, for the Green Crafts Initiative that champions and promotes environmentally sustainable craft practices. In this series by Craft Scotland and Creative Carbon Scotland, you will hear inspiring maker's stories as well as useful advice on how you can contribute to a greener craft sector.
We're pleased to feature makers on our Craft Directory who are working towards a more sustainable practice. In this interview, you will hear from a maker who is part of the Green Crafts Initiative (GCI), a project we partnered with Creative Carbon Scotland to promote and celebrate craft makers with environmentally sustainable practices.
---
I am a designer and maker working in wood. More specifically, I started as a designer and have BSc Industrial Design from Napier University Edinburgh. There was a focus on materials, industrial manufacturing techniques and design methodologies. Research, critical thinking and innovation were key.
After quite a few years working as an industrial designer, designing mass manufactured plastic products (for high street brands such as MotherCare and Boots), I gradually became disillusioned designing for the mass market, and wanted to create more of my own work.
In addition, the products were thought of as disposable and although we were less aware about the problems of plastic, I felt uneasy. Did we need all this stuff? I felt I needed a change of direction.
Moving from mass to batch manufacturing was my intention, and with the low start-up costs involved, wood seemed to be the answer …
I completed a one-year course in Practical Furniture Making at Rycotewood College in Thame, England (now part of Oxford Brookes University), and in the process fell in love with the craft. I always liked making things with my hands and loved getting to know a new set of craft skills.
"Wood also has a mind of its own. It can be considered alive as it continues to expand, contract, move and change in what at first seems rather unpredictable."
Working in wood is intensely physical whether you are using hand tools or larger machines - you feel very close to the material, but wood also has a mind of its own. It can be considered alive as it continues to expand, contract, move and change in what at first seems rather unpredictable. So, a perfectly fitting drawer no longer fits once the object has been moved from a damp workshop to glamorous gallery.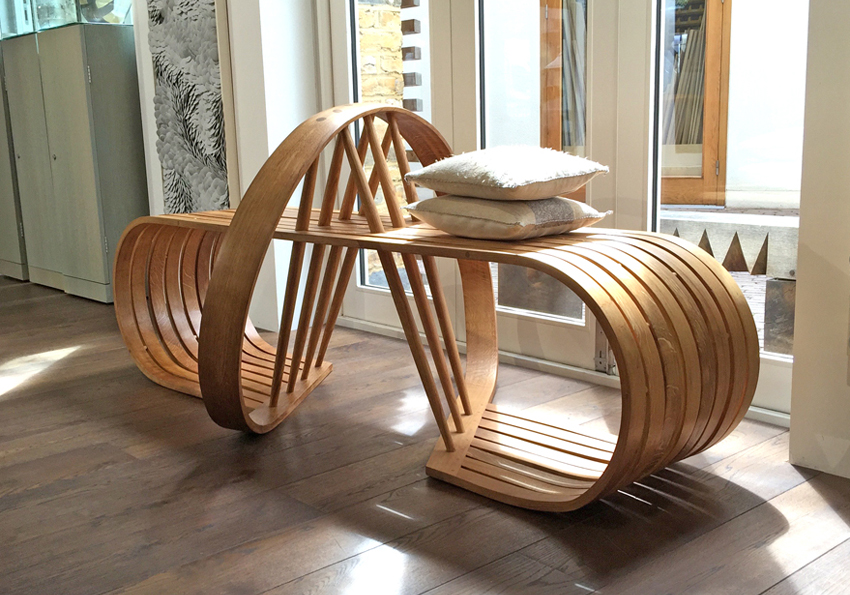 Image: Angus Ross - Forth Bench / Photography by Contemporary Applied Arts​
Learning the craft skills of woodwork goes in tandem with understanding the properties of wood. As wood is so ubiquitous across the globe there are thousands of years-worth of thinking and making to draw upon. So, I set up a shared workshop in the Chiltern hills, designing and making to commission. At this stage, I bought hard woods as required from timber mills and wood yards.
My attitude towards wood and my practice changed direction after I moved to Aberfeldy in Highland Perthshire in 2002. It is one of the most wooded areas in Scotland and we were surrounded by the usual soft wood plantations but also areas of newly planted mixed hard woods and celebrated ancient trees like the Fortingall Yew and Birnum Oak.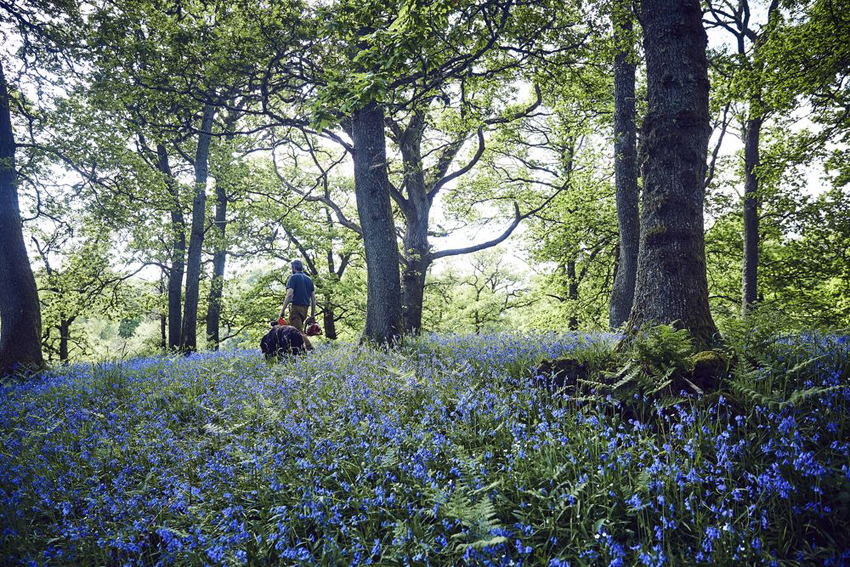 Image: Angus Ross in 50-acre bluebell wood / Photography by Nato Welton
I received a very special invitation to join what was to become a collective to buy a beautiful 50-acre bluebell wood on the banks of the River Tay a few miles downstream from my house and workshop (and sometimes I canoe there). The collective included two foresters with special interest in native woodland and a saw-miller.
The wood is an intensely peaceful place with steep slopes and undulations which has created a few micro-habitats. It was unsuitable for farming but good for planting oak trees which had been coppiced for the tannin (used to tan leather) for a few hundred years but stopped when chemical tanning became ubiquitous. Amazingly for us this pocket of neglected oak, self-seeded beech, a damp alder wood and a few small batches of open grazing had escaped development and we set about slowly and lightly influencing the woodland.

"This is not prime cultivated oak but free grown, skinny, crooked, gnarled and bent, full of knots, pips and stains."
We protect self-regeneration of native trees, attempt to control invasive species, encourage others into the wood by creating paths which has led to walkers with dogs that reduce the numbers of deer that were suppressing natural regeneration. We also thin out some of the over-crowded oak trees each year. It has been very interesting to learn about felling and milling but the timber generated is very different to anything I had previously used for furniture making. This is not prime cultivated oak but free grown, skinny, crooked, gnarled and bent, full of knots, pips and stains.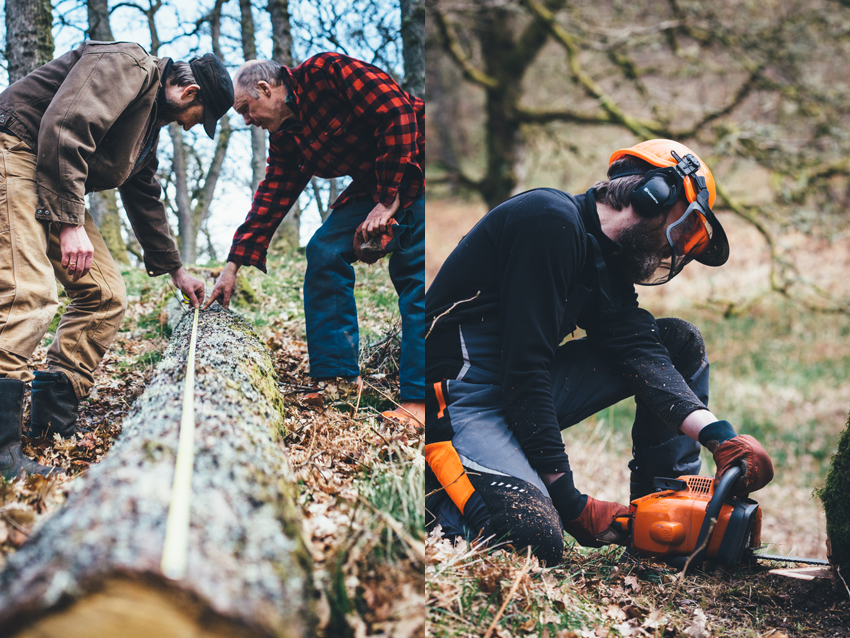 Image: Angus Ross / Photography by Ciara Menzies​
It was not obvious how to use it but once I started experimenting with steam-bending it all started to fall into place. I love dynamic structure, and the curved flowing forms that result from steam-bending helps me to achieve this. I have gradually learnt to embrace and celebrate the timber from our bluebell wood and it has become part of a wonderful positive loop, where clients love the provenance, which creates demand, which provides some income to help manage the wood, which provides more timber and so on.
My practice naturally became more sustainable - we were sourcing timber from within a few miles, steam-bending needs green (undried) wood therefore no requirement for kiln drying, the woodland is improved by management that generates timber, we are working in a rural community, encouraging visitors into the area, supporting other rural businesses, and employing local people.
"People are tactile beings, and the interaction with one's furniture should be an enriching experience."
Our "unstable stools" are produced in small batches from oak from our woodland. The size of the trees that we fell are usually quite small but knowing that I only need lengths of timber for the leg loops of 1.5m, allows us to use smaller sections, or parts of kinky logs, which would normally go for firewood. These sections are then partially air dried, before being steambent into shape. The steam bending process helps to season the oak, without the requirement for expensive kiln drying. The seats are stack laminated out of smaller sections, and the stretchers turned. The stools are constructed using traditional pegged and wedged tenons, then finished with natural oils.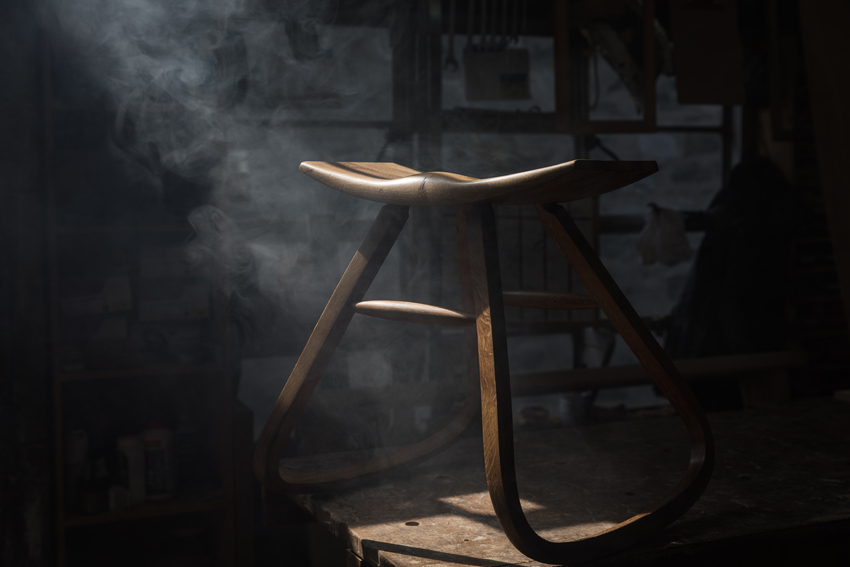 Image: Angus Ross - Unstable stool / Photography by Corin Smith​
Forth Bench - produced for Craft Scotland's showcase at Collect 2019 at the Saatchi Gallery, London. Unlike commissioned work where the design is fully resolved on paper, the Forth Bench is taken from a concept sketch and then created "on the bench" almost like sketching with wood. The steambent components are gathered together, and the piece resolved as it develops. All the oak comes for our own woodland and is finished with natural oils.
The journey is a key part of being a craft maker, the choices one makes, and the opportunities one encounters. It is a continuing story and one must keep oneself open, with time and a desire to think.
People are tactile beings, and the interaction with one's furniture should be an enriching experience. Sustainable and local craft making is key part of that experience.

For more information on Angus Ross and his work, please visit his Craft Directory profile or his website.
This interview has been lightly edited for clarity.