In celebration of Scotland's Climate Week, this post is part of our Make It Green series, for the Green Crafts Initiative (GCI) that champions and promotes environmentally sustainable craft practices. The Green Crafts Initiative is a project we partnered with Creative Carbon Scotland to promote and celebrate craft makers with environmentally-conscious practices.
In this series by Craft Scotland and Creative Carbon Scotland, you will hear inspiring maker's stories as well as useful advice on how you can contribute to a greener craft sector.
We're pleased to feature makers who are working towards a more sustainable practice. In this interview, you will hear from a maker who is championing the sustainable craft movement here in Scotland through sourcing a more unconventional eco-friendly alternative to traditional materials. Jasmine Linington received the Craft Scotland Graduate Award earlier this year and is a member of the inaugural cohort for our COMPASS: Next Generation Programme.
---
Hi Jasmine, can you tell us about your practice and what inspired you to start?
I have spent the last two years exploring the potential use of seaweed within the textile and fashion industries, showcasing the often-overlooked material as a sustainable alternative. Specialising in digital and hand embroidery, natural dyeing and embellishment, my practice incorporates at least one element of seaweed within each piece.
Since completing my Master of Fine Arts in Textiles at Edinburgh College of Art in July, I have been setting up my Edinburgh-based studio. I am currently developing ready-made accessories for fashion and interiors as well as offering bespoke pieces including fashion-based textiles along with interior artwork and wall-hangings for private clients.
Staying true to my values, I aspire to make beautiful, timeless textiles and accessories that are treasured forever, and this is what has driven me to set my practice up into a business, to offer unique, sustainable alternative products for customers and clients.
When and why did you decide to become more sustainable?
I would say that I have always been mindful of leading a sustainable lifestyle – I was brought up that way without really realising it until recently - however, it has become upsettingly evident that the fashion and textile industries are a huge contributor to the devastating environmental impacts that we are tackling today. So really, I decided to have a more conscious approach to my craft practice two and a half years ago when I decided to go back to university. It allowed me the time I needed to research as well as explore the avenues I could take to becoming more sustainable and eco-conscious, plus, it has taken me on some extremely exciting and unexpected journeys.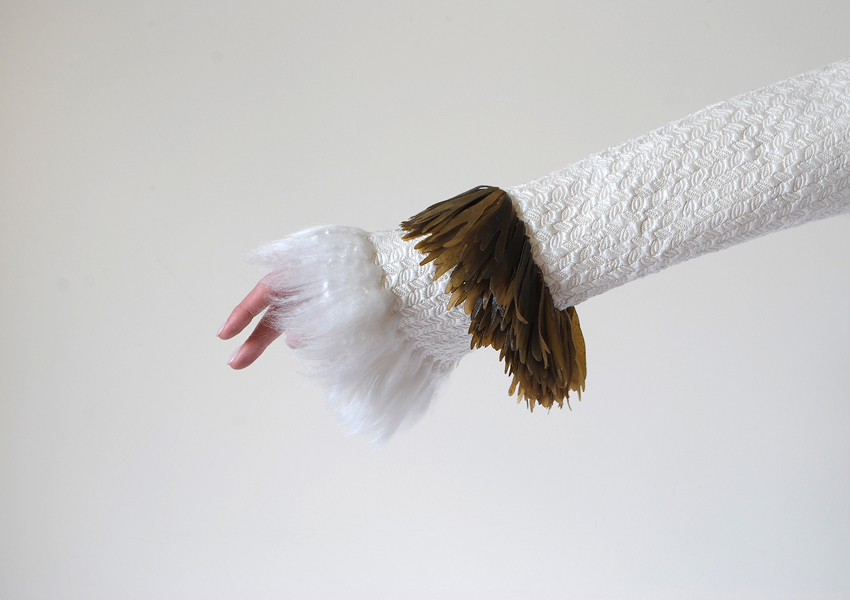 Image: Jasmine Linington – Rusty drain lid, North Berwick lido / Image by the artist
Tell us about your favourite pieces (that you have made) that incorporate sustainable methods?
That's a tricky one! I'll start with two from my postgraduate degree show, Rusty drain lid, North Berwick lido. The fibre used to construct this piece has been consciously sourced, it is eco-friendly, biodegradable and is made from seaweed and eucalyptus. I have embellished the cuff with sequins made from kelp that I have foraged for myself along the south east coast of Scotland.
My next favourite has to be Cut thread ripple, which again uses seaweed in combination with eucalyptus fibre and has been naturally dyed using foraged egg wrack seaweed. It has been heavily encrusted with kelp sequins and eco-resin beads. These particular beads are coloured using the seaweed dye by-product from the dyeing process to reduce the waste and to give the seaweed a second purpose.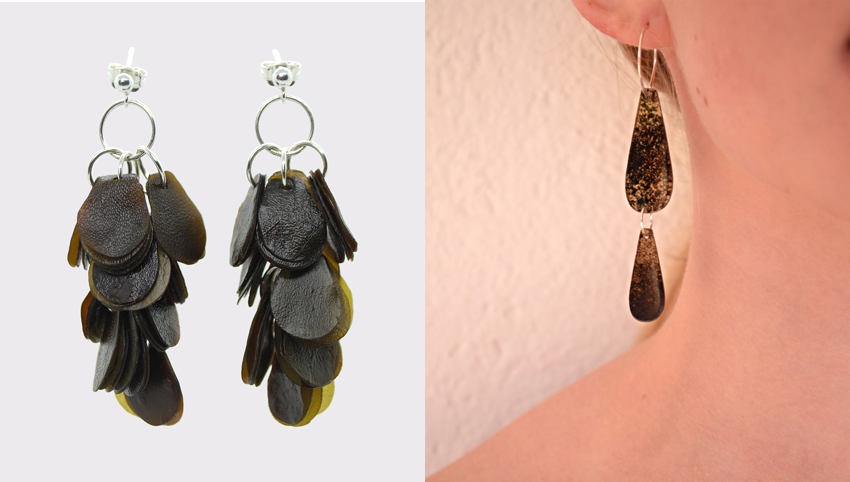 Image: Jasmine Linington (left to right) Kelp cluster earrings and Sea Oak Seaweed two drop earrings / Image by the artist
I have also been working on a line of earrings inspired by my postgraduate textile collection which has not yet been launched, so here is a sneak peek to a couple from the range: The Kelp cluster uses kelp sequins and comes in 14k gold and sterling silver. The kelp sequins are completely natural, adding a unique, eco-conscious and sustainable alternative to your jewellery accessory wardrobe.
And lastly, the Sea Oak Seaweed two drop earrings, which come in 14k gold and sterling silver are made with an eco-resin and sea oak seaweed.
How do you incorporate eco-conscious thinking into your process?
I reduce the amount of waste dismissed within my processes by holding on to all the "waste" from a project, knowing that there will be a place for it at a later date.
When dyeing up my fibres, I minimise the amount of fresh water by using seawater that I have gathered on my seaweed harvesting trips. By sourcing materials that are eco-conscious, I am contributing to a more environmentally friendly industry and a cleaner future.
I aim to use as many natural materials as possible and by sourcing my own seaweed, I know that it is being collected in a way that is sustainable and respectful to the species and its habitat.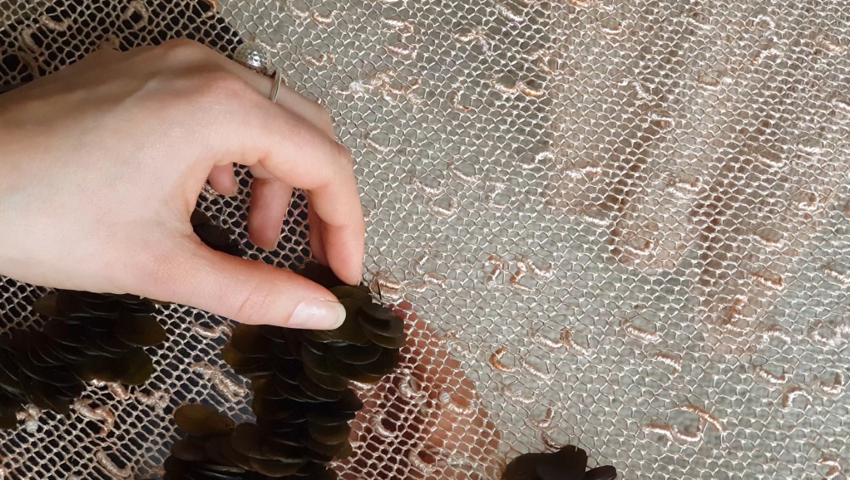 Image: Jasmine Linington sewing on sequins made from kelp / Image by the artist
How does this resonate with your audience?
The more I engage and speak with my audience about my practice, the more I find that people love to hear about the background and the story behind my creative journey. It is really encouraging to have the support. I have found that more and more people are becoming interested with what and where they are buying.
Where and how do you source your sustainable materials?
A large portion of my sourcing comes from the beach. Mindful of harvesting seaweed correctly, sustainably and legally, I have obtained a small-scale seaweed harvesting licence that gives me access to harvest seaweed from some beaches along the East Lothian coastline. If I am sourcing other materials, I will spend time researching the options available to find the most sustainable choices out there for me and my practice. The majority of my materials are sourced within the UK, reducing my carbon footprint.
What do you wish you had known when you started this journey?
To be completely honest, if I had known any of the things that I have learnt over my journey so far, then I wouldn't be where I am today.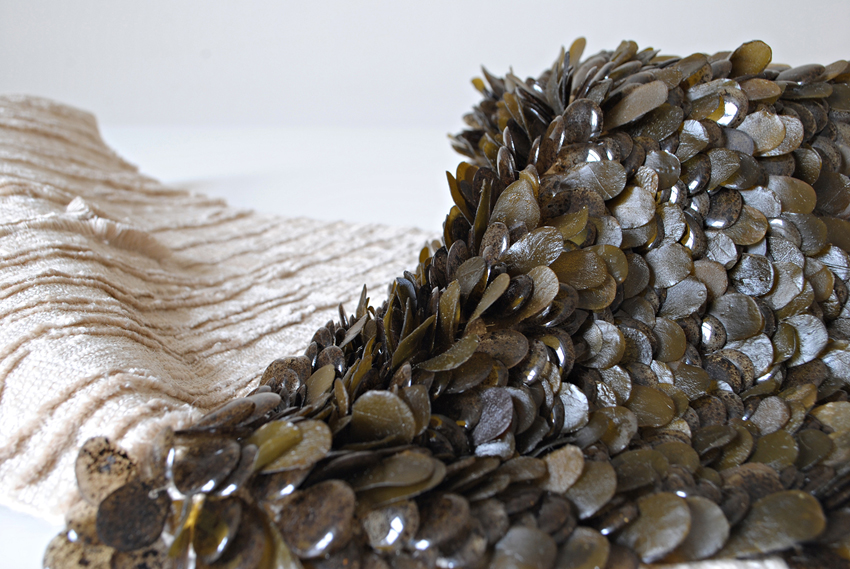 Image: Jasmine Linington – Cut thread ripple / Image by the artist
If you are a member of the Green Crafts Initiative, why did you join and why should other makers consider signing-up?
I am not yet, but I will be signing up right away.
What do you think the future of sustainable craft making will look like?
It is essential that as a society we shift our lifestyle to a more environmentally conscious way of living and consuming, which I believe in turn will open up an exciting and positive future for sustainable craft making. I hope that it would be encouraged within schools to learn about the craft industry and its importance to maintain it.
Questions such as "who made your clothes?", "what is your piece made from?", to "where did you source your materials?" are being encouraged to discuss openly. These questions make me believe that one future aspect of sustainable craft making will be that practitioners will look more towards sourcing materials locally. This will ultimately benefit farmers and independent suppliers to thrive as well as the sustainable craft industry.
---
For more information on Jasmine Linington and her work, please visit her website or follow her on Instagram.
This interview has been lightly edited for clarity.