"[The Craft Scotland stand at Collect is] always a very considered and well-designed stand. I personally think it was one of the most unique looking stands at Collect." – Collect 2019 participant
The Craft Scotland showcase returned for its second year at London's renowned Collect to highlight the finest contemporary craft from Scotland.
Collect 2019 presented 15 of Scotland's finest makers showcasing their work in disciplines such as silversmithing, goldsmithing, ceramics, textiles, glass, metal and more.
The international art fair for modern craft and design is the craft sector's premier showcase, bringing together galleries, artists and collectors from around the world. Organised by Crafts Council, it offers visitors an unrivalled opportunity to see contemporary museum-quality craft from makers represented by 30-plus of the world's best galleries.
"Today, Collect finds itself in the vanguard of growing global appreciation for crafted objects, which are increasingly sought-after in galleries and auction rooms." -Financial Times/How to spend it
This year, we were delighted to exhibit Scotland-based makers: Angus Ross, Patricia Shone, Harry Morgan, Misun Won, Ruth Leslie, Lizzie Farey, Lara Scobie, James Rigler, Cristina Zani, Rhona McCallum, Vicky Higginson, Shaun Fraser, Anna Gordon, Lynne MacLachlan and Hamish Dobbie.
"Craft Scotland's showcase at Collect 2019 is an important platform for established and emerging makers. This is an exciting time for craft in Scotland and I was thrilled to be asked to sit on this year's selection panel. The visitor numbers show that there is an undeniable appetite in Scotland for craft and design." - Dr. Mhairi Maxwell, selection panel
Makers at the Craft Scotland showcase were chosen by a selection panel comprising of Bryony Windsor (former Head of Exhibitions at the National Centre for Craft & Design), Dr. Mhairi Maxwell (Assistant Curator of V&A), and Jo Scott (Craft Scotland's Project Manager).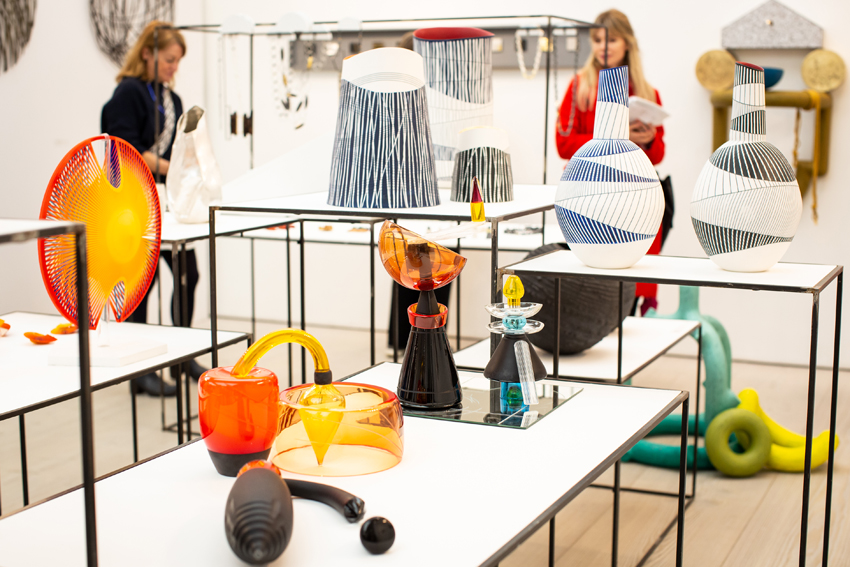 Image: The Craft Scotland showcase at Collect 2019 / Photography by Sophie Mutevelian
Running from Thursday 28 February to Sunday 3 March 2019 in the prestigious Saatchi Gallery in London, Collect offered visitors an opportunity to indulge both their passion for collecting and their interest in contemporary craft. The Saatchi Gallery saw over 13,000 visitors in 5 days at Collect 2019, including international galleries, artists and collectors.

Booth Talks
Visitors experienced an insightful programme of events, exhibitions and free talks. Amongst these were a series of Booth Talks, where visitors delved into the story of Craft Scotland's makers.
In Conversation: Scale, Composition and Process was led by jeweller Anna Gordon and willow-artist Lizzie Farey, where they shared their in-depth knowledge of process and a respect for materials. Both makers discussed in detail their process and compared how a piece can be transformed into a sculpture on the wall or on the body.

In her booth talk Creative Process, Lara Scobie discussed how she arrived at her new work shown with Craft Scotland and what it means for future development. Visitors were able to explore Lara's creative process through handling test/sample pieces as she detailed the creative decision making behind her recent ceramic vessels, integrating drawing, surface mark making and volume with the balance of space and texture.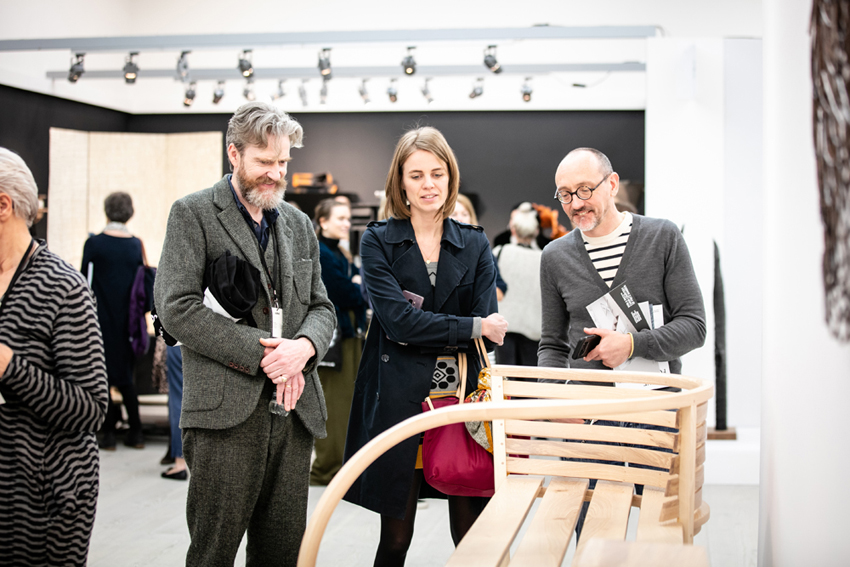 Image: Angus Ross at Collect 2019 / Photography by Sophie Mutevelian
Many notable VIPs attended Collect 2019 including TRH Crown Prince Guillaume and Stéphanie of Luxembourg, the Duke of Devonshire, the Countess of Harewood, Sir David Attenborough, Bill Amberg, Tricia Guild, Yinka Shonibare MBE, Tony Chambers, Saffron Aldridge, Lady Conran, Stephen Bailey, Tracy Chevalier, Axelle De Buffevent, Sir Peter Bazelgette and Lady Bamford.
"A good place to meet existing and developing clients. - a lot of invited clients turned up, and it's great to have your work exhibited at such a prestigious show" – Collect 2019 participant
Visitors
The Craft Scotland presentation at Collect generated sales of over £32,000 in 2018 and £29,000 this year. The 2019 showcase saw works acquired for the Fitzwilliam Museum, Cambridge and the National Museum of Northern Ireland.
60% of makers that exhibited at the Craft Scotland showcase reported doing business with brand-new clients, and 80% said the fair expanded their existing buying audience.
Press
Collect 2019 received over 125 features and significant articles in influential publications. Collective reach via editorial, social, TV and radio: 285M. Including the Telegraph magazine, The Herald, Elle Decoration and Living Etc.
You can read more on Craft Scotland's showcase at Collect in the articles: River Spey inspires new furniture art (The Herald) and Collect 2019 at Saatchi Gallery (Living etc).

We would like to thank everyone who attended Collect 2019. We enjoyed sharing the story of Scotland's vibrant craft sector and explaining the making process behind the beautifully made objects on show.
Applications are now open to showcase at Collect 2020. If you are a maker working at the very highest standards of your craft practice, apply now to the prestigious show moving to an exciting new venue, Somerset House.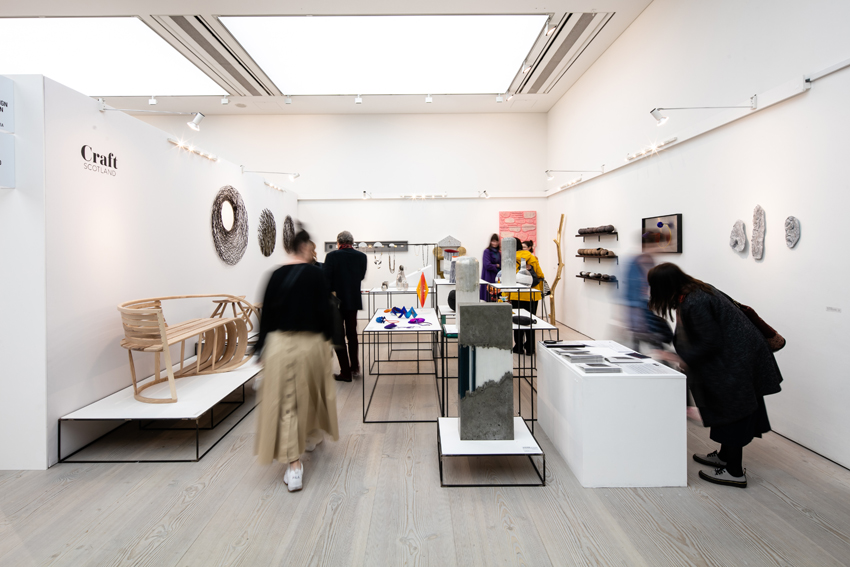 Transparent