Welcome to our feature Make Your Own Story, a series of interviews with craft makers. Hear from makers who have fascinating stories to tell about living and working in Scotland. We hope their stories will inspire you and spark off new interpretations of craft...
Agnes Jones works in steel to create metal 'drawings' which are full of life. Using a range of traditional and modern techniques she creates both sculptural and practical work which is truly unique and interesting. Agnes was shortlisted for the Perrier Jouet Belle Epoque Prize in 2014. In this interview, we chat to Agnes about blacksmithing, drawing with steel, why Scotland is a great place to be a maker and her career advice to any young girls looking to pick up the hammer.
Q: Hello Agnes! Tell us a little bit about yourself…
Agnes: I'm an artist blacksmith who draws in steel. I draw single line drawings in pen and then recreate these using steel bars to create two dimensional solid drawings in steel. People are always surprised when they see them in real life because they seem quite delicate and linear, they look like a drawing on the wall, but they can be quite structural.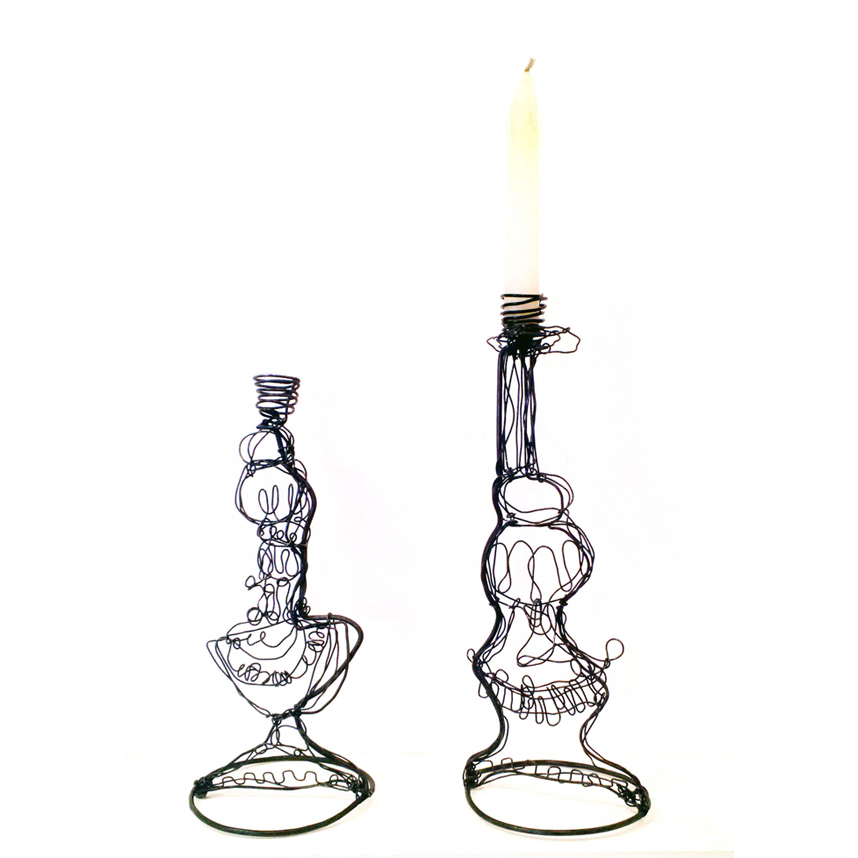 Q: What's it like working with steel?
Agnes: Steel is amazing, it is a very solid material that you can heat up until it becomes so flexible that you can bend and tie it in knots, and then it will cool and harden until it becomes solid again. I spend as much time as I can drawing in steel, creating single line sketches in space.
Q: How did you end up working in this material?
Agnes: I studied Wood, Metal, Ceramics and Plastics at the University of Brighton, so I was really interested in learning how to use materials in new ways. I have always enjoyed drawing, so it seemed natural to combine that with the techniques I was learning. I went to work for various blacksmiths around the country and decided to set up on my own. I got into the Crafts Council's Hothouse programme, which allowed me to turn it from being something I enjoyed into a proper way of earning a living.
Q: Where do you derive your inspiration from?
Agnes: My inspiration comes from the metal itself, and from drawing. I particularly enjoy commissions such as the Hanbury Hall one where you are able to explore a narrative and re-create that in metalwork. Commissions play a huge part in my practice, and the process of discussing ideas with the client, designing and making the piece is so important to me.
Normally the client has a whole range of ideas which you can harness and turn into something really interesting, such as the idea of "small worlds" in a bench commission I had for some benches for a housing development in Essex, where we decided to use lichen as a starting point. Usually, my work is very site specific, so the site itself provides a lot of inspiration - you have to make something that will sit within and add to the local area, so taking visual as well as narrative clues from a location is important.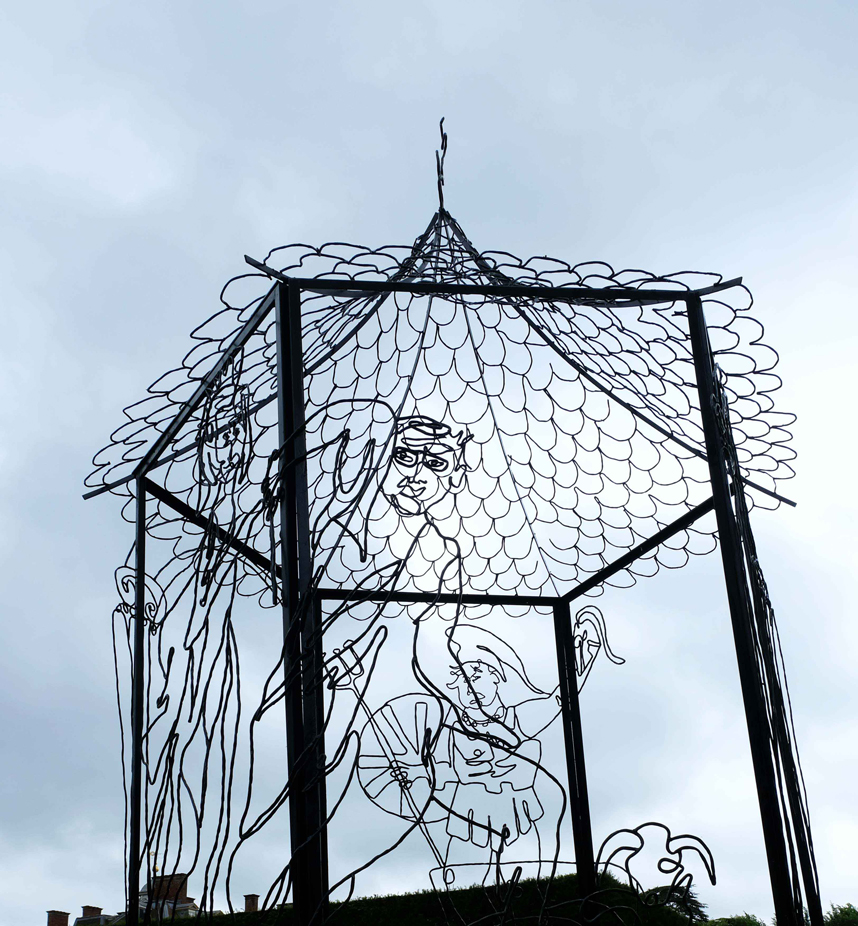 Q: Yes, congratulations on your pavilion commission for Hanbury Hall, a National Trust property. This piece is more narrative driven, tell us about it...
Agnes: I was recently commissioned to make a pavilion for a National Trust property called Hanbury Hall, a house in Worcestershire, which asked for four artists to make some work which responded to the history of the house. They have some wonderful paintings by Thornhill in the great hall of the house in which he painted various contemporary politicians into the life of Achilles. I decided to do something similar and look at Brexit through Greek myths. In my version Boris Johnson is Achilles, who has famous armour, (I used that of Britannia so it has the Union Jack on it) and drags a lifeless Hector (David Cameron) behind his chariot. Later, when Achilles dies, Odysseus and Ajax fight over his armour. Ajax is angered that Odysseus wins, so curses him, which in turn angers Athena. Athena (Theresa May) makes Ajax (Gove) go mad and he starts to slaughter sheep. When he returns to sanity he feels embarrassed by what he has done and commits (political) suicide.
As I make line drawings of objects which function as the object itself, I turned this idea into a line drawing of a pavilion, with these scenes drawn as its walls.
Q: What do you hope is the audience response to your work?
Agnes: I hope people enjoy it! Words that people seem to use to describe my work include "whimsical", "fun" and "joyous" which I think I quite like. I hope my work makes people think a bit, and realise that there is so much you can do with steel, which is otherwise seen as such a solid and practical material.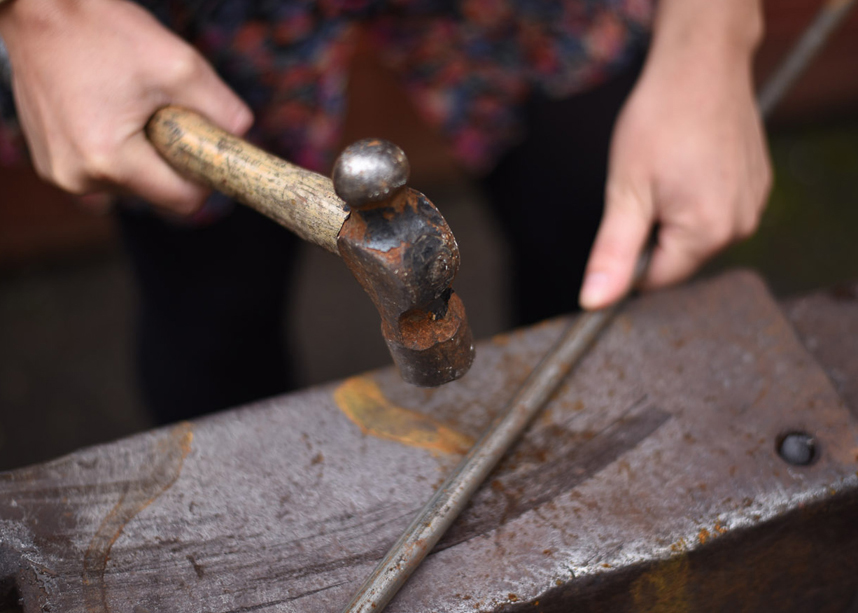 Q: Stereotypically people might think of blacksmithing as a male profession, do you have any advice for young girls who might be interested in pursuing this profession?
Agnes: There are still many more male blacksmiths than female, but I know quite a few women doing really interesting things with steel, it's very exciting. You really don't need to be hugely muscly - my tutor at university was really quite slight, and I'm only 5 foot 6. There is definitely a lot of sexism in the metalwork industry and in hardware shops, I feel like I always have a lot to prove, but the blacksmithing community is incredibly welcoming and inclusive.
I would say go for it, it's a fun and interesting thing to do, and there are lots of one-day courses you can do to start out. I do one on one lessons for people and it's really fun to see them start to understand the way metal works.
Q: How has living and working in Scotland influenced you as a maker?
Agnes: One thing has just been that I have been able to be more free with things I have made as I have a lot more space for a lot less money. I was in London before and it was so stressful knowing I had to find the money to pay incredibly high rents. Also, I feel that people in Glasgow want to help each other out much more.
I'm part of a brilliant studio complex called Mount Florida Studios and it's great to be surrounded by interesting artists and makers who are always around if you want to discuss work. We are so close to beautiful nature here, and I feel that is coming across in the work I do at the moment, it all feels free and loose. And so much of my work is coming from community gardens, something which seems to feature far more in Glasgow than London!
You can follow Agnes' adventures in steel at www.agnesjones.com.