Welcome to our feature Make Your Own Story, a series of interviews with craft makers. Hear from makers who have fascinating stories to tell about living and working in Scotland. We hope their stories will inspire you and spark off new interpretations of craft...
Peter Wareing was a designer/maker of decorative earthenware based in Dumfries & Galloway. His expressive use of tube-lining created elaborate illustrations combined with his abstract interpretations of natural forms he created unique ceramic pieces.

For this instalment of Make Your Own Story, Peter spoke to us in 2017 about his practice, process and living rurally.
We are sad to announce that Peter passed away in April 2019, following a short illness.
Q: Hi Peter! Tell us what you do?
Peter: I work full-time making pots which are illustrated with images influenced by the natural world.
Q: What drew you to ceramics?
Peter: I first encountered working with clay during my foundation year at Manchester. I was taken by the immediacy it offered in creating forms, and the seemingly limitless possibilities to create surface textures. I went on to follow a course in 3D design using wood, metal and ceramics (concentrating on ceramics for my final show).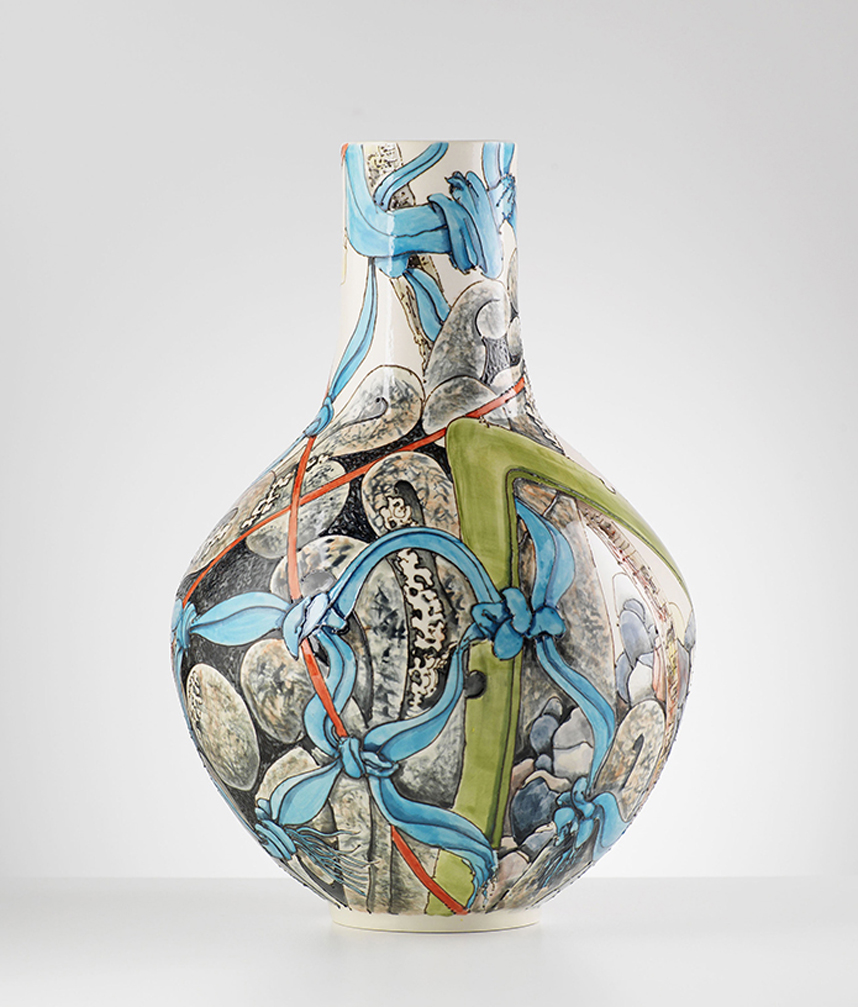 Image Credit: Shannon Tofts
Q: You changed career to become a full-time ceramicist, what prompted this change? How did it affect your practice?
Peter: After four wonderful years at Art College and achieving a first, the realisation of having to make some form of a living struck home, so I decided on teaching art. I had the best of intentions to continue with potting, but the time wasn't really there, what with other activities and family commitments. After 30 years teaching I took the opportunity for early retirement and decided to follow a new career as a full-time potter, something I had wanted for a very long time.
It did not prove easy. I took a stand at Potfest in Perth shortly after leaving teaching, quickly realising that I had to raise my game. There were potters there with many years full-time experience who were producing work to the higher standard that befitted their knowledge. It has taken me several years to achieve the standard I am at now, and I feel there is still much development work to be done.
Q: Is there a project or piece that you are particularly proud of?
Peter: All the pieces I make are individual, each one is unique. I do take commissions and one I did in 2015 comes to mind. Someone local to Whithorn asked me to produce a commemorative piece for a relative of his who had been awarded the Victoria Cross during WW1. It was the centenary of the award so he wanted something suitable to remember his achievement. The relative - his great uncle - hated the idea of war and was more interested in wildlife and botany, which I was asked to reflect in the commission. I produced a design using beech nut shells, thistle leaves and patterns of rust from a corrugated roof. I combined these with the design of the border from the original Victoria Cross medal certificate to create a complex design that symbolised the remnants of battle in the trenches. The form of the pot was based on an early twentieth-century piece I had seen in the Met in New York. The client was delighted with the result, and I was inspired to make more pieces loosely based on the same design idea.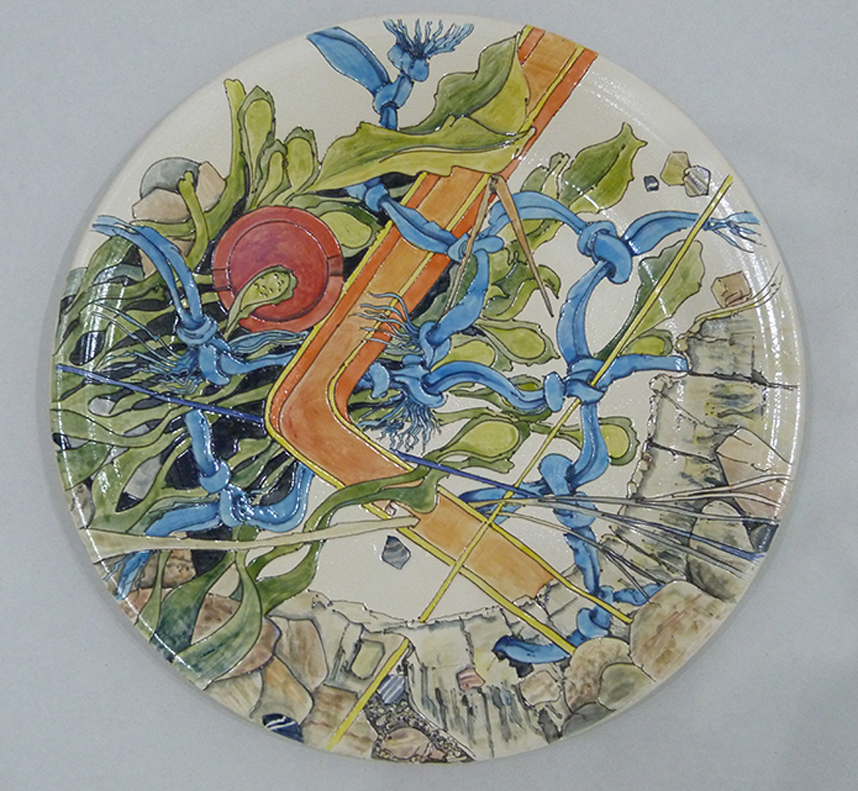 Image Credit: Peter Robinson
Q: Your work is very illustratively decorated. Talk us through how you combine the making and more illustrative processes
Peter: I make a variety of drawings and collect bits and pieces while out walking. These are the starting points for any image I apply to a pot. While making the pots themselves I am more concerned with the form I make and the challenges that often arise during the making process. I also have to consider the finished surface; it must be suitable for applying the tube liner.
When it comes to creating the image on the pot I have a series of individual drawings and collected objects I laid out in front of me. I consider the form and scale of the pot and, after drawing construction lines, I select parts of the drawings and sketch them onto the pot. I mix different drawings together, keeping a particular theme in mind. I don't formally produce a design beforehand, but the image grows directly onto the pot. After sketching out the design I go over it with a tube liner. This is similar to using a technical pen, but the liner contains a glaze. The drawing develops more at this stage, often adding extra lines as I proceed. Underglaze colours are then added. The occasional mistakes I make enhance the creative process.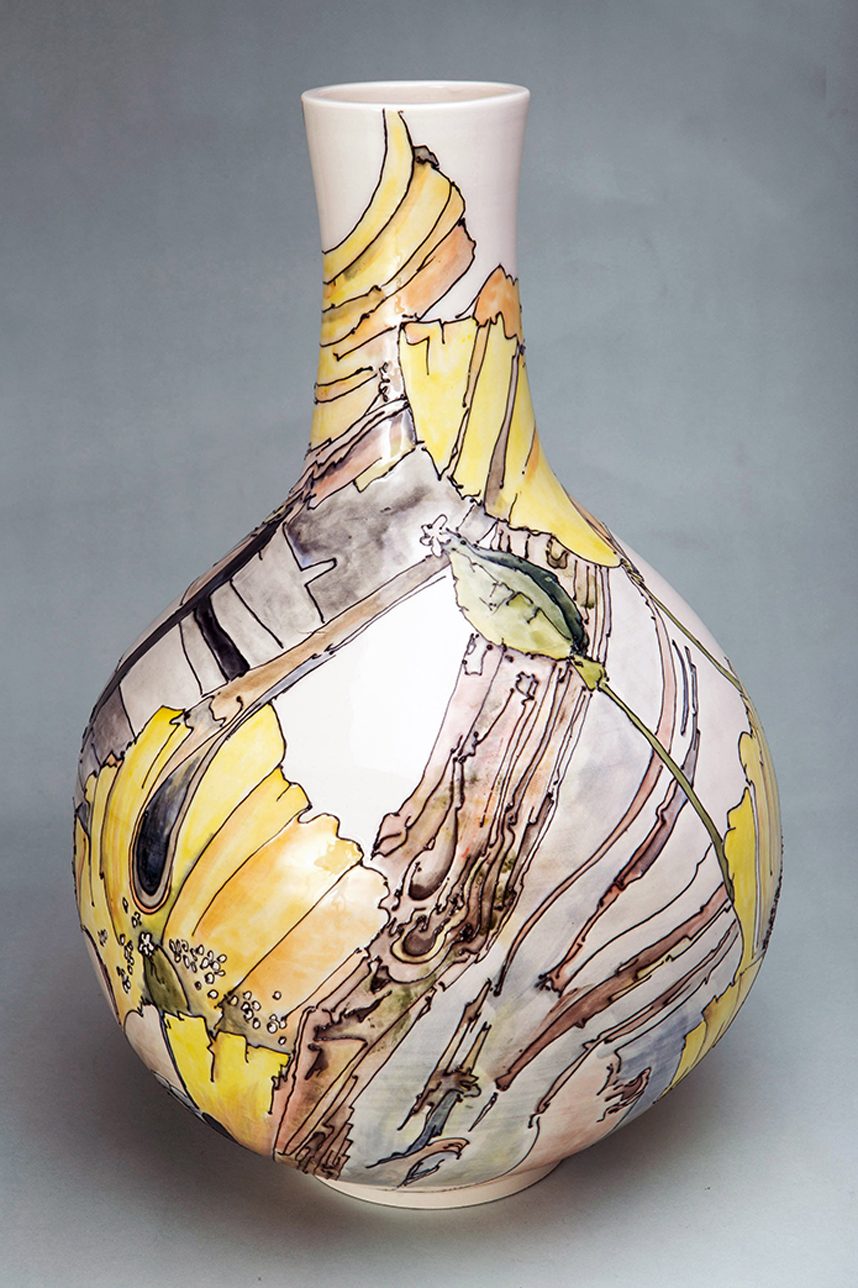 Image Credit: Peter Robinson
Q: You will be taking part in Spring Fling this year, and have done in previous years, too. How does this event benefit your practice?
Peter: Being part of Spring Fling has had a significant effect on how my work has been recognised in the area and beyond. I have become much more critical about the work I produce; each time I apply I try to ensure there is evidence of progress. The huge number of visitors to my studio has been very stimulating; with very knowledgeable people asking searching questions as well as buying work. The opportunity to meet some of the other participants at various events has been great, and the Outpost exhibitions have also proved very useful. I was part of the exhibition held at the Biscuit Factory Gallery in Newcastle upon Tyne and I have built a good relationship with the gallery, showing on a regular basis since.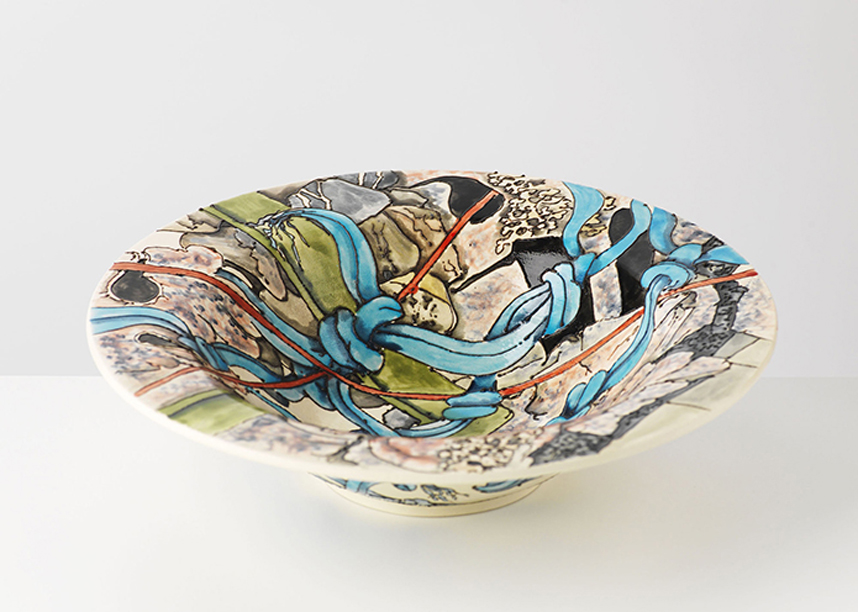 Image Credit: Shannon Tofts
Q: Tell us about living in Dumfries and Galloway – it's quite a rural location, does this affect your work?
Peter: My wife and I moved here six years ago after discovering the stunning coastline and scenery of the Galloway Forest mountains. I have drawn a lot of inspiration from the local scenery, and am presently using aspects of the local shoreline as the main feature in much of my work.
The area has witnessed a steady influx of artists and makers since we moved here. At least ten have moved into Whithorn alone since we arrived. This is very encouraging and has been an inspiration helping me to keep developing my own work.
This interview has been lightly edited for clarity.
---
Article amended: 29 July 2020