Every year hundreds of professional artists and makers in Dumfries and Galloway open their studio doors for Spring Fling, Scotland's premier art and craft studio event. Taking place for three days over the late May bank holiday, visitors have the chance to go behind the scenes of makers' creative practice. Craft Scotland's project team, Jo Scott and Allyson Gee, took a whistle-stop tour of just some of the 86 studios taking part.
---
The first studio of the day was glass artist Amanda J Simmons based near Castle Douglas. Having recently showcased her work as part of Scotland: Craft & Design at Collect 2018 in London, it was wonderful to catch up with Amanda and see the space where she creates her stunning pieces. We were able to explore her workshops and new cold working shed alongside jars and jars of Bullseye Glass powders. Amanda had also teamed up with jeweller Natalie Vardey, who showcased her work alongside illustrations of her commissions, samples of her techniques and works in progress.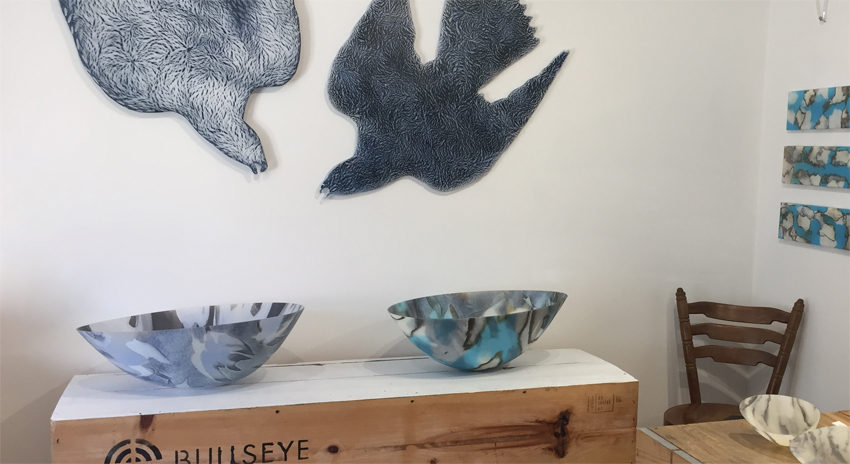 Glass artist Amanda J Simmon's studio
After saying goodbye to Amanda and Natalie, it was time to visit ceramicist Clare Dawdry's (We Make Pots) studio in Kirkpatrick Durham. Clare is known for making functional stoneware and earthenware ceramics that are well crafted and a pleasure to use. She talked us through some of her recent commissions and we were able to explore her studio - the view out of the window whilst sitting at the wheel was absolutely beautiful!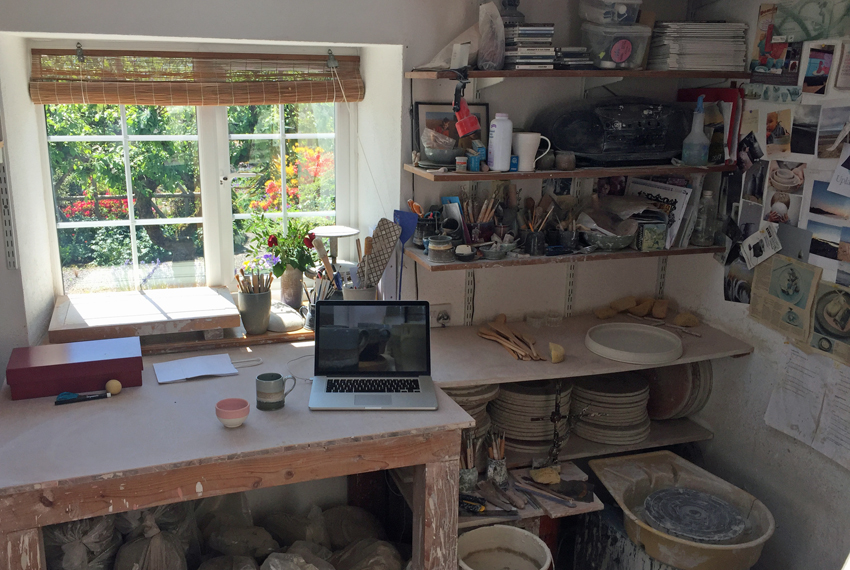 Ceramicist Clare Dawdry (We Make Pots) studio
Just around the corner from Clare's peaceful ceramics studio, we experienced the sights and sounds of a working forge. Blacksmith Adam Booth opened up his workspace especially for Spring Fling where he led demonstrations of hot forging steel throughout the day and discussed his contemporary architectural and sculptural metal work.
Husband and wife team Doug Fitch and Hannah McAndrew (Fitch & McAndrew) had also opened their doors to the public. Their pots are made with traditional craft skills, including slip trailing, sgraffito and using a wood-fired kiln, so it was fascinating to see more of their process and how these skills are translated into their signature style. Our next visit was to willow weaver Geoff Forrest, who makes everything from traditional baskets to figurative and abstract sculptures. More recently he has however been exploring mixed media with the launch of his first pieces purely in steel. When not in the studio, you'll find Geoff soaking pieces of willow or keeping an eye on this year's crop.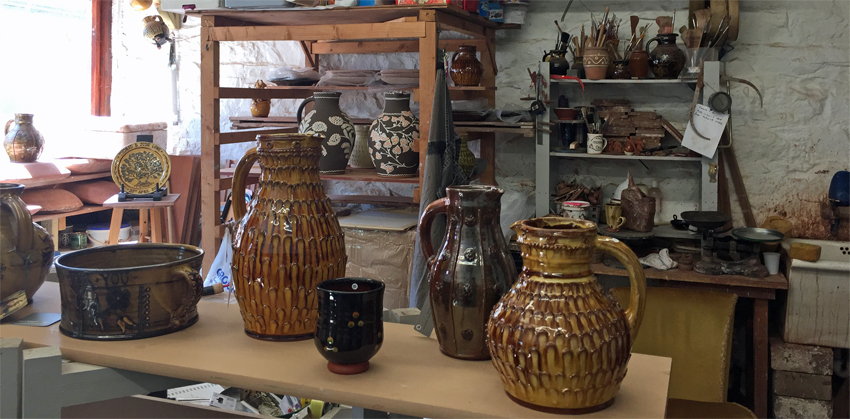 Ceramicists Doug Fitch and Hannah McAndrew studio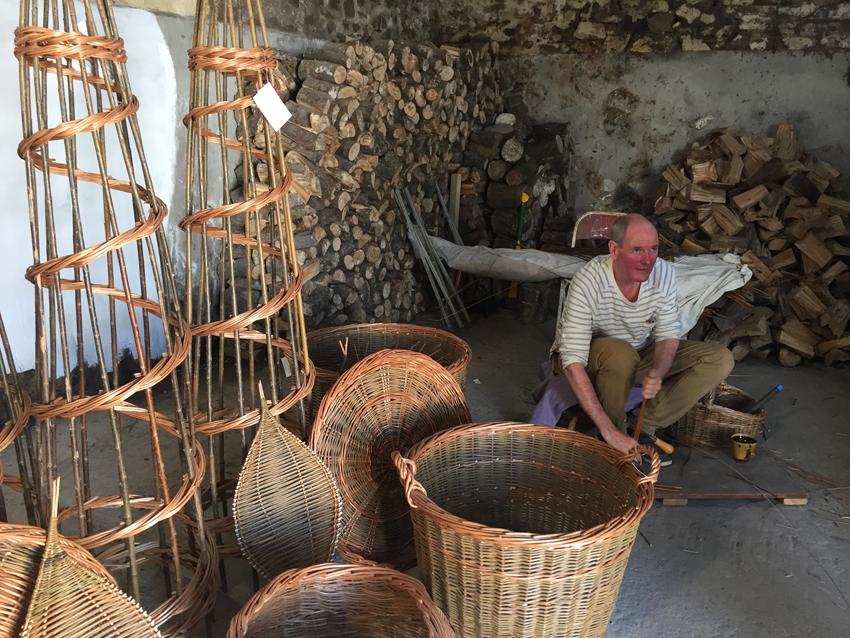 Willow Weaver Geoff Forrest workshop
The last stop of the day was Wasps studio's Canonwalls and Claverhouse in Kirkudbright which includes textile artist Morag Macpherson and willow weaver Lizzie Faray. Morag's studio was filled with her abstract paintings which provided a burst of colour and pattern. These are digitally printed onto her fabrics to create vibrant wallpapers, accessories and interior pieces. In contrast, Lizzie's upstairs studio was an oasis of calm, the scent of willow drifting through the space as we explored her delicate structures.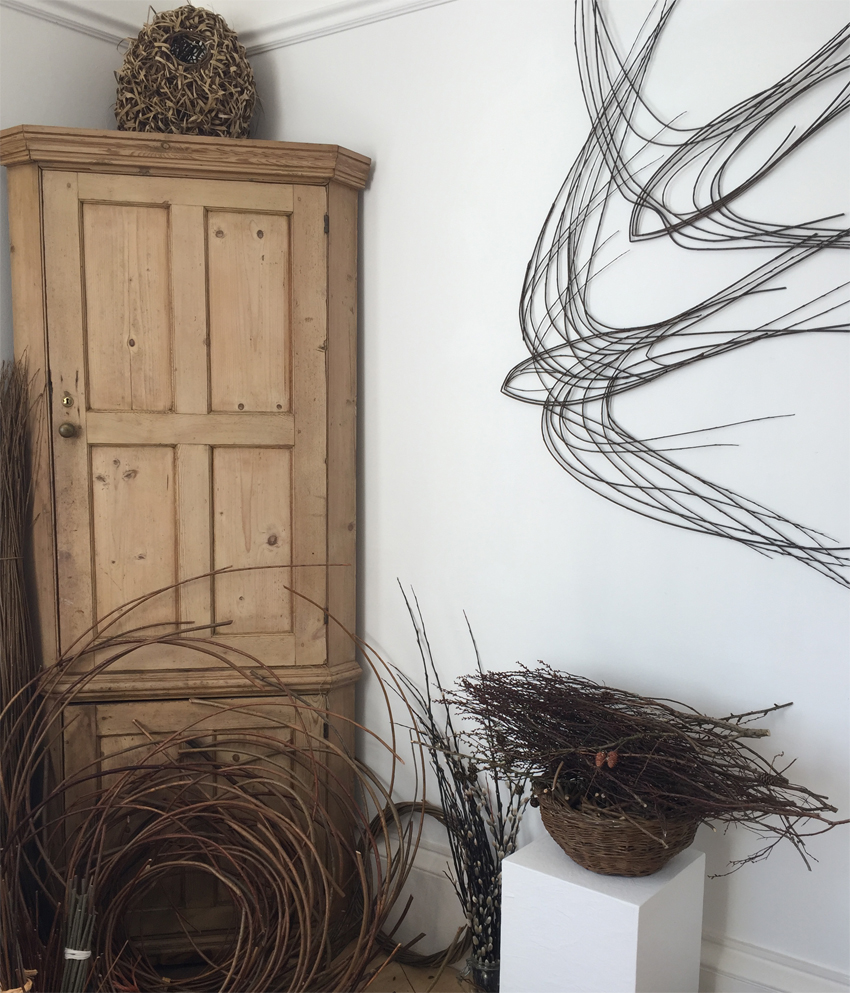 Willow artist Lizzie Farey's studio
Spring Fling provides an excellent opportunity to meet professional makers and to together discuss their inspirations and processes. Being inside their workspaces, you are able to see the individual stages of craft - design, sampling, experimentation as well as full-scale production and finishing - which only increases your appreciation of the craft and the maker's skill.
Many of the makers we visited referenced the stunning landscape and wildlife of Dumfries and Galloway in their work, and it was a true pleasure for us to see for ourselves the region which inspires them. There is such a breadth of talent and skill available to discover and we will certainly be back to visit more makers' studios during Spring Fling 2019.
---
Want to find out more about Spring Fling and how you can get involved for 2019? Visit the Spring Fling website to learn more about Uplands flagship event.
If you can't wait and want to discover more about craft in Scotland, visit our Craft Directory, a curated selection of the best in contemporary, design-led craft makers and places.
Highlights of Spring Fling 2018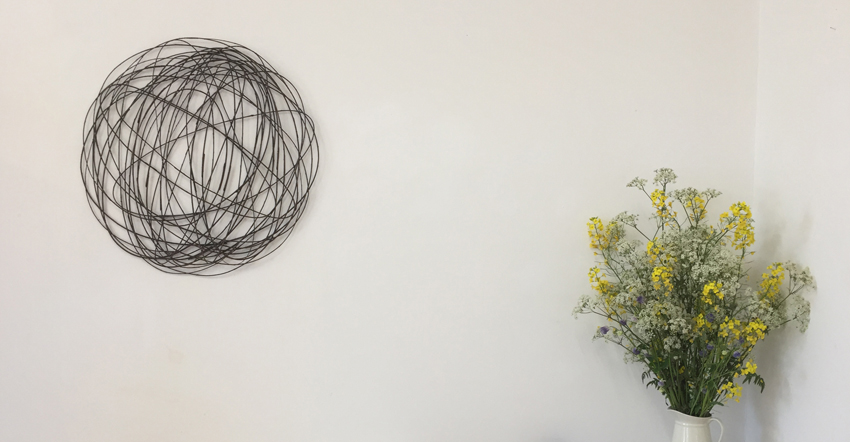 Highlights of Spring Fling 2018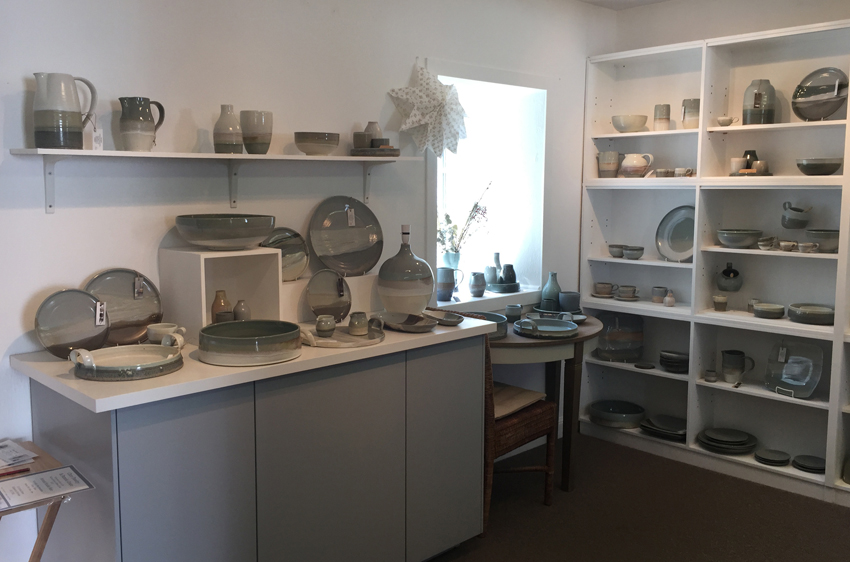 Highlights of Spring Fling 2018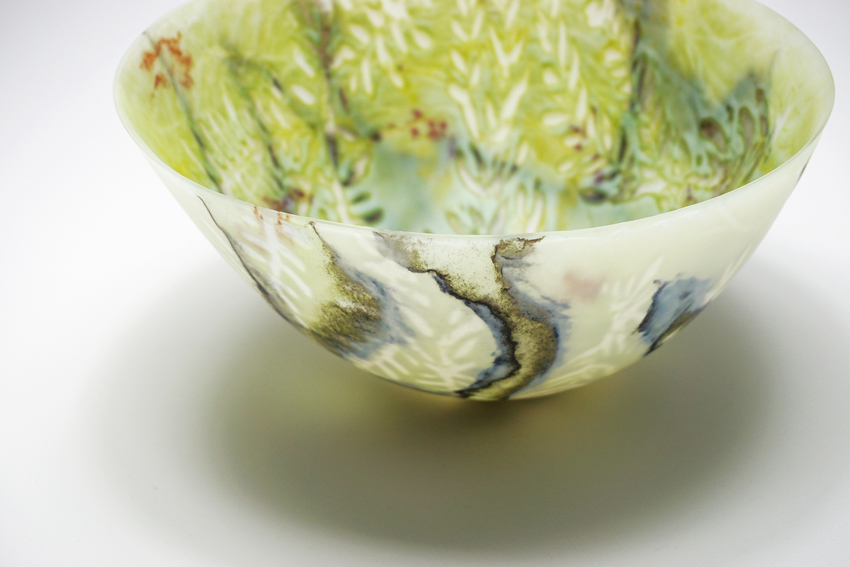 Transparent