Jo Pudelko is a member of the Green Crafts Initiative, launched in 2014 to celebrate and encourage more environmentally sustainable practices in Scotland's craft sector. This post is part of our Make It Green series for 2016/17 on the Green Crafts Initiative that includes makers' stories and helpful hints and tips.
Jo Pudelko is a contemporary jeweller who makes mixed media pieces that incorporate metal, resin, wood and found objects. From her caravan, at the foot of the beautiful Ochil hills in Stirlingshire, she frequently works with recycled materials and much of her work stems from a personal interest in the amount of waste generated by modern society, particularly how society fails to take advantage of the resources and inspiration offered by everyday objects.
My inspiration is often the space where the natural world and the manmade world collide. I'm very drawn to things like abandoned buildings or rusting farm equipment...things that are sometimes overlooked or initially seem unimportant, discarded. I'm forever in trouble with friends and family – firstly wandering off all the time and secondly picking up 'rubbish' off the ground which I collect and use as inspiration or material for my pieces. My current work is very much defined by this sometimes uncomfortable interface between man and nature as it examines the worldwide decline of the bee population.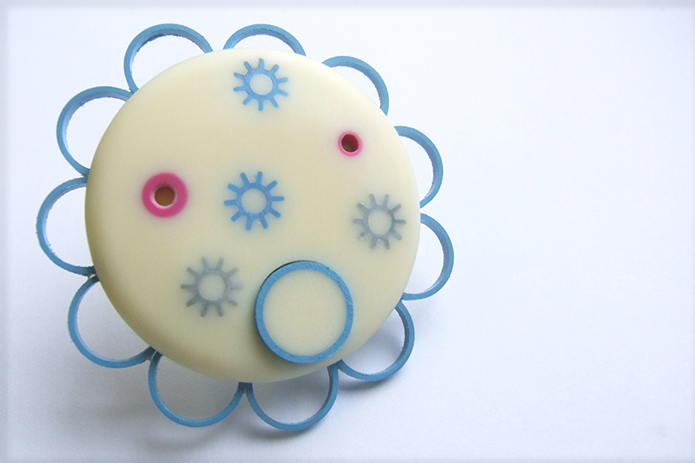 I've had an interest in environmentalism since high school but it was getting involved with the Green Crafts Initiative that made me think more critically about my responsibilities as a crafts person. Working in resin was another determining factor – traditionally resin is a very toxic material and I wanted to investigate more environmentally friendly options.
When I left college I was producing a series of jewellery that was made from recycled felt-tip pen lids. When my initial supply of pens ran out I started to ask around for donations. So many people handed in used pens for my pieces including many primary school teachers, who seem to have a never ending supply. Although I still love the pieces I made, I've now moved on to other things. My cupboard is still full of used felt-tip pens however!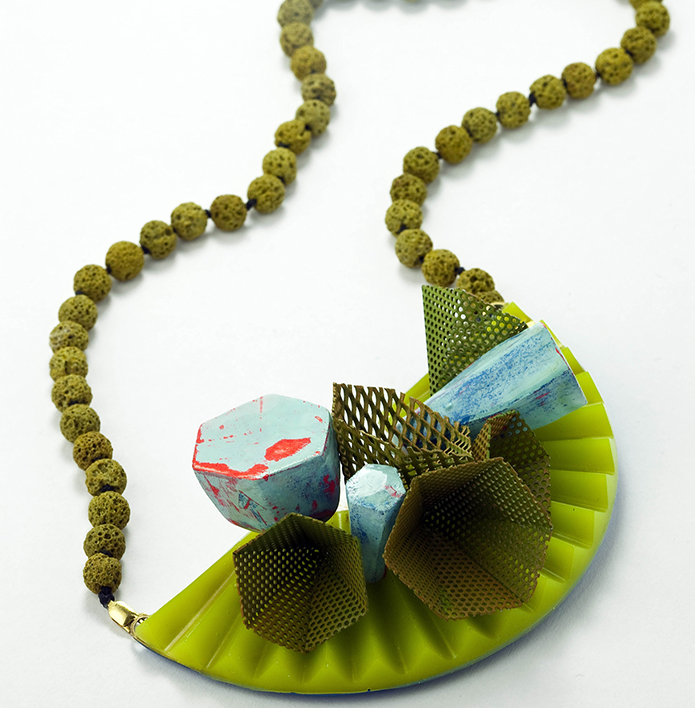 Unfortunately many aspects of jewellery production are not particularly environmentally friendly. For me this makes it even more important to make positive choices where ever possible. For jewellers it is getting a little easier with the introduction of fair trade mined metal and gems. In the UK it is also possible to buy silver that is 100% recycled. I try my best to work in an ethical and environmentally friendly way – my pieces are usually inspired by the environment so for me it is an obvious choice.
However, the environmental angle is not actually something my audience are always fully aware of. Part of what I enjoy about using recycled objects in my work is incorporating them so fully into the design that people don't realise that they are there. It's a great conversation starter and people are always very positive when they find out where I get my materials from. I think jewellers are natural problem solvers and I enjoy the challenge of green making.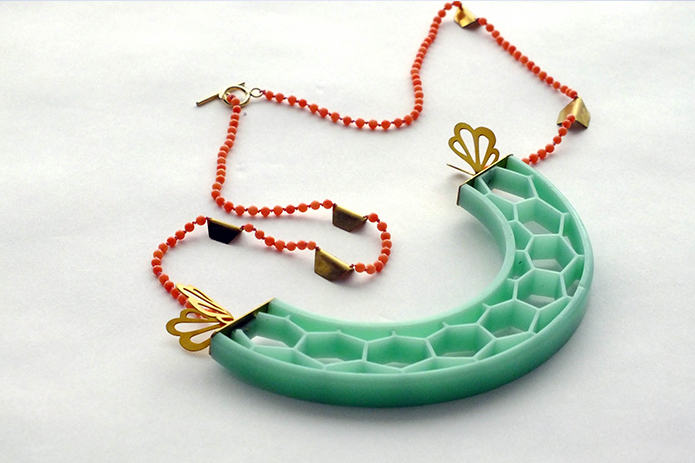 When starting out, I wish I had asked for more advice! I feel jewellers in particular are really open to sharing their knowledge and many of the struggles I encountered looking for a bio-friendly resin might have been avoided if I had talked to other makers. I'm interested in trying to facilitate more of these kinds of conversations in the future so I'm in the process of organising a resource group for craft makers who work in plastics. Please get in touch with Jo if this is you!
If you are just starting to think about being greener, why not try a little experiment and conduct an audit of your studio bin. This will give you a breakdown of the types of waste you are producing which is important to know if you are thinking about taking steps to reduce your environmental impact.
I think that part of being a craft person is a concern for the materials that you choose to work with and for many makers this concern extends to their relationship to the natural world. I hope that craft offers audiences an alternative way of thinking about the world, and could be a catalyst for the re-assessment of our consumer culture.
Discover more of Jo Pudelko's work.