The Scotland: Craft & Design pavilion returns 21 to 24 September at the London Design Fair. Following the success of last year's showcase, the pavilion champions the innovative spirit, exceptional craftsmanship and world-class reputation of Scottish craft.
Debuting new and fascinating work from 17 Scottish makers in an international show exclusive, this year's Scotland: Craft & Design pavilion sees makers using materials in increasingly innovative ways. Designer, maker and researcher Lynne MacLachlan experiments with digital technology and 3D printing to create vibrant, geometric forms which intrigue and delight. Read on to discover more about her design journey...
Hi Lynne, tell us about what you do?
I am a designer, maker and researcher, producing colourful sculptural pieces that play with light and optical effects. I use the latest digital techniques and 3D printing, alongside traditional hand skills. Up until recently, my work has focused on jewellery. At London Design Fair I will present new interior wall tiles for the first time.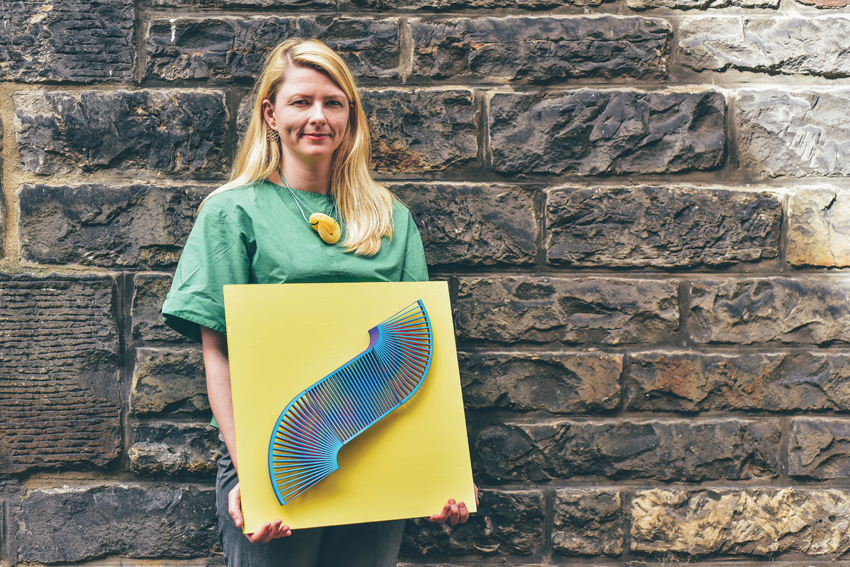 Has your education influenced your practice?
My first degree was in Aerospace Engineering, which I think has given me the confidence to embrace the new technology I use and the technical challenges it can produce. But beyond that, I was very lucky to have a brilliant education at Duncan of Jordanstone, Dundee and the Royal College of Art, where I learned the joy of making and being creative. Finally, I'm just wrapping up a PhD with the Open University's well-renowned Design department, which has really crystallised my understanding of designers undertaking creative making.
Do you have a favourite piece that you are showing at Scotland: Craft & Design pavilion?
I'll be showing my new Entangled Tiles. These modular tiles are 3D printed and hand-dyed. They exhibit my signature optical effects and can be combined with an endless number of ways to bring bespoke visual delight to interior spaces.
What was the inspiration behind it?
I wanted to push the scale of my jewellery pieces, really exploring the Moiré effects that are a focal point of these pieces. I felt it would be intriguing to bring these optical effects into an interior setting. I had a few initial designs based on my Phase jewellery collection but stumbled across a tiling system called Truchet patterns and this pulled all my ideas together. The tile design allows two modules to be combined in a myriad of different patterns to suit a space. The fact they are 3D printed allows the shapes to interweave with one another seamlessly, which gives them a pleasing flow.
What makes it particularly special to you?
This is the biggest piece of work I'll have made and shown to date, so it will be exciting to see it in place at the pavilion.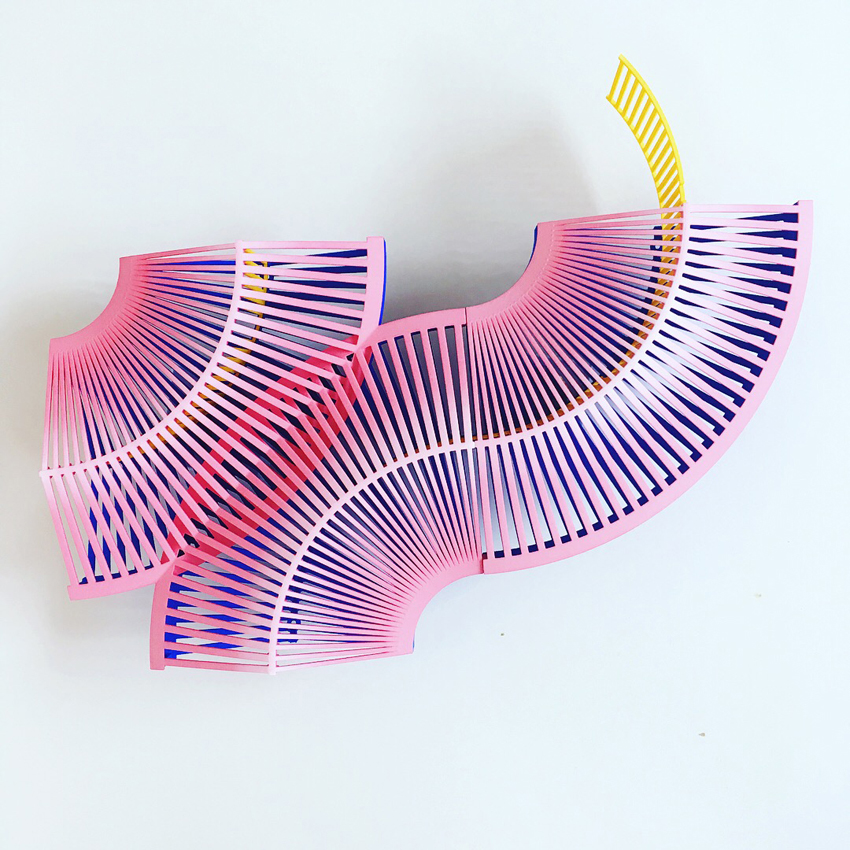 What inspires you to get into the studio?
Apart from the looming deadlines!? I always have a lot of ideas spinning around my head, so I'm always keen to start trying to make them, to see if they are viable. And you always learn something, either way.
What challenges do you face in the design/making process?
At the moment I want to scale my work. In some ways, there is more freedom but I'm facing new challenges about how to do this - challenges of strength, costs, fitting more parts and bigger dyeing jobs - but I'm really enjoying the process.
How do you see the interplay of design and craft in your work?
I enjoy exploring and pushing the capabilities of the digital software tools I use. I actually think although it is designing, the way I experiment at the start of a design process with digital tools is very similar to how I would work in the physical workshop. I think the metaphor of the 'tool', whether it digital or physical, is what explains this similarity. Once I have a physical object I then use traditional hand techniques, such as hand-dying, polishing and construction, which elevates the 3D printed pieces into more interesting and diverse objects.
What do you think is the Scottish creative identity?
It would be hard to pigeonhole everyone; it's such a diverse and vibrant field. I think there is a trend towards great use of colour and quite geometric shapes at the moment in a lot of Scottish designer/makers work. However, this may just be because these are my personal favourites!
Is there any space you would love to see your work displayed?
I'd love to see some of my tiles installed in any space at the moment! But any building or room where the whole design has been well considered would be lovely.
Are there any makers/designers you are excited to see at this year's London Design Fair?
Apart from my fellow Craft Scotland exhibitors, I'll be looking forward to catching Dutch Invertuals, Vij5 and Kate Trouw, to name just a few. Hopefully, I'll also be discovering some new designers.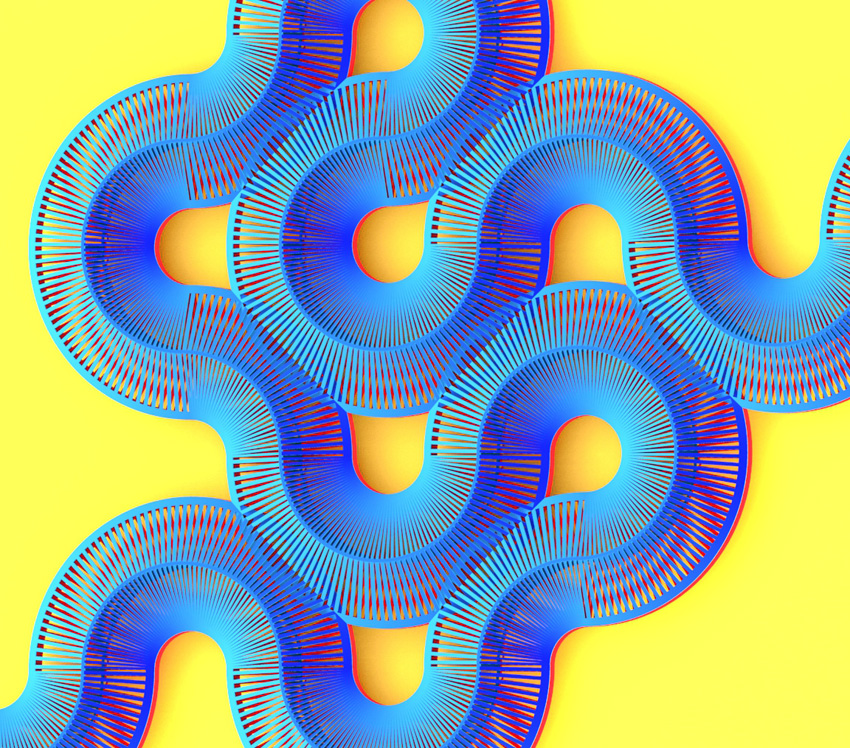 Visit Lynne MacLachlan along with 16 other talented makers at the Scotland: Craft & Design pavilion at the London Design Fair.
Thursday 21 - Sunday 24 September
10am - 6pm
First Floor Hall T4-A
Old Truman Brewery
91 Brick Lane
London
E1 6QR
Book your tickets on the London Design Fair website.
[This interview has been lightly edited for clarity.]