Welcome to our Make Your Own Story feature, a series of interviews with craft makers. Hear from makers who have fascinating stories to tell about living and working in Scotland. We hope their stories will inspire you and spark off new interpretations of craft.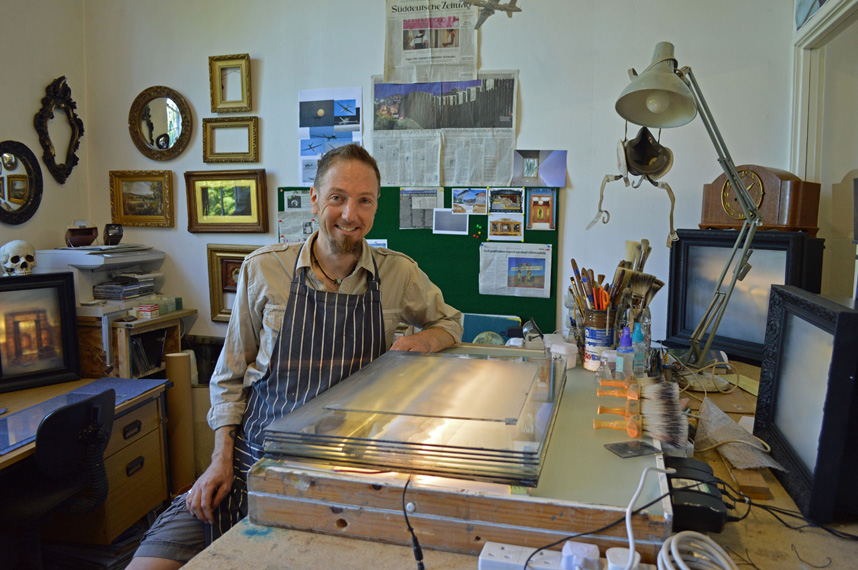 Jeff Zimmer is an artist working in primarily painted glass. Using techniques of glass painting, contemporary lighting and the transparency of glass, Jeff explores the realms of certainty and doubt along with the ambiguity, morality and mortality in contemporary society and politics. Each creation is a dynamic scene which provokes a sensual experience of mystery and light to the viewer.
Q: Hi, Jeff! Tell us about what you do?
Jeff: I create three-dimensional paintings on glass that explore ambiguity, morality and mortality in contemporary society and politics while engaging with the sensual experiences of mystery and light. I combine traditional techniques of glass painting, contemporary lighting and the transparency of glass to create dynamic scenes that appear to shift, dissolve and transform depending on the position of the viewer. The effect is somewhere between a painting, a frieze and a video on pause.
However, last autumn I had a transformative/destabilising experience during a residency at the Creative Glass Center of America, which has led me to question every aspect of my practice. Among other things, I've begun using a laser to etch the surface of the glass, which has enabled me to create imagery on items that would be impossible to enamel onto, such as the screens of mobile phones and computers. This has not only expanded the materials I can work with but has opened up new possibilities for creative expression.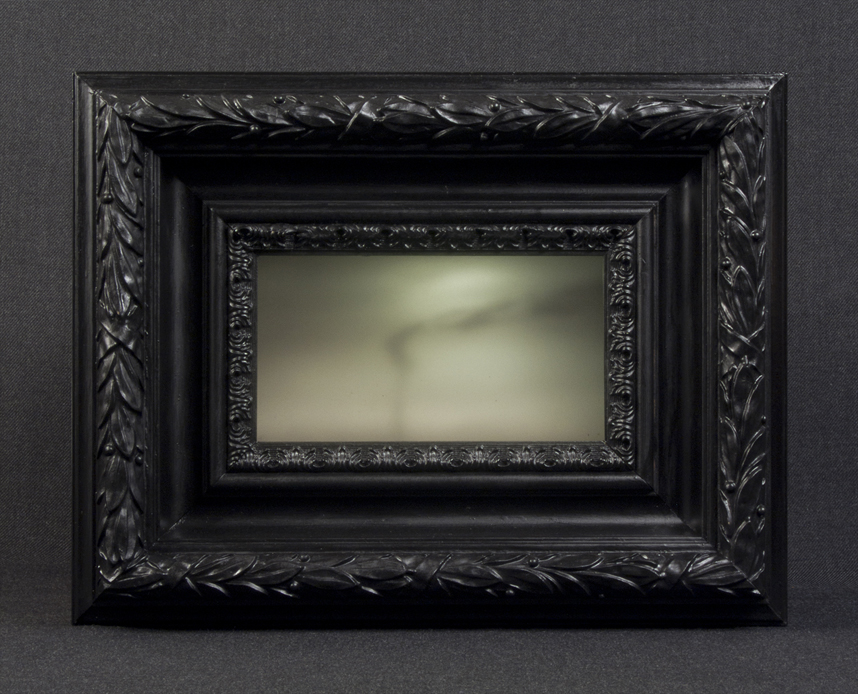 Q: Where do you derive your inspiration from?
Jeff: My ideas frequently come from a distillation of news and current events, ideally through the reading of newspapers. There is something about the way the eye moves across the articles on the pages, the selection of images, and the juxtaposition of text and imagery that I find uniquely stimulating. My sketchbooks are full of newspaper clippings. My creative process is slow and deliberate, and, therefore, while my work is usually rooted in politics it is rarely topical. I start with stories that take my interest and, over time, notice threads connecting various stories that seem to reflect other, deeper, perhaps unspoken, issues. Simultaneously, I do the same thing with images and symbols. An image may be associated with a story, but is just as likely to be an aesthetic experience, such as 'fog' or 'whiteness'. These ideas and images filter through my thoughts and sketchbooks and are churned throughout the sleepless hours of the insomniac. When a fertile idea finds a strong visual expression, I start to work.
For example, my recent series, 'The Disconnect Between Action and Consequence', was inspired by the fallout of the 2008 financial crisis. News stories simultaneously documented the devastation caused by the crisis and the apparent lack of consequences for those who set up and exploited financial systems and regulation (or lack thereof) and were the most responsible for the crisis. With continuing austerity in the UK, these effects are still reverberating for the more vulnerable, while the financial sector is more profitable than ever. This disconnect between those whose actions are most responsible for precipitating the crisis and those left to suffer the worst effects find parallels in politics, religion, race, gender, sexuality and any relationship of unequal power. At the same time, the Obama administration in the US was increasingly using unmanned aerial vehicles, or drones, to carry out attacks of questionable morality and often high mortality in foreign lands. The operators of these drones sat safely in facilities outside of Las Vegas, and the commanders up the chain who ordered the attacks were even further removed from any risk. The theme of disconnect, therefore, found the perfect visual expression. Many people assume the series is about drone warfare. It is not that simple. It is a meditation on the responsibilities of power and the peril of insulating people from responsibility for the consequences of their actions, especially in situations where it is structurally easier to act impersonally.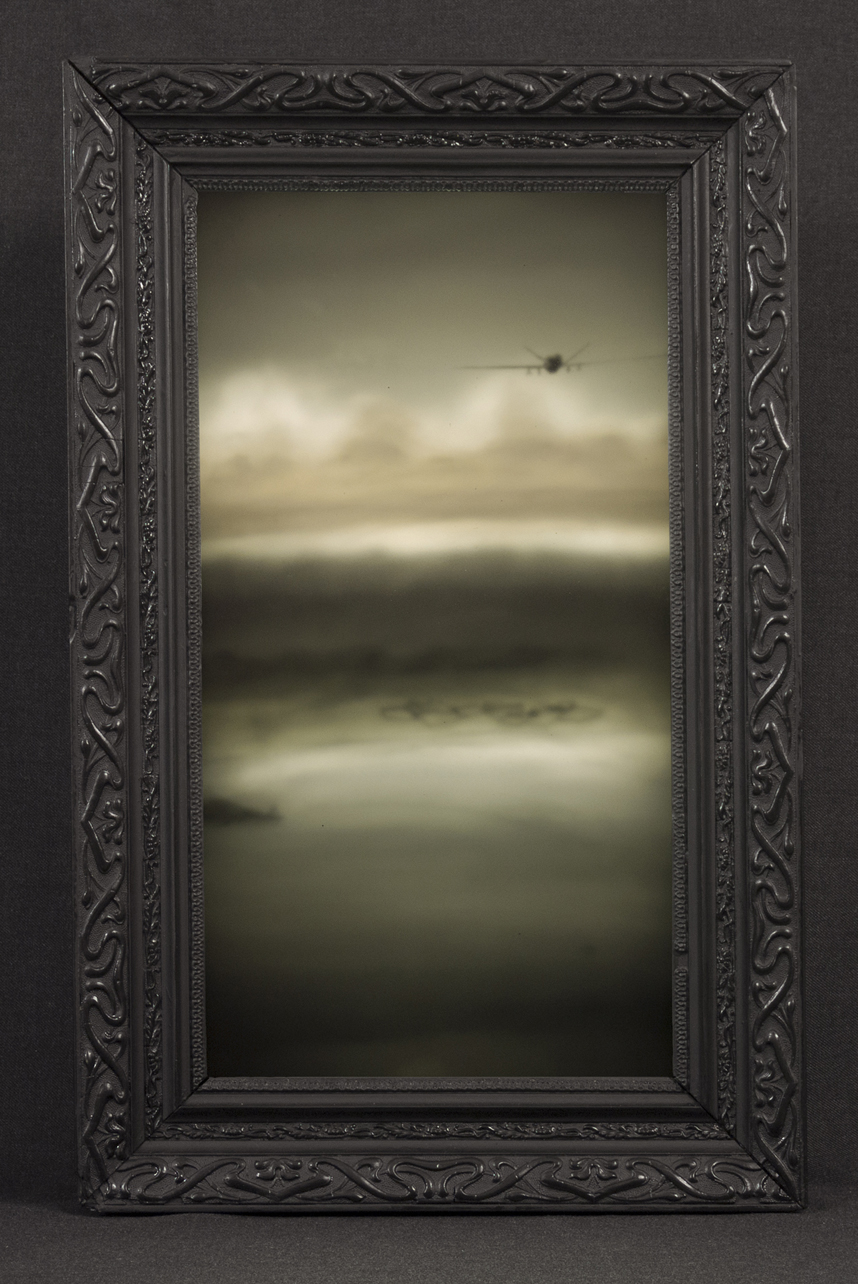 Q: Does your theatre background influence your craft?
Jeff: Yes, of course! The first thing I learned in my theatre course was:
"Theatre is an act of communication between an actor and an audience."
Three things: an actor, an act of communication and an audience. While others argue over the definition of 'art,' 'craft,' 'design,' etc., I focus only on those three things. Of course, theatre is a time-based experience, while my works are simultaneously objects and acts of communication.
Aesthetically, my work, with its images on layers within a frame, can recall a proscenium theatre, and I referenced this in my 'Theatres of Glass' series. While many people have told me the work makes them think of theatres or even the toy theatres they had as children (both of which I agree with!), I consider them closer to stills from a video.
Your glass painting technique is quite interesting. Tell us about it...
Thank you! My process has its roots in techniques of stained glass - I use the same types of enamels and glass paints. These are fired in a kiln to 570°C, which is hot enough that the fritted glass in the enamels melts and adheres to the surface of the glass. This means my work should easily last for centuries, if not longer. This potential for longevity weighs heavily on me when composing the work.
During a residency at North Lands Creative Glass, in Caithness, I had another transformative creative experience (residencies are good for that!). I had had a (perhaps overly) intellectual idea I wanted to pursue, but couldn't find a way to make it gel. After a frustrating day in the studio, I would leave around midnight to wander the cliff tops by moonlight and be buffeted by the wind as I looked out over the crashing surf far below. I felt extraordinarily small in space and time as I stood alone in that wide open, ancient landscape. I became obsessed with trying to capture that feeling of the volume of space and started consciously working with imagery spread across many layers. In the beginning, I used between 20-30 layers of glass in each piece; now I've refined the process and typically use between 8-12 layers, depending on the image and the overall size.
Most of my works have a foggy appearance. This relates to the value I place on ambiguity as a theme and an experience. Emotionally, this imparts a stillness that is an important part of the experience. It also technically allows the multi-layered images to have a visual coherence.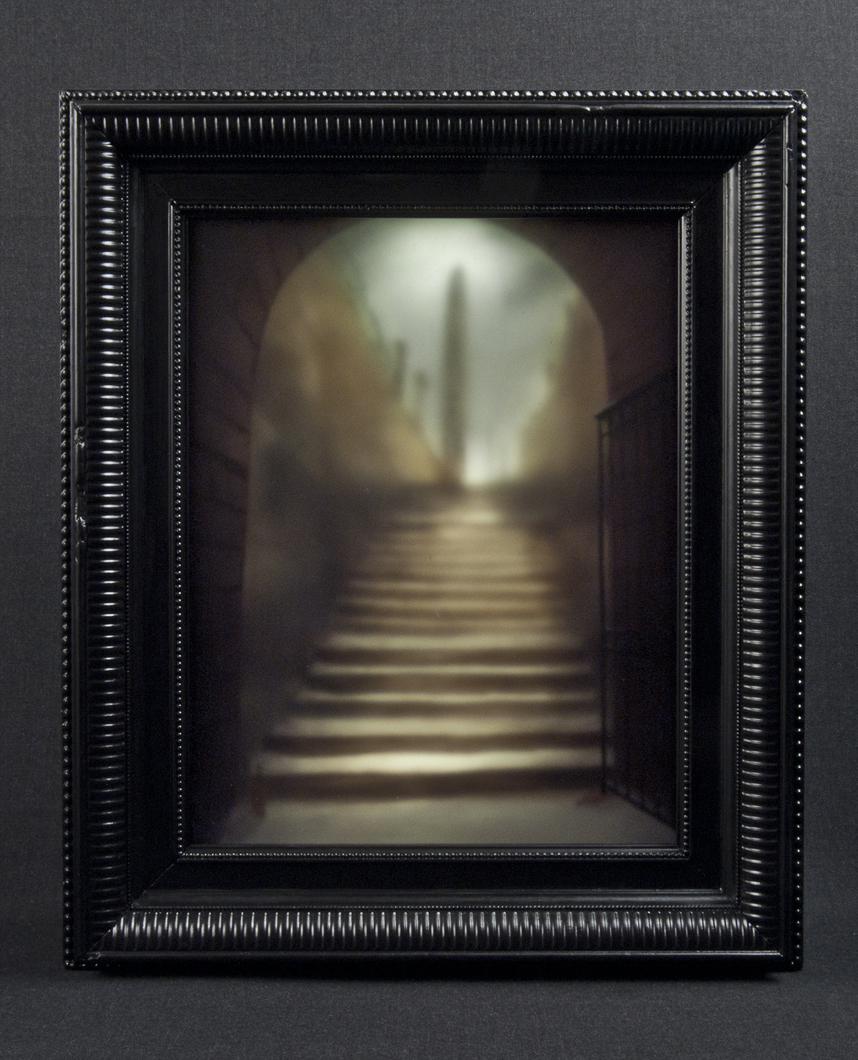 Q: Congratulations on your recent group exhibitions in America and Germany! Can you tell us a little bit about the pieces in each show?
Jeff: The work the National Liberty Museum in Philadelphia, US, was made as part of my residency at the Creative Glass Center of America. Titled 'The Presence of Absence', it is part of a developing series exploring death in the digital age.
The root of this work lies in a simple act: I Googled my first lover, and he wasn't there. John died of AIDS in 1995, part of a generation of lost gay men. Fast forward twenty plus years and it often seems that the entirety of the world can be found online. The internet is where we see our lives reflected back at us. It shapes how we view our reality. But this man, who was so central to my life, has never existed online. This simple realisation re-opened a wound and created a new void. This piece explores that void.
Hovering in front of a large skull and two overlapping red crosses, symbolizing HIV and AIDS, the phrase:
"Your search - John Miles & Jeff Zimmer - did not return any documents"
has been repeatedly etched by a laser onto layers of enameled glass, removing the enamel and creating voids where the words are.
'The Presence of Absence' is part of Transparency, the first museum show of glass works produced by LGBTQ+ artists and makers.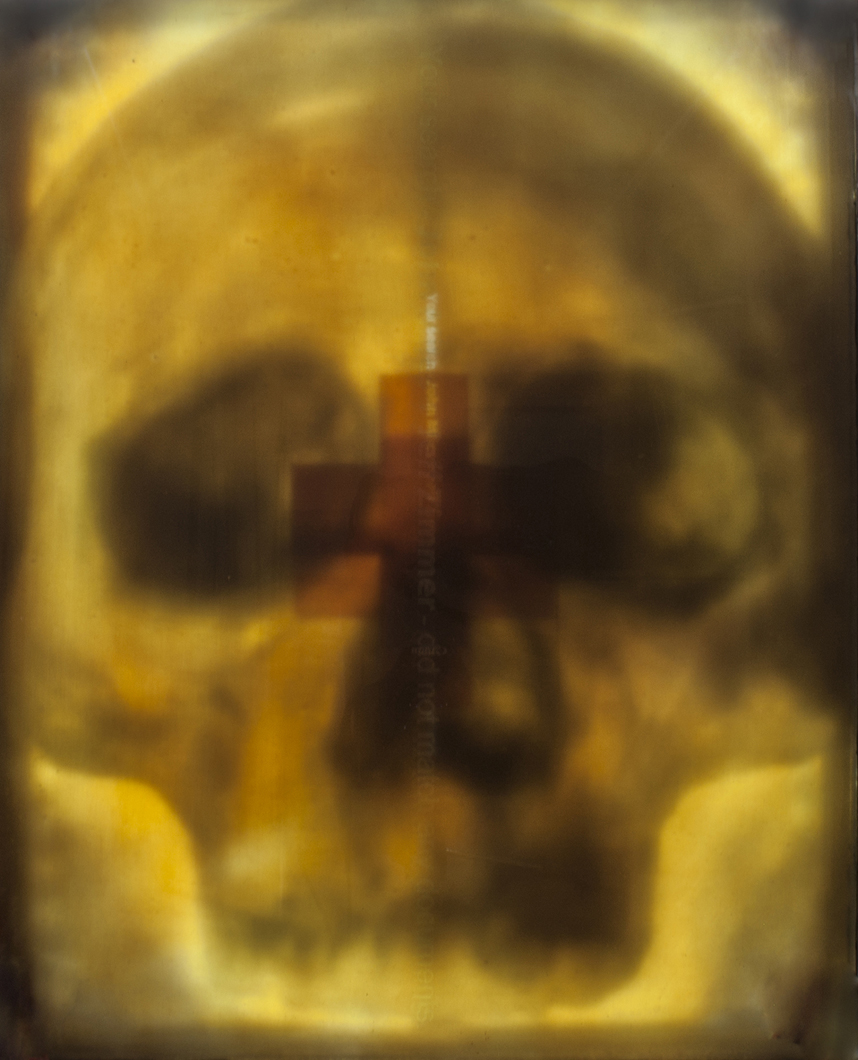 The work in Germany is part of the celebration of the 30th Anniversary of Bild-Werk Frauenau, an international summer academy in the Bavarian Forest, and grew out of my time teaching there. The clock case was bought at the local Flohmarkt (flea market), and the smokestacks are based on one at the local glass factory whose imminent closure had recently announced. While the work has many layers of meaning for me, in this context the piece both honours the legacy and reflects the decline of the glass industry in the Bavarian Forest.
The use of the mantle clock case as a container for my layered glass paintings has led to the development of two new series. Naturally, time pieces suggest the passing of time, which make them a natural frame for memento mori imagery.
The second series examines the legacy of 19th and 20th-century industries and questions their continued role and relevance for the future.
Q: How do you hope the audience will respond to your work?
Jeff: The pieces are quiet and should be approached slowly, preferably in a quiet space with subdued lighting. They have an ambiguous quality, both aesthetically and thematically, which can be discombobulating. I hope the experience is one of mystery and that audiences find them beguiling, unnerving and enervating with a suggestion of the numinous.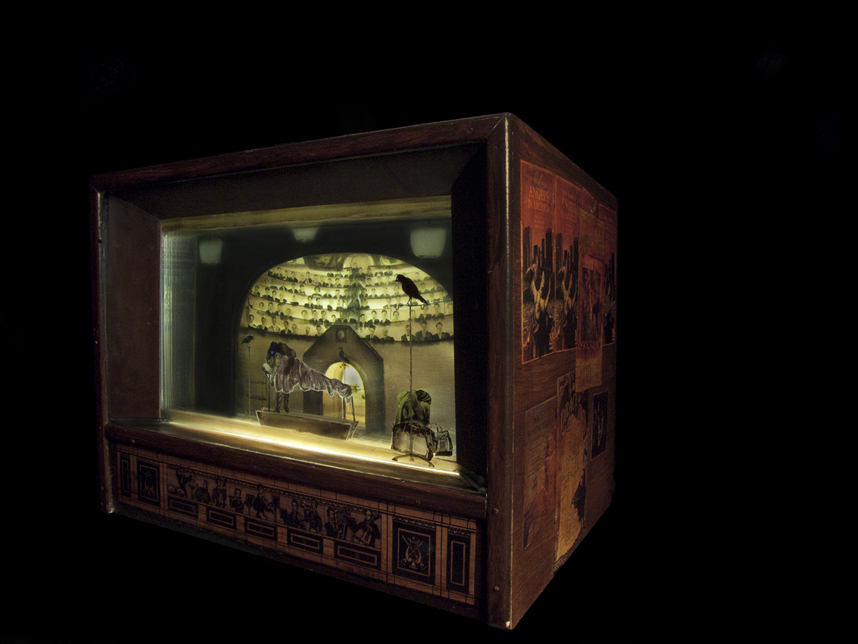 Q: You're originally from North Dakota in America, what brought you to Scotland?
Jeff: Though I was born in North Dakota, my family moved when I was a few months old and I've lived most of my life in Washington, DC. Opportunities to study glass painting in an art school environment don't exist in North America, so I knew I needed to look to Europe. The Glass Department at the Edinburgh College of Art offered a combination of expertise in glass painting with the support and encouragement to allow my studies to take any direction. So, I moved to Edinburgh to study and stayed!
Q: How has living and working in Scotland influenced you as a maker?
Jeff: Scotland has had a profound influence on my work and my ability to survive as an artist.
I use a subdued colour palette that is quite at home with Scottish landscapes, both urban and rural. There is a quietness to the work that seems more natural amongst the Scots than among Americans, and living here has allowed me to encourage that sense of stillness. Of course, it is quite easy for audiences around the world to associate the fogginess of the work with Scotland - though to be honest, some of the fog I've painted have been from winter mornings in Ohio. But people associate fog with Scotland, and not with Ohio, so there you go.
Because Scotland is a small nation and has identified cultural heritage as nationally significant, it feels like there is a greater ability to connect to the support artists often need. Our creative bodies, such as Craft Scotland, North Lands Creative, etc. are energetic cultural forces and, as residents of Scotland, it often feels like we have more ownership of these organizations than colleagues in many other places. Alumni from ECA's Glass Department often remain in the area, and we provide a sense of camaraderie and support for each other.
And, of course, as a self-employed artist, the NHS has been vital to my desire and ability to stay and pursue my dreams without having to worry about whether I can afford medical insurance.
Meet the Maker - Jeff Zimmer
Discover Jeff Zimmer and his artwork by visiting his website and Facebook page.
This interview has been lightly edited for clarity.