Welcome to our new feature Make Your Own Story, a series of interviews with craft makers. Hear from makers who have fascinating stories to tell about living and working in Scotland. We hope their stories will inspire you and spark off new interpretations of craft...
Our second interview is with Mariam Syed, a woven textile designer based in Glasgow, whose practice is influenced by the visual culture of Pakistan and mathematics.
Mariam is extremely passionate about weaving and her excellent craftsmanship is evident in her beautiful designs that are meticulously woven on a traditional loom. Her graduate collection for her Textile Design Bacholors degree at the Glasgow School of Art focused on creating colourful vibrant prayer rugs to encourage young Muslim children to pray. Mariam is inspired by the rich visual culture of her hometown Karachi in Pakistani.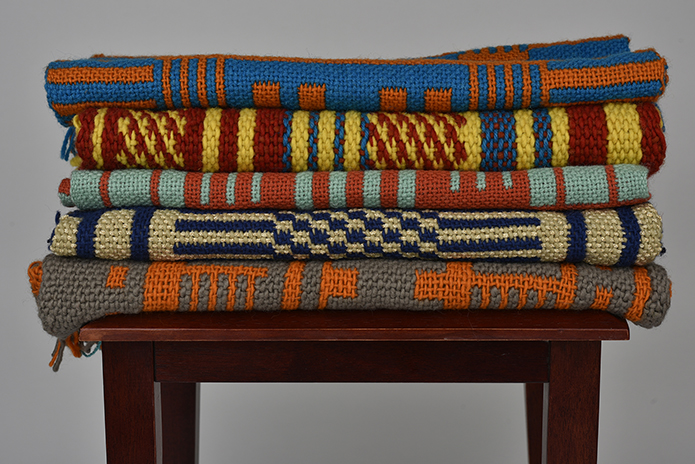 Q: Hi Mariam, tell us about what you do?
Mariam: I am a woven textile designer based in Glasgow. I design and weave rugs and fabrics for home interiors. My design practice defines everything I am passionate about: weaving, vibrant colours, architecture and geometry.
As a mathematician at heart, geometric patterns are quite central to my woven designs and I love the challenge of constructing new weave structures from my primary research and drawings. I enjoy weaving with reclaimed and sustainable yarns to create ethically responsible fabrics.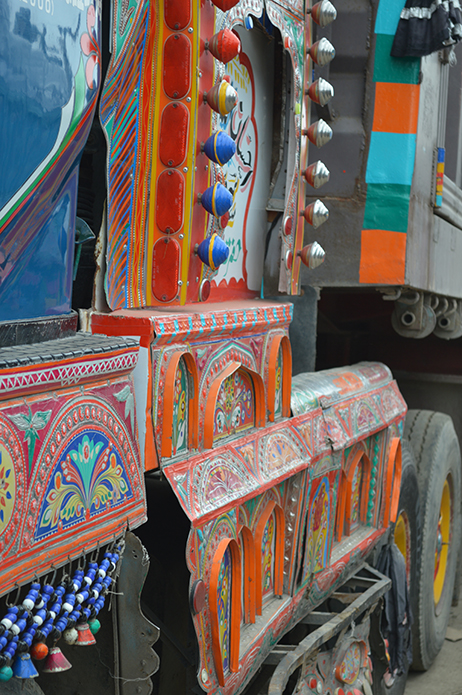 Q: Where do you derive your inspiration from?
Mariam: I am from Pakistan and a lot of my inspiration comes from my city, Karachi.
I love the vibrant coloured Pakistani trucks set against the magnificent pre-colonial British Architecture in the old town of Karachi. I love the explosion of pattern and bold colours on the trucks and picking out pops of colour in the otherwise dull city buildings. I try to achieve the same boldness of colour in my woven designs and try to balance the vivid colours with "beigey" neutral tones of the buildings.
My graduate collection was a range of prayer rugs for children complimented with head silk scarves and Quran covers that were inspired by the Pakistani Trucks. I also derive inspiration from the Bauhaus weavers and find the works of Gunta Stölzl and Anni Albers absolutely mesmerising.
I enjoy reinventing traditional weaving techniques and exploring complex weave constructions to discover new designs for a contemporary audience. Currently I am working on the design intervention of a traditional Pakistani weaving technique called Sussi- which is a striped multi-coloured toothed fabric of rural Sindh, Pakistan.
Q: Tell us about your design process from initial idea through to final piece?
Mariam: My design process begins with photographing places and collecting things that inspire me. I then break the colour of my visual information by wrapping yarn around a piece of plastic to develop my colour palette. I enjoy building monochromatic collages and experimenting with their arrangement to develop design ideas. Working on graph paper, I construct weave structures by using the double cloth technique. Double cloth is instrumental in the transition of my design ideas onto fabric as it is extremely versatile and has infinite design possibilities.
Once I am happy with the design, I set my traditional loom up and start the fun part of my design practice - technical sampling. Infusing the geometric patterns with the vibrant colours from my colour palette and testing out different weights of yarn is my favourite part of the design process. I am the happiest on the loom and can weave for hours on end!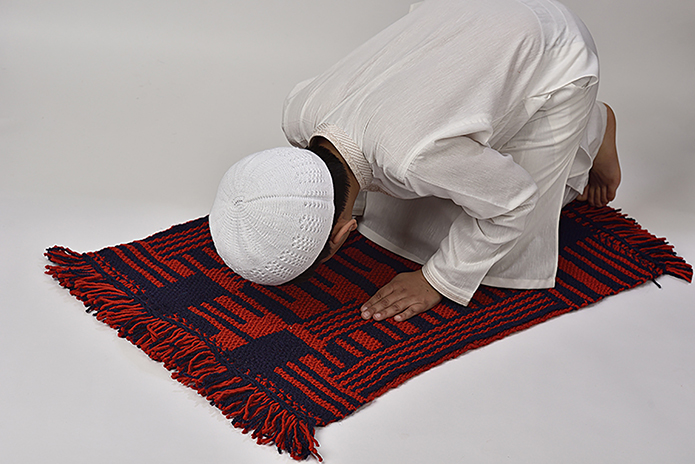 Q: Was it a childhood dream to be a maker?
Mariam: My dream as a child was to become a paediatrician and I took science and maths at high school to fulfil my dream. Visiting the Accidents and Emergency department at one of the local hospitals one day totally shattered that dream, as I could not stand the blood or cries of the ailing patients.
Drawing cartoons was a childhood hobby of mine, and my mother suggested I attend the open day at Karachi's best art school to explore career options as medicine was completely out of the picture. Listening to the Head of Department of Textiles talk at their Open Day, I fell head over heels in love with textiles.
I graduated from the renowned Glasgow School of Art in June 2016 and have been working towards establishing my brand since. I believe that the art school and especially my tutors have helped build up my confidence and encouraged me to develop my creativity. They have provided me with the knowledge to create beautiful woven textiles while challenging me to find my own solutions and trust my instincts.
My science education has also shaped the way I work today - by being super organised, inquisitive and breaking down big tasks into smaller more manageable ones. My affinity with mathematics makes me work traditionally on graph paper to construct new weave patterns.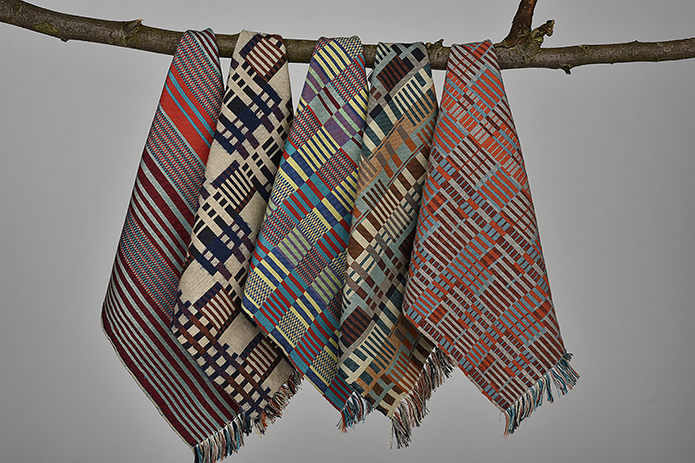 Q: What do you hope is the audience response to your work?
Mariam: I see myself as a storyteller; exporting the hustle and bustle of busy Karachi and translating it into contemporary woven textiles. I want the audience to interact with my woven designs; to touch and feel the textures and the drapery of the different weights of fabric. I hope that the rich heritage of my Pakistani culture is reflected in my woven designs and that it speaks to the audience.
Q: Congratulations on being accepted to Hothouse 2017! What do you hope to get out of the Hothouse programme?
Mariam: I am confident about my woven designs but I need guidance and expert business advice specifically tailored towards creative businesses to support my design practice which Hothouse offers. I hope to gain the necessary skills to take my business forward in the right direction by the end of the Hothouse programme.
I am also looking forward to the 1:1 mentorship with my mentor, Textile Artist Linda Green. I hope to recognise and develop my full potential to achieve my creative and business goals. What initially attracted me towards the Hothouse programme were the interesting blog posts written by the previous Hothouse makers. They talked about the camaraderie of fellow makers from a range of different disciplines sharing and developing ideas. I experienced that at the Hothouse Induction in early February and hope to build lasting friendships with all the talented Hothouse makers.
Q: How has living and working in Scotland influenced you as a maker?
Mariam: Scotland has an interesting history of weaving traditions ranging from the Paisley pattern to the Harris Tweed woven in the Outer Hebrides to the Dundee Jute Firms and the famous Tartan. As a weaver, I find Scotland's rich and diverse Textile heritage refreshing and intriguing. There is a wealth of knowledge and so much to learn from.
Scotland influences me to work harder and keeps my passion alight. Having lived in Scotland for the last ten years, I have felt welcomed and very much at home. The Scottish are friendly and their cultural and traditional values are rooted in their hearts which reminds me of Pakistan. My heart may belong to Pakistan but my soul is definitely Scottish!
Missed our first interview with Choi Keeryong? Catch up now! You can read all about his personal cross-cultural experience of being a South Korean artist/maker living in Edinburgh.
This interview has been lightly edited and condensed for clarity.