"Amazing collection, great range of makers. Thoughtfully presented, I loved it. Thanks to all for organising a fabulous show." – Craft Scotland Summer Show 2018 Visitor.
Now in its sixth year, the Craft Scotland Summer Show 2018 was the most ambitious yet. Thank you to everyone who offered their support including visitors, funders and partners, and of course to the makers who participated by showing their handmade craft and leading hands-on workshops.
This year the Summer Show featured more makers than ever, with 37 Scotland-based makers featured up on the second floor in White Stuff, George Street, Edinburgh. Plus, we saw increased sales for makers and the introduction of more sell-out maker-led workshops.
Fantastic feedback in the press and from visitors
The Craft Scotland Summer Show 2018 featured in press across Scotland, including; The List, The Herald, BBC Radio Scotland, The Skinny and more. In the Sunday Post, Megan McEachern encouraged the public to visit us:
"The show has now become a must visit experience of Scottish craft"
From our visitor survey, we have seen a wealth of positive feedback. Attendees of our hands-on workshops were learning new skills from makers and Summer Show visitors discovering design-led craft.
All of the positive press and feedback is a testament to the Craft Scotland team's hard work over the past six years to shape the Summer Show, now an essential event for all craft consumers calendars.
Showcased makers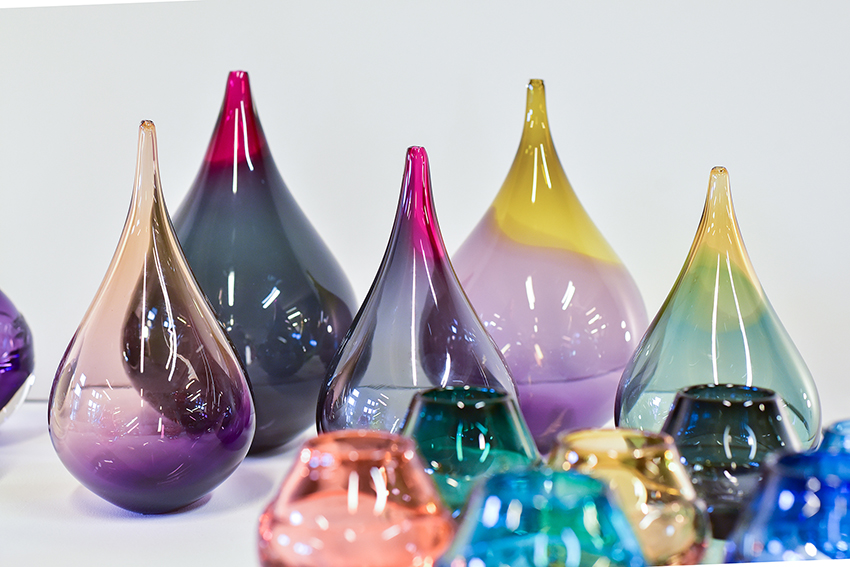 Elin Isaksson / Photography by Ellie Morag
"The show always has a very special buzz about it and it's clear that it has now gained the reputation of a must visit event during the Fringe. It's also great to be part of such a professional event and feel a sense of belonging to a community of Scottish [makers]" – Craft Scotland Summer Show maker
This unique annual selling exhibition celebrates the wealth of talented makers in Scotland, and features exquisite jewellery, stylish accessories and beautiful homewares; all handmade and carefully selected. During the show, makers made meaningful connections with gallerists, journalists, stockists and other sector professionals.
Scotland's growing craft sector led to an increase in the number of makers who featured in this year's show. With a grand total of 37 makers exhibiting, 12 of them being new to the Summer Show, visitors were delighted with the larger selection of quality craft to choose from.
New additions included Elin Isaksson's vibrant hand-blown vessels and Rhona McCallum's geology inspired silver and gold jewellery. Knitwear was a popular part of our Summer Show this year. With a total of six textile makers who work with wool in different ways, including BAKKA, Flora Collingwood Norris and Green Thomas.
Makers returning to the Summer Show after previous successful years included contemporary ceramicists Natalie J Wood and Myer Halliday, who both create high-quality minimal homeware. You can discover all of the talented makers on the Craft Scotland Summer Show 2018 project page.
Maker-led workshops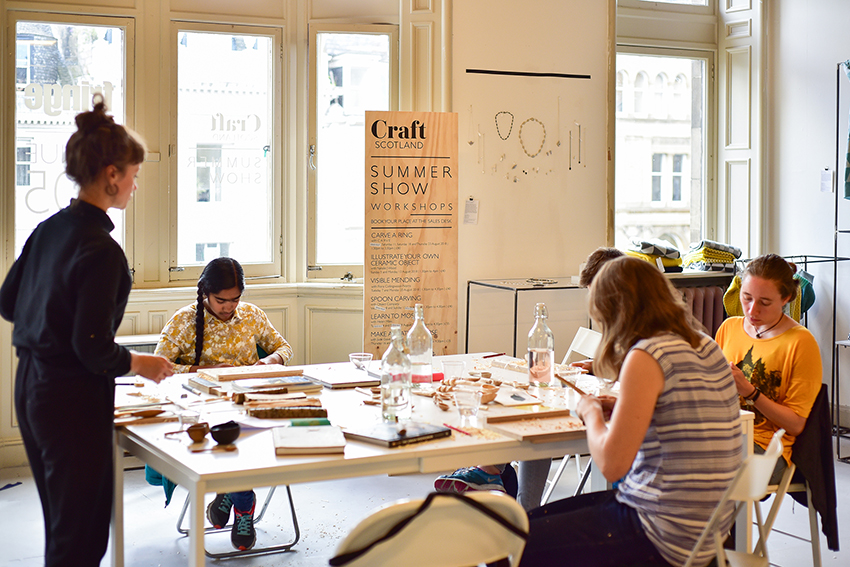 Object Company Workshop / Photography by Ellie Morag
After the popular response to last year's maker-led workshops, we decided to expand and grow this successful part of the Craft Scotland Summer Show. Participants made leather purses with Jude Gove, created mosaics with Helen Miles in her sell-out workshops, made bespoke rings with CARVE and more.
In a glowing review of Natalie J Wood's workshop, Sophia Charalambous from Broadway Baby commented:
"Taking a few hours out of the day to create something both decorative and functional in a craft, one of the oldest in human history, is a wonderful way of keeping the discipline alive."
Additionally, as part of our Outreach and Engagement programme, we welcomed a group of young people from Young Scot to participate in a wooden spoon carving workshop with Object Company. Young Scot is a national youth information and citizenship charity. Their important work encourages young people to be well informed and confident in their abilities by offering a range of easily accessible resources in a variety of formats.
Explore the Summer Show in film
This year, we commissioned videographer Tao-Anas Le Thanh to create a film so our audience can continue to experience the Summer Show 2018. Watch the short film for a tour of the exhibition, capturing the makers work that was showcased on stands by Leith-based GRAS on the stunning second floor of White Stuff.
Events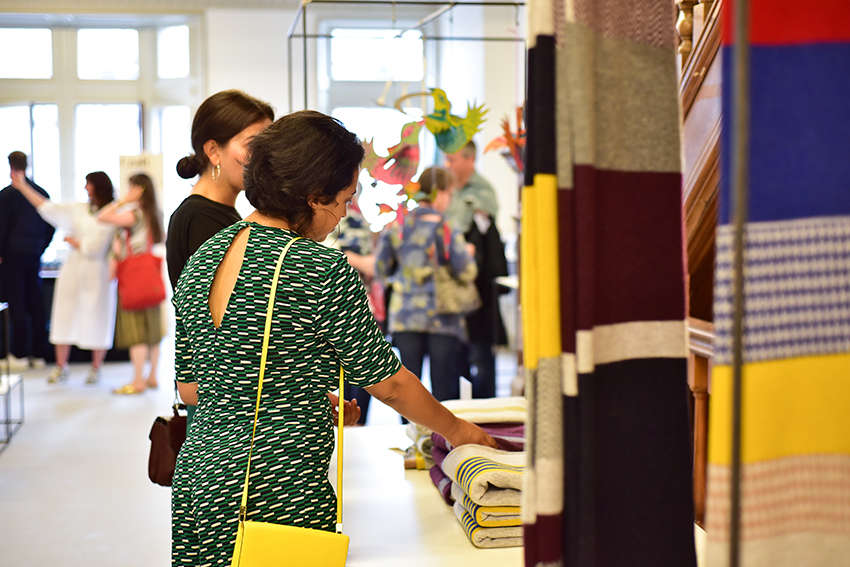 Green Thomas / Photography by Ellie Morag
The Opening Event introduces journalists, buyers, curators and influencers to the Craft Scotland Summer Show, and gives makers the chance to network. Plus, we collaborated with Ruth MacGlip, of ethical fashion and lifestyle blog Urbanity, to invite Scotland-based bloggers to the Summer Show for a casual gathering.
Supportive Partners
Our Summer Show was held on the second floor of White Stuff, Edinburgh for the sixth year; this stunning space lends itself seamlessly to the craft we showcase and we were pleased to partner with them again. The British fashion and lifestyle brand was founded in 1985 and has long demonstrated a commitment to great design, an ethos that Craft Scotland shares.
For the second year in a row, we entered a media partnership with The List. With their valuable support as the UK's go-to magazine for quality events, we were able to reach an audience of arts and culture enthusiasts that both live in Scotland and international visitors. The Craft Scotland Summer Show is part of the Edinburgh Festival Fringe, an iconic annual festival that promotes 3,000+ events, performances and exhibitions. Thanks again to all of our partners, including; Creative Scotland, Own Art and Young Scot.
A big thank you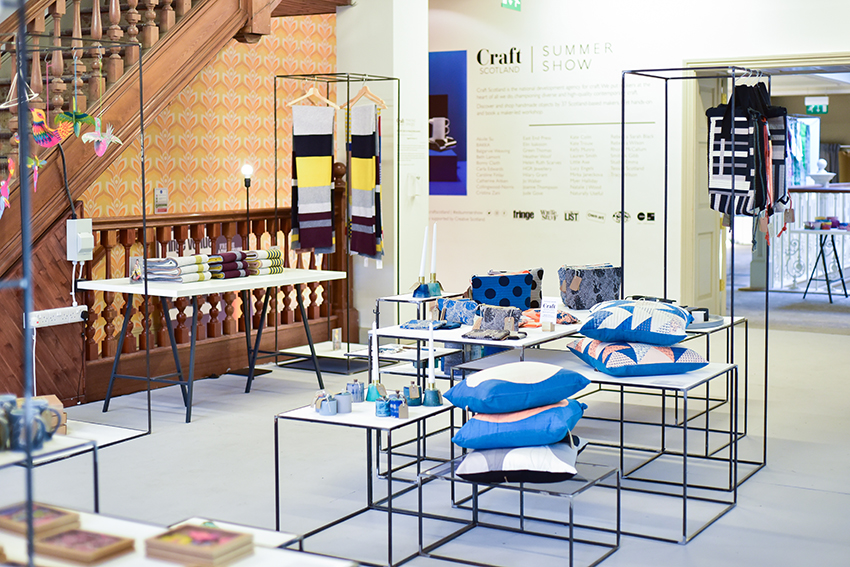 Photography by Ellie Morag
We were thrilled with the success of our sixth Craft Scotland Summer Show, and want to thank everyone again for making it fantastic.
Coming up next
We are currently preparing for a number of exciting projects; the next one in our calendar is NY NOW, taking place in February 2019. At this renowned international trade fair, Craft Scotland will take UK-based makers to showcase their work in the Handmade Designer Maker section of NY NOW.
Plus, we have recently revealed the talented makers who will join us at Collect 2019, an exhibition of contemporary craft in the Saatchi Gallery, London.
Summer Show 2018 Round-up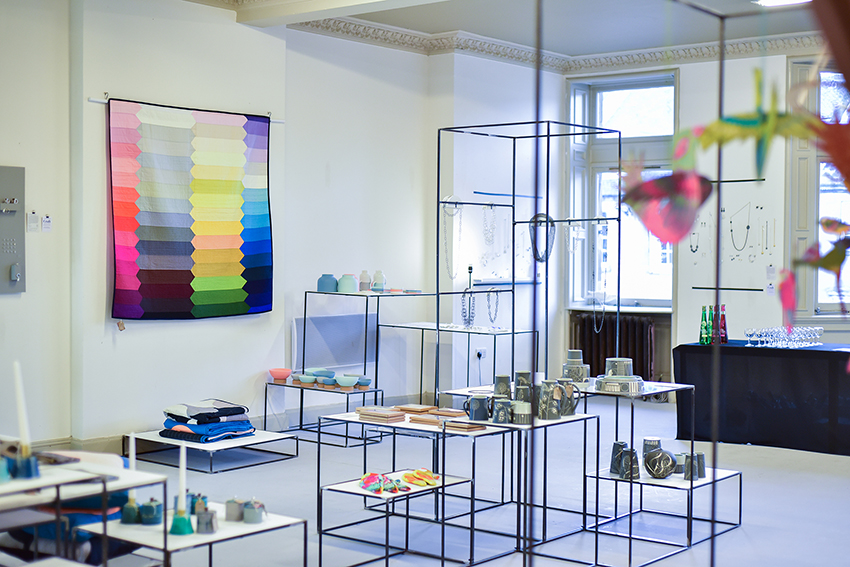 Summer Show 2018 Round-up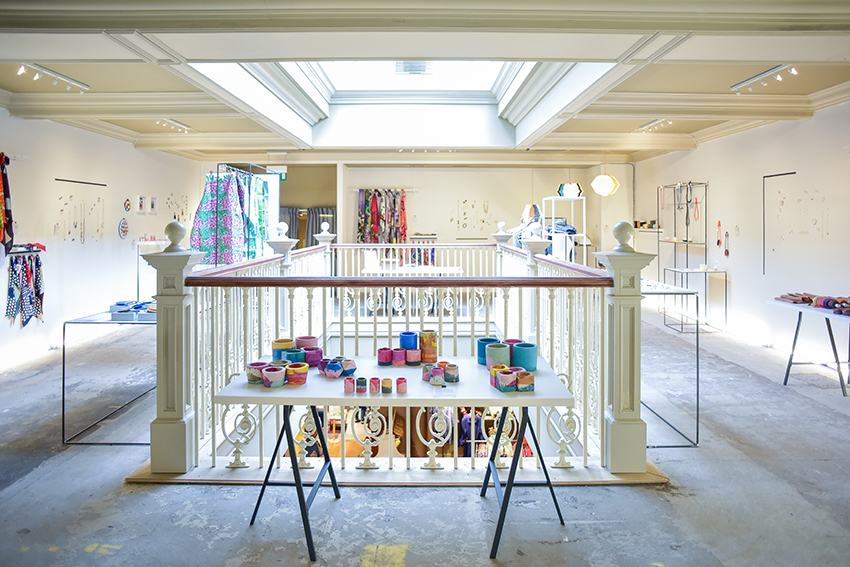 Transparent