"Absolutely beautiful work at unbelievably good prices. Will strongly recommend." – Summer Show 2019 Visitor
The Craft Scotland Summer Show is a firm fixture in the calendar, when visitors can discover statement handmade objects from 41 Scotland-based makers in one unique location.
Our Summer Show, which took place Friday 2 to Sunday 25 August 2019, was a great chance for people to get involved with our maker-led workshops and special shopping events throughout the Edinburgh Festival Fringe.
Returning for its seventh year on the second floor at White Stuff, Edinburgh, we saw positive sales for makers and sell-out maker-led workshops. Plus, for the first time at the show, we held two Young Maker workshops for ages 12 to 16 years.

Through the Craft Scotland Summer Show, makers could raise the profile of craft in Scotland and develop new audiences for their work by selling direct to customers.This year's showcase featured more makers than ever before, with 41 Scotland-based makers. 44% of makers were new to the Craft Scotland Summer Show, making it a great opportunity to experience the breadth of making talent in Scotland.
41 makers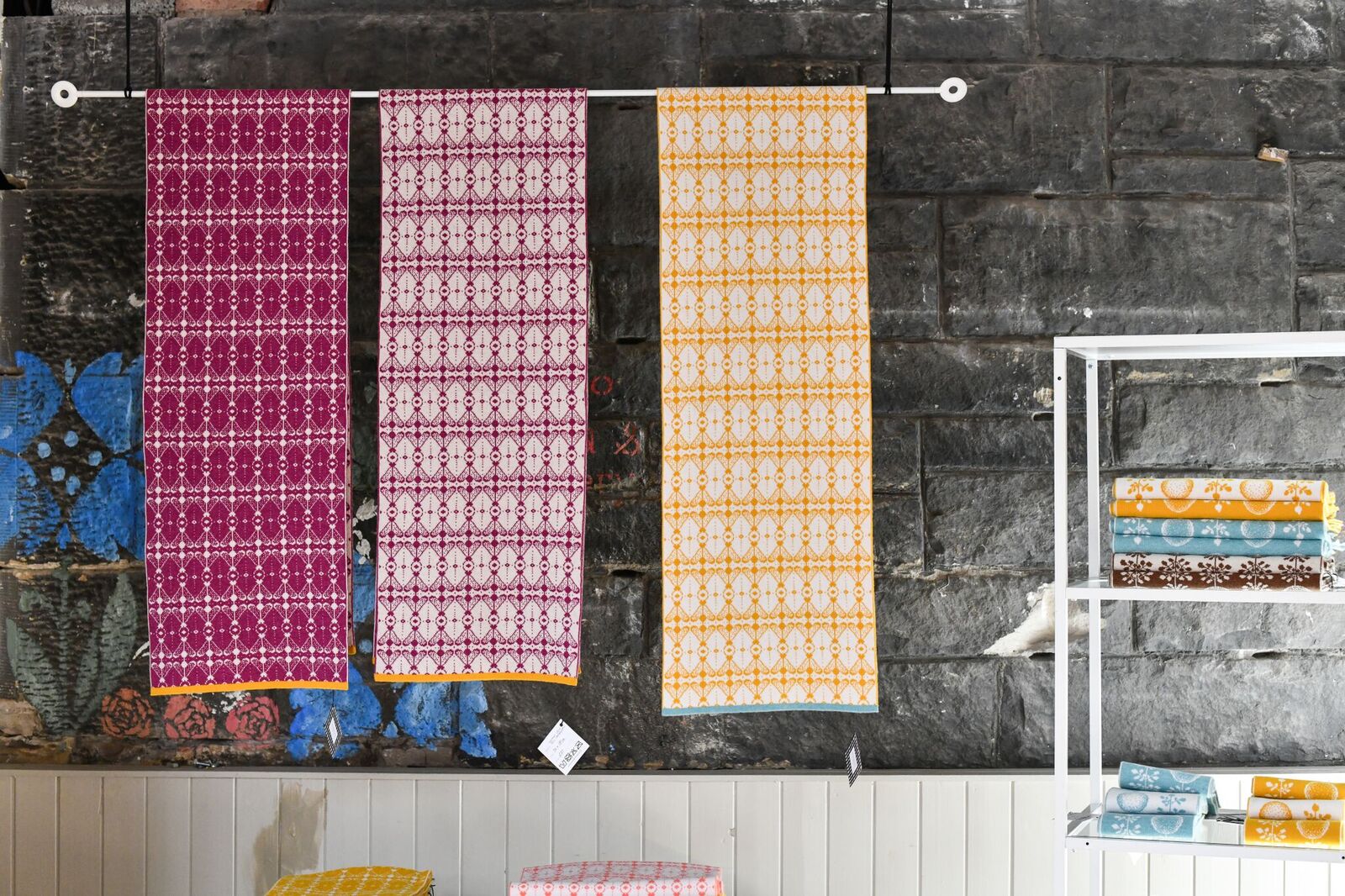 Image: Scarlet Knitwear / Photography by Ellie Morag
Presenting statement handmade objects from 41 Scotland-based makers, the Summer Show is a unique annual selling exhibition celebrating the very best from the Scottish craft sector. This year's showcase included precious metal and mixed media jewellery, woven cushions and rugs, quilted and printed textiles, hand-thrown ceramics, vibrant glass, forged steel vessels and wooden homeware.
For its seventh year, we asked industry professionals to join our selection panel: Gillian Scott (Director, Craft Design House) and Mhari McMullan (Director, Welcome Home), alongside Craft Scotland's Allyson Gee (Project Officer).
New additions included Daniel Freyne steel vessels that play with perceptions, plus, hinterlands-inspired ceramics and textiles by Inches Carr Awardee Eve Campbell. Jewellery played a key part in the Summer Show, with a total of 18 makers exploring the discipline, including Aillie Anderson, Stefanie Cheong and Akvile Su.
Returning to the Summer Show after previous successful years included contemporary ceramicists Julia Smith and Natalie J Wood. You can discover all of the talented makers on the Craft Scotland Summer Show 2019 project page.
During the show, makers made meaningful connections with gallerists, journalists, stockists and other sector professionals. Makers also reached new audiences with the introduction of our Maker Takeovers, with 18 makers taking part in giving a behind-the-scenes look into their craft practice to our Instagram audience.

We received a positive response through social media, with many visitors tagging us in images of their new purchases. Alongside this, we also gained positive reviews from press including Broadway Baby and The Sunday Times, who listed us a one of The best of what's on at the Edinburgh Festival.

Press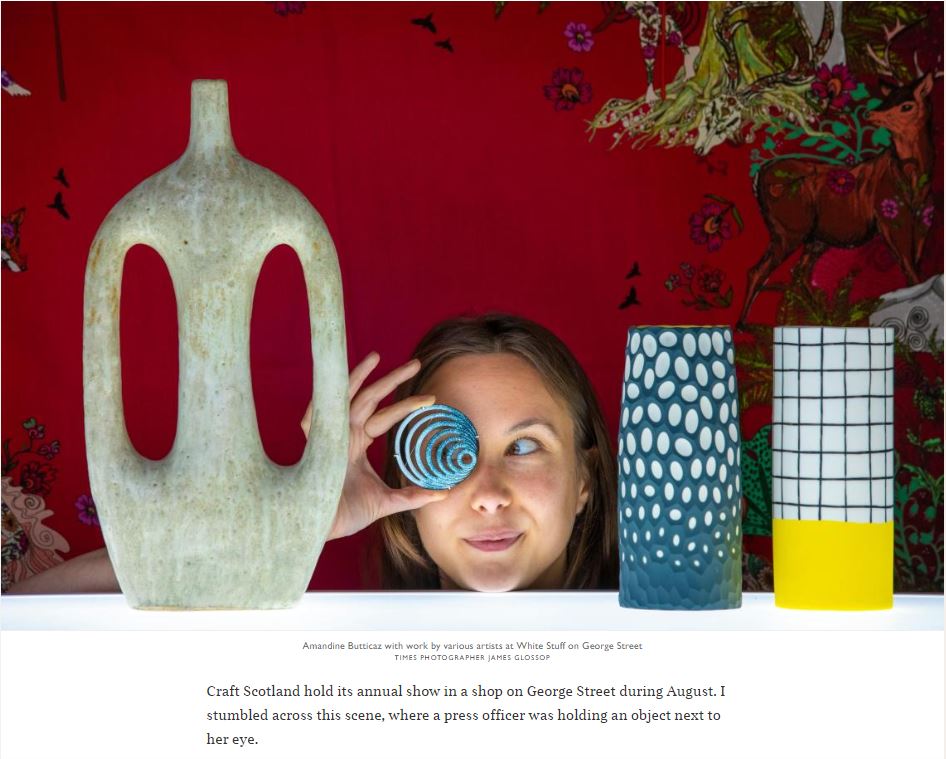 The Craft Scotland Summer Show 2019 was featured in a wealth of lifestyle and business press. The Herald, ION Mag, Scottish Field, The Times were just some of the many publications to feature our showcase, including our partner The List, who described the show as:
"providing the perfect opportunity to experience the breadth of making talent in Scotland."
Publications also praised their local makers, including Aberdeen Society who interviewed jeweller Aubin Stewart (Aubin Jewellery) and textiles designer Helen Greensmith (Helen Ruth Scarves).
You can read each article on our Press section here.
BBC Radio Scotland also gave us the opportunity to reach a new audience. Craft Scotland Director Irene Kernan, along with four of the showcasing makers Viv Lee,Dan Freyne, and Vicky Higginson, sat down with Janice Forsyth for The Afternoon Show. You can listen back to their radio interview here.
From our visitor survey, we received a wealth of positive feedback. Attendees of our hands-on workshops were learning new skills from makers and Summer Show visitors discovering design-led craft.
"Grateful for the opportunity to do a workshop through Fringe" – Summer Show 2019 Visitor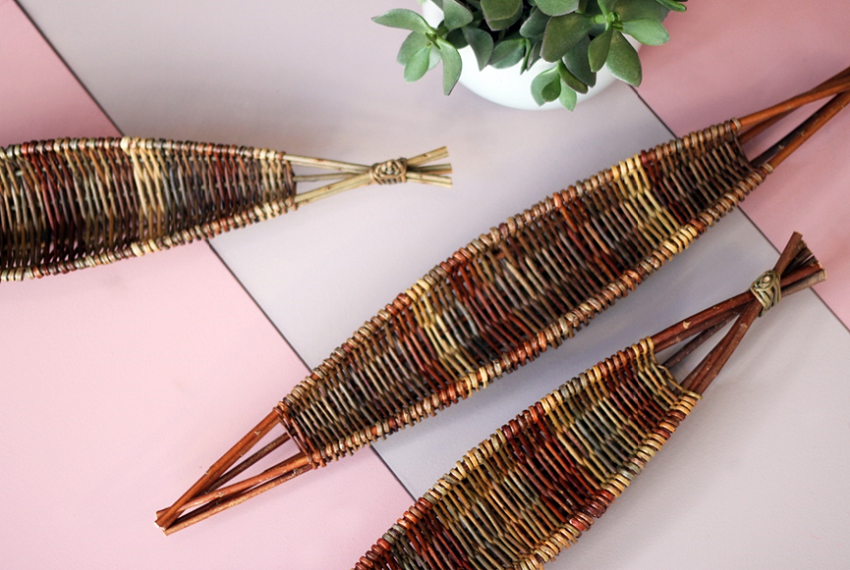 Image: Anna Liebmann / Image by Craft Scotland
Sell-out workshops
For this year's workshop series, visitors to the show could take away a new craft skill, from willow weaving or textile weaving to paper folding. With sell-out sessions, our workshops proved to be as successful as last year's series.

Participants took home their own handmade nut baskets, with the help of experienced basketmaker Anna Liebmann. Anna guided participantsthrough the grading and shaping of organically grown Scottish willows used to weave the boat-shaped baskets.
Glasgow-based designer/maker Kate Colin is known for her unique and colourful folded-paper objects. Creating three objects made entirely of paper (a star, a folded vase and a bauble), participants could learn the art of paper folding through her introductory workshops.
There was also a chance to weaving your own personalised wall hanging with fibre artist Stephanie Fradette (Le Petit Moose). Attendees could play with textures, different stitches and create shape whilst learning the fundamental techniques of textile weaving.
We were grateful to receive a four-star review from Broadway Baby for Le Petit Moose's hand weaving workshop,
"In a world where weaving is a dying art, I feel both Craft Scotland and Le Petit Moose are doing an excellent job positioning this craft as a skill worth having."
For the first time at the Summer Show, we held workshops catered to ages 12 to 16 years. The new workshop series aimed to introduce young people to craft in an engaging environment, inspiring participants to learn new skills.Young makers could learn how to make their very own book with Lucy Roscoe and also had the chance to try their hand at heat transfer printing Kim Gunn. Parents, carers and guardians were also able to assist in the workshops.
Alongside workshops, visitors to the show had the opportunity to learn more about each handmade object, with our makers and friendly team on-hand to guide visitors through the process and the materials behind the work.
"Fab as always. Beautiful displays, great variety and lovely staff." – Summer Show 2019 Visitor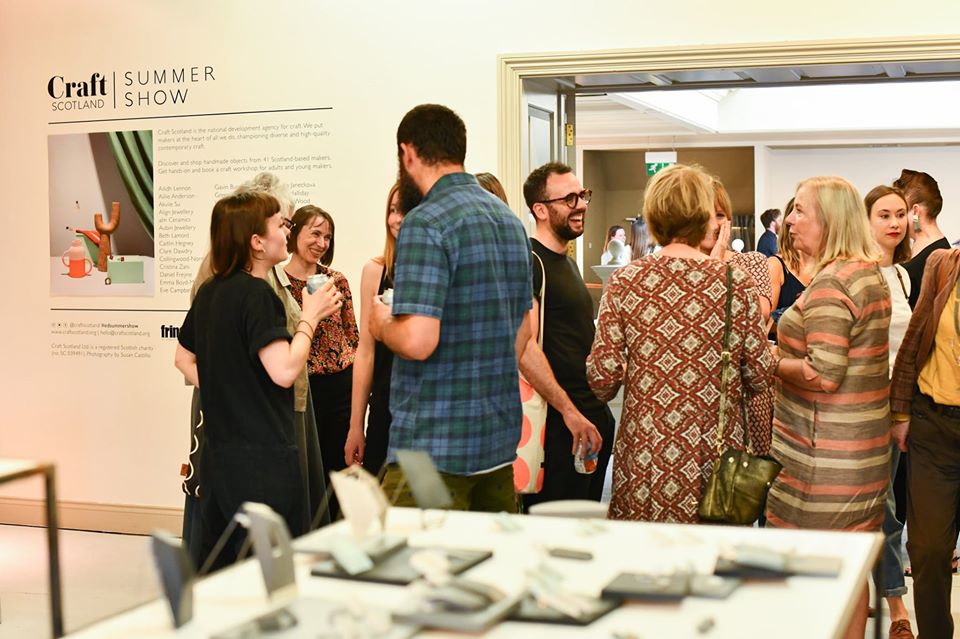 Photography by Ellie Morag
Thank you to our supporters

Craft Scotland is thrilled with the success of this year's Summer Show. Thank you to everyone who visited the Craft Scotland Summer Show 2019. We would also like to give a special thanks to participating makers, workshop leaders, funder Creative Scotland, host White Stuff Edinburgh, media partner The List, our suppliers and the selection panel.
We are passionate about creating opportunities for visitors to learn about and discover high-quality contemporary craft from Scotland in a unique setting. We're pleased to partner with the British fashion and lifestyle brand White Stuff. For its seventh year, our Summer Show was held on the second floor of their George Street store, a spectacularvenue with high ceilings and plenty of space. Founded in 1985, White Stuff has long demonstrated a commitment to great design - an ethos that Craft Scotland shares.
For the third year in a row, we entered a partnership with The List, the UK's number one magazine for events across the country.With their valuable support, we were able to reach a large audience of craft enthusiasts attending the city and the Edinburgh Festival Fringe. The iconic annual festival that promotes 3,000+ events, performances and exhibitions. Thanks also goes to our supporter Creative Scotland, a public body that supports the arts, screen and creative industries across all parts of Scotland.
What's next?
We are currently preparing for NY NOW, taking place in February 2020. At this renowned international trade fair, Craft Scotland will take UK-based makers to showcase their work in the Handmade Designer Maker section of NY NOW.
Plus, we have recently revealed the talented makers who will join us at Collect 2020,the International Art Fair for Modern Craft and Design, atits newest venue, Somerset House in London. Read more about Collect 2020 here.
Summer Show 2019 Round-up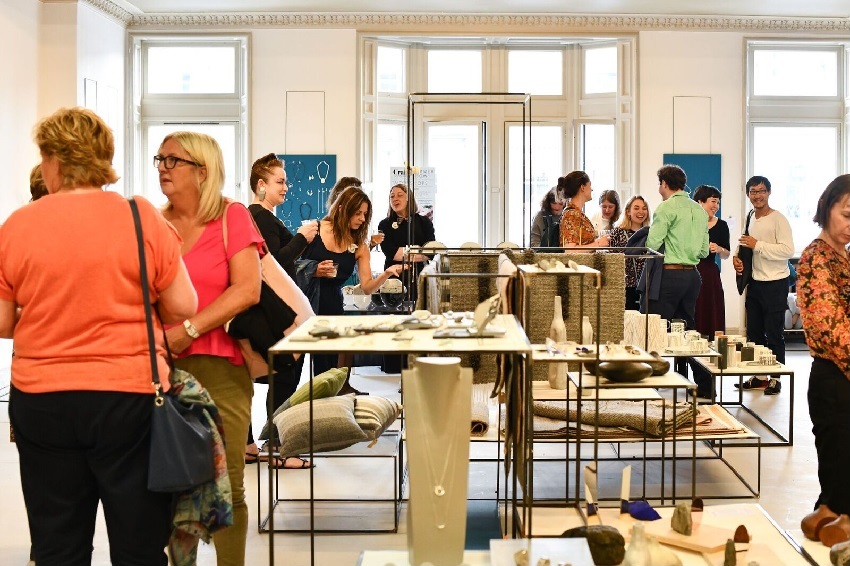 Transparent