As the final days of summer roll in, the team at Craft Scotland are reflecting on the year so far and looking ahead.
We wanted to give you an update on some strategic areas of work including Advocacy, Ethical Fundraising and Equalities, Diversity and Inclusion. Read on for more info.
Stay tuned for a Programme Update and be the first to hear about new deadlines for upcoming opportunities. Sign up for our newsletters.
Strategy & Advocacy
We know that this continues to be an uncertain time for Scotland's craft community with new situations developing around funding, cost of living, selling opportunities, studio access and wellbeing.
Please email Irene Kernan, our Director, and the team if there are specific challenges you are facing, or types of support that would help you: hello@craftscotland.org. We are available to have a chat, offer advice and signpost towards additional resources and support.
Irene continues to meet with funders and our peer-organisations within Scotland's cultural sector to advocate for the needs of the craft sector. We have recently fed into Culture Counts survey in response to the 'Parliament Constitution, External Affairs and Culture Committee's 2024/25 Pre-Budget'.
In April, we highlighted to MSPs how 10 hours of craft education a week could support young people's health and wellbeing, and how it supports wider learning and attainment at a private event at Scottish Parliament sponsored by Ruth Maguire (MSP for Cunninghame South).
MAKE Learn is an advocacy campaign and programme run in partnership between Panel and Craft Scotland, supported by Creative Scotland. More advocacy campaigns and activity are planned in 2023/24, stay updated.
Work continues on Craft Scotland's new Strategy and Business Plan for 2023-28. Over the past year, we have consulted with the Craft Development Network, our Advisory Group and held a Listening Session for makers to gather feedback to help us define our future strategic direction.
Equalities, Diversity and Inclusion
Our Equalities, Diversity and Inclusion work continues, and we were delighted to work with Garvin Sealy as our first EDI Changemaker last year. Garvin supported the team and Board to have important in-house discussions and start to lay the groundwork for our soon-to-launch learning programme.
Our public reporting has been delayed due to team capacity. Now we're back up to full team complement, we are aiming to return to our November reporting schedule.
We have new additional baseline demographics data from our soon-to-be-published Sector Report 2022 and a recent Equalities, Diversity and Inclusion survey from programme participants, team and Board for 2022.
Ethical Fundraising
There is an ongoing conversation around ethical fundraising in the arts - who should arts organisations take funding from and how do we decide?
We are working on a new Ethical Fundraising Policy, which will lay out our criteria for selecting funders for our vital charitable activities.
We know that ethical fundraising is ever changing, as our organisational values shift over time, and so the Policy will also include a process for reviewing funders.
This policy will be available publicly available on our website from 2024 concurrently with launching our new Strategy and Business Plan. We aim to be transparent about who funds Craft Scotland's programmes. We have our core funders listed on our website footer and we have recently updated our list of funders based on activity for 2023/24. You can also discover funders, partners and sponsors for individual programmes or projects on their website project page. Visit our live projects and our historic archive.
If you would like to join the conversation about ethical fundraising please email Irene and the team, via email hello@craftscotland.org.
Craft Scotland Team and Office
We have recently introduced a new flexible working model across the organisation as part of our Fair Work progress. This new model allows the team to choose from a variety of different compressed hour models to further support a good life/work balance and suit their different needs.
We continue to have hybrid working, and flexible working from the Craft Scotland office in Edinburgh and from our homes across Scotland.
To accommodate these changes, we have now arranged for our core office hours to be between 9am – 5pm, Monday to Thursday each week. During those time/days we will monitor the Craft Scotland inbox and social media direct messages.
As we are a small team working across multiple projects, we endeavor to respond to your message within 10 working days from receipt of your message. We thank you in advance for your patience. You can contact us via email: hello@craftscotland.org.
Stay up to date!
Keep up to date with Craft Scotland and more sector-wide opportunities through the monthly Inside Craft Scotland & Opportunities newsletter.
Please send us your news and press releases about recent launches, awards and collaborations to hello@craftscotland.org.
Image credit: Craft Scotland at Collect 2023 / Photography by Calum Douglas
Summer Update from Craft Scotland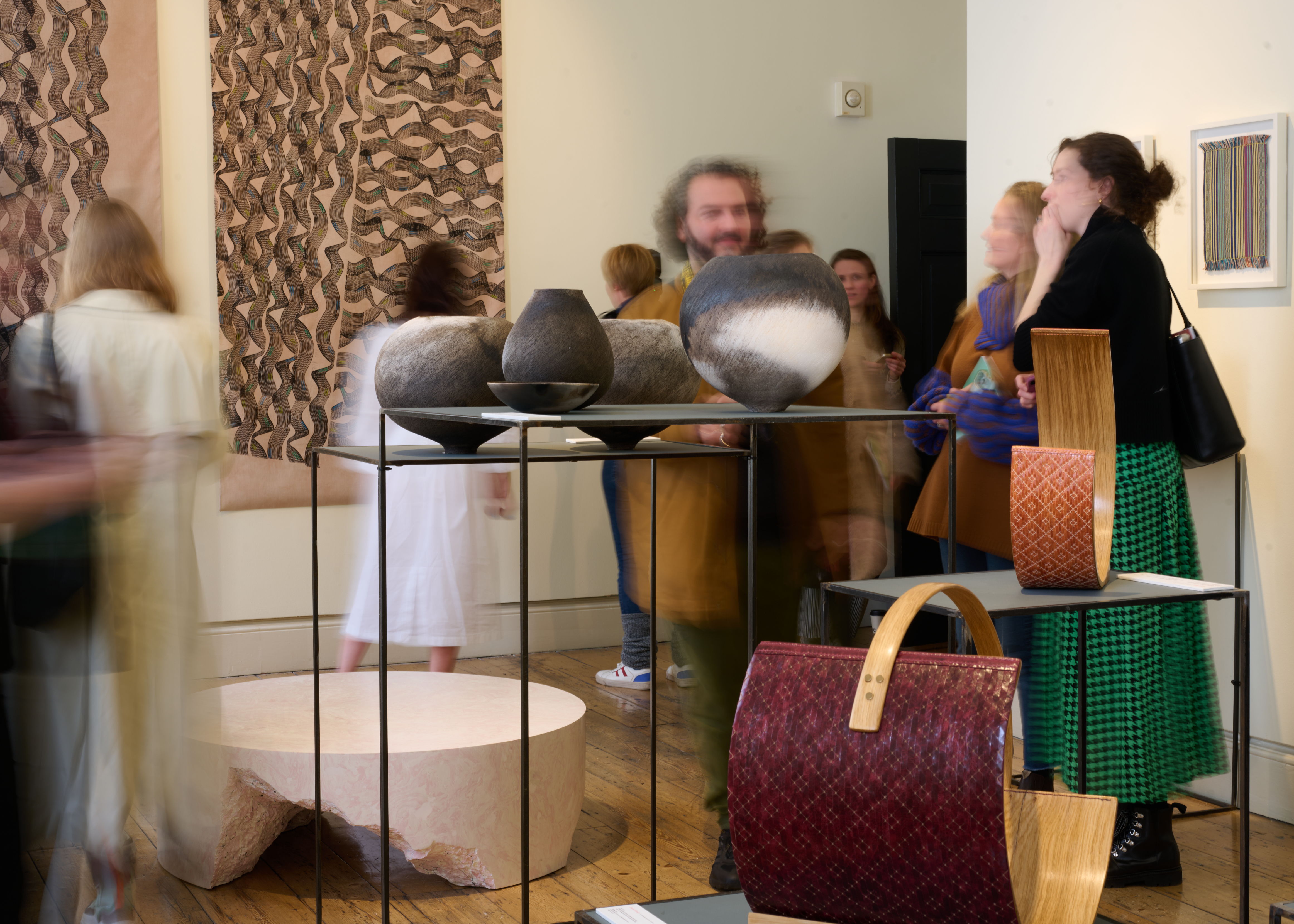 Transparent