Glasgow gets a new contemporary craft showcase
New show CRAFTHOUSE is the vision of maker Cressa McLaren, who will bring 9 talented makers from across Scotland to present bespoke contemporary handmade craft for the home.
The two curated showrooms will open at The Briggait, Glasgow, from Wednesday 7 September to Tuesday 18 October and include furniture, pottery, textiles, lighting and glass.
Exhibiting makers are furniture makers Richard Owen, Gvido Bolsevics, Stuart Campbell, Stephen Finch, Chantal Woven, Laura Derby, nocomplydesign, ceramic artists Andy Priestman and Ceri White, as well as glass work from Cressa.
About organising the exhibition, Cressa said:
"With CRAFTHOUSE I want to focus on contemporary makers and provide a platform to showcase the wide variety and high quality of current craft-production. By presenting the works together I hope to raise awareness of this talent and create a vision of how contemporary craft can look in an interior setting."
Find out more at www.waspsstudios.org.uk.
Header image courtesy of Cressa McLaren / Photographer unknown
---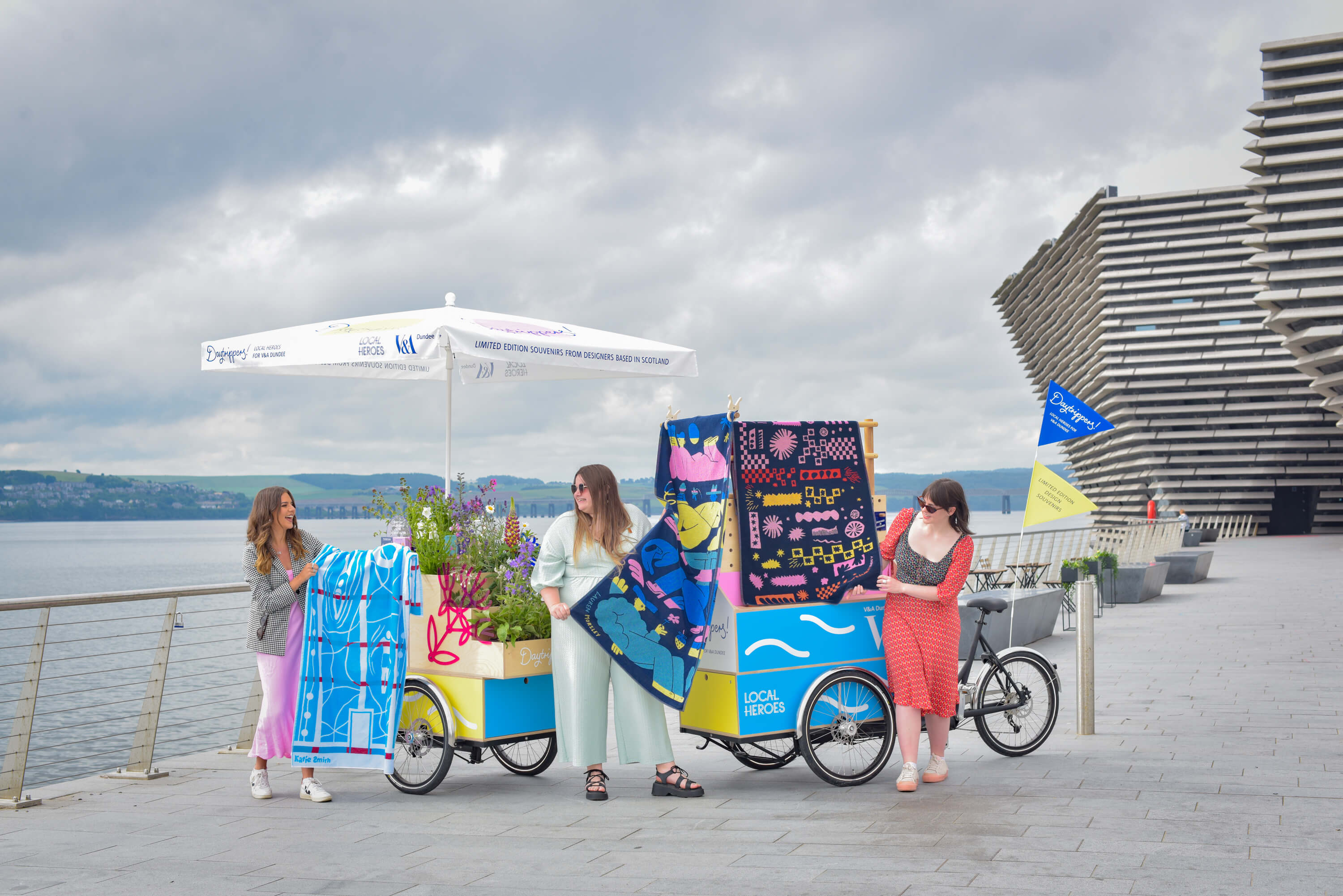 Souvenirs reimagined with Daytrippers!
Daytrippers! is a collaboration between the V&A Dundee and Local Heroes that supports designers by commissioning collectable, limited edition souvenirs to last a lifetime.
The summer 2022 collection explores the idea of Design To Take With You. Scotland-based Ellen Smith and Japan-based Manami Sukurai were commissioned to create patterns for 4 different Furoshiki, as well as some useful accessories to help you use them in a multitude of different ways.
Furoshiki (風呂敷) is Japanese wrapping cloths traditionally used to wrap and/or to transport goods, they can also be used as a scarf, fabric gift wrapping, a food wrapper as a bag, or even as a wall hanging. Discover the designs created by Ellen and Manami on the V&A Dundee shop.
Fiona Hall of Camban Studio in Aberdeen has also been commissioned as part of Daytrippers! to create a special picnic blanket that will last for many summers to come.
See the full collection at shop.vandadundee.org.
Image courtesy of Local Heroes / Photographer unknown
---
Loewe Foundation Craft Prize Now Open for 2022
The LOEWE FOUNDATION launched the sixth edition of the LOEWE FOUNDATION Craft Prize, an international award celebrating excellence in craftsmanship. This prize seeks to recognize uniquely talented artisans of any age (over 18) or gender whose artistic vision and will to innovate sets new standards for the future of craft.
The winning work will be selected by the Jury, with the finalists selected by the Experts Panel. All will be included in an exhibition and accompanying catalogue in New York in Spring 2023.
Jonathan Anderson, Creative Director of LOEWE says of the Craft Prize: "Craft is always going to be modern. It is about creating objects that have a formula of their own and speak their own language, creating a dialogue that didn't exist before. It is about newness as much as it is about tradition."
The LOEWE FOUNDATION was established as a private cultural Foundation in 1988 by Enrique Loewe Lynch, a fourth-generation member of LOEWE's founding family. Today, under the direction of his daughter Sheila Loewe, the Foundation continues to promote creativity, support educational programmes and safeguard heritage in the fields of poetry, dance, photography, art and craft.
Applications for the LOEWE FOUNDATION Craft Prize close 25 October 2022. More information at craftprize.loewe.com.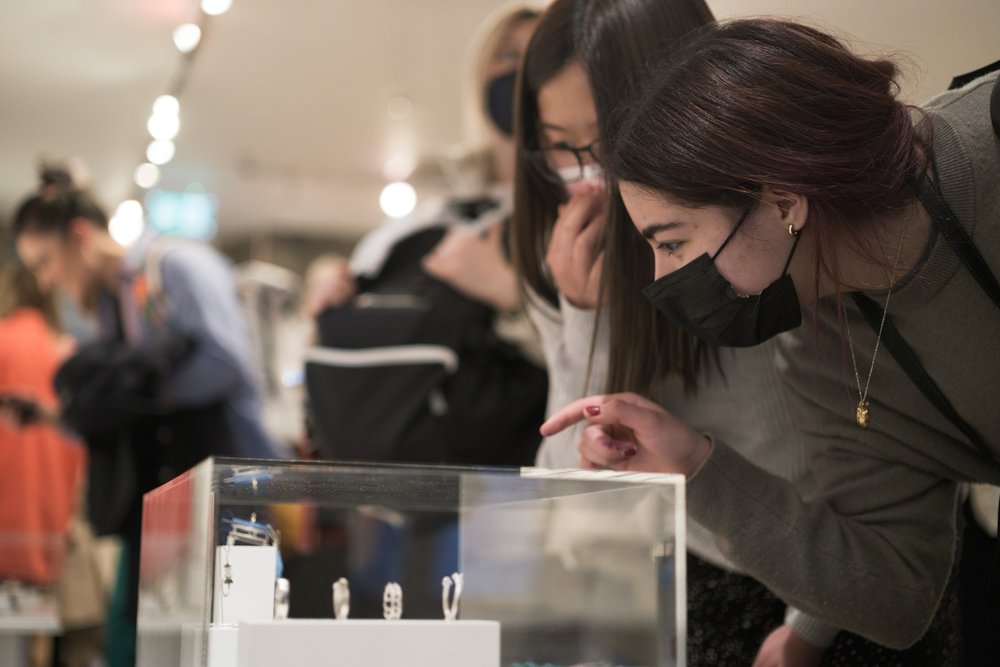 Ethical Making Pledge goes UK-wide
The Scottish Goldsmiths Trust has extended the Ethical Making Pledge to art colleges and training providers with jewellery and silversmithing courses across the UK. Earlier in June, The Goldsmiths' Centre - the UK's leading charity for the professional training of goldsmiths - was the first outside of Scotland to sign the pledge.
The Ethical Making Pledge is a collaborative and community-based initiative for jewellery and silversmithing educational institutions to embed practical and theoretical learning about ethical making in their curriculum.
The pledge was developed by The Scottish Goldsmiths Trust in 2018 and signed by college department heads from all seven of the art colleges in Scotland offering jewellery courses at HND level and above. Since the launch of the Ethical Making Resource and Pledge, there has been an increasing awareness of ethical issues among students and makers in Scotland as more jewellers and silversmiths enter the trade with an ethical practice as their foundation. The Pledge also received a parliamentary motion of support from the Scottish Government in 2018.
By partnering, The Goldsmiths' Centre and The Scottish Goldsmiths Trust's share an ambitious plan to extend the Ethical Making Pledge beyond Scottish higher education institutions, and to a variety of training providers. The partnership will spread awareness of environmental and social responsibility in the making of jewellery and silver across the UK.
Read more about the partnership on www.goldsmiths-centre.org and discover more about the Ethical Making Pledge on ethicalmaking.org.
Scottish Goldsmiths Trust's Radical Jewellery Makeover Exhibition Opening, 2022 / Photography by James Robertson
---
Creative Scotland updates their Future Funding for Organisations
Creative Scotland has published an update on the development to the Future Funding Framework for organisations. This includes the Multi-Year Funding and the revised Open Fund for Organisations, and follows on from their previous update provided in February 2022.
The new funds will be developed through Summer 2022, with an aim to begin introducing the new Multi-Year Funding Programme from Autumn 2022. Pre-application phase, including external information sessions, is due to take place November 2022 to January 2023 with guidance published January 2023.
Alongside the Multi-Year Programme, Creative Scotland will continue to run the Open Funds, Targeted Funds and funding for Screen Scotland. The Open Fund for Organisations is currently being revised and will be relaunched in October 2022 with two distinct strands. The main Open Fund for Organisations will continue to be a rolling programme, offering up to £100k, but with a new online application and assessment process. A separate time-limited strand will offer funding of up to £200k for activity lasting up to 24 months, particularly designed to meet the needs of organisations currently funded annually through project funding.
Read more on the Creative Scotland website at www.creativescotland.com.
Read more:
Orkney 'chairmaking guardians' raise awareness of endangered craft (18 Aug, The National)
Mary, Queen of Scots and the embroidery which appeared in a trial for treason (24 Jul, The National)
Dovecot part of the team behind Turner Prize winner's new work (9 Jun, The Edinburgh Reporter)
Park benches in unexpected materials nod to Scottish landscape (12 Jul, Wallpaper)
Nationwide appeal for memorabilia for Scotland's biggest ever celebration of tartan (26 Jul, The Scotsman)
We want to hear from you! Share your contemporary craft news for inclusion in next month's The Craft Edit.
Contact the Craft Scotland team with more information, URLS, images and/or a press release via email hello@craftscotland.org.