In celebration of Scotland's Climate Week, this post is part of our Make It Green series, for the Green Crafts Initiative (GCI) that champions and promotes environmentally sustainable craft practices. In this series by Craft Scotland and Creative Carbon Scotland, you will hear inspiring maker's stories as well as useful advice on how you can contribute to a greener craft sector.
We're pleased to feature makers on our Craft Directory who are working towards a more sustainable practice. In this interview, you will hear from a maker who is part of the Green Crafts Initiative, a project we partnered with Creative Carbon Scotland to promote and celebrate craft makers with environmentally sustainable practices.
---
Hi Eleanor, can you tell us a bit about your practice and what inspired you to start?
Eleanor: I am an Edinburgh-based jewellery designer and maker, making one-off and small edition pieces using found, reclaimed and recycled plastics. I combine this with other materials, mainly recycled silver, stones and beads. I graduated as a mature student from Edinburgh College of Art in 2012.
I have always been involved in making and have a lifelong fascination with materials, particularly the everyday or discarded, which can be transformed into something else. Experimenting with and exploring materials was a key part of my practice as a student and is integral to my work as a designer and maker.

When and why did you decide to become more sustainable?

My interests in environmental issues and sustainability stem from my upbringing. I am proud to have a mum who was part of the Arms Around the Base protest (against the siting of Cruise missiles) at the American airbase at Greenham Common in the early 1980s. In a small way, my work reflects these values and concerns as they are part of how I try to live. As an avid scavenger, I love searching for as well as discovering objects and materials that I can use and repurpose. Aiming to be ethical and sustainable in my practice seems entirely natural and sensible to me!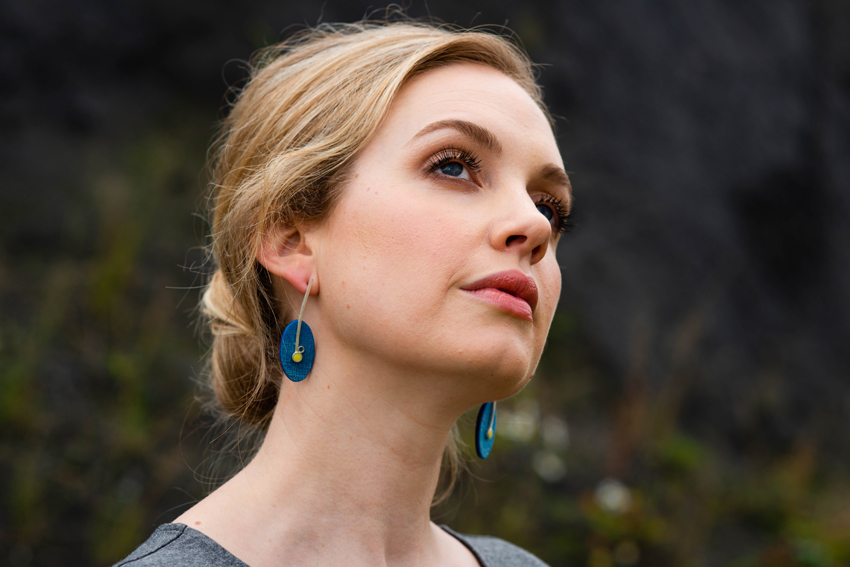 Image: Eleanor Symms - Found Blue Earrings, 2019, found and reclaimed plastics, eco silver / Photography by Martin Alan Smith
Tell us about your favourite pieces that incorporate sustainable methods?
As anyone who has talked to me about my work will testify, I could tell stories all day about the provenance of pieces of sea-distressed plastic or salvaged wire. At the moment, I'm revisiting one of my favourite finds, which was formerly a moulded blue plastic chair bearing the stamp Made in Scotland, 1965. I found this fly-tipped near my home in East Lothian three years ago and I love the way the plastic surface has become oxidised after being abandoned to the elements.
I am working on a collection of pieces using plastic from this chair and combining this with other found plastics and eco silver.

How do you incorporate eco-conscious thinking into your process?
The starting point for each piece is the found material; its shape, texture and colour. Sometimes a piece has been worn into a very pleasing shape, which after some cleaning, sanding and polishing, will form the basis of a composition. Other times, I am drawn to an area of a piece of material which has taken on a certain colour or patination and this will be where I start my design.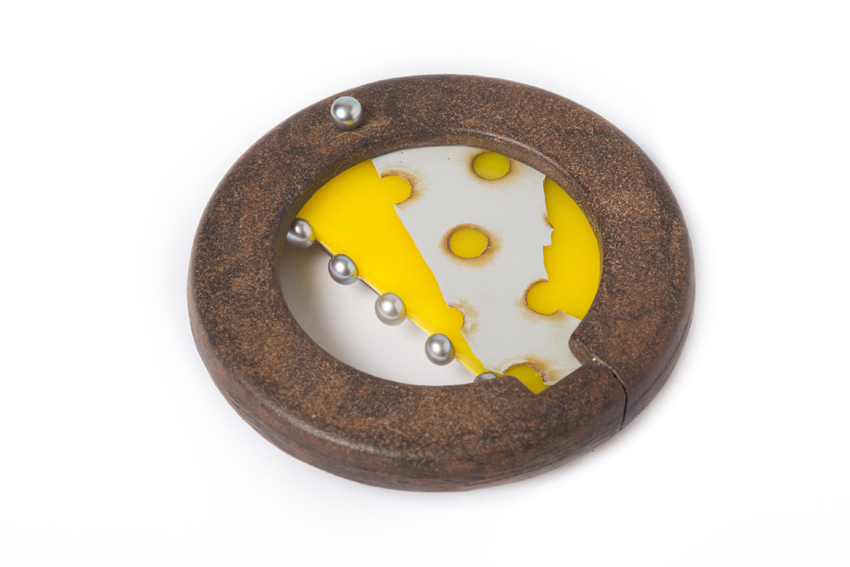 Image: Eleanor Symms - Yellow Portal Brooch / Photography by Martin Alan Smith
How does this resonate with your audience?
I really enjoy talking to people about my work and the stories behind each piece, where I found the materials I have used and what they used to be. Often, I find that I am talking to fellow enthusiasts, some of whom send or bring me pieces of plastic they have found. In Coburg House, the studios where I work, I regularly discover on my bench little beach-combed or scavenged gifts from colleagues, which is wonderful!

Where and how do you source your sustainable materials?
Most of the materials I use I find when walking along the beaches in East Lothian, near my home. I am also a keen skip raider and a great fan of places like the Zero Waste project, based in Dunbar. My husband is an artist, who makes sculptures and paintings which incorporate found materials, so the two of us often go scavenging together.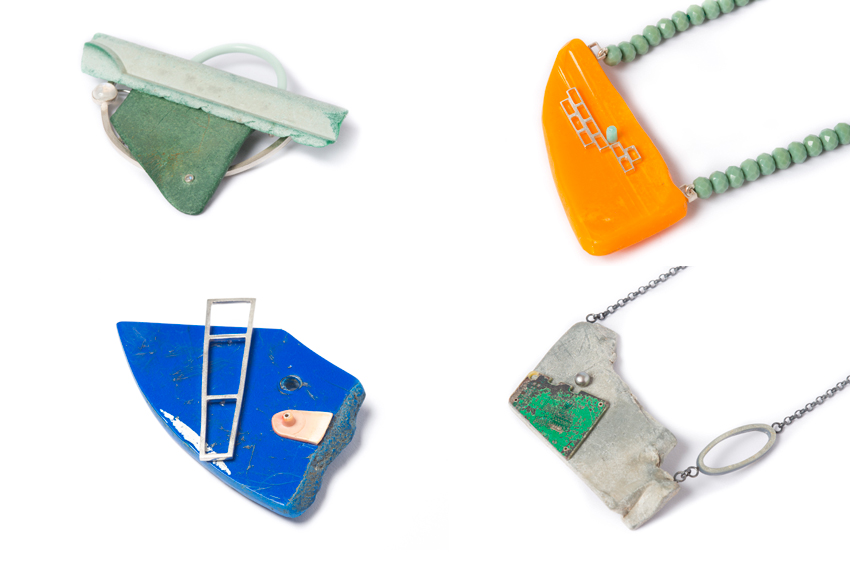 Image: Eleanor Symms - Found Collection / Photography by Martin Alan Smith
What do you wish you had known when you started this journey?
I wish there had been more information available about ethical practice when I was a student and a new maker/designer. Now, I am much more aware of what I buy and use, where it comes from, who made it and the environmental and social implications.

If you are a member of the Green Crafts Initiative, why did you join and why should other makers consider signing-up?
I joined the Green Crafts Initiative as it was a good way to connect with projects, initiatives and other makers who share the same concerns as me.


What do you think the future of sustainable craft making will look like? What are your hopes?
I am so pleased that jewellery courses at art colleges and other further education colleges are embracing and promoting ethical and sustainable practice. I hope that soon it will become the norm not to ask, "why is your practice sustainable?" but, "why is it not?"
---
For more information on Eleanor Symms and her work, please visit her Craft Directory profile or her website.
This interview has been lightly edited for clarity.