Since 2016, we have awarded a prize of £500 to a piece of outstanding design and craftsmanship at the Visual Arts Scotland annual exhibition. Meet the winners...
Info
Location:
Visual Arts Scotland
The Royal Scottish Academy of Art and Architecture
The Mound
Edinburgh
EH2 2EL
Map Directions
Visual Arts Scotland's annual exhibition offers the opportunity for artists, designers and makers working in all disciplines to test, showcase and engage work with wider audiences. Each year, we select one piece of outstanding design and craftsmanship from this open-call exhibition. The Craft Scotland Prize is open to both emerging (including students) and established makers, who live and work in Scotland, and who create work in Craft Scotland craft eligible disciplines/materials may be considered.
2016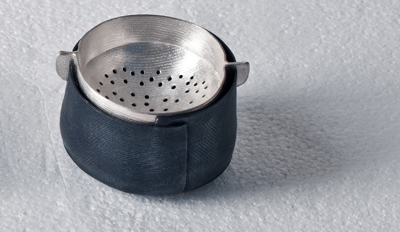 In 2016, we awarded the first The Craft Scotland Prize to an exhibiting craft maker, Polly Collins for her piece 'Slow Dining'. A designer/maker based in Edinburgh, Polly creates functional and speculative objects from metal and wood. Through her collection 'Slow Dining' Polly is considering a world in which we are friends with our utensils, where we want to spend time with them and to nurture them; a place where we slow down a bit. Polly works predominantly in sheet metal, yet treats it like textile; creating seams and gussets into soft forms. She is interested in challenging the expectations of a material; forming a cold, hard material into something comforting and warm.
2017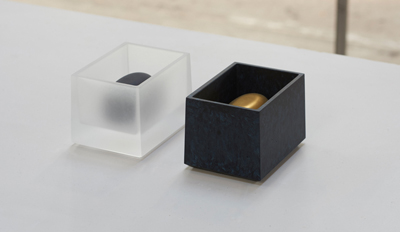 The Craft Scotland Prize 2017 was awarded to Andrea Walsh for her piece Contained Boxes. Based in Edinburgh, Andrea is an artist who's work is an exploration of the box and vessel form. She explores ideas of containment, materiality, preciousness and value, through considered and exquisitely tactile objects which communicate with the viewer notably through their intimate scale. To create elegantly crafted, timeless and unique pieces, she uses a range of materials including ceramics, glass and metal. After completing her master's degree in Glass at Edinburgh College of Art (ECA), she set up her studio in 2005. Andrea's work is included in private and public collections worldwide, including the renowned Victoria & Albert Museum in London, and the National Museum of Scotland in Edinburgh.
Previous Project
Next Project