As we celebrate our 15th birthday, Craft Week Scotland 2023 becomes a milestone moment to reflect on our journey and celebrate the Scottish contemporary craft sector. Learn more about our history with our article 'Reflecting on Craft Scotland's 15-Year Journey'.
Through '15 for 15', we have chosen to celebrate 15 Master Artisans with a strong connection to Scotland. We've defined a Master Artisan as someone who has over 10+ years of craft practice, they may be living or deceased and from any point in contemporary craft.
'15 for 15' has developed through thoughtful conversations with makers, curators and organisations over the past year in the light of losing some important people from the Scottish craft sector. There was a strong desire to celebrate those who have dedicated their life to their craft practice and played a key role in the community through mentoring and contributing to education, and inspiring future generations of craft professionals.
We invited nominations from industry voices to recognise the contributions of Master Artisans. Nominators included individuals Katy West (curator), Susanna Beaumont (Design Exhibition Scotland), Dr Stacey Hunter (LOCAL HEROES), Lucy McEachen (Panel), Sarah Rothwell (National Museums Scotland) and craft organisations Scottish Potters Association, Fife Contemporary, Bard and The Scottish Gallery alongside the Craft Scotland team.
---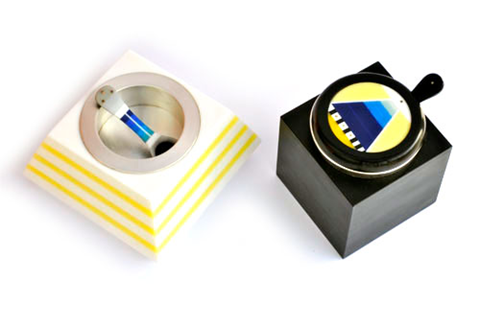 Image: Two salt cellars (1974) by Roger Morris via Klimt
Roger Morris
Roger Morris is an art jeweller based in Fife and the former head of the Duncan of Jordanston College of Art & Design jewellery department. He is known primarily for his innovative and influential work with acrylic in the 70s and 80s. Roger was influenced by Fritz Maierhofer from Austria who also dared to combine acrylic with gold and silver. However, his innovations in stone setting where rivets are used to set rings, which Roger calls 'Clamping', instead of claws or traditional settings are of particular interest. His work has been acquired by prestigious international organisations and collections such as the Goldsmith's Company's rare and significant Modern Jewellery Collection (and was featured in A World of Invention: Rings from the Goldsmiths' Company Collection 1961-2022) and The Landes Museum, Zurich. His work appears in RINGS OF THE 20TH AND 21ST CENTURIES, The Alice and Louis Koch Collection (Beatriz Chadour-Sampson) as well in many earlier publications.
One of Roger's black acrylic bracelets is part of the Crafts Council collection. You can see an image of the stunning work on their collection's website.
Learn more about Roger's practice via Roger Morris Jewellery Facebook.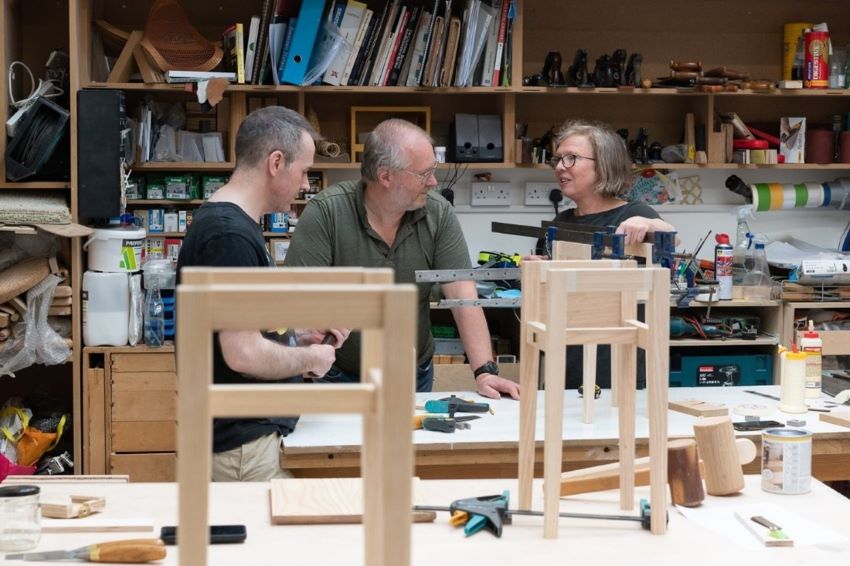 Image: Isabelle Moore / Photography courtesy of Isabelle Moore
Isabelle Moore
Isabelle Moore is an award-winning furniture designer creating contemporary bespoke furniture from her central Edinburgh studio in Albion Road Studios, using traditional hand tools and fine furniture making techniques.
Making often runs in families, and Isabelle has four generations of chair makers in her family tree. Isabelle trained at a renowned school in Dorset, Parnham College for furniture making established by John Makepeace, before travelling and teaching extensively. Throughout her career, she has placed an emphasis on sharing her skills through short courses, weekend workshops and artist residencies.
Alongside teaching, Isabelle produces free standing furniture pieces to commission and has had work represented in public and private collections at home and abroad. Each piece is shaped by a fascination with her materials and routes revealed by cross-media manipulation and geometry with a fusion of structure and body-centred design.
Previously, Isabelle has received the International Contemporary Furniture Fair New York 'Offsite' Award, the International Design Resource Award for work in recycled materials, and closer to home she has received the Visual Arts Scotland SSWA Award. Isabelle also participated in 2019 Conversations in Wood exhibition at Marchmont House with Visual Arts Scotland in the Borders and was featured on an episode of BBC2 series Jay's Yorkshire Workshop with Jay Blade.
Learn more about Isabelle's classes and practice.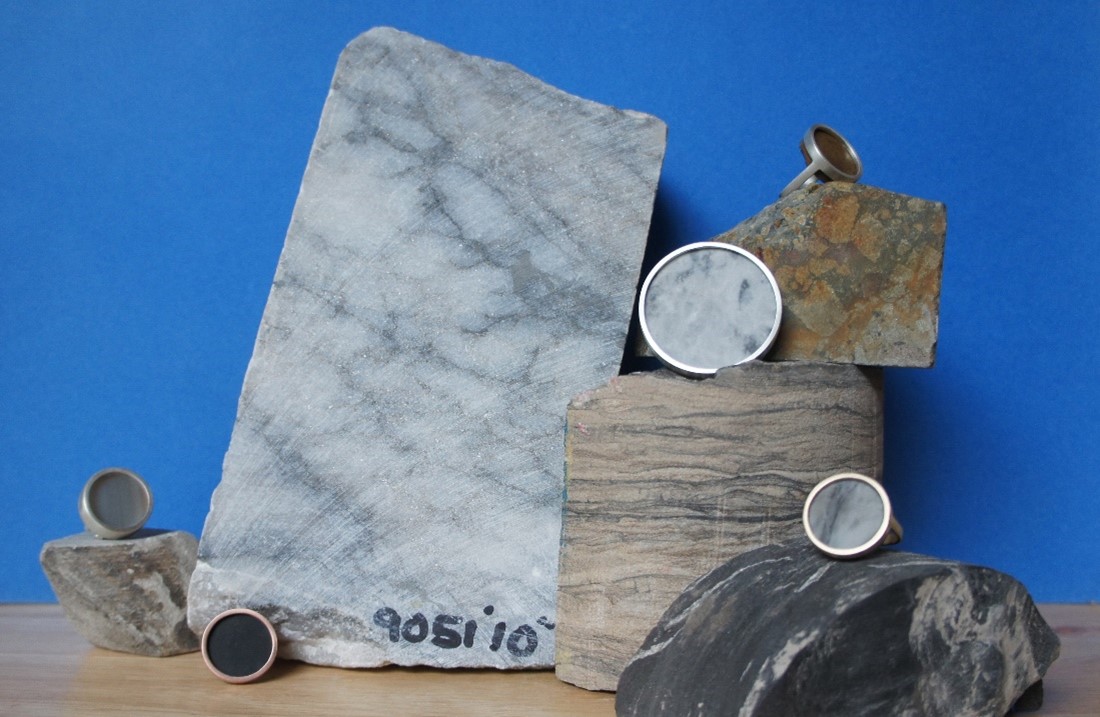 Image: Stefanie Ying Lin Cheong / Photography by the artist
Stefanie Ying Lin Cheong
Stefanie Ying Lin Cheong is a designer/maker based in Glasgow who graduated from GSA Silversmithing and Jewellery department in 2013. She specialises in making work from ethical metals and found Scottish rock.

Stefanie has been carefully evolving her practice over the last 10 years and interrogating the ethics behind making and the decisions she makes in her creative practice. She uses traditional lapidary (stone cutting) techniques to manipulate her materials with a deliberate clean, minimal contemporary aesthetic considering circular economy principles.Since 2018, Stefanie has been selling collections of work through design markets and jewellery fairs including Elements: Festival of Jewellery, Silver & Gold.
Her expansive practice explores environmentalism and advocacy for sustainable craft making. Stefanie regularly shares her work and research to discuss ideas of geology, anthropology, craftivism and climate emergency. Her support and dedication to other makers and the craft community is far reaching, she regularly encourages newer makers through programming, teaching and mentorship. Exemplary of this ethos, Stefanie has driven the Materialised graduate programme at Fife Contemporary and has been a long-standing active member of Applied Arts Scotland.
Learn more about Stefanie's practice and projects.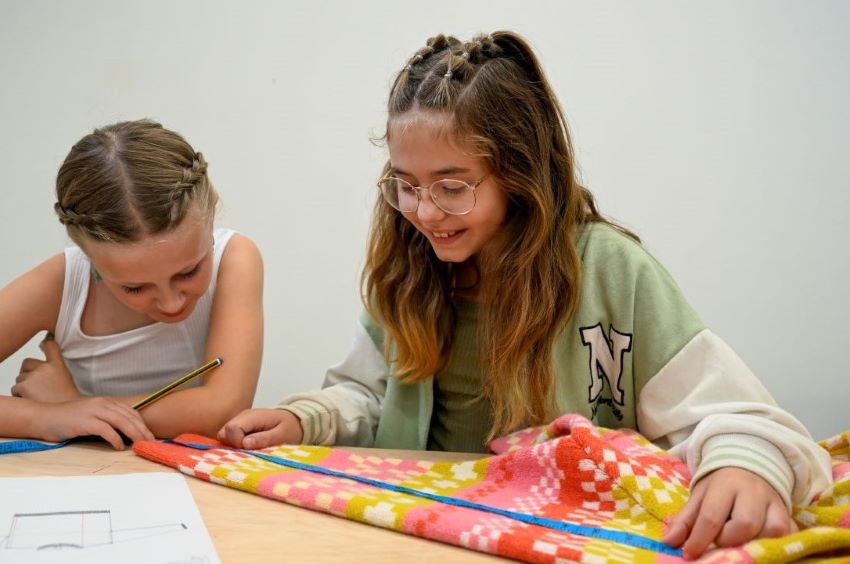 Image: ​MAKE with the Knit Shop / Photography by Neil Hanna
Donna Wilson
Born in Aberdeenshire, Donna Wilson founded her London design studio in 2003, and has been supporting local Scottish textile manufacture throughout her 20-year career in the textile industry. Best known for her colourful irreverent knitwear wearables and home accessories, Donna has grown her reputation and influence though collaborations with brands such as Hermès, Penguin Random House and LeSportsac - and with leading cultural institutions including V&A, Cooper Hewitt and The Whitney Museum of Modern Art. As a forerunner of the contemporary craft movement, Donna has always championed traditional techniques and locally based suppliers.
Committed to the revival of the Scottish textile industry, in 2022 Donna set up the independent micro knit factory 'Knit Shop' in Dundee, enabling her to oversee production of her own designs, while investing in the future talent and skills that she felt might otherwise disappear from the Scottish manufacturing landscape. Bridging the gap between design, industry and education, Knit Shop's purpose is to share skills, encourage innovation, and to invest in the regeneration of the Scottish textile industry. Together with Craft Scotland and MAKE, Knit Shop is a key partner in an innovative teacher development project being developed with primary schools in Dundee during 2023-25, exploring the value and potential of teaching craft across the curriculum. As a prolific maker, and founder of the Knit Shop, Donna continues to make a significant contribution to Scotland's craft sector though her advocacy and influence in Scotland and beyond.
Learn more about the Knit Shop.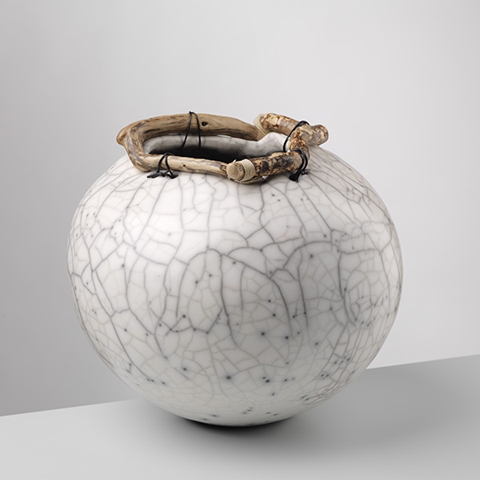 Image: Anne Morrison / Photography courtesy of The Birch Tree Gallery
Anne Morrison
Anne Morrison was a founding member of the Scottish Potters Association (SPA) nearly 50 years ago when a group of Scottish potters came together as they saw the need for studio potters to support each other to sell and exhibit their work. Since then, Anne has been on the committee of the SPA and supports the organisation by giving talks and demos, and being generally encouraging to newer members. The SPA has grown to over 400 members since it was first set up, Anne has been integral to its success.
Anne fell in love with clay at 17 and attended Glasgow School of Art, graduating in 1974. In the mid-90s she turned from figurative work to making vessel forms and attaching handles in worn driftwood. The vessel forms are often burnished to become reminiscent of pebbles found on the beach well smoothed and tumbled by the waves. The shape and colour of Anne's vessels are inspired by specific pieces of driftwood. In the past, the work was fired using the raku technique resulting in mainly monotone work. More recently Anne has been using impressed shoreline textures and slips in delicate pastel colours.
Anne's creative practices also incorporated sketches and paints of coastal scenes, and these are used to inform her ceramic objects.
Anne has been selected as an artist member of the Paisley Art Institute and the Glasgow Society of Women Artists where she recently served as President. She has also received a number of prestigious awards from the Royal Glasgow Institute and the Paisley Art Institute including the Mary and William Armour Award in 2012 and 2014. In March 2022 she received the 'Blythswood Quaich' award for a large ceramic work at the GSWA annual exhibition. Anne's has a number of pieces available at The Birch Tree Gallery in Edinburgh.
Learn more about Anne's work with her website.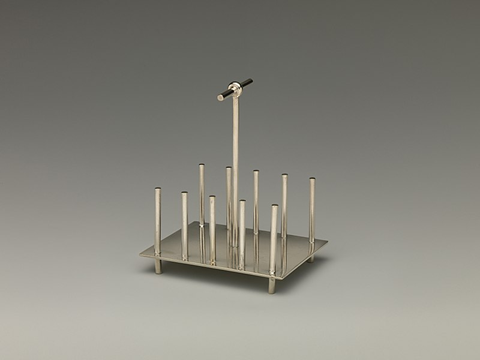 Image: Christopher Dresser / photography courtesy of the V&A
Christopher Dresser (1834 – 1904)
Hugely influential to the Scottish contemporary craft community, Christopher Dresser was born in Glasgow in 1834. "It was Christopher Dresser's toast rack that first caught my eye - angular, clean cut and simply beautiful, its silhouette is reminiscent of a series of alpine peaks. And with its simplicity and sharp lines, it looks cool and modernist but in fact dates from 1878" – Susanna Beaumont, Design Exhibition Scotland.
At age 13, Christopher attended the Government School of Design, a precursor of today's Royal College of Art, at Somerset House in London. From this early date his design work expanded to include carpets, ceramics, furniture, glass, graphics, metalwork, including silver and electroplate, and printed textiles and woven objects. In the 1876, he travelled to Japan, one of the first European designers to do so and this clearly influenced his designs, particularly his ceramic work. He also wrote the book Japan: Its Architecture, Art, and Art Manufactures.
In the 1880s, he was commissioned by the Glasgow glassworks workshop, James Couper and Sons, to design a series of glass vessels. Named 'clutha' an old word for the River Clyde, these curvaceously-shaped jugs and vases, often in soft greens, are beautiful.
He wrote several books on design and ornament, including The Art of Decorative Design (1862), The Development of Ornamental Art in the International Exhibition (1862), and Principles of Design (1873) which have influenced makers over the decades.
You can learn more about Christopher's work with the V&A London.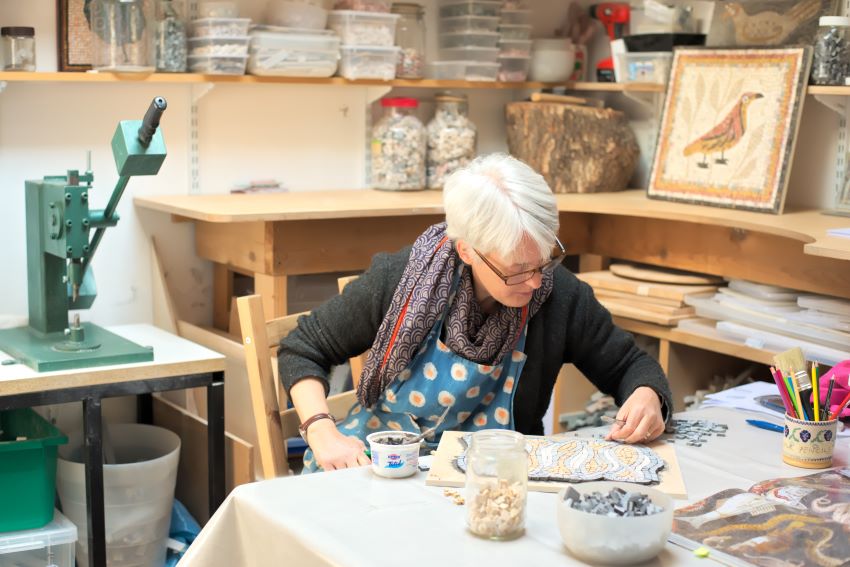 Image: Helen Miles / Photographer unknown
Helen Miles
Born in Glasgow, Helen Miles worked in America and the Middle East before moving to Thessaloniki in Greece in 2003, a UNESCO city famous for its concentration of Byzantine churches. It was while living there that she began to study mosaics which later led to a full-time profession as a mosaic artist. She later became interested in Roman mosaics and now makes contemporary pieces for interior and exterior spaces.
Based at Out of the Blue Abbeymount Studios in Edinburgh, Helen mainly uses Winckelmans unglazed porcelain and vitreous glass tiles for her commissions but loves to experiment with found and foraged materials including stone, single use plastics and hardware. Her aim is to preserve the simplicity and directness of early mosaics while producing works which suit the way we live now.
Helen has had a far-reaching influence in the craft community through her in-person and online teaching. Helen hosts weekend workshops at Abbeymount Studios and runs an annual summer residential mosaic workshop in Classic and Contemporary Mosaics at a hotel in Pelion, Greece. Her first book Mosaics: Ancient Techniques to Contemporary Art was published in March 2023.
Learn more about Helen's practice.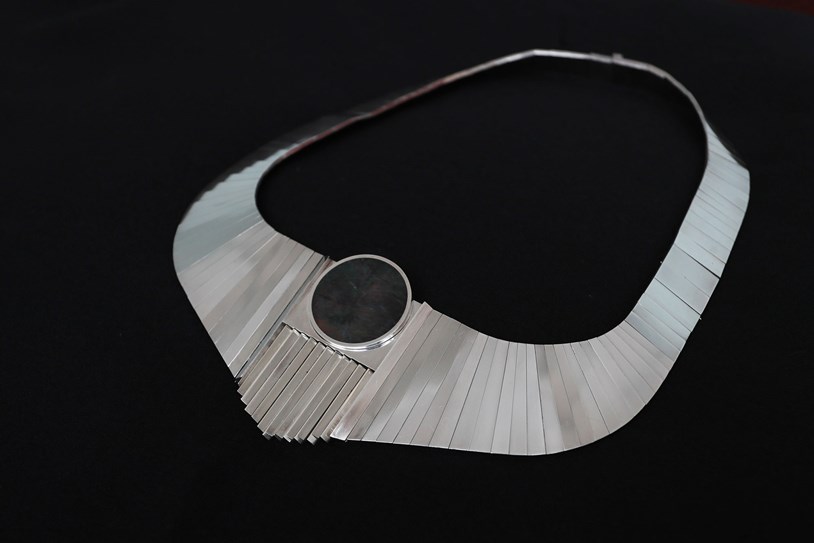 Image: Dorothy Hogg / Photographer Stewart Attwood.
Dorothy Hogg MBE (1945-2022)
Dorothy Hogg is internationally recognised as one of the most important designer-jewellers of the last fifty years. Her work and teaching has had profound influence on the Scottish contemporary craft community. Dorothy studied at both Glasgow School of Art and the Royal College of Art and was Head of Jewellery and Silversmithing at Edinburgh College of Art from 1985 until 2007. In 2001 she was awarded an MBE for services to jewellery and silversmithing, and in 2005 won the Brilliantly Birmingham Jewellery Award for the jeweller who has made the greatest contribution to the world of designer-maker jewellery. Dorothy Hogg sadly passed away on 4 April 2022; her legacy will be remembered.
The Scottish Goldsmith's Trust have released a new podcast series The Tree Project highlighting the impact of the Dorothy and her influential time at the Edinburgh College of Art. They interviewed alumni who studied under Dorothy between 1989 and 2008, and interviewees were selected by Dorothy herself alongside Curator Amanda Game including Beanie Major, Anna Gordon, Andrew Lamb, Misun Won and Cóilín Ó Dubhghaill.
You can view Dorothy's work at numerous public museum collections including Aberdeen Art Gallery and the Making and Creating gallery at the National Museum of Scotland, Edinburgh. You can also explore Dorothy's work at The Scottish Gallery.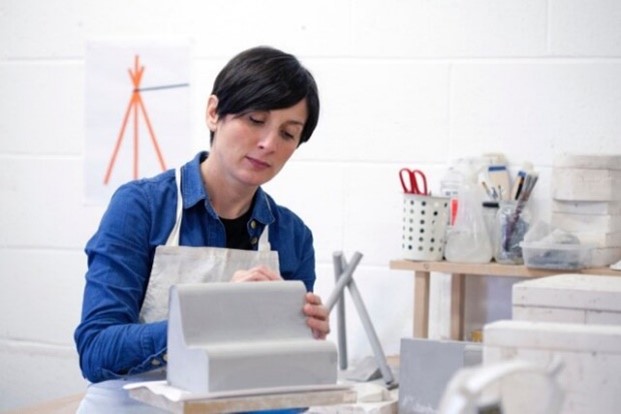 Image: Dawn Youll / Photographer unknown
Dawn Youll
Dawn Youll has made an outstanding contribution to studio ceramics since 1999. Based in Glasgow, Dawn's studied at The Glasgow School of Art (1996-99). Her work is clean and precise, and tabletop size. Candy coloured forms juxtaposen to communicate on many levels, nuanced with humour and pathos through their narratives. Dawn's tableaux's are layered with meanings and possible interpretations, her skills and dexterity manifesting the complexity of her concerns through plaster modelling, mould-making, slip-casting and glazing. Though you can pull out references in her work (Richard Slee, Campsieware ornaments) her work is unique, classic in its construction but specific to its time.
Dawn has been awarded the Jerwood Prize Winner (2009), Arts Foundation Fellow (2011), selected by the Scottish Arts Council and Crafts Council UK to represent the UK at the Ceramics New Generation exhibition in Paris (2010), works held in private and public collections throughout the world, notably the V&A, London.
In tandem with her studio ceramics practice, Dawn has held various positions in Scotland and the UK. On graduating from GSA (1999) she taught plastering at John Wheatley College. She has worked at Ealing Studios (Thunderbirds) and currently in Cumbernauld (Outlander) specialising in plaster-based production. She was Craft Officer with Cove Park, supporting Scottish craft practitioners. But it is not just geography that links Dawn to Scotland. Whilst the sentiments in her work are not exclusively Scottish, they reflect upon the environments she inhabits. Dawn Youll's 'National Trust' presents images of strongly graphic character or profile as three-dimensional forms. The silhouette-like rearing horse has been derived from a book illustration, while its accompanying traffic cone has been reduced to its essential formal and symbolic value.
Learn more about Dawn's practice with Making the Creative Process Visible - Full Films: Dawn Youll MA Ceramics, Cardiff Metropolitan University.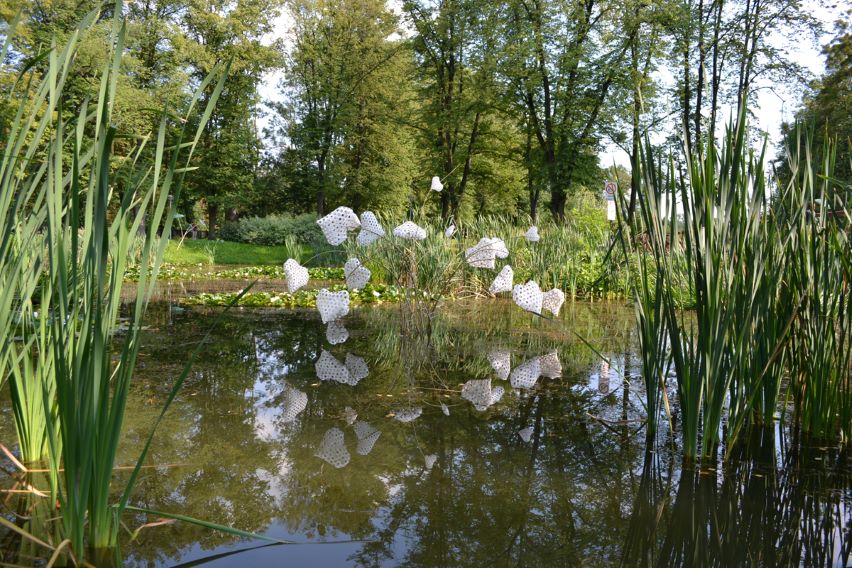 Image: Lois Walpole / Photography via loiswalpole.com
Lois Walpole
Lois Walpole was born in London and graduated from Central Saint Martin's School of Art in London with a B.A.(Hons.) in Sculpture in 1975 and obtained City and Guilds qualifications in Basket Making from the London College of Furniture in 1982. In 2003, she completed a Doctorate in the Design Products department at the Royal College of Art in London.
Since 1982, Lois has dedicated her full-time efforts to her roles as an artist and basket maker. Throughout this period, she has actively participated in and curated both national and international exhibitions, undertaken commissioned projects, contributed to design for production, engaged in teaching activities, and authored written works.
Trained in sculpture, basket making and product design, Lois innovatively uses recycled plastic and her work celebrates resourcefulness in her art. Her impactful work, blending traditional craft with discarded materials, earned her a Lifetime Achievement Award from the Worshipful Company of Basketmakers in 2021. Despite dividing her time between Shetland and France, Lois proudly identifies as Scottish, emphasizing her coastal-inspired, sustainable craft.
Learn more about Lois' practice.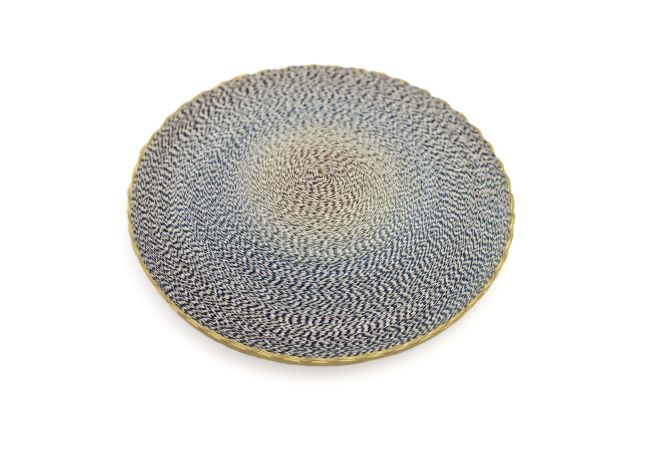 Image: Andrew Lamb / Photogtaphy by Graham Clark
Andrew Lamb
Andrew Lamb, with a 23-year career in jewelry making, showcases a commitment to his craft through beautifully crafted pieces that cleverly blend function and allure. Using precious metals to mimic woven textiles or iridescent bird feathers, he transforms metal into a medium for technical brilliance and subtle design. Inspired by optical phenomena and the mesmerizing effects of optical art, Andrew creates pieces that appear to shift and change as the eye moves across them. He constructs sculptural jewelry using fine lengths of 18ct gold, silver, platinum, and titanium wires.
Andrew graduated from the Edinburgh College of Art in 2000 and completed at Master's at the Royal College of Art in 2004, and now exhibits and sells his award-winning jewellery worldwide, with work featuring in prestigious public collections in the UK and abroad. He teaches part time at Glasgow School of Art, inspiring the next generation of jewellers and silversmiths.
Learn more about Andrew's work on his website.
Image: Malcolm Appleby / Photography via The Scottish Gallery.
Malcom Appleby MBE
Malcolm Appleby, born in 1946, is a celebrated silversmith and metal engraver who has made a significant contribution to Scottish contemporary craft. His passion lies in the ancient craft of engraving, a skill that forms the core of his design and artistry, influencing the evolution of his other creative abilities. Based in Scotland since 1969, Malcom's work showcases imaginative use of line and form, where even gold is considered just another material.
Associated with The Scottish Gallery since the 1970s, Malcom's diverse work brings joy to many. In 2016, the gallery marked his seventieth birthday, celebrating over fifty years of creative excellence. His dedication to engraving and continuous experimentation earned him an MBE in 2014 for his outstanding contribution to the arts. Public collections featuring Malcom's work include prestigious institutions such as the Scottish Design Collection at V&A Dundee, V&A London, The Goldsmiths' Company, the British Museum, and more.
With a studio in Grandtully, Aberfeldy, Malcolm's career is marked by a commitment to promoting engraving and fostering opportunities for young engravers and silversmiths. He regularly hosts residencies for silversmiths who have a piece in the The Goldsmiths' Company collection to experiment and enhance their engraving and silversmithing skills. Engraving remains central to his design, allowing him to transform humble materials into unique and captivating pieces.
In 2022, Malcolm was awarded a Lifetime Achievement Award, Goldsmiths' Craft & Design Council.
Learn more about Malcoms work via The Scottish Gallery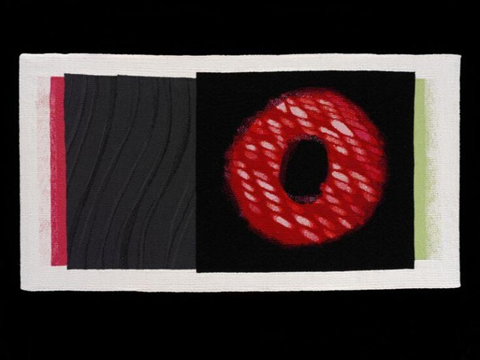 Image: Jo Barker / Photographer unknown.
Jo Barker
Jo Barker specialised in tapestry and printmaking at Edinburgh College of Art under the guidance of Fiona Mathison and Maureen Hodge, both former directors of Dovecot Studios. Jo's artistic focus lies in the expressive use of color and its emotional resonance with the viewer. Jo employs a combination of drawing, painting, and collage in her designs, aiming to capture the immediacy of painterly marks in her woven tapestries.
One of Jo's notable works 'Dappled Circle Scarlet' delves into the illusion of space, depth, and movement, drawing inspiration from sunlight playing over latticed ironwork during a study trip to Egypt. This piece retains Barker's signature circle motif, now presented as a more solid form serving as the foundation for the dappled light pattern. In 2011, Jo's talent was featured at the Dovecot Studios in Edinburgh as part of the 'Craft in Dialogue' exhibition.
Jo Barker works from her studio in Edinburgh and has exhibited her work nationally and internationally including at Collect, SOFA and The Scottish Gallery in Edinburgh. Her work is in numerous collections, public and private, including the V&A London, The House of Lords and the Scottish Government. She was awarded the Cordis Prize for Tapestry in 2016 and has been the recipient of creative funding awards including the Theo Moorman Trust for Weavers.
Learn more about Jo's practice.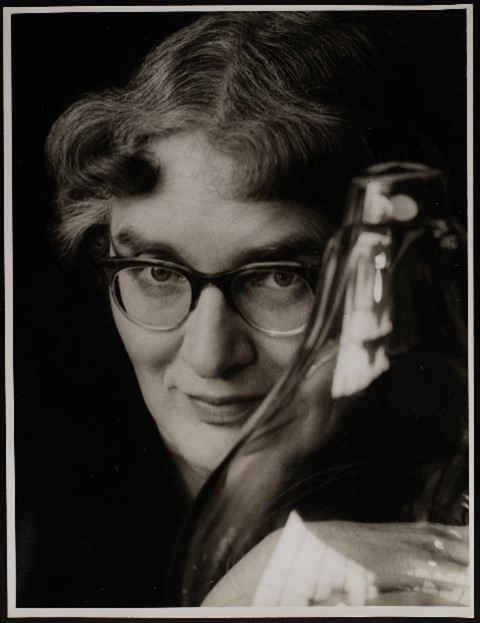 Image: Helen Munro / Photographer unknown
Helen Monro Turner (1901 – 1977)
Helen Monro Turner, a trailblazing Scottish glass artist, educator, and illustrator, broke gender barriers in 20th-century British glass. Despite limited recognition in dedicated monographs, her impactful legacy is marked by international exhibitions and commissions. Notably, she founded and led the Department of Glass Design at the Edinburgh College of Art in 1943, becoming the first woman to head a UK glass department. It was through her tenacity and foresight she was able to establish one of the best-equipped and influential educational departments in this field.
From this impressive achievement came a stream of glass artists who transformed not only the glass industry in post-war Scotland but also had a significant impact on the British studio glass movement, including leading names in glass such as the father of the British Studio Movement Sam Herman, and acclaimed Scottish glass artist Alison Kinnaird. Brian Blench, former Keeper of Decorative Art at Kelvingrove Art Gallery, who has written a number of articles on Turner, once said of her that "Artists have frequently been forced into the role of teacher in order to make a living in order to pursue their artistic activities. Few, however, have been so driven with a desire to interest, encourage, and develop a love of their chosen medium as Helen Monro Turner." A fitting tribute to Monro Turner's legacy in glass education is that despite so many craft courses being cut from modern higher education, teaching in glass carries on to this day through the students and staff of Edinburgh College of Art's glass department.
Born in Calcutta, but raised and educated in Scotland, Monro Turner is also remembered for her illustrations and numerous public architectural commissions for churches, libraries, airports, universities, and social clubs across the country, such as the windows on the staircase in the National Library of Scotland.
Learn more about Helen's story with National Museums Scotland's article 'Inspiring Women'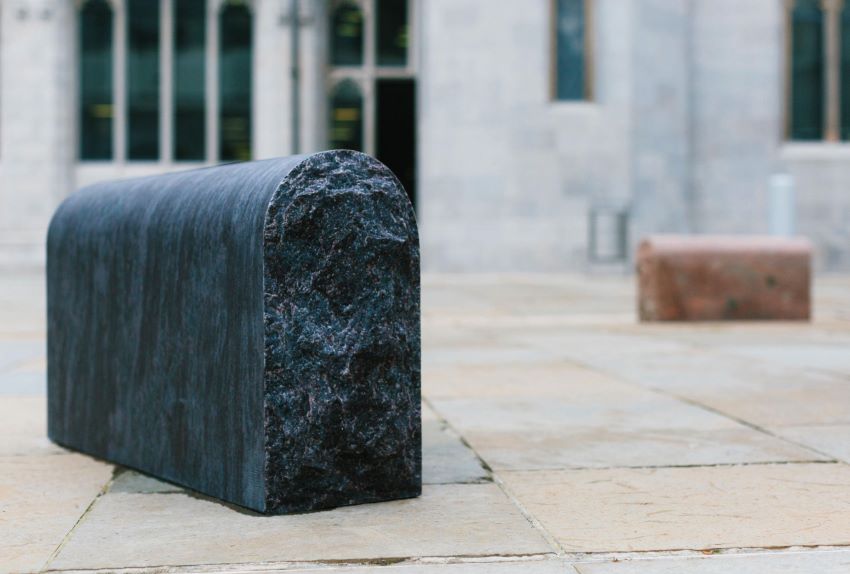 Image: Nick Ross / Photography courtesy of Nick Ross via divisare.com
Nick Ross
Nick Ross, a Scottish designer/maker now based in Stockholm, merges conceptualism and anthropology through the formidable medium of sandstone. Graduating in product design from Gray's School of Art in 2004, he furthered his studies, earning a master's degree in interior architecture and furniture design from Konstfack in Stockholm in 2013. Establishing his studio in 2014, Nick delves into ancient history, exploring how historical interpretations influence our contemporary understanding of objects. Employing storytelling as a catalyst and maintaining a critical perspective, his projects straddle design, anthropology, and historical narrative. He aims to build connections between present-day society and the past.
Notable civic projects in Scotland include 'Doric Boule' in Aberdeen. The site-specific work references the civic setting of the courtyard of the Marischal college, the headquarters of the Aberdeen city council, and explores granite as a material that is built into the city's history and urban landscape.
Learn more at www.nickross.studio.
---
We would love to hear from you! Let us know if there is someone special in the Scottish craft community that you would like to celebrate and remember. Get in touch with the Craft Scotland team at hello@craftscotland.org.
15 for 15 : Celebrating Scottish Craft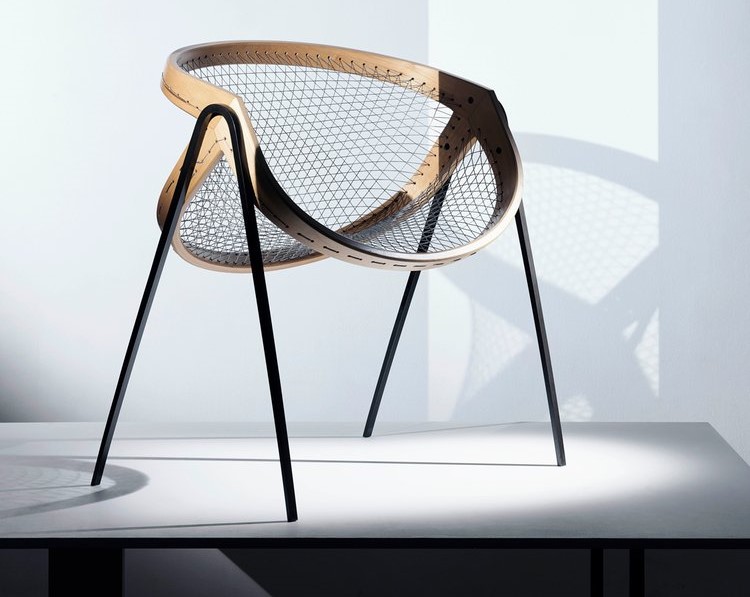 Transparent