Craft Week Scotland 2023 falls on an extra special year for Craft Scotland! In 2023, we proudly commemorate two significant milestones—20 years since the inception of our inaugural project and 15 years since we became an independent charity. These years have been a journey of creativity, growth, and unwavering commitment to the vibrant craft community in Scotland.
As we celebrate our 15th birthday, Craft Week Scotland 2023 becomes a milestone moment to reflect on our past, revel in our present, and anticipate an exciting future.
Join us this week in reflecting on this extraordinary journey and celebrating the makers, curators and supporters who have made Craft Scotland the thriving organisation it is today. This Craft Week Scotland is more than an event; it's a heartfelt tribute to the creativity and talent that has shaped our narrative over two decades.
As part of Craft Week Scotland, we're also excited to celebrate the Scottish contemporary craft sector and highlight individuals who have played a key role in the community with our '15 for 15' Selection. Stay tuned.
If you have a memorable Craft Scotland moment you would love to share with us, please do get in touch. We are keen to keep building on our archive, please contact hello@craftscotland.org.
---

Since our inception, Craft Scotland has stayed true to its original purpose championing the Scottish contemporary craft sector, raising the profile of our nation's talented makers and promoting the contribution of craft to Scotland's cultural, economic and social well-being.
"As we celebrate both a 20th and 15th anniversary at Craft Scotland, I am profoundly moved by the impact we've made through two decades of successfully delivering on our charitable aims." - Irene Kernan, Craft Scotland's Director
Irene Kernan, Craft Scotland's Director says "As we celebrate both a 20th and 15th anniversary at Craft Scotland, I am profoundly moved by the impact we've made through two decades of successfully delivering on our charitable aims. Our commitment to talent of the Scottish craft sector has been a guiding force, creating impactful programming that supports showcasing at home and internationally, learning and professional development, communications and advocacy. The threads of creativity, dedication, and community engagement have come together to create positive change. Here's to 15 more years of making a difference through showcasing excellence in craft as an artform and sharing the benefits of making more widely in society."
With such a rich history of over 15 years it's difficult to share all of Craft Scotland's achievements and projects in one place, below are some key highlights, and you can learn more about our past projects from 2016 with our Project Archive.
If you have a memorable Craft Scotland moment you would love to share with us, please do get in touch. We are keen to keep building on our archive, please contact hello@craftscotland.org.
---
Our History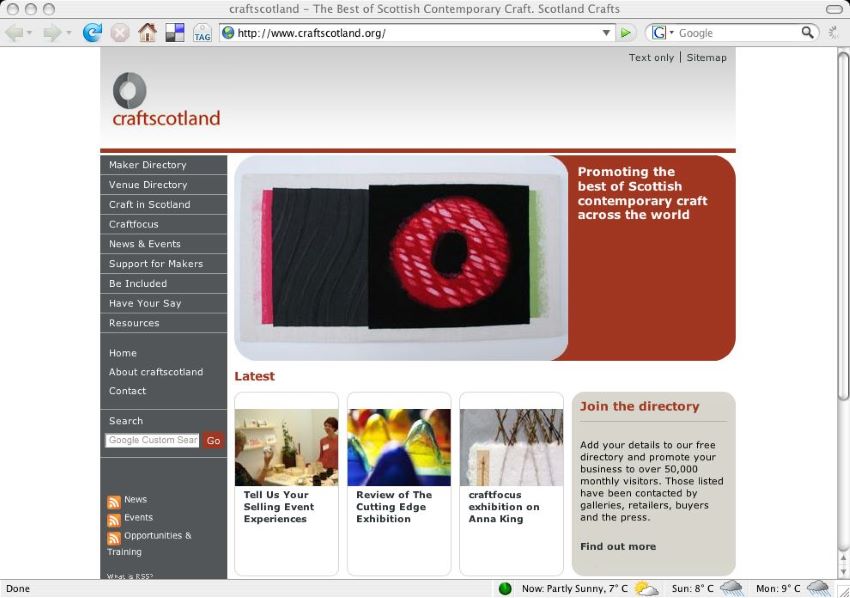 Image: Screenshot from www.craftscotland.org 2003

In 2003, Hi-Arts and Highlands & Islands Enterprise together with The Scottish Arts Council decided to create an online showcase for Scottish craft including events, news and business support. The project initially comprised of a pilot phase, covering the Highlands & Islands, and in June 2004 the Craft Scotland website was extended to cover Scotland as a whole.
Dr Helen Bennett, Head of Crafts at The Scottish Arts Council said in 2003 "We envisage crafts making a dynamic contribution to contemporary culture and the economy. We see them being valued and understood by people throughout Scotland. And we see Scottish crafts people as a confident professional community whose work is recognised for excellence both here and abroad." From www.craftscotland.org 2003 [via WaybackMachine].
Tina Rose, Editor of the Craft Scotland website 2003 to 2009, and Acting Project Manager 2007-2008, says "It was very exciting to be editor of the first Craft Scotland website, which was developed with the aim of showcasing the quality of craft in Scotland, as well as a resource for makers, and then to promote it across Scotland, the UK and internationally. It was a natural progression from virtual exhibitions to the first exhibitions at Homes & Interiors Scotland (2006 - 2008) and internationally at Collect 2008 at V&A London. Craft Scotland has always had vision and ambition. The project was often described as punching above its weight and this is undoubtedly due to the enthusiasm and support from people in all parts of the craft sector in Scotland during those early years as well as the creativity and skills of makers living and working in Scotland. Congratulations on your 20th and 15th anniversary!"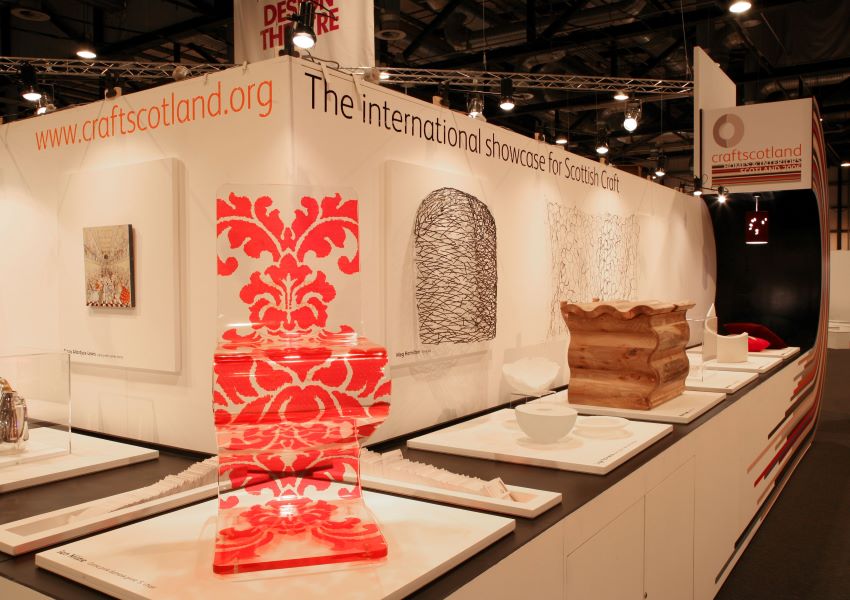 Image: Homes and Interiors Exhibition 2008 / Photographer unknown
Following on from the pilot project's success in September 2008, Craft Scotland became an independent organisation and charity with a permanent team of two. Craft Scotland, styled then as 'craftscotland', began to look at how to develop Scottish contemporary craft long-term with its motto "Showcasing the best of contemporary craft across the world".
We launched our first public-facing campaign called 'The C Word', it was designed to provoke interest and discussion on Scottish craft at a national and international level. This advert was played in cinemas around the UK and was aired by STV late 2009/early 2010.
Makers who took part in 'The C Word' PR campaign included Grainne Morton (jewellery), Julia Douglas (textiles), Clare Waddle (lighting/wood), Rebecca Wilson (jewellery), Lara Scobie (ceramics), Jessamy Kelly (glass), Joachim King (furniture) and Libby Day (lighting designer).
From TV screens into the community, Craft Scotland launched a community outreach programme 'Meet Your Maker' in 2010, taking makers out of the studio and into civic spaces. 'Meet Your Maker' began life as an exhibition in partnership with the National Museum of Scotland in 2010.
It continued until 2017 and included events at Her Majesty's Prison (HMP) and Young Offenders Institution (YOI) Cornton Vale in Stirling, the Living Memory Association in Edinburgh, Dumfries & Galloway College and during the Edinburgh International Book Festival. Makers include Soizig Carey (jewellery), Joanna Kessel (mosaic), Bryony Knox (metal), Isabelle Moore (furniture), Chloe Patience (textiles) and Grant McCaig (silversmithing).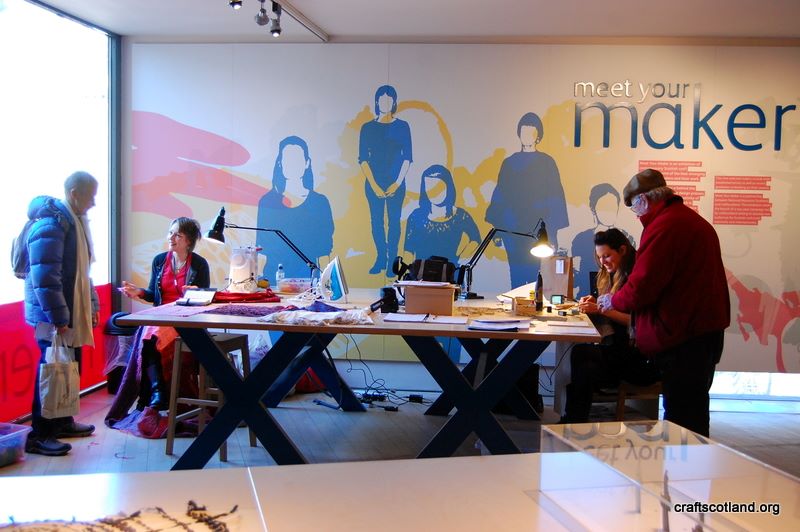 Image: Meeting the makers / Photographer unknown
'Meet Your Maker' focused on demonstrating the skill that goes into handmade objects and sharing the benefits of craft with wider audiences. It continues to inform our work including 'Making Spaces' 2017 - 2021 and current project 'Making History' with Historic Environment Scotland. Together with our partners, Meet Your Maker presented 80 events to total audiences of over 13,000, working with nearly 200 makers.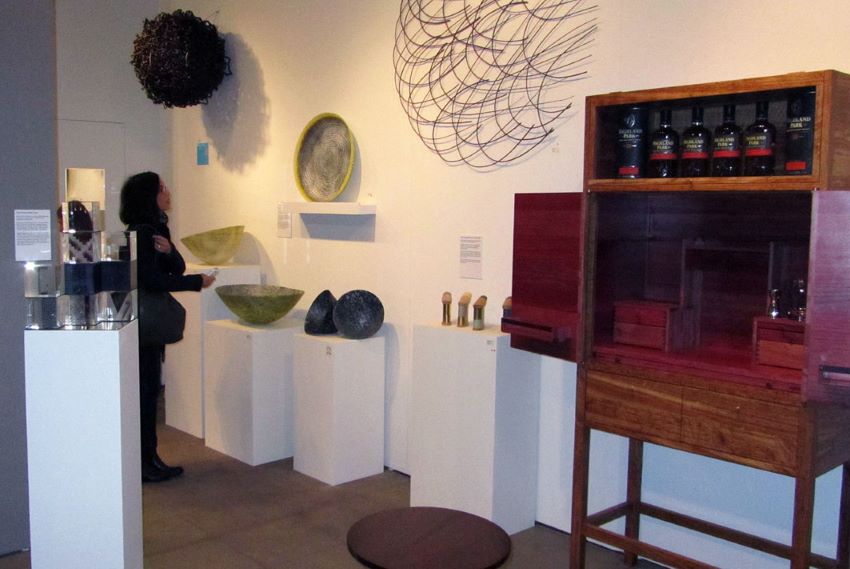 Image: SOFA Chicago 2013 / Photographer unknown
Over the last 15 years, Craft Scotland has demonstrated a strong track record of showcasing the best of Scottish contemporary craft locally, nationally and internationally. Our Presenting Craft programme supports the sustainability of the sector, and increases, diversifies and develops the audience for craft. We continue to highlight makers, objects and stories from Scotland through our vibrant programme of activity with selling events, exhibitions and international fairs, digital platforms and "Brand Scotland" showcases.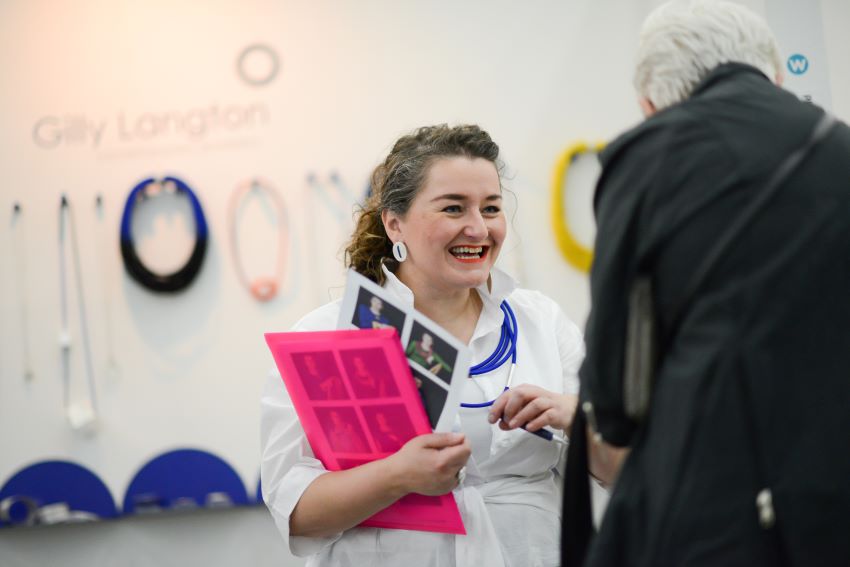 Image: ACC Baltimore Show / Photography by Maximilan Franz
In 2011, we held our first international presentation of Scottish contemporary craft with the American Crafts Council at their Philadelphia Show. We have also showcased in Japan at the Rugby World Cup (2019) and in the USA we have presented Scottish contemporary craft at NY NOW trade fair and at American Crafts Council's show in Baltimore. In 2017, our 20 selected Scotland-based makers and designers sold over £100,000 of Scottish contemporary craft to North American customers, galleries and retailers during the Baltimore show.
Up until that point, the American Crafts Council had only ever showcased the work of North America's leading makers. With over 20,000 people attending the show and a showcase of over 650 different designers across the three days, the work of Scotland's makers proved a massive hit. Makers included James Donald (textiles), Adam Henderson (jewellery), Carla Edwards (jewellery), Fiona McIntosh (textiles), Lara Scobie (ceramics), Patricia Shone (ceramics) and Rhona McCallum (jewellery).
In 2014/15, Craft Scotland became a Creative Scotland Regularly Funded Organisation and this was a turning point for the organisation as it allowed us to invest and expand our programme to support different areas of need within the sector and allow us to grow our team to bring in the relevant expertise.
We hosted four successful presentations at SOFA Chicago in 2012, 2013, 2014 and 2015. Critically acclaimed since 1994, and on par with Art Basel, this renowned gallery-presented art fair was dedicated to three-dimensional art and design. We presented ambitious work from Scotland in glass, ceramics and jewellery amongst other disciplines. Participating makers who took part over the years include Jessamy Kelly (glass), Juli Bolanos-Durman (glass), Jonathan Boyd (silversmithing, goldsmithing), Carrie Fertig (glass), Melanie Muir (jewellery) and Simon Ward (ceramics).
Closer to home, Craft Scotland has had notable showcases over the years in the UK including Biscuit Factory (Newcastle), Scotland's Trade Fair (Glasgow), VAS (Edinburgh) and London Craft Week (London).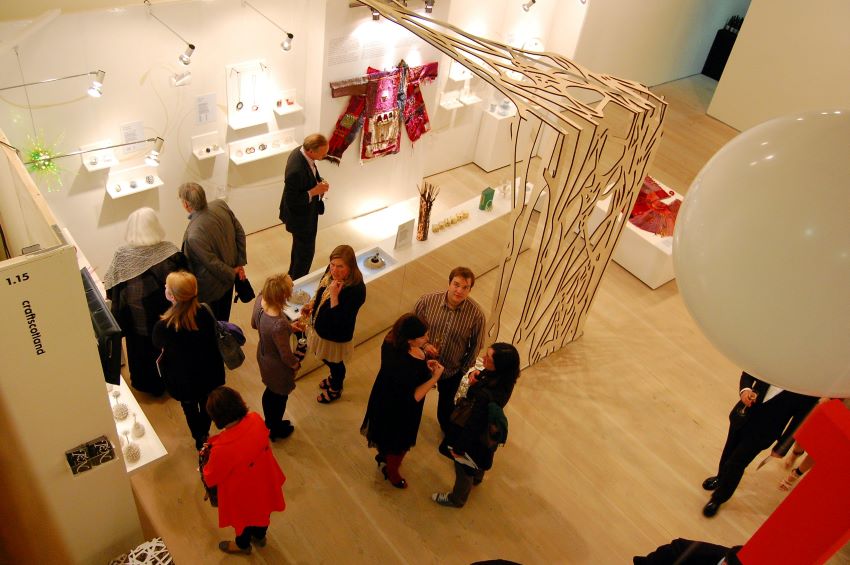 Image: Craft Scotland at Collect 2010 / Photographer unknown
London is both a domestic and international platform for Scottish contemporary craft as the capital attracts visitors and craft enthusiasts from all over the globe. In 2016, together with Emergents, Craft Scotland created the first country pavilion for Scottish craft at London Design Fair, part of the London Design Festival.
22 emerging and established designer/makers from across Scotland were selected by an industry panel to take part in the 'Scotland: Craft & Design' pavilion. The pavilion was the first time Craft Scotland created a custom-made stand for our showcases, and this award-winning 'iceberg' design was designed by Scottish design studio, GRAS. We returned in 2017, with a new look pavilion and new roster of makers highlighted in Craft Scotland's entry for The List's Hot 100 celebrating Scottish culture.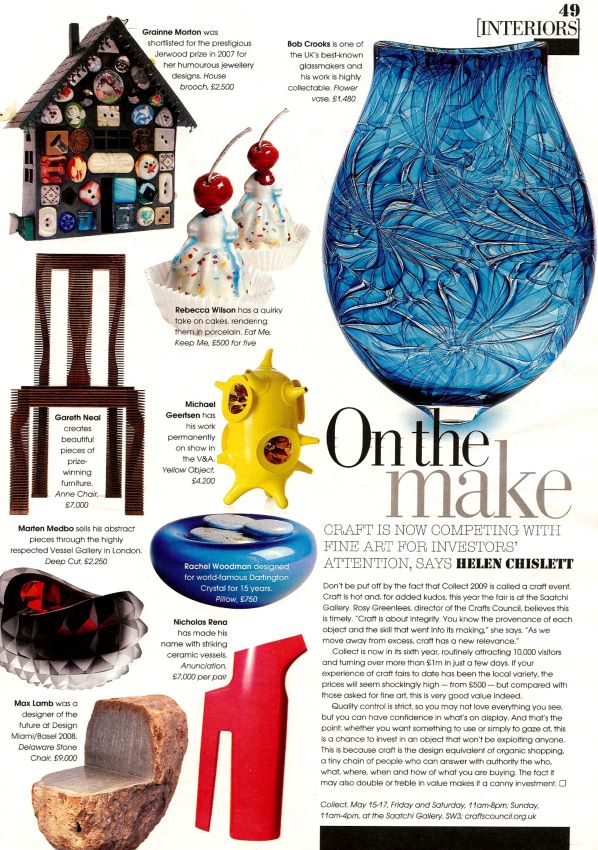 Image: Craft Scotland at Collect 2009 Feaure in the SundayTimes
London is also home to Collect, the leading international fair for contemporary craft and design organised by Crafts Council. We first showcased at Collect 2008 – 2011 when it was held at its first venue V&A London and we returned in 2018 to the Saatchi Gallery following feedback from makers.
Makers participating in the 2008 Collect showcase included glasswork by Ray Flavell, then Head of Glass at Edinburgh College of Art, that was also featured on the cover of the catalogue. Prior to the exhibition at Collect there were exhibitions at Homes & Interiors Scotland in 2008, 2007 and 2006, alongside online exhibitions.
Ray's work shown at Collect was created for a seminal exhibition of contemporary craft 'which opened in 2007 at the National Museum of Scotland and toured to partner venues in Ayrshire, Aberdeen and Glasgow. Its catalogue featured several notable essays including one by Professor Simon Olding, then Director of Crafts Study Centre, who sadly passed away last year. His essay 'A rightful place in the scheme of things: a history of craft resources in Scotland' (2007) mentioned Craft Scotland;
"Craft Scotland is perhaps the perfect examplar of the economy and information pulses behind Scottish craft policy and activity. It is at one level a simple website: www.craftscotland.org. But in its first breathless year, craftscotland has become a truly dynamic portal. It describes, writes about, hosts opinions on the crafts; it promotes and inspires craft practice, and the selling and distribution of craft objects. It is a democratic meeting place for ideas, images and specific craft content, relevant to Scotland, and viewed internationally. It hosts virtual exhibitions. [Craft Scotland] aims to become an audience development agency for the crafts in Scotland, acting with technical sophistication and worldwide reach. It has the verve of the Australian website craft culture produced by Craft Victoria, with the authority that derives from consensus, independence, and a shared vision. It has no parallel in England."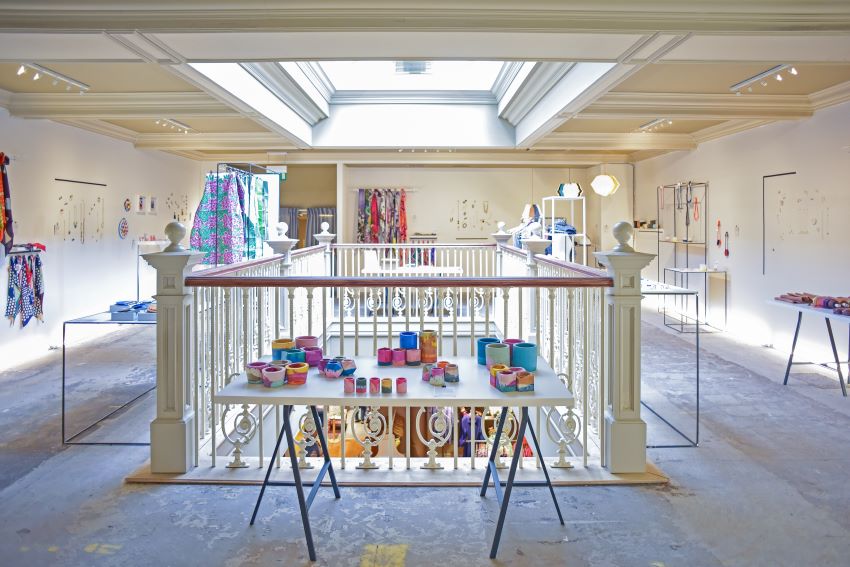 Image: Craft Scotland Summer Show 2018 / Photography by Ellie Morag
Back in Scotland, our popular Summer Show (Edinburgh) launched in 2013 and ran until 2019. Supporting 240+ makers over the 7 years, visitors to the Summer Show could discover statement handmade objects from Scotland-based makers in one unique Edinburgh location during the Edinburgh Festival Fringe.
Over 44% of the makers were new to the show, making it a great opportunity to experience the breadth of talent across the country. There were 33 participating makers for our inaugural Summer Show including Andy Forbes (furniture), Fiona McIntosh (textiles), Graeme Walker (Metal), Jo Walker (ceramics), Julia Smith (ceramics), Lise Bech (basketry), Nicola Morrison (jewellery) and Sally-Ann Provan (millinery).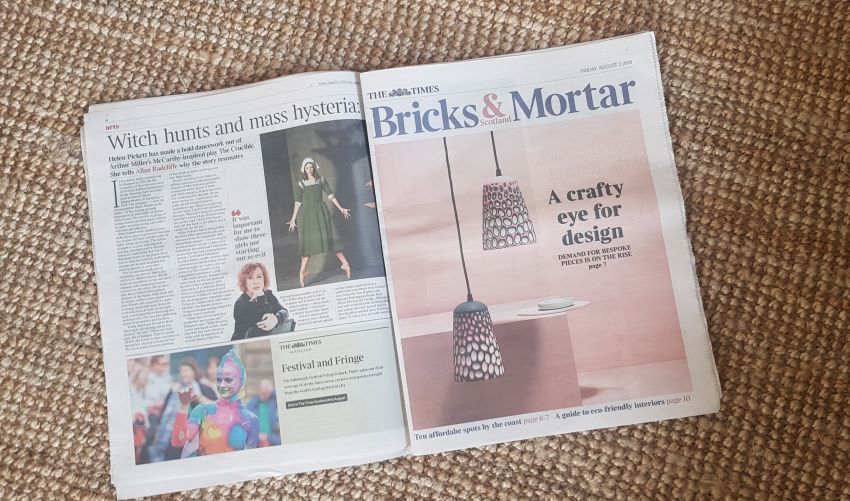 Image: The Times 'Bricks & Mortar' feature
Craft Scotland continues to value and invest in our digital presence, in 2017 we launched a brand-new visual identity, website and Craft Directory as a key tool in raising awareness of the Scottish contemporary craft sector. Raising the profile of craft from Scotland, we annually focus on creating unique marketing and PR campaigns and share stories from the sector through our storytelling and the Craft Journal.
Key media titles over the years that Craft Scotland and Scotland-based makers have been featured include Elle Decoration, The Times, The Guardian, The Herald, Homes and Interiors and Scottish Field. We also continue to promote sector activity happening across Scotland through our What's On section and promote sector Opportunities.
From 2014, we refined our role as the national development agency and set about strengthening our strategic connections and networks with partners and stakeholders. In April 2016, Craft Scotland hosted a Craft World Café where makers, curators and craft professionals came together to co-create a vision for craft in Scotland for the next ten years. The aim of the day was to create meaningful, transformative conversations about the future of craft. The Craft World Café project was developed by Roanne Dods for the Craft Development Network (CDN), supported by Creative Scotland. Securing a legacy from the Craft World Café and the work carried out by Roanne in 2016/17, Craft Scotland acted as a craft incubator and nurtured the first iteration of MAKE through the publication of a report authored by Panel in 2018.
Panel has gone on to develop and launch the manifesto through their Unconference event in 2019. MAKE has developed into an independent initiative and public-facing framework, network and programme for the sector in Scotland, focusing its work in three key areas: Education, Digital Resourcing and Connectivity, Diversity and Inclusion. During this time Panel the current custodians of MAKE and its sister project MAKE Learn, in partnership with Craft Scotland, have implemented key action-research projects, research and resources as part of MAKE's output, through the MAKE Learn campaign, accessible online at makemanifesto.com.
Over the last 8 years, we have built the case for continued investment in Scottish contemporary craft through our evidence base that includes research insights and consultation. Key research includes our Sector Reports, COVID research and commissioning 'Sustaining Curatorial Practice' by Dr Stacey Hunter, which has led to the development of a new COMPASS programme focusing on curators.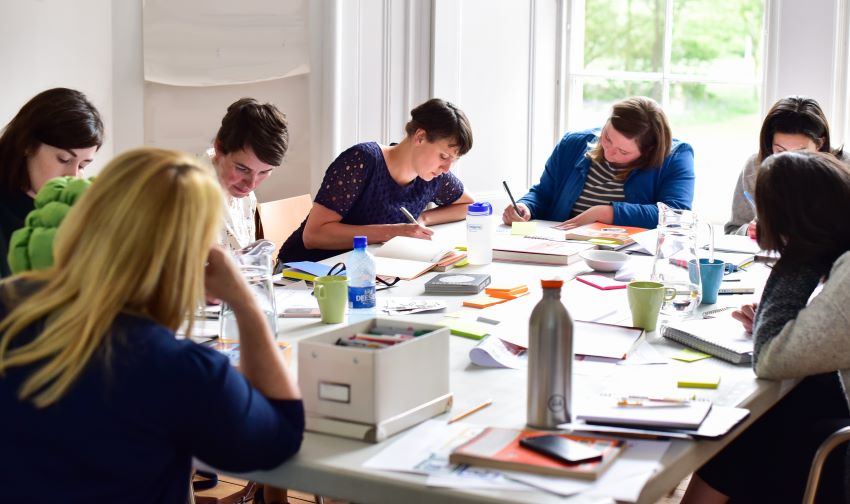 Image: COMPASS Residential - Cohort 1 2019 / Photography by Ellie Morag
Since our inception, Craft Scotland has run a variety of maker training initiatives, including mentor and mentee training, lectures, business and marketing workshops and preparation days for makers involved in our exhibitions programme. Between 2012 – 2017, Craft Scotland supported 23 makers to undertake the Crafts Council's Hothouse and Injection development programmes. Following a review, we launched COMPASS to offer more relevant professional development support to a larger number of makers.
COMPASS approaches learning and development holistically exploring values and self-development topics alongside business subjects such as finance and marketing. Originally launched in 2018 to focus on makers, COMPASS has since expanded to also provide support for curators and craft professionals. It is a continuously evolving programme of support responding to the unique needs of the community, informed by industry experts and feedback from the sector.
Current activity includes our year-long flagship Emerging Maker programme and pilot project Emerging Curatorial programme. Previous COMPASS activities have included free webinars, industry networking sessions, bursaries for established makers to develop their practice and for graduates effected by the pandemic, and residencies for Next Generation makers.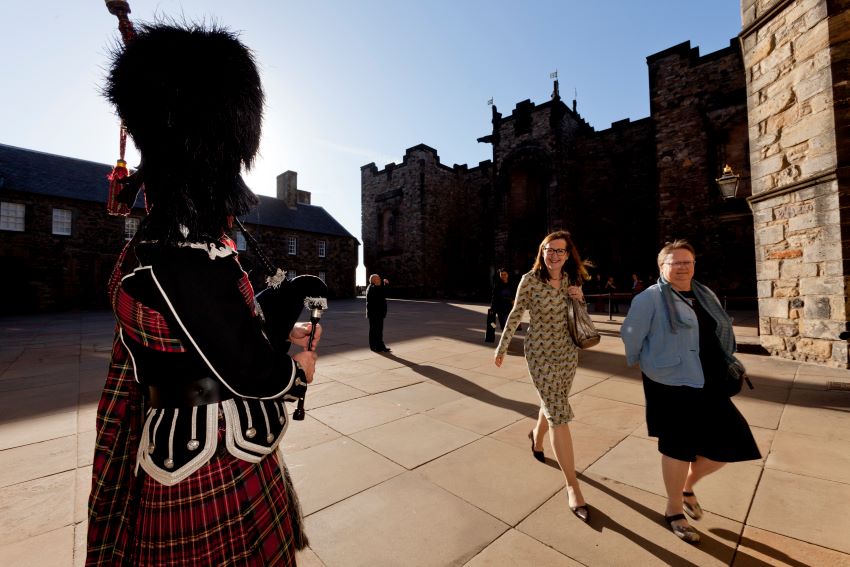 Image: Craft-Scotland WCC Castle Reception / Photography by Gary Doak
An important part of our Learning Programme is our conference and talks programmes that showcase Scotland-based makers, share current thinking in craft and provide opportunities to network on an international platform. A special moment was hosting the general assembly of the Worlds Craft Council – Europe network for their annual meeting during our Conference 2018 - New Ways of Seeing, curated by Rose Watban. Celebrations included a reception at Edinburgh Castle and the presentation of World Craft City status for the Outer Hebrides, in recognition of their centuries-long production of Harris Tweed. This assembly was the first time in 15 years that the gathering of Worlds Craft Council – Europe took place in Scotland.
As we commemorate Craft Scotland's anniversary, we reflect not only on our vibrant and varied programme over the years but also the passionate individuals who have been a part of our journey.
Sandra Gunn, Chair of Craft Scotland's Board says "With heartfelt appreciation, I extend my sincere thanks to the exceptional team, visionary board members, invaluable advisory group members, supportive funders, and skilled makers and curators who have been instrumental in our success across the years. Your collective efforts, commitment, and expertise have been the foundation of our achievements. Here's to the remarkable individuals who have contributed to our journey, and to the continued collaboration and success that lies ahead."
We look forward to sharing our new strategy with the sector in 2024 and returning with a new programme next year including our ninth presentation at Collect 2024.
With thanks to Tina Rose for providing some supplementary information.
Reflecting on Craft Scotland's 15-Year Journey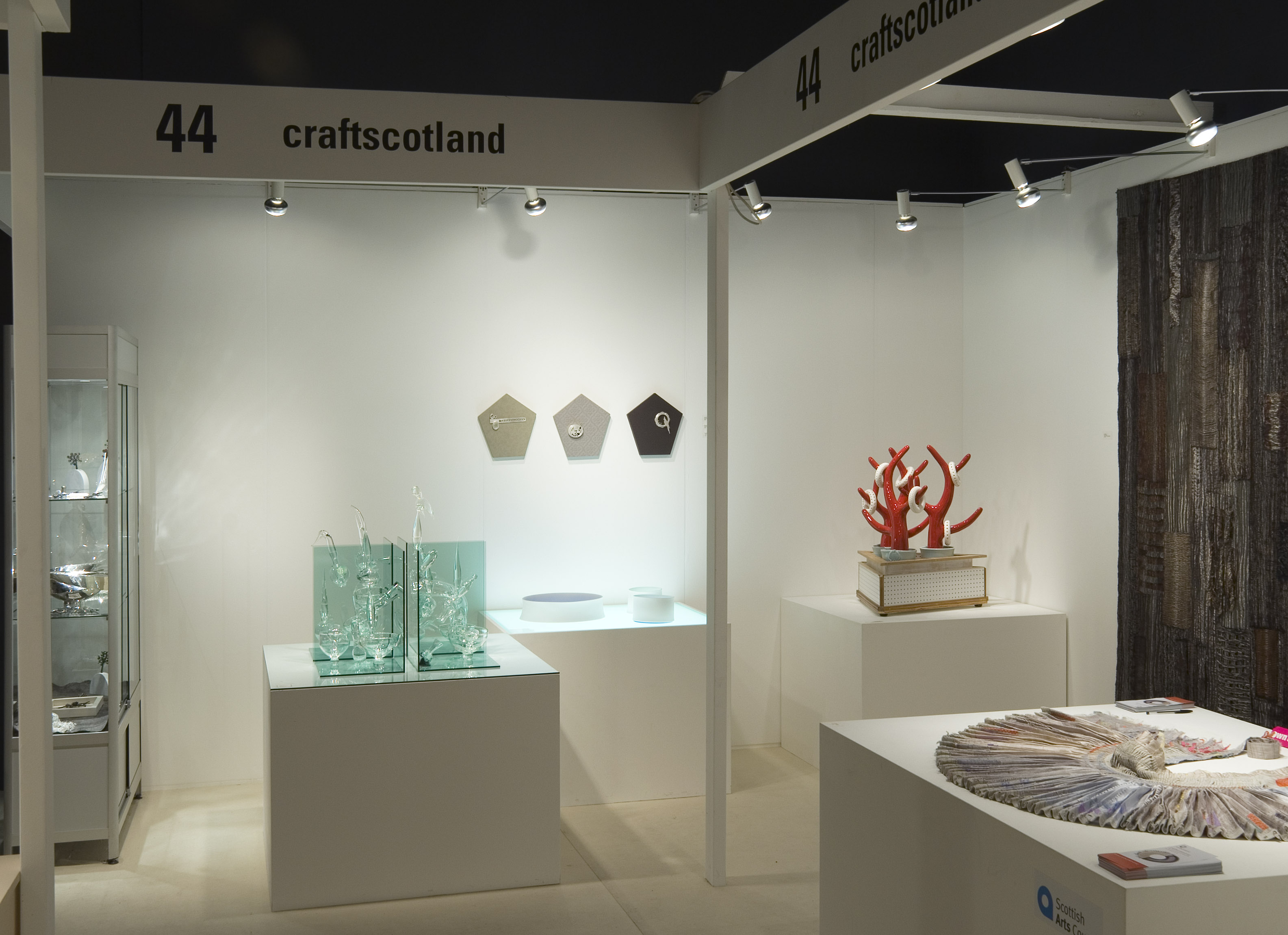 Reflecting on Craft Scotland's 15-Year Journey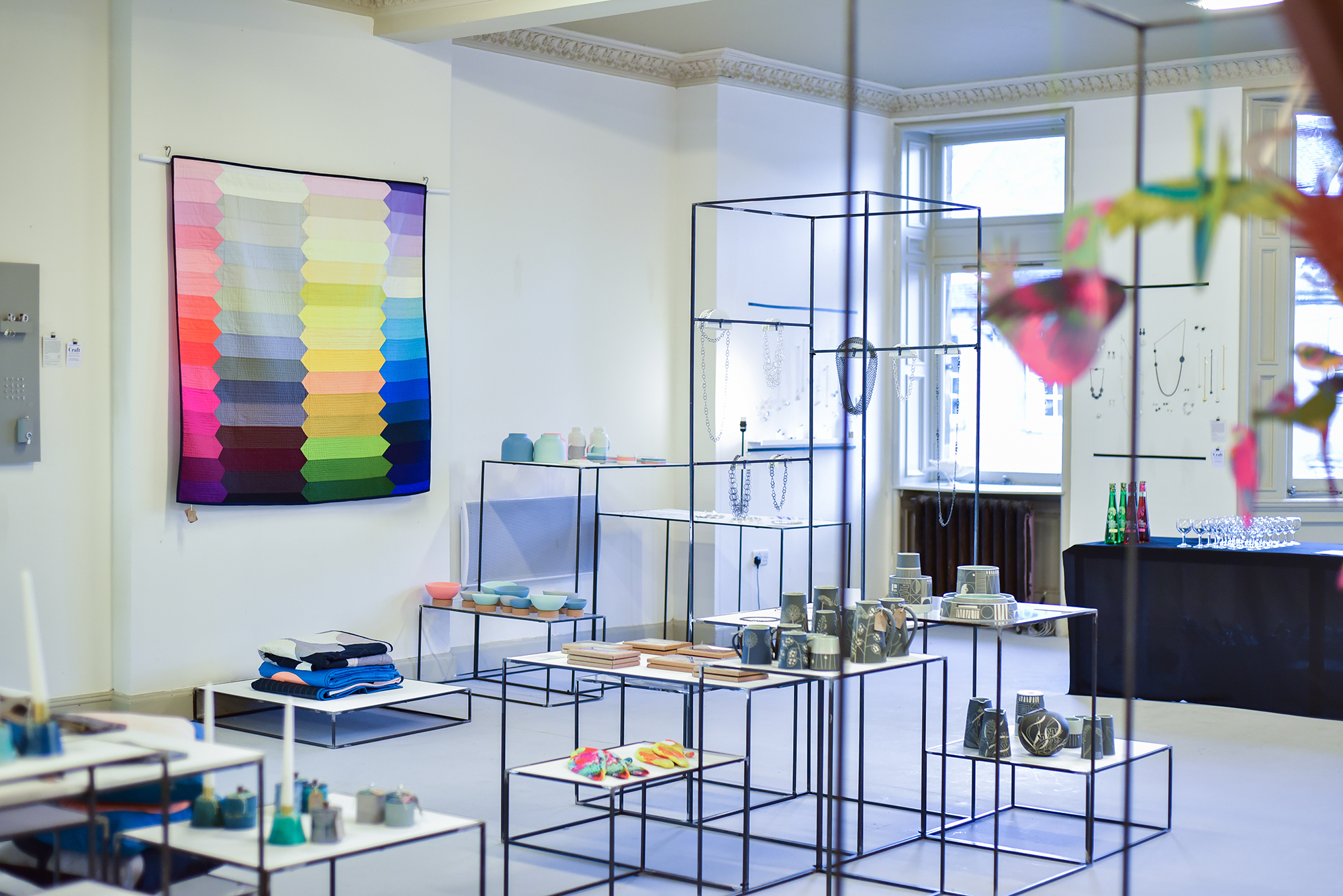 Transparent