Begin the year with new craft destinations to discover across Scotland, gain insight in working with galleries and meet the talented silversmiths awarded a prestigious scholarship.
Read on with January's The Craft Edit.
---
Fibershed launches in Scotland to support the country's fibre economy
Fibershed Scotland is a growing community of producers and makers work with fibre such as wool, linen, leather and natural dyes products.
This new branch of Fibershed aims to develop a Scotland-wide, regenerative fibre community by increasing connectivity between producers and makers, promoting skill sharing and environmentally responsible practices.
Fibershed was created in California, USA, as a nonprofit organisation aiming to support the economic systems behind the production of material culture to mitigate climate change, improve health, and contribute to racial and economic equity.
Visit www.fibershed-scotland.org for more information.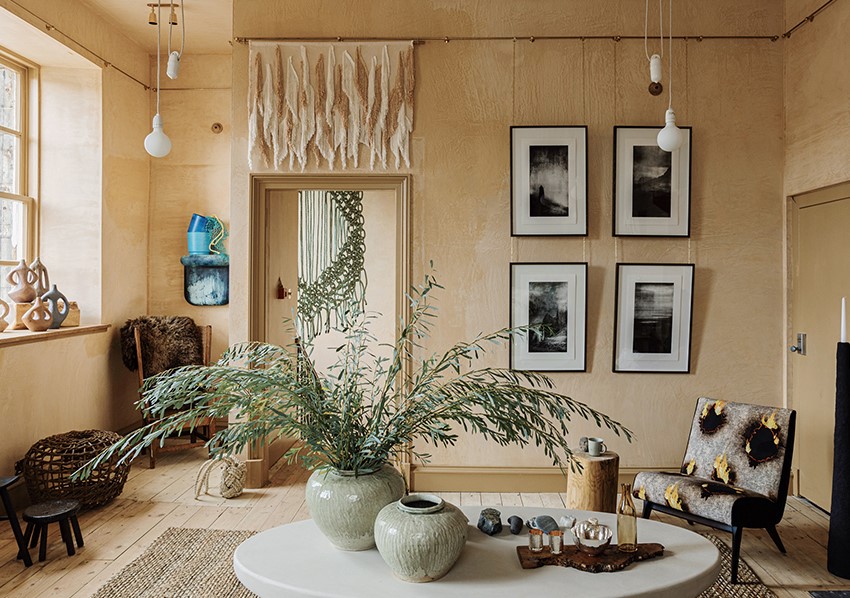 Image: Bard / Photography by Edvinas Bruzas
New space in Edinburgh celebrating Scotland-made craft opens at Custom Lane
Bard is a new shop and gallery opened by Hugo Macdonald and James Stevens that aims to bring the best of Scottish craft to the world.
Created to resemble "the home of a collector", the shop spans two floors Scotland's oldest custom house at Custom Lane in the heart of Leith. The curated selection of craft products was expertly hand-picked from Scotland-based makers to fit in the modern home of the craft lover. The shop showcases a wide choice of materials from glass to ceramics, wool and willow to silver, available in a broad price range.
Founders Hugo, a design writer and curator, and James, who is an architect, believe in the value of craft in daily life and the importance of craft in Scotland. Over three months, the husband duo visited around sixty different makers and designers on a tour of Scotland to get a firsthand understanding of what is being created in Scotland.
"We wanted to learn about what they make but also why they make it and what it means to be a modern maker in Scotland" Hugo told Custom Lane. "It's a commercial venture but it's also a cultural venture that aims to ask questions about Scottish cultural identity, past and future, through made objects, makers and manufacturers."
Bard is open at Custom Lane, 1 Customs Wharf, Wednesday to Friday 12-6pm and Saturday and Sunday 10-6pm.
Visit, shop online and learn more at www.bard-scotland.com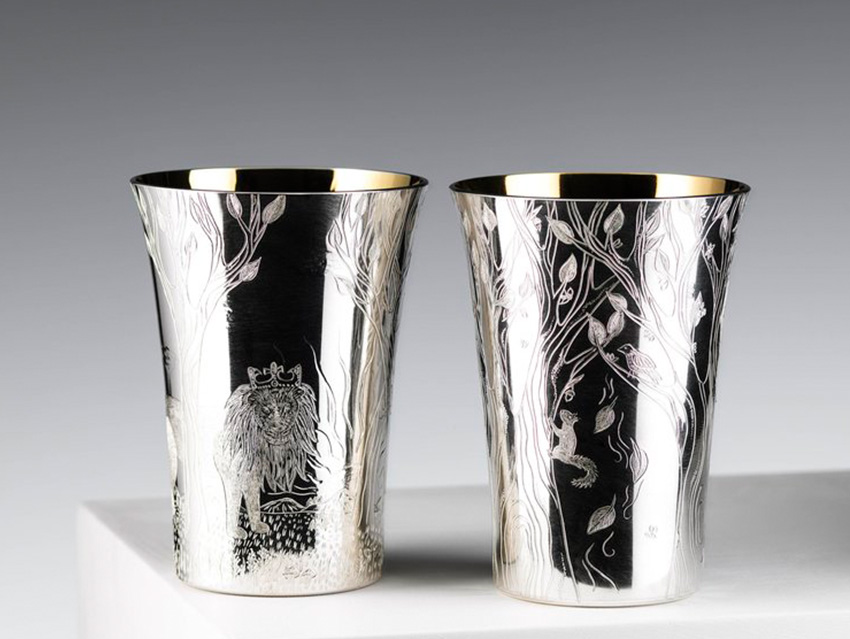 Image: Katie Watson / Photography by Shannon Tofts
New workshop for silversmiths opens in the Scottish Borders
The Scottish Goldsmiths Trust and Marchmont Creative Spaces have announced the launch of The Marchmont Silversmithing Workshop, a brand new fully-equipped workspace for silversmiths in the Scottish Borders. It will formally open on the 25 March 2023 and is managed by The Scottish Goldsmiths Trust.
The workshop was developed in 2020, when the Scottish Goldsmiths Trust was generously gifted late Master Silversmith Graham Stewart's workshop, including the tools, machinery and books he collected throughout his career. It was his wish and that of his family that these continue to be used to support early career silversmiths in Scotland. The space will welcome three early career silversmiths to develop their businesses over a two-year residency, with mentoring from master silversmith Ryan McClean. A fifth space will also be available for residencies ranging from one-week to one-month, open to silversmiths from across the UK and internationally.
This new workshop will offer a unique experience for visiting silversmiths on residencies, with bespoke accommodation on site. The Scottish Goldsmiths Trust will also welcome collaboration from individuals and organisations that may wish to support a funded residency, with the additional option to include a silverware commission for their collection. This forms part of the trust's charitable objectives to champion the education, art and craft of Scotland's gold and silversmithing sector.
Learn more about the Marchmont Silversmithing Workshop and the first makers in residence.
New Retail Futures event explores working with galleries
Local Heroes event series Retail Futures seeks to demystify different modes of presenting and selling design and craft. Their latest event brought together industry experts and makers to discuss working with galleries.
The talk featured panelists Juliana Cavaliero, co-founding director of Cavaliero Finn, ceramic artist Frances Priest, and Fels co-founder Oscar Mitchell, with a Q&A chaired by Dr Stacey Hunter. Covering different aspects of representation including practical elements such as sales, imagery, and supplying content for exhibitions, the event was designed as a guide for designers and makers.
The event was hosted online via Zoom on 9 January 2023, and watched live by audience members in over 150 cities worldwide, from LA (USA) to Delhi (India), Narok (Kenya) to Makati City (Philippines) and Östersund (Sweden).
The talk is now available to view online in its entirety.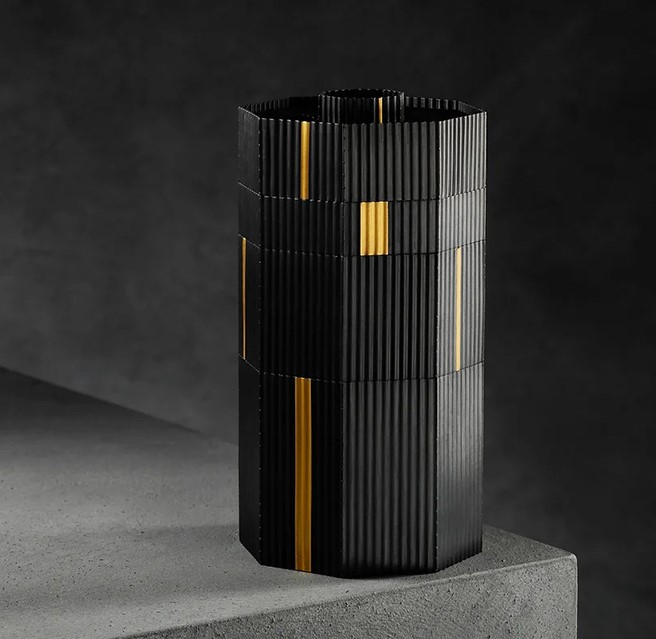 Image: Sheng Zhang / Photography by Shannon Tofts
Scotland-based silversmiths awarded scholarship from South House Silver Workshop Trust
Silversmiths Dr Karen Westland and Sheng Zhang have been awarded two of three 2023 Silversmithing Graduate Apprentice Scholarships from the South House Silver Workshop Trust, alongside silversmith Alice Fry, herself a Glasgow School of Art graduate.
The South House Silver Workshop Trust was established in 2013 by Goldsmith Silversmith Rod Kelly M.A. (RCA). The residential scholarship is designed to accelerate the professional careers of promising silversmiths through four months of intensive workshop-based skills training and one-to-one training with leading silversmiths in Shetland.
Karen Westland creates refined silverware and jewellery using 100% recycled precious metals and other responsibly sourced materials. She is inspired by equipment built to explore outer space and how the invisible is revealed through these tools and has recently completed a PhD in Engineering Physics/Applied Physics at the University of Dundee. Karen will balance their time between the scholarship and their role as Programme Manager for the Ethical Making Programme at The Scottish Goldsmiths Trust in Edinburgh.
Sheng Zhang is an award-winning contemporary jewellery design / maker and silversmith creating playful and minimalist design incluenced by art, architecture and geometrical forms. His work is exhibited internationally and is included in the permanent collections of Victoria and Albert Museum and The Goldsmiths' Company. He is a graduate of Edinburgh College of Art and Artist in Residence at Glasgow School of Art.
Alice Fry graduated from the Glasgow School of Art in 2022, before going on to train at the prestigious Bishopsland Educational Trust. Her work is inspired by geological and mineral forms.
Learn more about the South House Silver Workshop Trust.
To read
Lonely Mountain Skis: Scotland's last ski-maker breathing new life into Scotland's snow sports
Community | Juli Bolaños-Durman on Recent Projects
---
We want to hear from you! Share your contemporary craft news for inclusion in next month's The Craft Edit.
Contact the Craft Scotland team with more information, URLS, images and/or a press release via email hello@craftscotland.org.
Cover image: Bard / Photography by Edvinas Bruzas, courtesy of Custom Lane