Image: Eleanor Kerr-Patton / Photographer unknown
Welcome to our Make Your Own Story feature, a series of interviews with craft makers. Hear from makers who have fascinating stories to tell about living and working in Scotland. We hope their stories will inspire you and spark new interpretations of craft.
---

Hello Eleanor! Can you please tell us about your practice, particularly your handmade process?
My practice stems from my own experience of mental ill health. I've always been fascinated with the mind, so exploring my own by creating physical objects helps me gain clarity both with my wellbeing and my work.

To create each piece of my current collection I smash glass mirrors by hand, allowing them to break randomly - just as one has no control when they feel they are breaking. I use a modern version of the Kintsugi technique, a Japanese technique of repairing broken pottery with lacquer and gold dust, to repair each mirror.

Using recycled silver, I create a handmade setting for the mirrors that are held in place using a tension setting. I make each part of my jewellery by hand using ethically sourced materials as much as possible. It's important to me to keep traditional metal working skills alive, I feel they connect me to my work more than if I had cast multiples of an object. Using sustainable and ethical materials is a core part of my ethos as well. We need to be responsible for the effect we have on others, including the environment, especially as jewellery and metal work can use some terrible chemicals.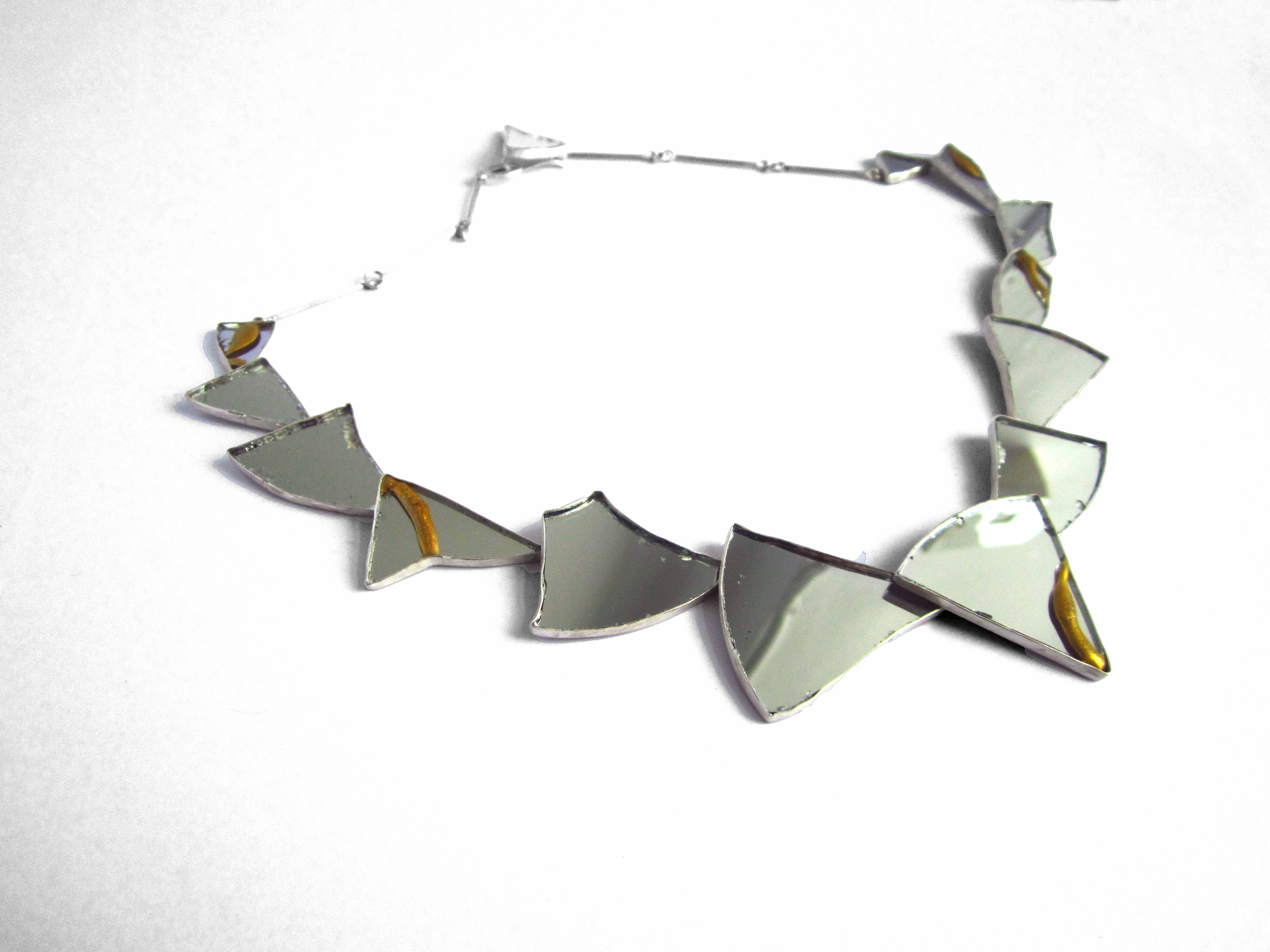 Image: Eleanor Kerr-Patton / Photographer unknown

How did you end up working in this way? Did your upbringing or education play a role?
During my degree at Bucks New University, Buckinghamshire, we were greatly encouraged to use different materials and play with techniques not traditionally applied to metal work. I've always loved using contrast to surprise people, so using a pottery technique on glass, and setting something broken as though it were a precious jewel captures people's attention and encourages them to interact with the concept.

My love of Louise Bourgeois (French-American artist, best known for her large-scale sculpture and installation art) is what first made me think of mirrors. She used mirrors in her own work as a representation of the self, I view them more as a representation of how we think we should be. The ethical materials is definitely an influence from my upbringing, my parents were very aware of sustainability and passed that onto me and my siblings.

Your website mentions that you use "adornment and contemporary jewellery design to explore mental health, illness and recovery", could you tell us a bit more?
I've always viewed jewellery as wearable art, I like being able to interact with an art piece as I feel it creates more of a connection between the viewer/ wearer and the artist. My current collection Hidden Damage explores the phases and feelings I experienced with anxiety and depression. I particularly wanted to express the lack of control one has over what they are experiencing.

I was drawn to mirrors for this work as they have so many multiple meanings, they reflect ourselves, but cannot show a true image of us. The connections to vanity and "putting on your face" I found of particular interest as a lot of people with mental ill health talk about hiding behind a facade and "keeping face".

Art is a great way to broach subjects which still seem uncomfortable, people expect to be challenged by artists so I like to use my work to bring this sadly still a somewhat taboo subject to the public's eye.

Tell us about your signature technique of Kintsugi?
Kintsugi is a Japanese technique, traditionally used to repair broken pottery with lacquer and pure gold dust. The philosophy of the technique treats damage as a part of the history of the object rather than something to be hidden.

I love this concept, as any hurt or damage we experience in our lives doesn't define us, but it is a part of us and who we become after. I also love the use of gold; something so valuable and celebratory.

As lacquer wasn't ideal for using on glass, I created a variation of the technique using a special bonding agent for the glass mirrors.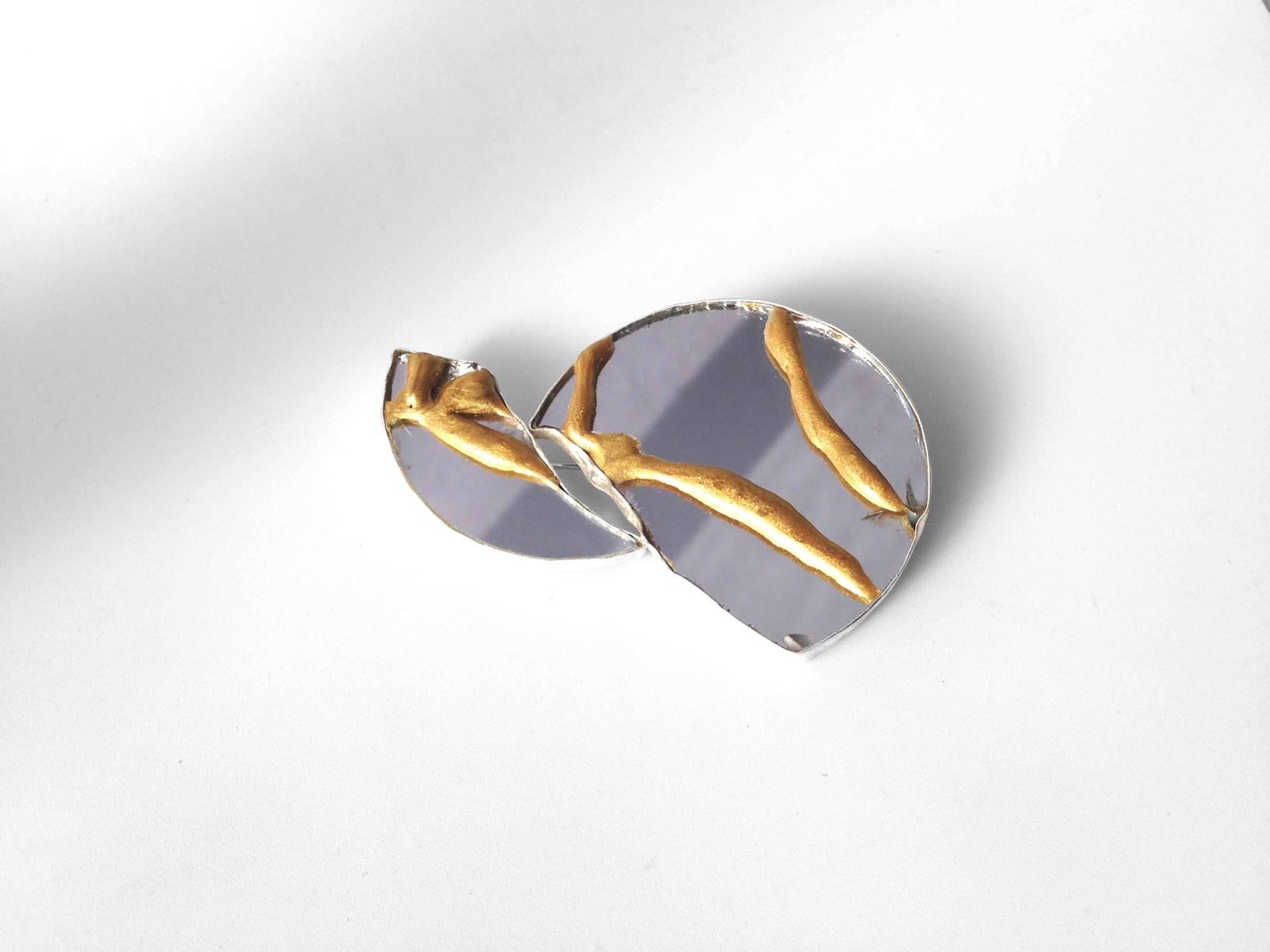 Image: Eleanor Kerr-Patton / Photographer unknown
How do you hope your audience will respond to this work?
I hope that for people living with mental ill health it helps them feel pride in themselves. It's an exhausting and constant struggle which deserves recognition and praise. For people who have no experience of mental ill health themselves I'd like to create some understanding and make them feel comfortable discussing the subject. It's terrible when you're living with mental ill health and people avoid you or act oddly around you as they just don't know what to say.

The Scottish government have said that mental health is a top priority for them and attitudes to mental health are generally changing which is positive. We know that makers often feel isolated as they work on their own a lot. Do you have one piece of advice for makers about how to look after their mental health?
It is great that mental health and wellbeing is starting to have more focus. For makers, I suggest scheduling a coffee or lunch date with someone on a regular basis. I have a check in day with a friend, once a week we message each other just to check in and see how were doing. If we're fine then that's it, if either of us are having a rough time we'll have a longer talk.
Another thing that always makes me feel great is going for a little walk in nature, even just a 15-minute stroll around the park. Movement and nature are both excellent for lifting your mood and have long term benefits for mental health.

How has living and working in Scotland influenced you as a maker?
Scotland has been wonderful, I've made a lot of great connections, both personal and professional, which have driven me to push my work further and create more conceptual ideas. I feel like I have a lot more options and possibilities here.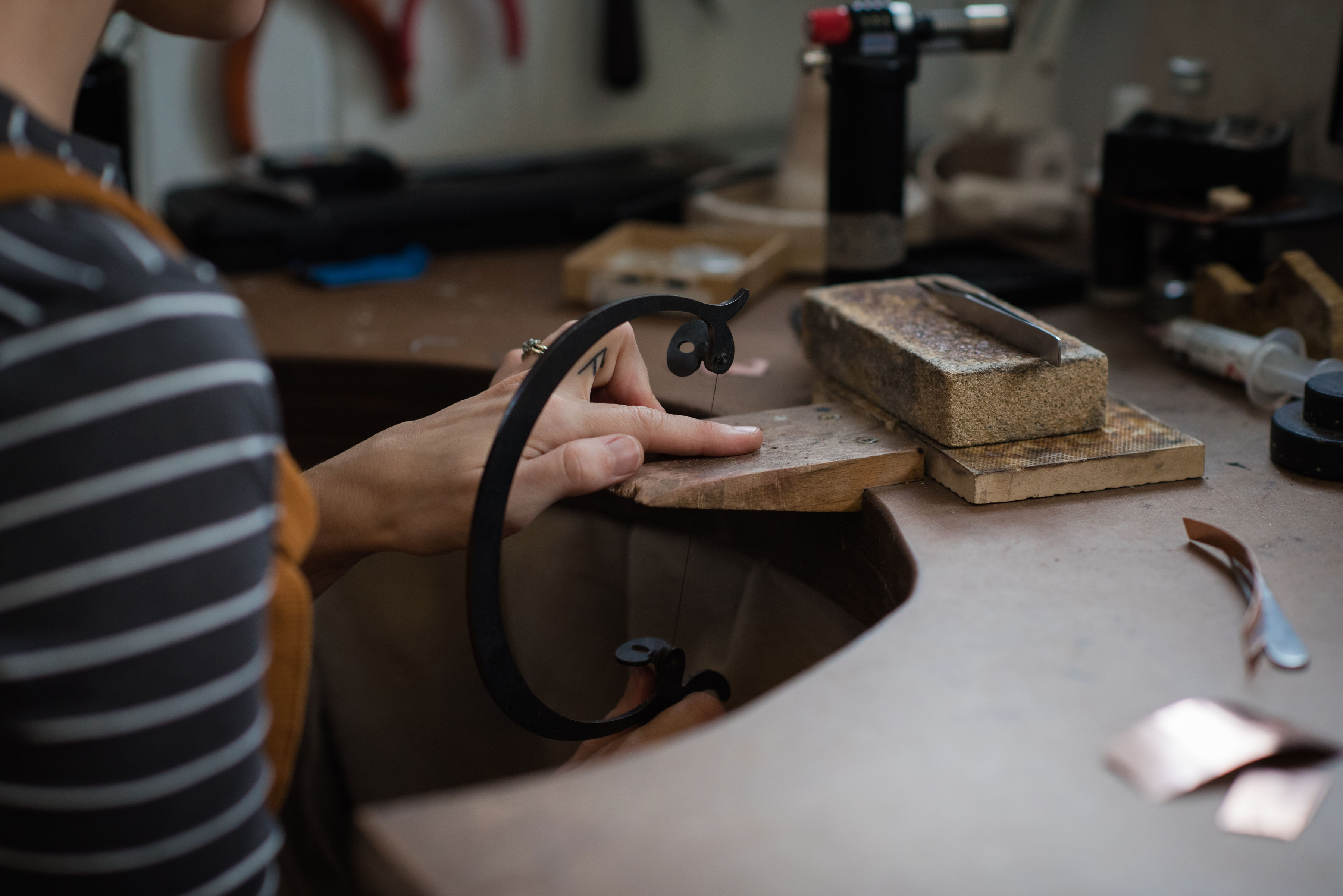 Image: Eleanor Kerr-Patton / Photographer unknown

Q. What's next for your jewellery practice?
I'm still going to look at mental health and wellbeing, but I'd like to move onto something a bit more playful. Hidden Damage was a very personal work, but it also felt very serious. I've been researching into the effect small everyday moments of joy have on your long term health.

Before I moved to Scotland I was living in Bermuda. Having gone from a very colourful and vibrant island, lush with vegetation, to Edinburgh's more subdued tones - it has made me notice the joy in small pops of brightness and colour against a neutral background and how much they make me smile.

I've observed that most people wear dark subdued tones as well, especially to work. I'll be creating a new bodywork using bright joyful aesthetics that people can wear against their normal clothing to bring a pop of joy and delight to their days. I cannot wait!


For more information on Eleanor Kerr-Patton and her work, please visit her website or follow her on Instagram.
This interview has been lightly edited for clarity.