Presenting a collection of ambitious new work from Scotland's makers, Craft Scotland returns to Collect, the international art fair for modern craft and design, from Thursday 27 February – Sunday 1 March 2020.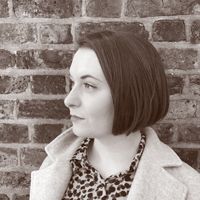 Helen Ritchie discusses the eight selected makers joining us at in London this month. Helen is the Curator of Applied Arts at The Fitzwilliam Museum, University of Cambridge, where she is responsible for researching, interpreting and curating the modern Applied Arts collections. She was the organising curator of exhibitions, Things of Beauty Growing: British Studio Pottery, in partnership with Yale Center for British Art, and Flux: Parian Ware at The Fitzwilliam Museum, in partnership with artist Matt Smith.
---
Craft Scotland's curated showcase is a regular highlight at Collect, one of the key annual exhibitions of contemporary craft in the UK. Presenting some of the most imaginative objects created today in Scotland, the eight selected craftspeople display impressive knowledge and understanding of both materials and process, many of which have a long heritage, and are here used in new and unexpected ways.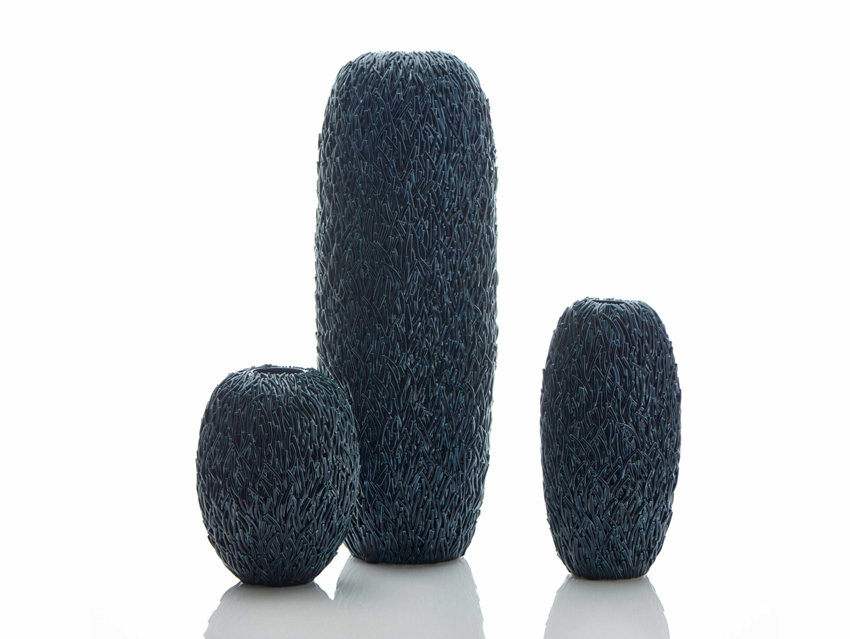 Jonathan Wade, Photography by Adrian Sassoon
The works are intriguing, not immediately obvious. They draw in the viewer and reward further looking, and, for those fortunate enough to experience them in the flesh, touch. Many disrupt or defy expectations: what should be angular is curved, what should fall is balanced, what should be heard is seen. Others resist compartmentalisation. Jonathan Wade's eclectic body of work, for example, varies in style but maintains an ambiguity and a degree of unknowability. His sculpted and assembled glazed porcelain pieces achieve spontaneity through process: some pieces are built up painstakingly slowly, others extremely quickly. Taking his inspiration from both the built environment and the decay found in the natural world, Jonathan's combinations of forms resist instant interpretation although the titles of some works point to specific experiences as starting points.
Mella Shaw's raku-fired ceramics present a tension, only just maintaining balance. They seem unstable, on the tipping point, but always find their point of equilibrium. These Janus forms – referencing the Roman God of beginnings, transitions and thresholds – physically explore the energy needed for change, the transition from one point or state to another. Mella's ongoing concern for the planet, explored more explicitly in her previous work HARVEST (shown at Collect Open in 2018), resurfaces here: these smooth and rounded forms are also an allegory of our off-balanced ecosystem. This precariousness is felt too in Angus Ross's Unstable Stool – always moving, never still. This asymmetric, ergonomic rocking stool refuses to come to rest. Following Angus' distinctive practice of 'sketching with wood', his studio produces small-batch editions and unique pieces of steam-bent furniture using an ancient technique to manipulate native tree species, grown especially by Angus in woodland on the banks of the river Tay. The resulting unpredictable pieces curve and sweep in opposition to the precise angles and joints expected of handmade furniture.
Mella Shaw, Photography by Shannon Tofts (left) Angus Ross, Photography by Susie Low (right)
Expectations are also disrupted on closer examination of Daniel Freyne's work. What at first glance appear to be smooth, rounded ceramic bottles with fat bodies and thin necks – following a traditional Chinese form – are revealed to be instead made from steel. Titled Playful Perceptions, these experimental vessels challenge the viewer's preconceptions of steel, and the objects produced by blacksmiths. Capturing a softness rarely associated with this material, their smoothness and lack of hard edges surprise and delight. This rounding of edges finds its metaphorical equivalent in the work of Naomi Mcintosh, an artist for whom everything is connected. Ranging from architectural practice to craft, her work is various in form but always tactile. Using both hand and digital processes, Naomi employs precise geometry to explore the relationship between 2D and 3D, creating planes and patterns that are converted into forms and volume. These neckpieces and sculptural objects (intended for display on the wall) are based on sound recordings made in the Cairngorms and demonstrate Naomi's ability to diminish the boundaries between disciplines.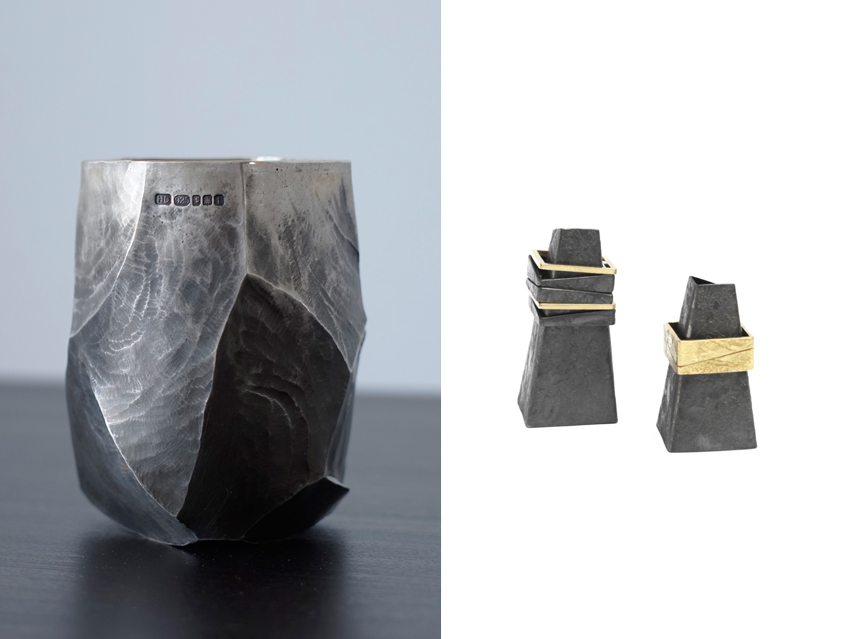 Rhona McCallum, Photography by the artist (left) Hamish Dobbie, Photography by the artist (right)
In the work of other artists however, this blurring is reversed and instead comes into focus in a series of unexpected edges. In contrast to the fluidity of most silver drinking cups, Hamish Dobbie's vessels are rugged and textured, inspired by the local landscape. Combining a range of techniques including hammering, chasing, 3D-printing and metal plating, Hamish aims to create tactile work 'that looks found, not made'. The jewellery of Rhona McCallum shares this connection with the earth; rough yet glinting in the light, Rhona's work echoes the geological fractures and natural striations found in the landscape. Silver, sometimes oxidised, appears to be fissured, it is criss-crossed with lines flashed with gold, created using keum-boo, the ancient Korean art of applying gold to silver using heat and pressure. This gilt motif connects Rhona's geometric, substantial forms, which are named after their connection with the landscape and human history. Her work is edged and angular – the chunky square-chained 'Fault Lines Necklace' appears alongside 'Neolith ring sets' that perch on stands reminiscent of rocky outcrops.
A direct and unambiguous connection to the natural world, one that passes through the human hand, lies at the heart of textiles created by Araminta Campbell. Each handwoven piece is made from British alpaca fibre, each undyed shade can be traced back to a particular alpaca. Sustainability and lineage is reflected too in the creation of these pieces. Similar to Angus Ross and his studio, Araminta ensures the survival of traditional craft skills by teaching other weavers to work on the peg dobby looms. The regular, mathematically inspired patterns woven into each piece contrast with the soft and almost fluid form of the throws or shawls, which call to be touched.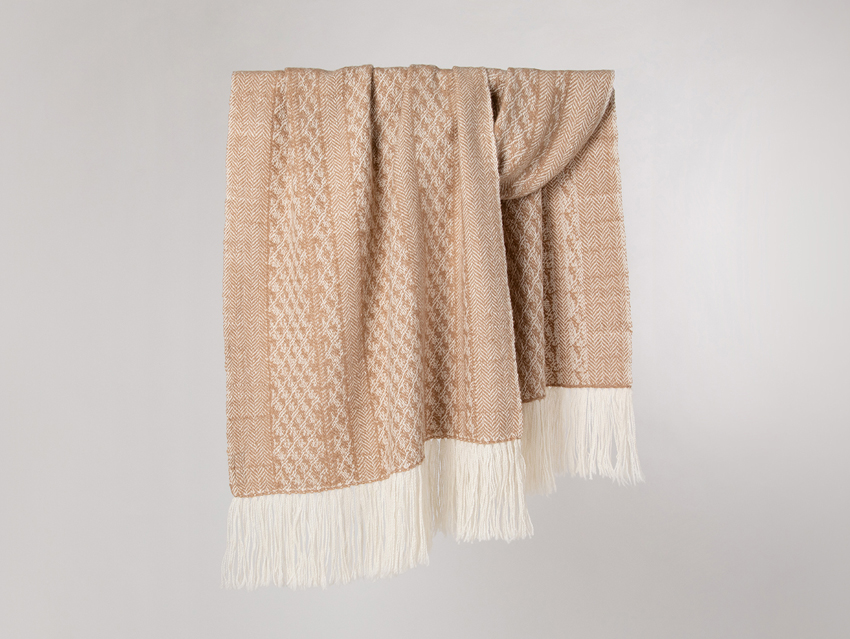 Araminta Campbell, Photography by Blue Sky Photography
Although many objects in Craft Scotland's display at Collect 2020 have an element of ambiguity to them – edges blurred or boundaries broken – the rootedness of the skills, heritage and materials, the tactility of every piece, gives them a reassuringly solid presence. They help to bring us back from our own blurred edges that swim just beyond our reach and make solid a world that feels currently as if it is moving beneath our feet.
---
Visit Craft Scotland at Collect 2020:
Gallery W10, West Wing
Somerset House
Strand
London
WC2R 1LA
Opening Hours:
Thursday 27 February 11am to 5pm
Thursday 27 February (Private View) 6pm to 9pm
Friday 28 February - Sunday 1 March 11am - 6pm