A firm fixture on the craft calendar, the Summer Show returns this year to showcase contemporary design-led craft from Scotland. A haven for design lovers, our concept store gives you a unique shopping experience with a curated collection of distinctive homewares, handcrafted textiles, design-led jewellery and considered furniture. So be sure to come along, take a break from the bustle of the Edinburgh Festival Fringe and pick up some truly unique pieces.
We've had a catch-up with our featured makers to give you an insight into their work, processes and inspiration. First up is Aubin Stewart of Aubeebop Jewellery! With an experimental design process, Aubin employs traditional silver-smithing techniques along with digital laser printing to create unique contemporary pieces.
Hi Aubin, tell us about what do you do?
I'm a jewellery designer and I create wearable designs using a mixture of materials including laser cut perspex, hand dyed nylon, precious metals and pearls, I just love pearls.
How did you end up becoming a jeweller?
I studied Jewellery and Metalwork design at Duncan of Jordanstone, quite a few years ago now! Then I worked for 15 years in the jewellery trade doing lots of jobs from designing jewellery to selling, buying stock ranges to sourcing original art deco jewellery for an antique jewellery business – all of which have greatly inspired and shaped how I work today.
How do you start designing a piece?
I'm definitely not a draw first, then make, type of designer. I often decide on a limited range of materials and colours that I want to work with and experiment with how I can push the limits of those materials to create something interesting. I like to get straight to the bench to play with shapes and composition which can result in really unexpected outcomes.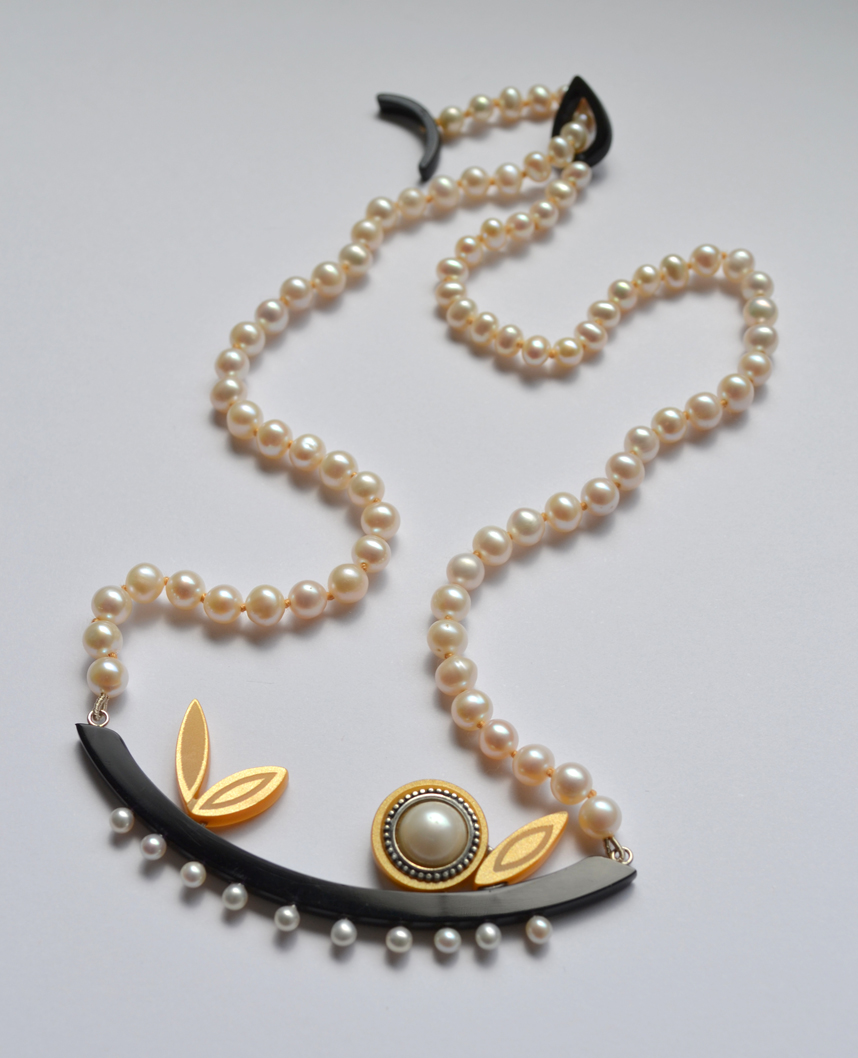 What's your favourite part of your making process?
I love the finishing process of creating a new design, a piece can seem pretty lifeless until the surface finish is completed especially when a piece requires polishing. It just comes alive at the end and it's very satisfying seeing it transform into a complete design.
What's the hardest part of your making process?
When I'm working with non-precious materials, thinking out of the box is often required when assembling components because the joint has to be concealed yet secure. It's problem-solving and a problem can be ruminating around my head for days or weeks but when you crack it, it is very pleasing!
Thinking about one of your finished pieces: pick a celebrity you imagine would love to own your work and tell us how you imagine them wearing it?
I would love to see Tilda Swinton wearing any of my jewellery. She is often photographed wearing very little jewellery, therefore it would be a total honour if she were to wear mine. I think she would definitely rock one of my Tappi brooches and I can imagine her wearing it on a stylish and equally bonkers outfit which she would look amazing in!
See more Wearable Art over on Pinterest
If you'd like to discover more of the wearable art featured in the Summer Show, head over to our Pinterest board and start creating your shopping list!
Discover Aubeepbop Jewellery and more at the Craft Scotland Summer Show
Friday 4 to Sunday 27 August
Mon-Wed, Fri-Sat: 11am - 6pm, Thurs: 11am - 7pm, Sun: Noon - 5pm
Second Floor, White Stuff, 89 George Street, Edinburgh, EH2 3ES
Follow #edsummershow on Twitter, Instagram and Facebook to keep up to date!
This interview has been edited and condensed for clarity.