The Craft Scotland Summer Show offers a curated collection of contemporary, design-led craft from some of Scotland's most talented makers. Housed on the second-floor of White Stuff, George Street, Edinburgh, our pop-up store is the perfect haven to take a break from the bustle of the Edinburgh Festival Fringe and browse a range of unique homewares, textiles, jewellery and furniture, all while supporting craft in Scotland.
To give you more of an insight into our featured makers and their craft, we've caught up with Juliet MacLeod to discuss her design journey, love for pottery and Sir David Attenborough's ceramic collection. Taking inspiration from the Hebridean coast and seascape, Juliet MacLeod creates delicate ceramics for the home, balancing her love for simplicity with subtle decoration.
Hi Juliet, thanks for taking the time to talks to us! How did you end up doing what you do?
After working for more than twenty years as a graphic designer in London I stopped to have a family and then moved to Aberdeen. I rediscovered my love of pottery following a short course at Gray's School of Art and set up my studio in 2013. After a year of discovery and experimentation, I now work as a studio potter specialising in contemporary porcelain inspired by the sea.
How do you start designing a piece?
I keep endless sketchbooks, photographs and paintings that I use for inspiration.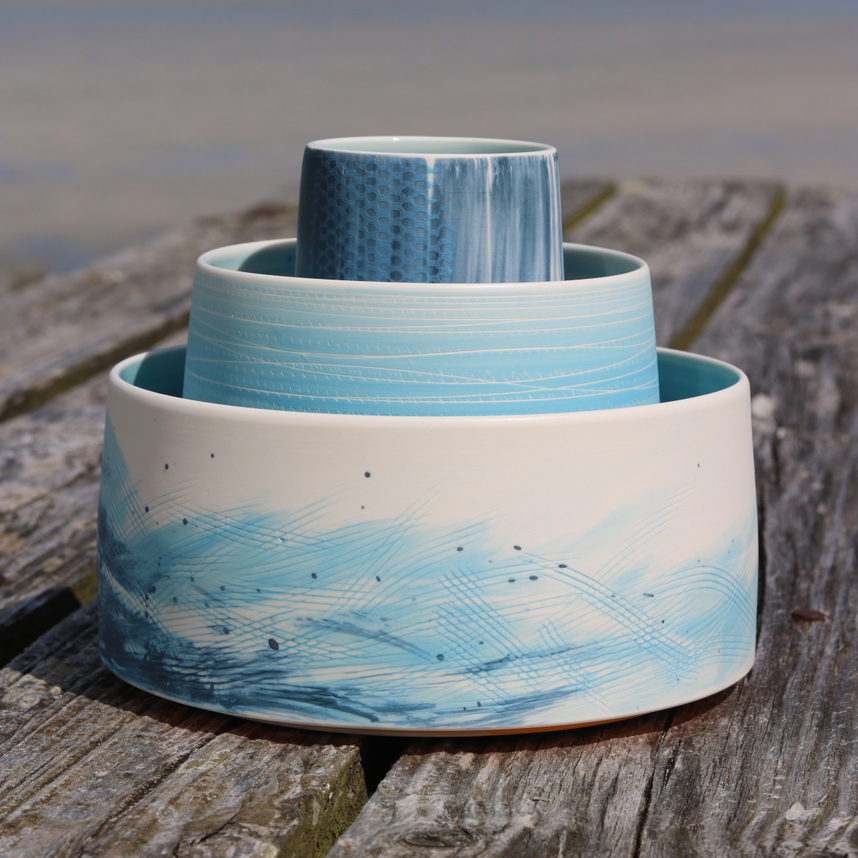 What's your favourite part of your making process?
Throwing is a great pleasure, it is almost meditative as you repeat making the same form over and over, but I do also enjoy decorating my more abstract pieces as each one is unique.
What's the hardest part of your making process?
Pottery is a slow process with many stages. At every point, there is something that can go wrong, but the hardest part for me is when you have nurtured a pot the whole way through making, drying, biscuit firing, sanding, washing, waxing and glazing only for it to break in the kiln during the final glaze firing.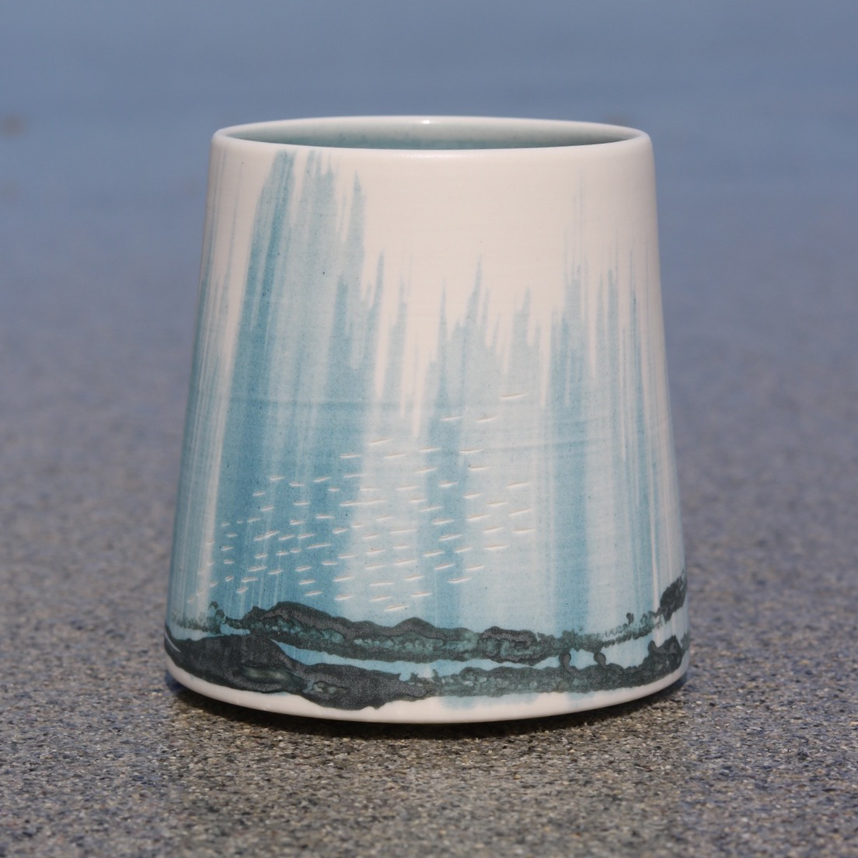 What piece of craft do you aspire to own?
I think I'm probably like most potters in that I have a long list. At the top would be a Lucie Rie bowl (unlikely, but good to set your sights high), followed by more sensible alternatives such as pots by Akiko Hirai, Barry Stedman, Eddie Curtis or Jack Doherty.
Who inspires you on Instagram?
Is there a celebrity who you would love to own your work?
I'm delighted when anyone buys one of my pots, but I'd be especially chuffed if Sir David Attenborough took home one of my pieces. He is someone I have immense admiration for, having watched, listened to and been inspired by his programmes on natural history throughout my life. He is also an avid collector of ceramics including my favourite potter, Lucie Rie.
Delve into our Home Edit over on Pinterest
If you'd like to discover more of our the talented ceramic, homeware and furniture makers featured in the Summer Show, head over to our Home Edit Pinterest board and start creating your wish list!
Find Juliet MacLeod at the Craft Scotland Summer Show
Friday 4 to Sunday 27 August
Mon-Wed, Fri-Sat: 11am - 6pm, Thurs: 11am - 7pm, Sun: Noon - 5pm
Second Floor, White Stuff, 89 George Street, Edinburgh, EH2 3ES
Follow #edsummershow on Twitter, Instagram and Facebook to keep up to date!
[This interview has been edited and condensed for clarity]