The Craft Scotland Summer Show features makers from all across Scotland and offers you the chance to explore their work in one convenient location. A celebration of Scottish, design-led craft the Summer Show continues until the 27 August on the second floor of White Stuff, George Street, Edinburgh. So be sure to come along and explore a range of unique homewares, handcrafted textiles, design-led jewellery and more, whether it be for a thoughtful gift or a treat for yourself.
This week we've had a catch-up with jewellery designer Ruth Leslie, one of our 33 featured makers. A Silversmithing & Jewellery graduate from the Glasgow School of Art, Ruth creates contemporary pieces inspired by the subtleties of fabric and structural forms within textiles.
Hello Ruth! Why don't you tell us a little bit about yourself?
I'm a jeweller! I work mainly in precious metals but also in titanium, which allows me to incorporate subtle colour into my designs. Fabrics and looms have previously inspired a lot of my work, and because of this, there still is a lot of twisting wire involved in the making process. I have however recently been attracted to more simple, elegant forms too.
How did you end up doing what you do?
I always, always knew I was going to have a creative career, and I remember thinking there was something so magical and extremely inspiring about metal work. I loved the fact that it was such a traditional and highly skilled ability to have.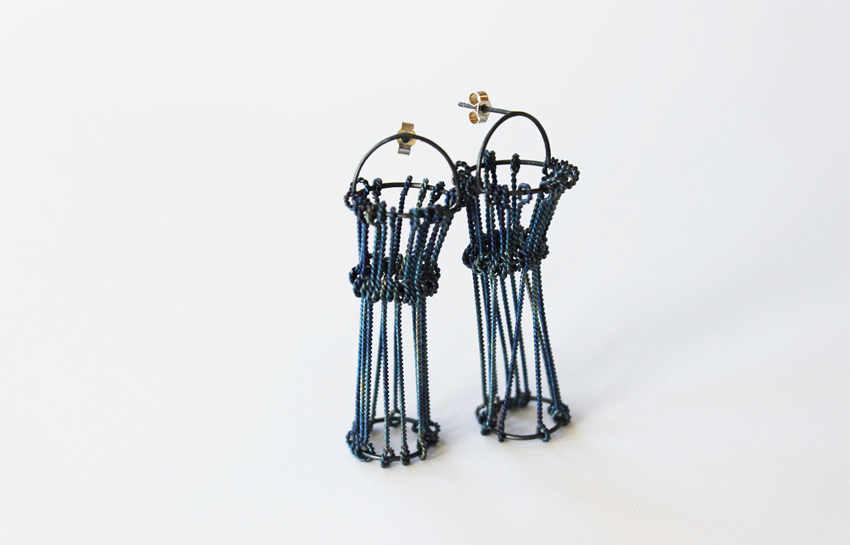 How do you start designing a piece?
I used to be very sketchbook based however I now design new work through making and experimenting with shapes etc.
What's your favourite part of your making process?
When it's finished! Haha no, I genuinely love the whole process and find it very rewarding, especially once the piece has been polished up.
What's the hardest part of your making process?
It's not a hard thing to do, but cutting and twisting hundreds of sections of 0.5mm wire does get a little tiring and repetitive.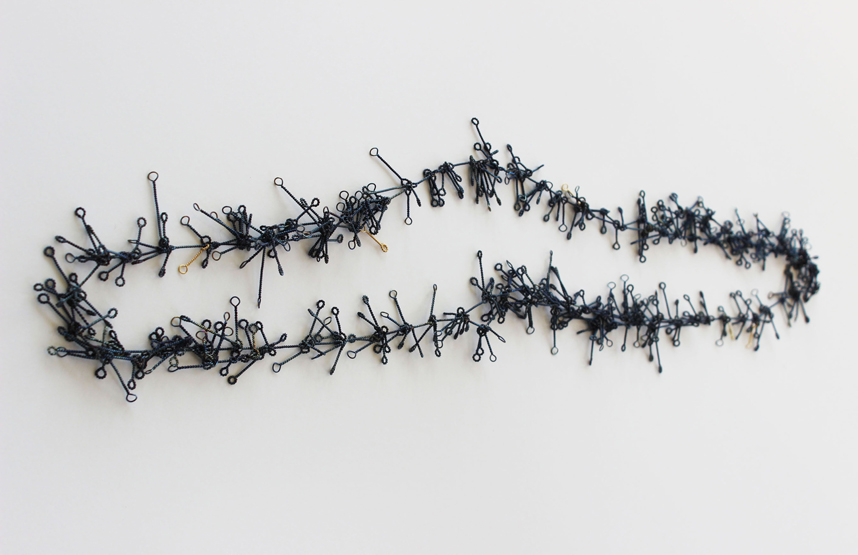 Thinking about one of your finished pieces: who is a celebrity you imagine would love to own your work?
Solange Knowles! She's got a quirkier and more colourful sense of style than most celebrities and I think any of my statement pieces would look amazing on her. Whether it be the big Bell Jar earrings or a statement Inkle neckpiece, I'd just be so excited to see how she'd style them!
What piece of craft do you aspire to own?
A pair of Erik Urbschat earrings – they are so cleverly kinetic and far from anything I could ever make.
Who inspires you – do you have an Instagram account or blog you can recommend?
There are so many amazing and inspiring Instagram accounts out there but the first one that pops into my head would be Ruby Woodhouse. She is a photographer and creative consultant, and she created my logo. She primarily uses film, which gives her photos a gorgeous grainy, vintage feel and she makes these beautiful still life sets. They give me lots of ideas for how to style my jewellery as well as photo shoot inspiration.
See more Wearable Art over on Pinterest
If you'd like to discover more of the wearable art featured in the Summer Show, head over to our Pinterest board and start creating your wish list!
Discover Ruth Leslie and more at the Craft Scotland Summer Show
Friday 4 to Sunday 27 August
Mon-Wed, Fri-Sat: 11am - 6pm, Thurs: 11am - 7pm, Sun: Noon - 5pm
Second Floor, White Stuff, 89 George Street, Edinburgh, EH2 3ES
Follow #edsummershow on Twitter, Instagram and Facebook to keep up to date!
This interview has been edited and condensed for clarity.