Curator Dr. Mhairi Maxwell explores the alchemists of our time, makers. She investigates the skeuomorphic themes present in several makers' work within the Craft Scotland presentation at Collect 2019.
---
Craft Scotland's showcase at Collect 2019 is an important platform for established and emerging makers. This is an exciting time for craft in Scotland and I was thrilled to be asked to sit on this year's selection panel. I am an Assistant Curator at V&A Dundee, Scotland's first design museum that has only been open for two months at the time of writing this. The visitor numbers show that there is an undeniable appetite in Scotland for craft and design and I greatly enjoy watching the visitors' reactions as they walk around the curved twisted walls of Kengo Kuma's building.
Within our Scottish Design Galleries, amongst the work of many other talented makers from the last 500 years until now, you can find work by Angus Ross, Anna Gordon and Lynne MacLachlan who are showing with Craft Scotland at Collect 2019. With my background as a practicing archaeologist and subsequently through my curatorial practice, I have a forensic fascination with materials. I am endlessly intrigued by the creative choices that makers make and the reactions these choices instill in us as the viewer, wearer or collector. For me, craft has the power to question the very value of materials through the makers' unique ways of relating with and seeing the world around us.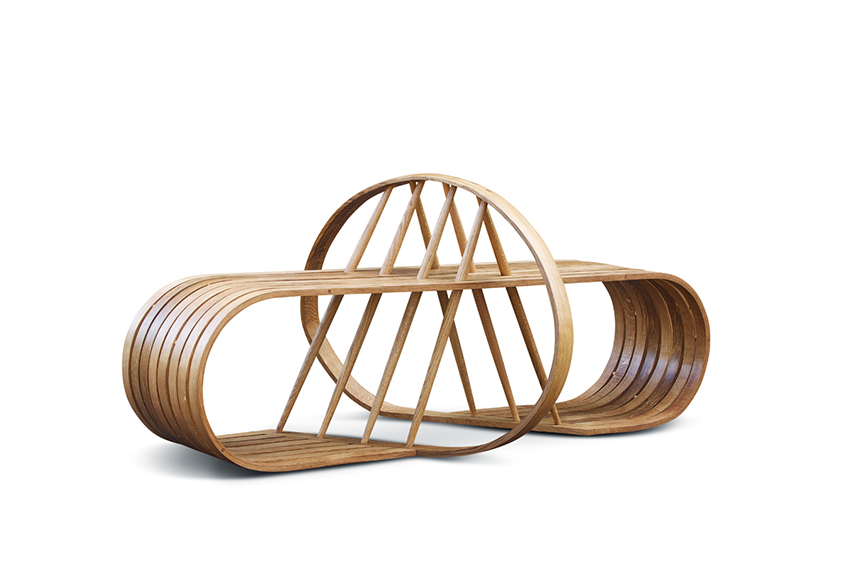 Image: Angus Ross / Photography by the artist
Craft Scotland's showcase at Collect 2019 is characterised by an unfaltering sense of experimentation, at times bravely irreverent, and others joyfully playful. This year's selection celebrates makers who are carving out new territories where different disciplines collide. Drawing on a range of different influences and fusing together very different techniques, all 15 makers represented are working to create striking new forms and materialities which deliberately defy definition (but I'll try my best!), including furniture maker Angus Ross and his super-natural use of folding and steam bending, or the aeronautically engineered 3D objects and jewellery created by Lynne McLachlan.
Anna Gordon, Misun Won and Lara Scobie, and even Lizzie Farey's lyrical sculptural willow pieces, skillfully translate the drawn line into 3D jewellery and objects (respectively). The texture of geologies are manifested in Rhona McCallum's jewellery, Patricia Shone's ceramics and the silversmithing of Hamish Dobbie. While Ruth Leslie takes inspiration and techniques from textile fabrication to create her sculptural jewellery.
>>> Discover the full line-up of makers taking part in Craft Scotland at Collect 2019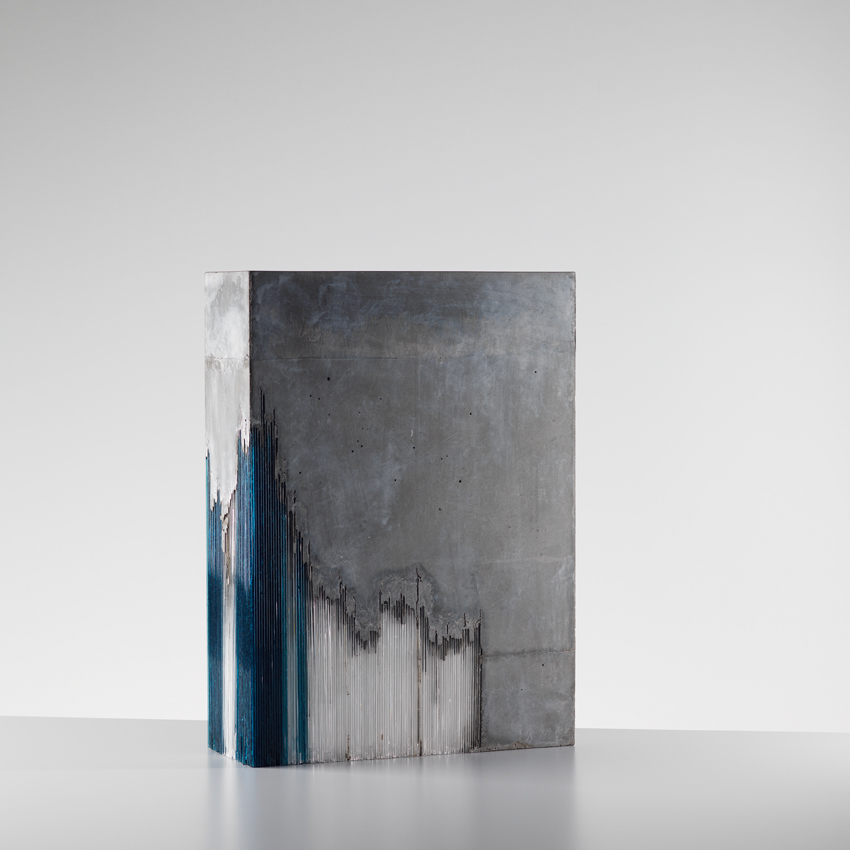 Image: Harry Morgan / Photography by Shannon Tofts
Truth to Materials?
Therefore, the idea that materials behave in a certain way and that makers should be 'true' to this concept, as asserted by Henry Moore in 1934, is challenged in this year's Craft Scotland showcase. Instead, materials behave unexpectedly and new possibilities emerge. I will now take the chance to go on to explore several talented makers in the showcase who tackle this concept head on; Cristina Zani, Harry Morgan, Vicky Higginson, Shaun Fraser and James Rigler.
Take Harry Morgan's work - he experiments with two unlikely companions; concrete and glass. The former permanent and utilitarian, the latter decorative and delicate. The physical meeting of these apparently incompatible materialities in his sculptures challenges our preconceptions of their respective qualities; we are instead drawn into examine the fragile flow of the concrete and the pillared strength of the glass threads. A transubstantiation is taking place in Morgan's alchemy.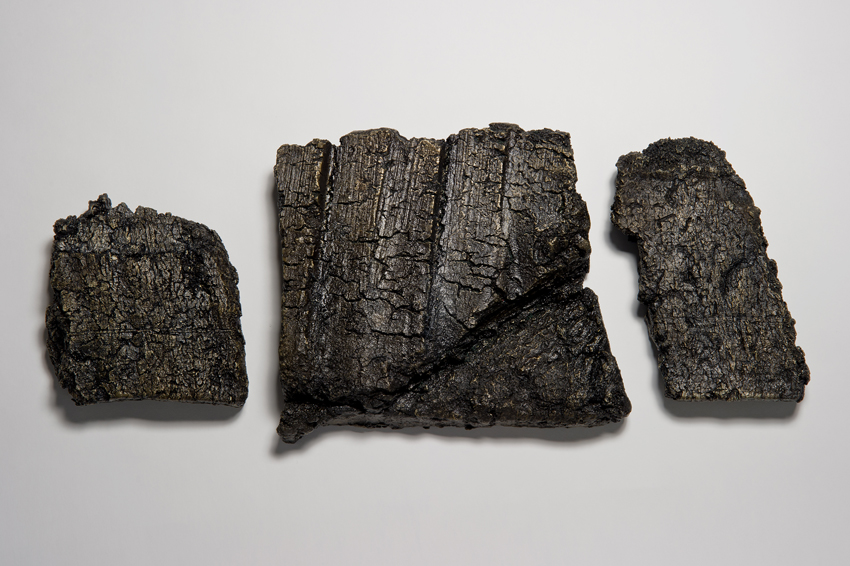 Image: Shaun Fraser / Photography by Ewan Weatherspoon
Similarly, Shaun Fraser's incredibly detailed bronze casts of peat turf encourage reflection on nature's scars and the erosion of time. Here, a chunk of earth is a witness to the events that have ravished Scotland's landscape. Shaun includes actual fragments of peat dug out from the northern Caithness flatlands in his castings. The preservation properties of peat are well known to archaeologists and here, encased in molten bronze, the peat is not the preserver but is itself preserved. Peat is metamorphosed into awesome enduring triptychs.
Within the showcase, there are also makers that are deliberately playing with familiar form and tradition to challenge the expected behavior of materials and our reactions to them. Those who know me are aware that I am obsessed with the idea of skeuomorphs: "an object or feature which imitates … a similar artefact [or design] made from another material" (Oxford English Dictionary definition). I am intrigued how such objects can surprise and tickle us. However, I take issue with the word 'imitates' in this definition - for me the works we are discussing are not mimics, fakes or derivatives. I think of them as boundary objects which redefine material possibilities and our reactions to them, but importantly at the same time also clearly revere the lineage of their original archetypal counterparts. Here, in Craft Scotland's selection of makers, skeuomorphism is at force.
Allowing an uncanny beauty to emerge, Vicky Higginson's sculptures invert and twist our reaction to glass (see main image above). Vicky's experimentation in her practice sits at a crossroads; being strictly disciplined to traditions of Scandinavian- Japanese mid-century glasswork whilst remaining open to unrestrained chance and fluidity. Her mesmerising and intriguing forms somehow manage to be at the same time strangely familiar and totally alien.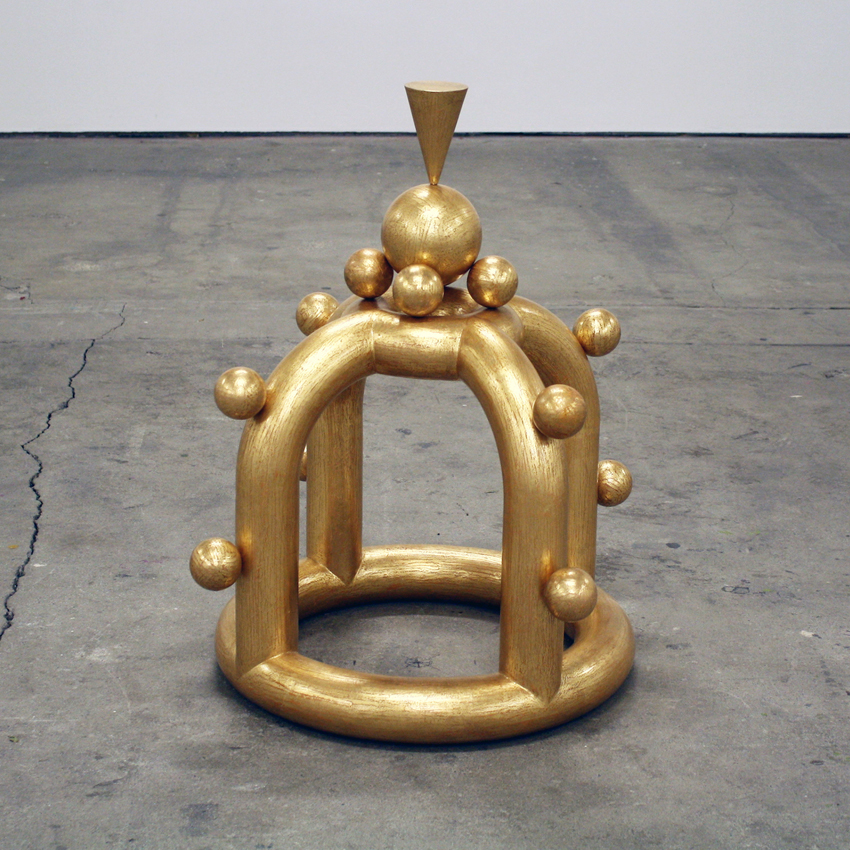 Image: James Rigler / Photography by the artist
This sense of familiarity and novelty is also present in James Rigler's work. He playfully takes familiar oppressive monumental classical and neo-classical icons, and sacred symbols of western civilizations gone before and subverts them. All these ornaments have their fair share of political baggage, and James skillfully reduces their flourishes to simple striking forms with everyday purpose. Their new forms become popular modern monuments for today's consumers of cute anime and Atari. James does not work with marble or solid gold like the craftsmen of old, rather he is predominantly a ceramicist. His clever distillation of forms, choice of clay as a material and the pastel glazes, makes the intimidating approachable and democratic - it is softer and comforting. Nevertheless, take a step back and you will see that by breathing new life into Nero's column, Rigler is not shying away from commenting on today's political turmoils and narratives of power.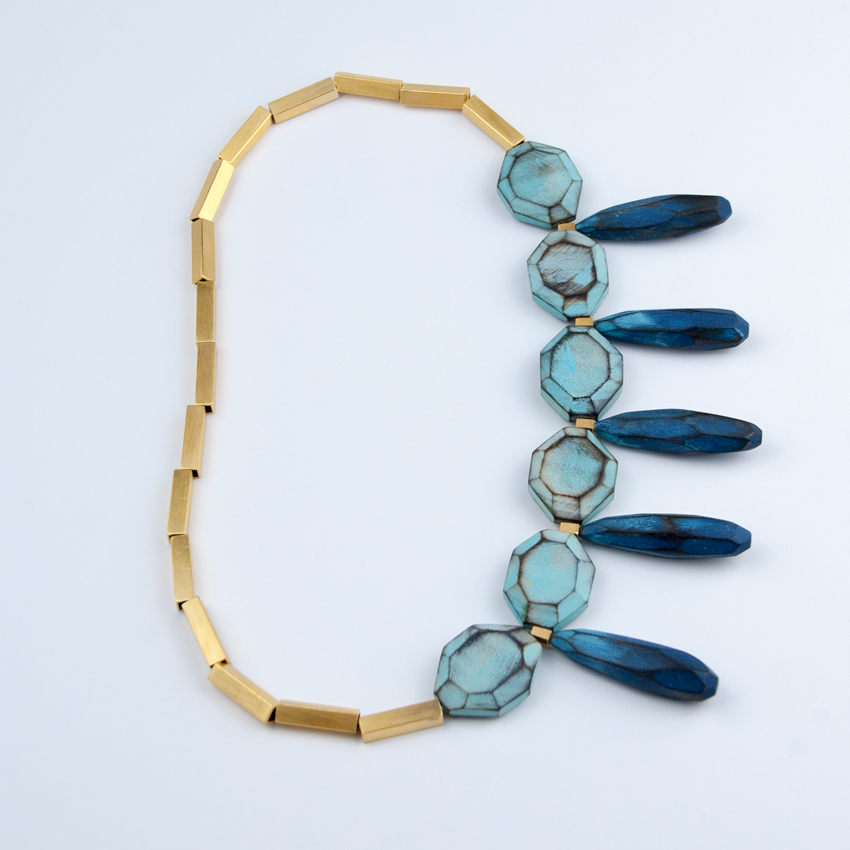 Image: Cristina Zani / Photography by the artist
Whereas Cristina Zani's practice is undoubtedly deliberately skeuomorphic. Her particular technique of carving wood into multi-faceted enlarged gems - which take centre stage in her pieces next to precious and semi-precious metals - imbues the wood with a new value to be cherished. Cristina's treatment of the wood's surface is as though they are ancient heirlooms. All that glitters is not gold, in fact it is wood.
Alchemists of Our Time
No truth to materials (Moore, 1934) here, then? Instead, as brilliantly shown in Cristina Zani, Harry Morgan, Vicky Higginson, Shaun Fraser and James Rigler's work as introduced briefly above, materials are not stable and predictable. Indeed, even Moore himself queried and radically departed from his 'truth to materials' mantra by experimenting with uncertainty in his later work.
The makers in the Craft Scotland showcase at Collect 2019 are the alchemists of our time; carving, casting and creating new traditions, ideas of value and material possibilities across all disciplines. This showcase is craft and design at the boundaries and should not be missed!
Thursday 28 February - Sunday 3 March 2019
Gallery 3.3
Saatchi Gallery, Duke of York's HQ
King's Road, London SW3 4RY
---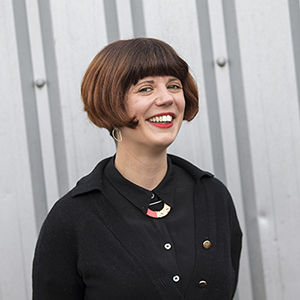 About Dr. Mhairi Maxwell
An archaeologist by training, Dr. Mhairi Maxwell is now Assistant Curator at V&A Dundee.
Previously she has held research posts at the National Museum of Scotland and the Glasgow School of Art.
References
Henry Moore, 'Statement for Unit One' In Herbert Read (ed.), Unit One: The Modern Movement in English Architecture, London 1934, pp.29–30.