By Alyn Griffiths
Scotland: Craft & Design at Collect 2018 brings together a formidable line up of creative talent, showcasing diverse approaches to making that affirm Scotland's status as a leader on the contemporary craft scene. In line with Collect's focus on pioneering craft practices, the artists, makers and designers selected for Craft Scotland's presentation at the craft sector's premier showcase explore new directions and possibilities within their chosen fields. Fresh ideas, informed by the past but always looking to the future, are central to this exciting display of multidisciplinary work.
While all of the contributors to Scotland: Craft & Design have mastered the use of materials and processes that are deeply rooted in craft traditions, the desire to push these practices to the limit has resulted in groundbreaking work with a distinctly modern character. Amanda J. Simmons, for example, produces her glass objects using an unusual technique of forming glass by firing it in a kiln. This allows her to create pieces that are free formed by gravity, which varies the translucency of the material as it stretches. Kathryn Hinton merges traditional silversmithing with a digital design in her jewellery and silverware objects. Bowls and boxes featuring faceted surfaces with varying degrees of three-dimensionality demonstrate her mastery of computer-controlled production processes.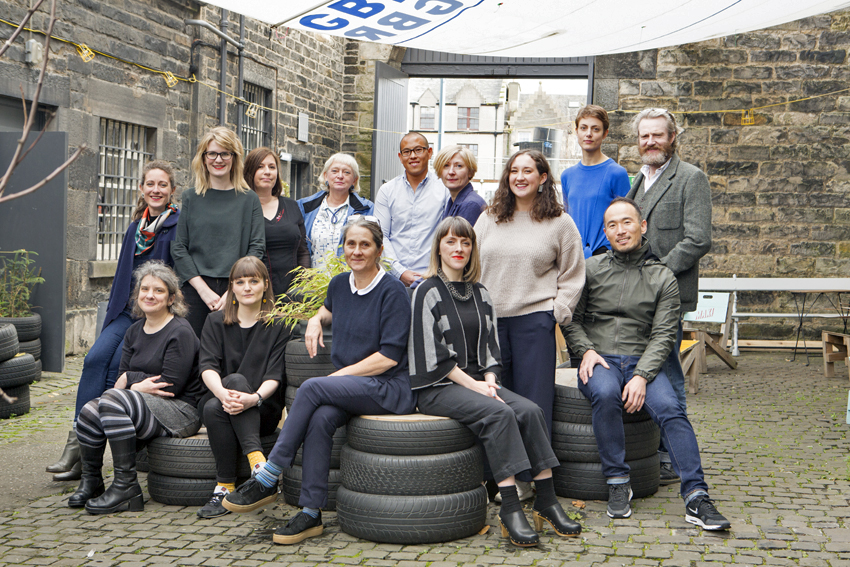 Scotland: Craft & Design makers / Photography by David N Anderson
The skilful and surprising manipulation of familiar materials such as wood, ceramic, metal and glass to produce innovative and intriguing outcomes offers further evidence of the progressive attitude prevalent among many Scottish makers. Fiona Hutchison's tapestry and textile works see natural fibres and paper or monofilament yarns translated into sculptural surfaces that evoke the force and beauty of water. Harry Morgan transforms well-known building materials such as concrete and glass into textural compositions that emphasise the contrasting qualities of the materials, while Heather Woof and Heather McDermott both adopt an experimental approach to jewellery making that results in bold, sculptural pieces. Woof uses pattern and structure to evoke rhythm and movement, while the soft geometric shapes of McDermott's designs are informed by seaside sights such as tangled ropes and fisherwomen's shawls.
Scotland's jewellers continue to operate at the cutting edge of their craft, combining material and technical innovation with traditional techniques. Elizabeth Jane Campbell has developed a unique approach to jewellery making which sees her combine various materials with vitreous enamel to create sculptural, three-dimensional forms that are lightweight and wearable. Ancient chain-mail armour influences Joanne Thompson's designs, which feature metal rings linked to create intricate, voluminous three-dimensional forms. The innovative application of unit construction results in contemporary pieces that are comfortable and easy to wear.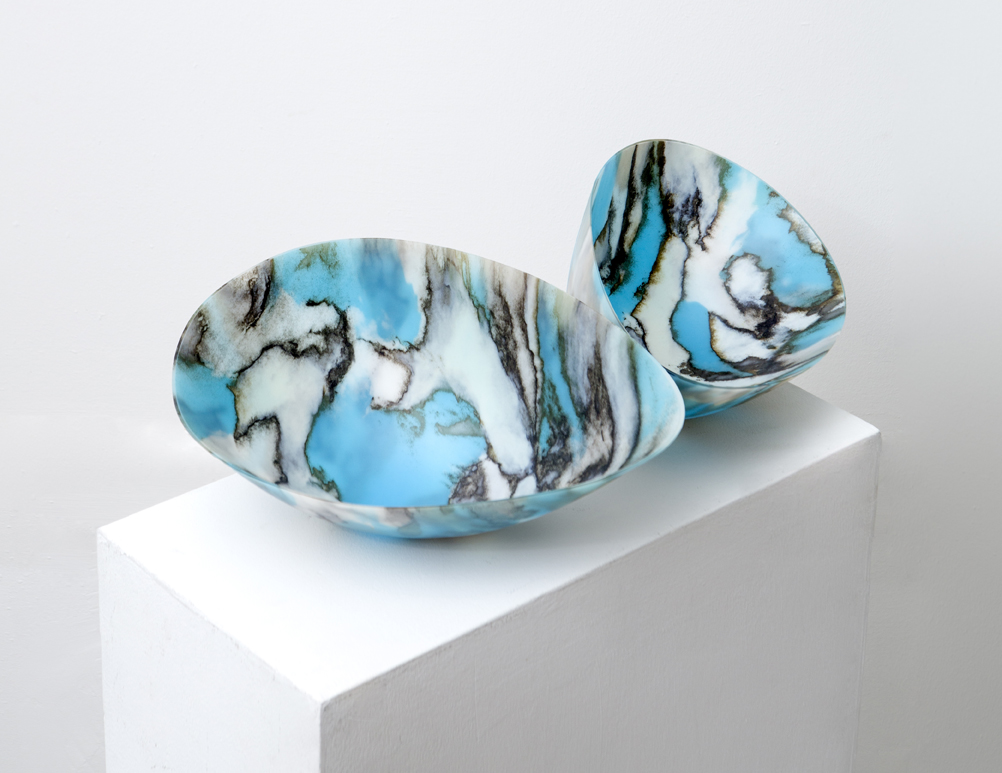 Amanda J Simmons / Photography by David N Anderson
The works presented at Collect display wide-ranging influences, with Scotland's famous landscapes and rich history providing a source of inspiration for many of the makers, while others draw on more exotic references. Frances Priest's ceramics feature colourful decorative surfaces influenced by time spent travelling in Japan and southeast Asia. Her latest collection combines jumbled motifs borrowed from Owen Jones' seminal 1856 publication The Grammar of Ornament. Choi Keeryong's pieces in cast glass and iron are informed by his experiences as a South Korean living in Scotland, and the artist says their indefinable "strangeness" is the result of this cultural collision.
The typical Scottish traits of playfulness and humour are evident in the many expressive works on display, which offer a 21st-century take on the narrative quality that is synonymous with traditional craft. Susan O'Byrne creates animal forms covered with finely printed and patterned pieces of paper porcelain that evoke childhood memories of making with papier-mâché. Ruth Leslie's playful jewellery draws on forms found in fabrics, textile machinery and household objects. The resulting pieces have a bold, architectural quality that is both modern and sculptural. Lucy Woodley's jewellery and sculptures have predominantly focused on forms borrowed from the sea and its creatures, but her latest works draw on the traumatic experiences of human migrants. All of these makers succeed in capturing stories, memories and emotions in their unique pieces.
One of the key reasons for craft's enduring popularity is the value it places on authenticity and the honest use of materials. As digitisation causes us to spend more time interacting with screens, and synthetic materials encroach into every aspect of daily life, there is a greater need than ever for tactile and natural objects. According to potter Patricia Shone, "what we need to challenge us are the uncomfortable, visceral things of nature." Shone's vessels are fired using wood, gas and charcoal to create surfaces with a distinctive depth of colour and texture that evokes the raw beauty of the Isle of Skye, where she lives and works.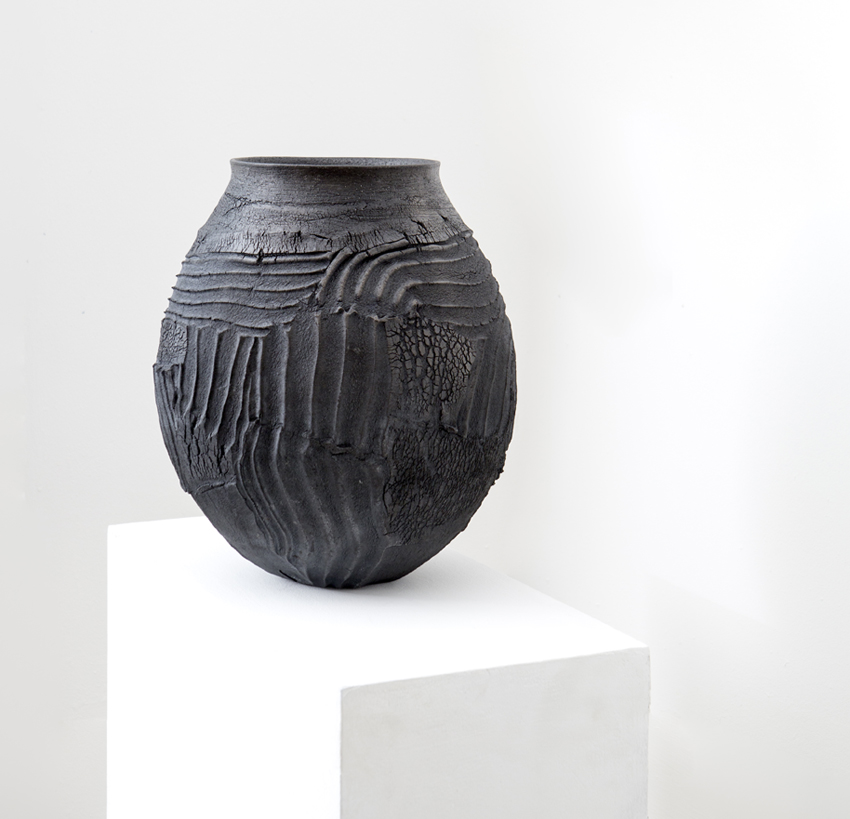 Patricia Shone / Photography by David N Anderson
The use of natural materials in furniture making is especially important today, as our bodies come into direct contact with these pieces. Angus Ross uses Scottish oak, and techniques including steam bending which are centuries old, to produce furniture with flowing shapes that lend them a contemporary character. Wood is also the preferred material for designer Jonathan Pang, whose precise joinery highlights the raw beauty and sculptural potential of timber. His new collection is produced using a resin-infused paper material called Richlite, which retains the tactile quality of the recycled paper fibres used in its production. Furniture designer Isabelle Moore's creative process begins with an understanding of the body's needs and often employs materials in innovative ways to create surprising seating solutions. For all of these makers, nature and the human experience inform the shapes and materials employed in their practice.
Overall, the presentation celebrates craft's role as an outlet for individual and national creative expression, with an exceptionally varied array of works demonstrating the breadth of talent based in Scotland today. Reinforcing the currently buoyant state of the country's creative community, Scotland: Craft & Design is not to be missed.
---
Alyn Griffiths is a journalist based in Scotland, his work focuses on architecture, craft and design. His work has been featured in CRAFTS, Frame, Port and Icon.