The Scotland: Craft & Design pavilion returns 21 - 24 September at the London Design Fair. Following the success of last years showcase, the pavilion champions the innovative spirit, exceptional craftsmanship and world-class reputation of Scottish craft.
In association with Emergents, Craft Scotland are delighted to present the second country showcase at the London Design Fair. This year's presentation includes a selection of talented textile makers presenting bold homeware and contemporary fabrics that push the boundaries of colour and pattern design. Heather Shields collection, in particular, provides a punchy colour palette combined with vibrant graphic designs. Based in Argyll on the west coast of Scotland, Heather's designs are created using both traditional and electronic looms and take inspiration from a variety of influences including the Bauhaus movement and modernist painters.
Hello, Heather! Tell us a little bit about yourself…
I am a textile designer and weaver who enjoys creating vibrant, contemporary fabrics, homeware and accessories.
Has your education influenced your practice?
Studying textile design at Glasgow School of Art definitely taught me to be more instinctual when designing, but I consider my education to be ongoing. The amazing thing about weaving is that there are endless possibilities. I always have too many ideas and every sample leads to yet more developments – I am constantly learning and refining.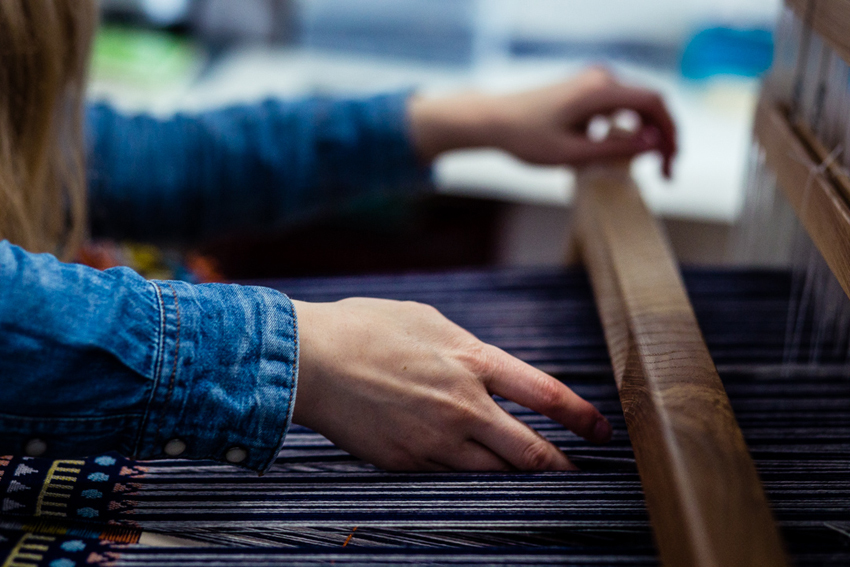 Image Credit: Susan Castillo
Do you have a favourite piece that you are showing at the Scotland: Craft & Design pavilion?
I'm really excited about a new collaboration piece I have been working on with furniture maker David Watson, which will showcase my new upholstery fabric, Vector, on one of David's Govan chairs.
What was the inspiration behind it?
The Vector design was inspired by window shutters and the angular shadows and shapes they made at certain times of the day, which I photographed whilst on holiday in Italy last year.
What makes it particularly special to you?
I love that this design is quite three-dimensional and depending on how the light hits it, a bit of an optical illusion.
What inspires you to get into the studio?
It distresses me to see my loom lying empty for too long and I keep a pin board of ideas, new yarns, photographs and drawings hanging above my desk so there's always something new to try. Weaving is extremely addictive!
What challenges do you face in the design/making process?
Weaving is time-consuming and requires a lot of preparation with regards to the yarn and the loom before the actual weaving can begin. Therefore it can be an expensive and laborious process, however, I think this is reflected in the final product - of time well spent, of thoughtful design and attention to detail.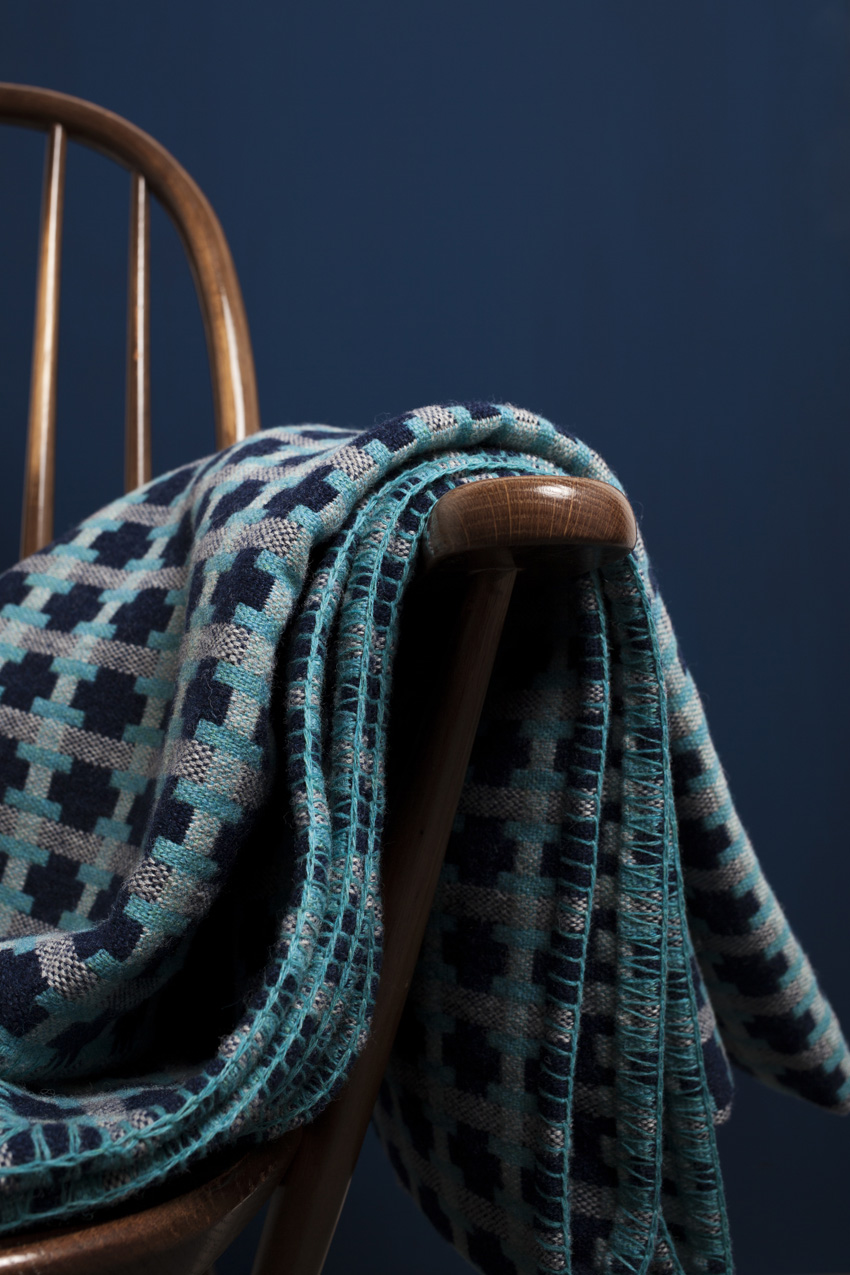 Image Credit: Susan Castillo
How do you see the interplay of design and craft in your work?
It is difficult to think of design and craft as two separate entities. Designing for woven textiles relies heavily on knowledge of process, materials and construction. I love colour and the majority of my designs use double cloth weave constructions, to allow me to work with multiple colours over two layers to create two different ratios of colour on each side, whilst maintaining a bold and graphic aesthetic.
What do you think is the Scottish creative identity?
That is a difficult question as I think it's very subjective and is ever changing – broadly I would say technical excellence and a thirst to combine traditional skills with new technologies.
What motivated you to showcase at the London Design Fair (LDF)?
I visited the Scotland: Craft & Design Pavilion at LDF last year and was really impressed by the standard of the showcase - particularly the strong curation, the cohesive look and the feel of the display. Furthermore, LDF itself showcased a diverse and interesting range of designers from various backgrounds and disciplines and was easily one of the more exciting shows of last year.
Is there any building you would love to see your work displayed?
The Barbican – it's easily one of my favourite buildings and I was lucky enough to see the Bauhaus exhibition a few years ago featuring the works of Anni Albers and Gunta Stolzl who are a huge inspiration.
Are there any makers/designers you are excited to see at this year's London Design Fair?
I'm a big fan of Mijo Studio as their playful colourful prints really appeal to my own style, as does Kate Trouw's chunky, speckled jewellery pieces.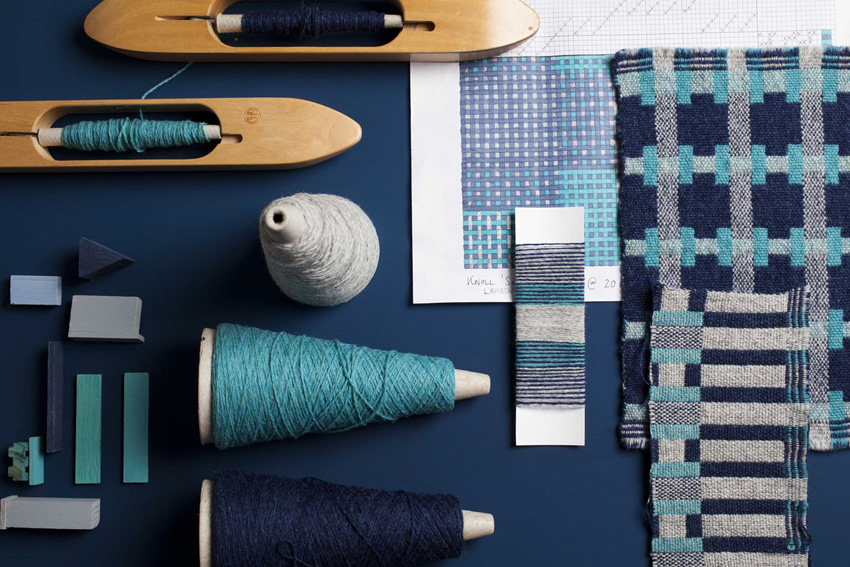 Image Credit: Susan Castillo
Visit Heather Shields along with 16 other talented makers at the Scotland: Craft & Design pavilion at the London Design Fair.
Thursday 21 - Sunday 24 September
10am - 6pm
First Floor Hall T4-A
Old Truman Brewery
91 Brick Lane
London
E1 6QR
Book your tickets on the London Design Fair website.
[This interview has been lightly edited for clarity.]