Hear from Kirsty Thomas from Tom Pigeon about the power of effective sales in our COMPASS: Routes to Market Workshop, 30 April 2019. Kirsty will discuss the journey of Tom Pigeon and the varied routes to market that have allowed the business and her personal practice to grow and develop.

The Scotland: Craft & Design pavilion took place on 21 - 24 September 2017 at the London Design Fair. Following the success of the previous year's showcase, the pavilion champions the innovative spirit, exceptional craftsmanship and world-class reputation of Scottish craft.
Written 14 September 2017.
Tom Pigeon is among the 17 Scottish-based designers to be featured in the 4-day industry event at the Old Truman Brewery. A creative studio founded by Pete and Kirsty Thomas, Tom Pigeon is based on the east coast of Scotland and their creative work is sold around the world. Created using a range of different materials and craft techniques, Tom Pigeon will be presenting their Balance collection at the Scotland: Craft & Design pavilion, a series of objects that look at the tension and balance between simple geometric forms. We've caught up with Kirsty herself to give you an insight into the creativity, design processes and dedication that goes on behind the scenes at Tom Pigeon.
Hi, Kirsty! Tell us a little bit about yourself. . .
Hi, I'm Kirsty Thomas and I run the design studio Tom Pigeon. We make jewellery, prints, homewares and stationery. I am creative director, designer, general all-round business person and occasional tea maker.
Has your education influenced your practice?
A little… I trained in Design Studies which was a very multi-disciplinary degree and I think my approach now echoes this. I don't like to limit my work to one area of design and really like exploring new products, markets and techniques. I think my years working in retail, graphics, education and marketing have also had a big influence on the way I work now.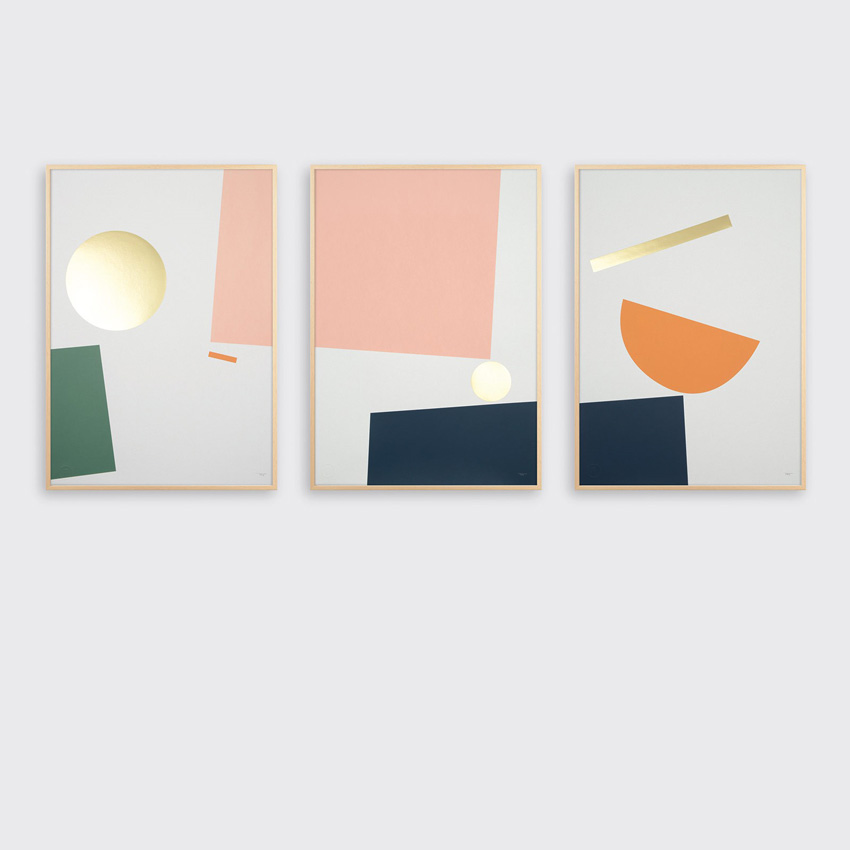 Do you have a favourite piece that you are showing at the London Design Fair?
Balance – a series of three interlinking foiled screenprints.
What was the inspiration behind it?
I like the playful nature of design and Balance looks at the tension, rhythm and movement of simple geometric shapes across three different prints.
What makes it particularly special to you?
I really like the super simple, pared back design of this series of prints. Sometimes it's quite scary to remove so much detail from a piece of work but I love the minimalist work of people like Ellsworth Kelly and Ben Nicholson so wanted to be brave!
What inspires you to get into the studio?
The studio itself is pretty inspiring, it is a converted dairy in the countryside with views to the North Sea. The Tom Pigeon team are also a big inspiration and their enthusiasm and commitment for what we do is amazing. Creatively, I really enjoy creating products that are accessible, affordable and bring people a bit of joy and happiness.
What challenges do you face in the design/making process?
Time! Running your own business is a big challenge. I spend more time on admin, marketing and emails than I do designing and making which can be frustrating.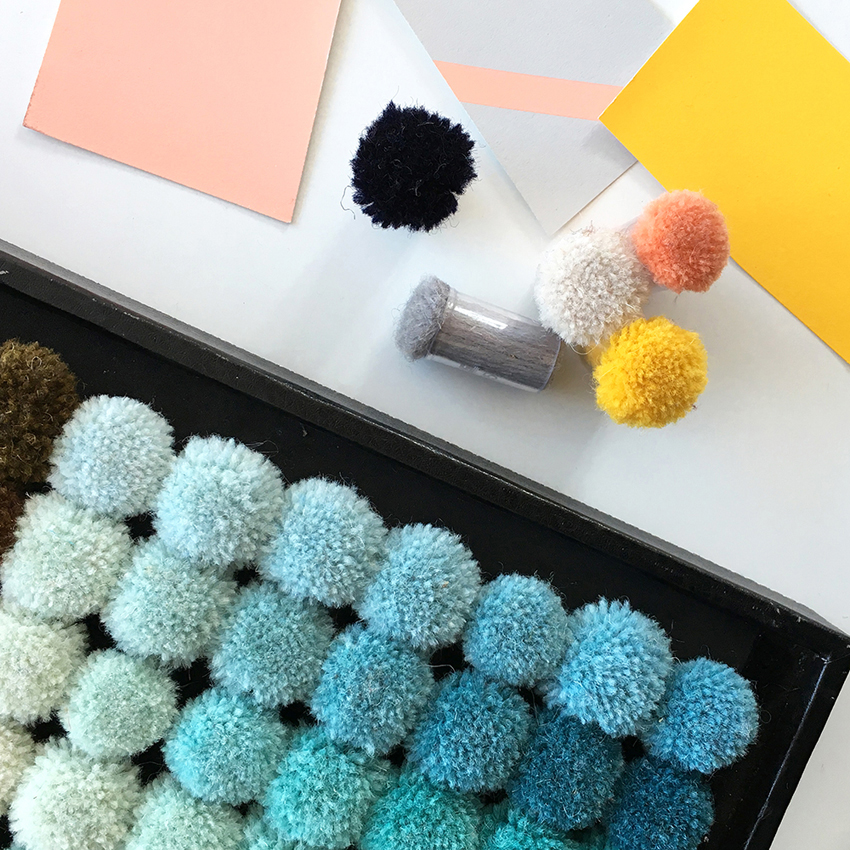 How do you see the interplay of design and craft in your work?
There is a continuous interplay between craft and design in our work. Everything starts out as a design on paper or on the computer whether that be a necklace, print, rug or notebook, but I am always thinking about how that piece is to be crafted. All our jewellery is handcrafted in the Tom Pigeon studio and we work with amazing crafts people around the UK to produce other work for us. The ability to design for craft is important – we are not about mass manufacture but I enjoy the process and possibilities of small batch production which allows us to experiment with new materials and products and enables the business to grow.
What do you think is the Scottish creative identity?
I don't really believe that there is a Scottish creative identity. Most of the makers I know who are working in contemporary Scottish design would probably see themselves as international and I think this is to the credit of Scottish design education, which teaches us to think broadly and create work that doesn't adhere to one national aesthetic. Scottish creativity is currently exciting, rich, varied and international.
What motivated you to showcase at the London Design Fair?
I have exhibited at London Design Festival for the past 5 years and am excited to be part of the Scottish: Craft & Design Pavilion and London Design Fair. I think it is a great opportunity to showcase our new, more crafted homewares collection to a design savvy audience.
Is there any building/space you would love to see your work displayed?
Mid-century Modernist houses or public spaces.
Are there any makers/designers you are excited to see at this year's London Design Fair?
The multidisciplinary work of Studio Proba, there is so much colour, pattern and texture. Also the Jesmonite pieces by Ariane Prin, they are beautifully crafted vessels which celebrate the Material of the Year.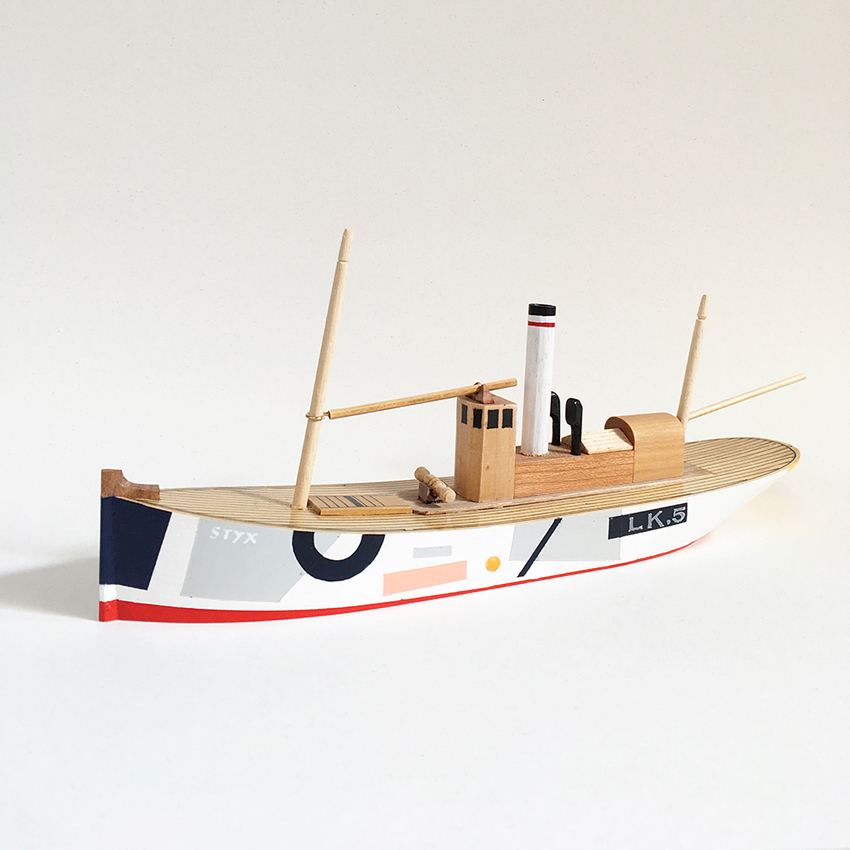 Book your place on our COMPASS: Routes to Market workshop here.
[This interview has been lightly edited for clarity. Updated 5 April 2019.]