Degree Show season is here! As the country's art schools, colleges and universities throw open their doors, it's the perfect time for all craft, art and design enthusiasts to explore emerging craft talent.
With world-leading teaching and resources, the graduating classes of 2022 have been nurtured across their degrees to achieve mastery of skills and materials and to be bold in their ideas. As another academic year comes to an end, Degree Show season reminds us of Scotland's unique culture of craft and design, and the students, teachers, and institutions that encourage innovation and an open, curious eye on our contemporary world.
After two years of virtual exhibitions, this year's Degree Shows or End of Year Shows will take place in-person for the first time, with many also continuing to offer their showcase online. This blended approach will allow visitors more flexibility and accessibility, with wider audiences being able to access the rich works created by Scotland's graduates.
Scotland's creative education is renowned throughout the world as centres of excellence, attracting talent from home and abroad, and providing a breadth of options for craft education at every level. Many colleges and universities offer higher education qualifications and diploma in textiles, jewellery and glass, including Edinburgh College and City of Glasgow College (both below), and the Shetland Contemporary Textiles Department at the University of the Highlands and Islands.
At university level, acclaimed university courses in Jewellery & Silversmithing, Ceramics, Glass, Textiles or Product Design continue to train talented makers and support them into exciting careers – among which Duncan of Jordanstone College of Art & Design, Gray's School or Art, Heriot-Watt School of Textiles & Design, Glasgow School of Art and Edinburgh College of Art all presenting Degree Shows this year.
Here is our round-up of Scotland's Degree Shows taking place this Summer.
---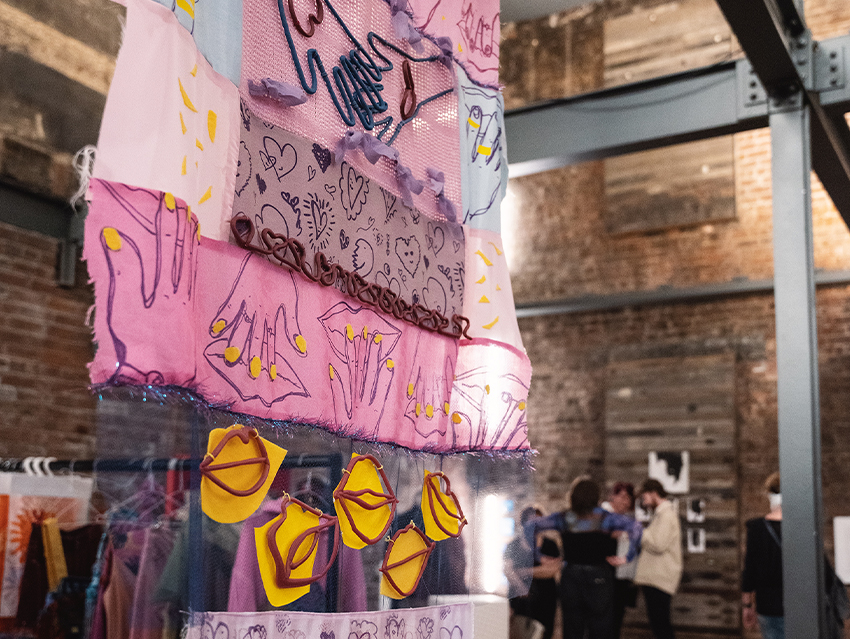 Image: Edinburgh College Graduate Diploma Show, Fruitmarket Gallery, 2022 / Photography by Fabio Scalici
Edinburgh College
Opening the season was Edinburgh College, with a weekend showcase at the Fruitmarket Gallery. From Friday 20 May to Sunday 22 May, the Edinburgh College School of Art and Design presented their annual end of year exhibition, showcasing works from the graduating students of their Higher Education Diploma courses. You can stay up-to-date with Edinburgh College future events on social media.
Duncan of Jordanstone College of Art and Design (DJCAD)
On the same weekend in Dundee, Duncan of Jordanstone College of Art and Design (DJCAD) opened their Degree Show. Running both in person and online, this year's graduate showcase will take place from Friday 21 May to Sunday 29 May.
To make the visit easier, DJCAD have separated the physical exhibition into three colour zones. Craft can be seen in the green and blue zones, with Product Design in the former, and Jewellery & Metal Design and Textiles Design in the latter. Online, you can explore the showcase through a degree directory or by selecting an individual graduates' name. A dedicated stories section will also highlight graduates' works and the themes they share.
Book your visit via Eventbrite or explore the showcase online.
City of Glasgow College
City of Glasgow College opened their Creative Industries End of Year Shows on Thursday 26 May, and the exhibition will run on the City Campus until Monday 6 June. The showcase will feature graduating classes in the Design Practice undergraduate program.
Then, from Tuesday 14 to Monday 20 June, works from students on the creative industries HND courses in Art Glass, Applied Arts, Jewellery and Product Design, will be on show at the City Campus.
Visit the City of Glasgow College for up-to-date information on visiting.
Heriot-Watt School of Textiles & Design
Also operating a mix of online and in-person, is Heriot-Watt School of Textiles & Design with their Degree Show, titled Focus. The exhibition launches Tuesday 31 May, and visitors will be invited to view the showcase at Heriot-Watt's Scottish Borders Campus from Tuesday 1 to Wednesday 15 June (excluding public holidays).
Visit the Heriot-Watt website for up-to-date information on both the in-person and online display.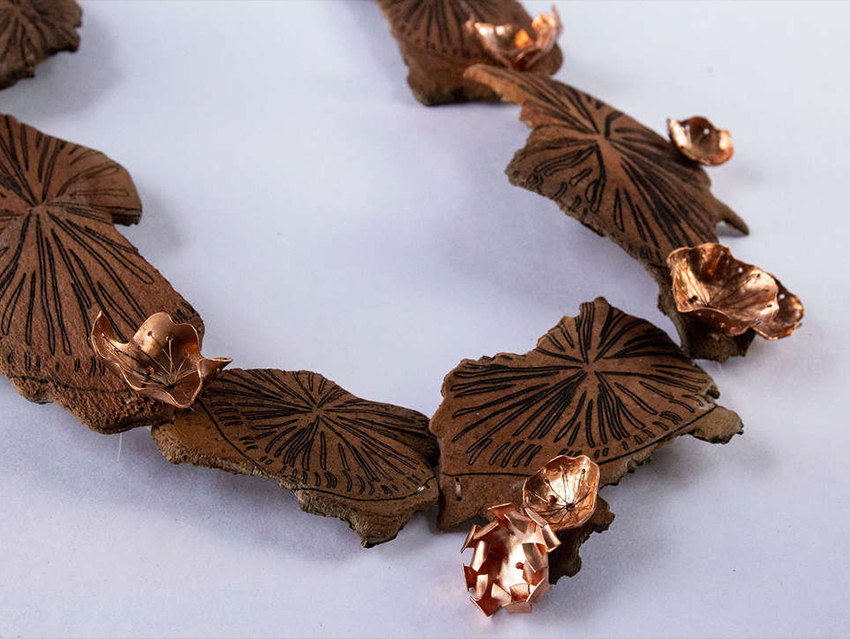 Image: Lyndsey Douglas, 2022, Duncan of Jordanstone College of Art and Design

Glasgow School of Art (GSA)
Glasgow School of Art (GSA) will open their Degree Show on Tuesday 31 May, with both undergraduate and postgraduate works on show. The exhibition will run online and in-person from Wednesday 1 to Sunday 12 June, with the Architecture Degree Show running from Saturday 11 to Sunday 12 June 2022. The online showcase will be accessible from Wednesday 1 June at gsashowcase.net.
The undergraduate showcase will feature works by all graduating classes from GSA, including graduates in the Textile Design, Silversmithing & Jewellery, Sculpture & Environmental Art, Product Design, and Fashion Design courses. The postgraduate showcase will focus on works from the School of Fine Arts.
Visit the GSA website for up-to-date information on visiting.
Edinburgh College of Art (ECA)
Edinburgh College of Art (ECA) will welcome visitors to an in-person graduate showcase, running alongside a digital exhibition, from Monday 4 to Sunday 12 June. For their first in-person Degree Show in two years, students will exhibit together in the Main Building on Lauriston Campus.
The showcase will feature undergraduates from the ECA School of Design, including in Fashion, Jewellery & Silversmithing, Product Design and Textiles.
Book your visit via Eventbrite.
Gray's School of Art
Closing off Degree Show season this year will be Gray's School of Art in Aberdeen, with in-person exhibition Welcome to The Real World. The show will present exciting works from graduate classes in the Fashion & Textiles, Ceramics & Glass, Jewellery, and Product Design courses.
The exhibition will open from Saturday 11 until Saturday 18 June, and an online directory will be available, highlighting work from each of the students exhibiting. A series of events will also run during the Degree Show including an alumni networking event and a range of school workshops for secondary pupils.
Visit the Gray's School of Art website for the most up-to-date information on visiting.
---
Stay up to date with upcoming Degree Shows taking place in Scotland this spring on our What's On, and head over to our Craft Community's Opportunities section to find new awards and funding open to graduates.
Get in touch with us at hello@craftscotland.org to tell us about your graduates' news and Degree Show for institutions based in Scotland.
Top image: LumiKnit by Millie Cunningham, 2022, Duncan of Jordanstone College of Art and Design