The Craft Edit is your monthly insight into Scotland's thriving craft sector. Hear all the latest news from awards and funding, to artist residencies and special collaborations.
This month, Scotland-based makers have been showcasing their work internationally, as well as securing major residencies to hone their skills throughout Scotland.
---
Glass maker set to showcase at major New York exhibition

Juli Bolaños-Durman, a Costa Rican designer/maker based in Scotland, has recently returned from a two-month residency in Kolkata, India. Made possible through the Arte Laguna Prize & the Basu Foundation, this residency gave Juli the chance to develop her interdisciplinary practice by drawing inspiration from India's vibrant culture and developing professional connections that helped her to create a new body of work.
This March, Juli also participated in the inaugural Harewood Biennial at Harewood House. Themed around Useful/Beautiful: Why Craft Matters, the first exhibition of the Harewood Biennial aims to challenge preconceptions and spark a debate on the role craft can play in culture, identity and society. Highlighting the wealth of talent in the craft sector, Juli was one of the 26 exhibitors who showcased their work at the Yorkshire stately home.

In May this year, Juli will be showcasing her work at New Glass Now, taking place at the Corning Museum of Glass in New York. The exhibition will document the innovation and dexterity of makers, designers, and architects around the world creating contemporary glass artwork.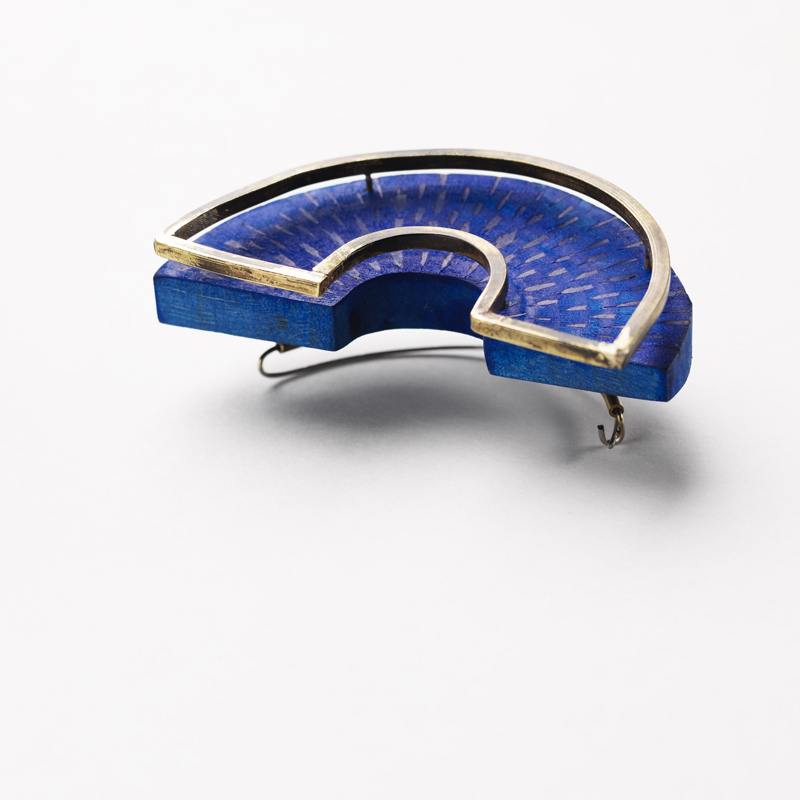 Image: Caitlin Hegney / Photography by Shannon Tofts

GSA graduate designer selected for Cove Park residency
As part of the New Maker Residency in partnership with Cove Park, visual art & craft organisation Fife Contemporary announced Caitlin Hegney as the first recipient of this award.

Caitlin, a Scottish designer/maker and recent graduate from Glasgow School of Art, was selected from a cohort of new graduates chosen by a panel of staff and Board members from Fife Contemporary. All makers nominated were of an extremely high standard and will be showcased in an online exhibition on Fife Contemporary's website.

Caitlin's work celebrates aspects of folklore through materiality. Rather than conventional setting techniques, she crushes Lapis Lazuli, referencing the ancient process of developing pigments. She will use the New Maker Residency this Spring to focus on and research a new body of work. On her return, she will share her experience and progress with Fife Contemporary's audiences.
Cove Park creates residencies in all the art forms for national and international artists, collaborative groups and organisations. It is located on 50 acres of unspoilt hillside overlooking Loch Long on Scotland's west coast.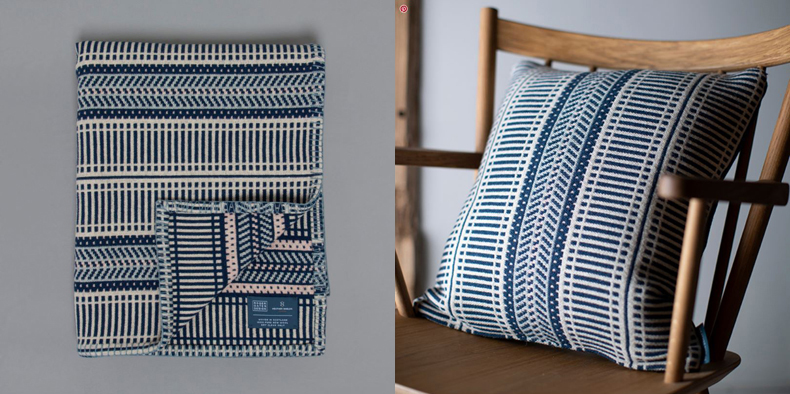 Image: The Heather Shields for Roger Oates Collection/ Photographer unknown

Contemporary textiles designers collaborate for new collection

After meeting at London Design Fair, Andy Guard, Head of Design at Roger Oates Design, and maker Heather Shields combined forces to create The Heather Shields for Roger Oates Collection.

Although both Roger Oates Design and Heather Shields have their own distinct aesthetics, they share a focus on colour, quality and contemporary design processes. Designing since date 1987, Roger Oates Design create a collection of unique stripe Venetian flatweave runners, rugs and accessories, and textiles designer and weaver Heather is known for her playful patterns seen in her Puzzle range, which echoes the shapes of puzzle pieces and uses a traditional double cloth technique.
As the two shared similar values, the collaboration aimed to capture this energy and this shared vision only intensified after visiting the Roger Oates Ledbury studio and head office in Eastnor, Herefordshire, and meeting the rest of the dedicated team at Roger Oates Design.
The Roger Oates design classic, Masai, has been reworked by Heather Shields to create a sophisticated, graphic woven cloth in pure new wool. Capturing the linear elements of the original design, the colours took inspiration from British railway posters of the 1950's.

Top Scotland ceramicists exhibit new work in Minneapolis

Six Scotland-based ceramicists were invited to take part in Claytopia, the annual conference of the National Council for Education of the Ceramic Arts (NCECA) in Minneapolis, USA. Susan O'Byrne, James Rigler, Andrea Walsh, Livia Marin, Jonathan Wade and Dawn Youll were part of an associated exhibition and panel talk.
Jonathan Wade, Susan O'Byrne, and Fiona Logue (former Director of Craft Scotland) also gave a presentation/panel entitled "Urban Parallels" in Scotland. They discussed the thriving creative scene in Glasgow and how this city's industrial past, municipal policies and artist/makers are shaping its vibrant future.

Claytopia, NCECA's 53rd annual conference took place on Wednesday 27 to Saturday 30 March this year. The National Council on Education for the Ceramic Arts advances creation, teaching and learning through clay in the contemporary world through welcoming and innovative experiences, discourse, and resources. Since the 1960s, the Twin Cities region (Minneapolis and St. Paul) has played a pivotal role in shaping a renaissance in studio pottery and craft as cultural forces.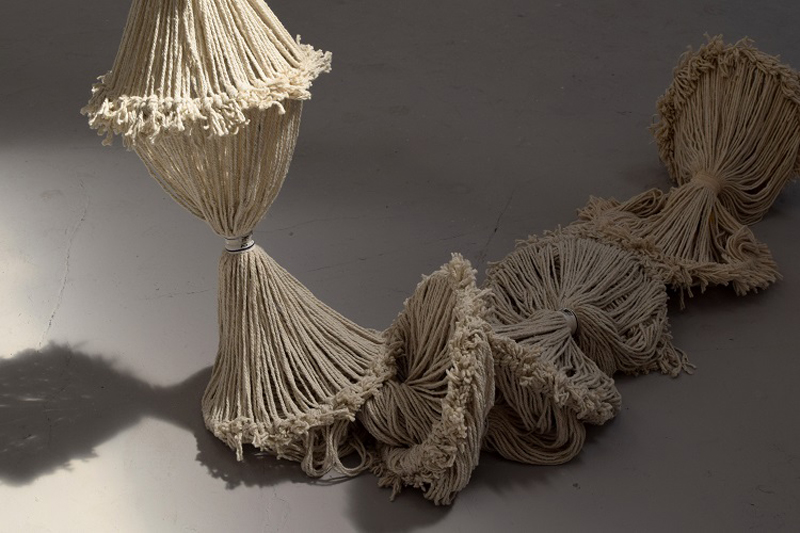 Image: Lucy Wayman / Photographer unknown

Macramé maker wins TOAST Residency
To celebrate its first store opening in Scotland, contemporary fashion and lifestyle brand, TOAST teamed up with the Bothy Project to offer an emerging Scottish artist/maker a one-week residency at Inshriach Bothy.
Lucy Wayman, a macramé maker based in Edinburgh, was selected for the Bothy Project x TOAST Residency at a remote cabin set in the centre of the Highlands.
Lucy transforms everyday materials such as mops, ropes, tights and string, into large, complex hanging structures, using the traditional craft techniques of macramé (knotting, whipping and weaving).
For her Bothy Project x TOAST commission, Wayman plans to work with natural fibres to create a visual record of her time spent at Inshriach Bothy, drawing on both the physicality of the landscape and the maker's hand. The resulting work, themed around TOAST's SS19 campaign 'The Unknown Path', will be featured in TOAST's new Edinburgh store in May 2019.
Fife jeweller receives prestigious award

Evie Milo, a jeweller from Kinghorn, Fife, has been presented with the prestigious Artist of Merit award by Arts in Fife. She was presented the award by renowned photographer and poet Stuart Russell.
The Arts in Fife project, created by Stuart, gives a voice to local makers like Evie and aims to award outstanding creative merit across the country. The scheme sees one stand-out artist rewarded for their efforts each year until 2020.
This year, Evie received the award for her extensive work with recycled materials, transforming the bowls of antique sterling silver teaspoons into handcrafted pieces of jewellery. She states her daily walks on the beach are the inspiration behind her jewellery collection.
---
Share your news with Craft Scotland. Email a press release and high-quality photography to hello@craftscotland.org.