To celebrate Diana Sykes' career as she retires from her role as Director at Fife Contemporary, colleague Susan Davis writes of Diana's key role in the Scottish contemporary craft sector.
This is a companion piece to Time to Reflect, Diana Sykes, published in parallel on the Fife Contemporary website.
---
When the student Diana Sykes invigilated exhibitions at the University of St Andrews' Crawford Arts Centre in the early 1980s, little did she know that by the end of the decade, she'd be back there as its Director.
While her early interest lay in the visual art field – her student dissertation and subsequent exhibition at the Crawford was on the work of Scottish Colourist artist, J D Fergusson – she had a personal love of crafted objects. Over time, this became a refined understanding and appreciation of the artists' skill and processes behind making works of craft in metal, ceramics, textiles. The Crawford had always promoted craft and Diana's programming built on this with an enthusiasm shared with knowledgeable colleagues Susan Davis and more recently Stefanie Cheong.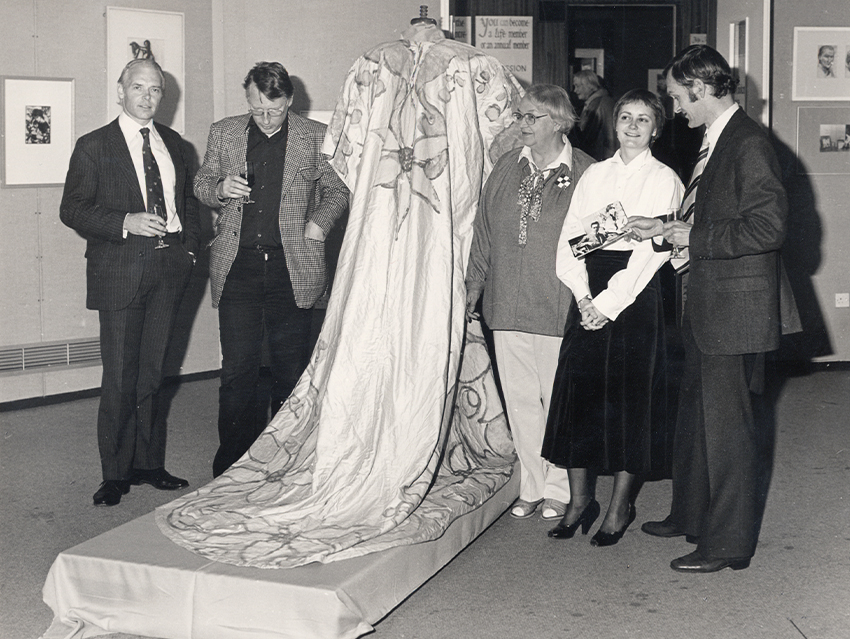 Image: JD Fergusson exhibition opening, 1982 / Photography by Peter Adamson
Through the 1980s and 1990s, a broad range of craft artists' work was displayed in the Centre, with Fife-based artists like ceramicists George Young and Anne Lightwood, Glasgow ceramicist Irene Bell, and glass by Graham Muir from the Scottish Borders. These tended at first to be smaller displays, but Diana's interest in the crossover between the so-called visual art and craft disciplines appeared early on.
Artist Valerie Pragnell created large-scale willow sculptures, Ring of Alder, which subsequently toured to other Scottish venues successfully (1991). As part of a newly formed group of non-Central Belt arts' organisations, (STEC, the Scottish Touring Exhibitions' Consortium), its first exhibition, Raw Materials – Contemporary Scottish Textiles mixed traditional 'craft' textiles, like quilting with more sculptural pieces (1995). Large-scale, sail-like tapestry-sculptures by New Zealand artists Yvonne Sloan and Ian Spalding were exhibited in 1998, the same year that Scottish artist, Jackie Smith, was given her first solo show (Geo) of large wall-based folded and dyed paper forms.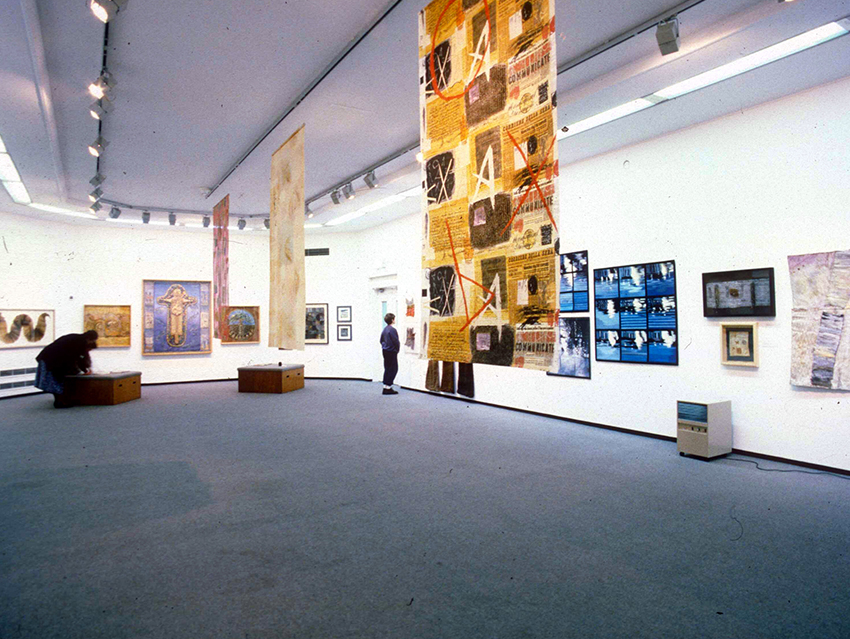 Image: Raw Materials, 1995 / Photography by Bruce Pert
The new millennium began with an international exhibition of paper clay work, much of it abstract and sculptural in form and intent. Paper Clay Plus was a project curated by Anne Lightwood, who used the material herself. UK and international artists took part in a day-long symposium which culminated in the firing of a paper kiln. The importance of having opportunities to meet fellow artists, across disciplines, for discussion and learning, has always been felt to be of great importance to artists' development, and is continued by Fife Contemporary today by its various CPD activities, and also its Materialise initiative for new craft and design artists.
There were many Crawford projects that blurred the line between visual art and craft, and this was to become a fully honed aspect of Fife Contemporary when the organisation moved from being venue-based in 2006. Diana collaborated with The Marzee Gallery in Nijmegen, and its creator, Marie-José van den Hout, on The Marzee Collection in 2009. The project encompassed an exhibition of outstanding European 'wearable sculptures' from the collection, photographed on a selection of individuals by Tricia Malley and Ross Gillespie of broaddaylight at House of Falkland. It was a landmark project for the organisation and also included a symposium day for artists.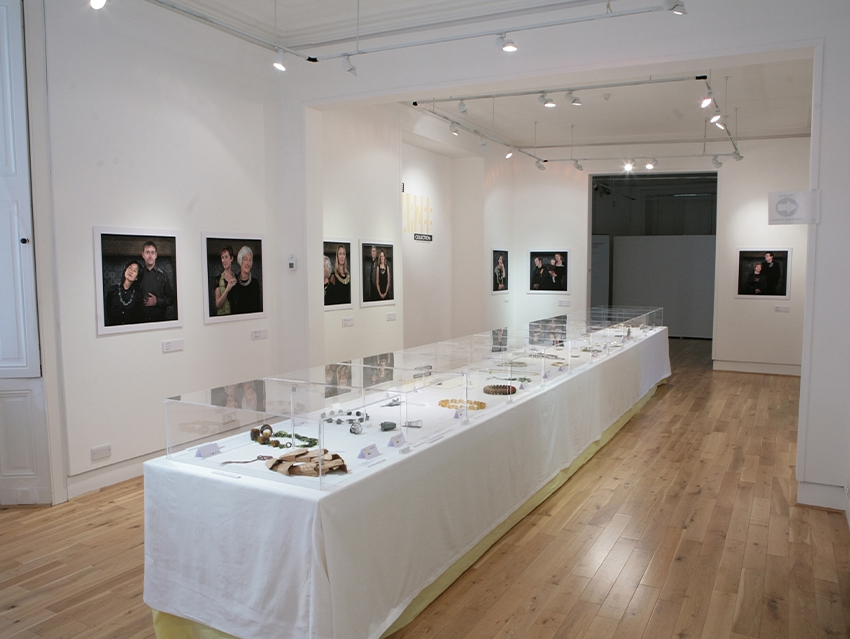 Image: Installation view of "The Marzee Collection", St Andrews Museum / Photography by Eammon McGoldrick
Similar object-based exhibitions with accompanying symposia followed in 2010 (Causing Chaos) and 2011 (Placement – Ceramic Connections: Wales & Scotland). These enabled Diana to widen the scope of projects undertaken by Fife Contemporary by having invited artist-curators on-board.
Causing Chaos was curated by artist Claire Barclay and featured international craft and sculpture. It looked at "how art objects could reference functional things but subvert function through ambiguity of use and meaning".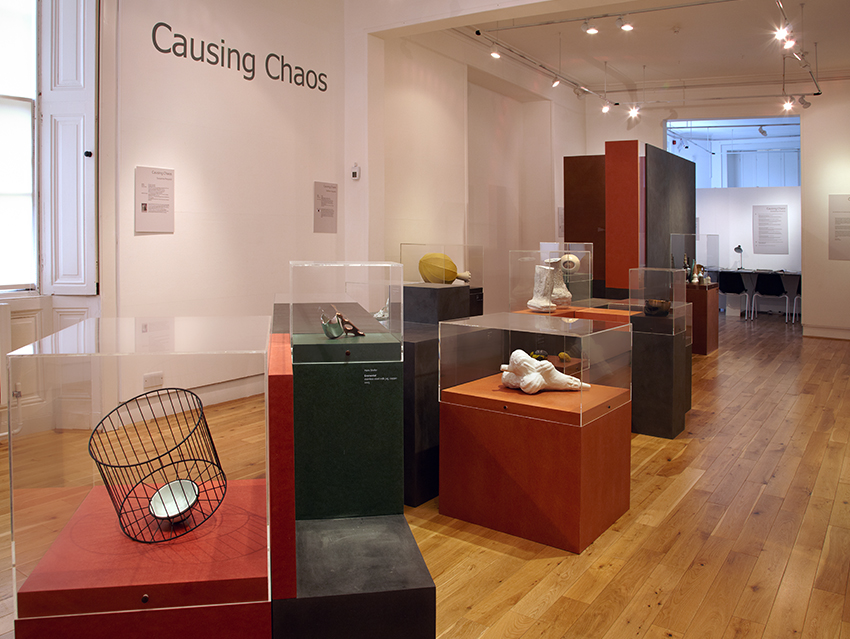 Image: "Causing Chaos", St Andrews Museum, 2010 / Photography by Chris Park
Placement was a two-part exhibition in collaboration with Oriel Davies Gallery (Newtown, Wales), and co-curated by ceramic artists Lowri Davies and Dawn Youll.
"The notion of place and placement highlights important associations in the field of ceramics concerning location, geography, ritual, commemoration and the souvenir."
Fife Contemporary's recent exhibition, REsolve: a creative response to the Circular Economy, was curated by ceramic artist Mella Shaw, continuing the organisation's practice of involving artists in project curation, which began well over a decade ago.
Not surprisingly, Diana's knowledge of the craft (and visual art!) world have developed and grown over nearly three and a half decades at the helm of the Crawford Arts Centre/Fife Contemporary. She has always had a deep-seated desire to improve practical working conditions for artists in Scotland – paying artist fees and other expenses during the creation of an exhibition or project was a given from Crawford days – as well as offering training opportunities to help drive ambition and widen horizons.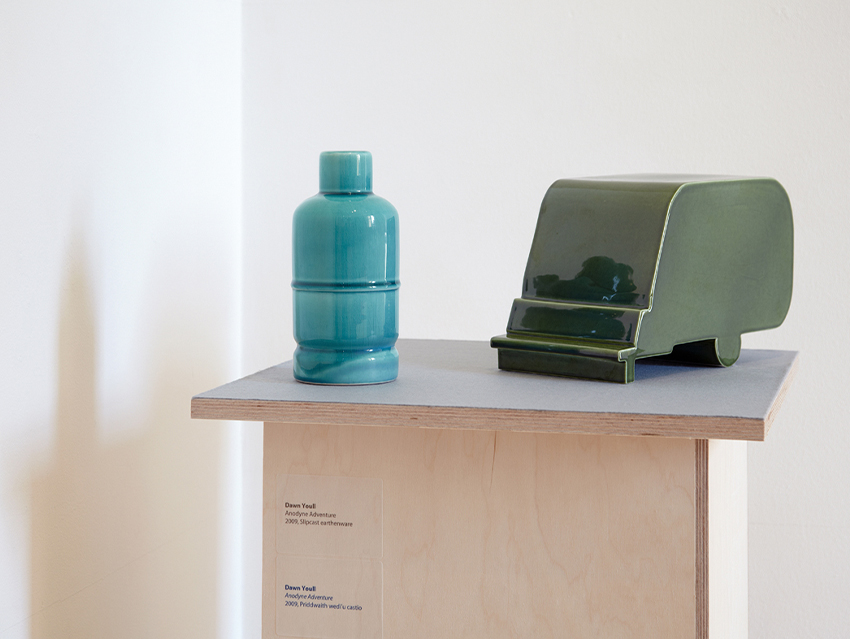 Image: "Placement" Part 1, installation view of Dawn Youll work, 2011 / Photography by Chris Park
As one of the early advocates of Creative Scotland's renowned VACMA scheme, the Fife roots of which began as small grants to craft artists in 2007, she was known as a fair adjudicator, speaking up for artists whose worth she knew and who she felt deserved a chance at being funded. She assisted various organisations when shortlisting projects for public funding and opportunities, including Craft Council's Hothouse scheme with Craft Scotland. She has always believed that a strong curatorial network in Scotland would provide good opportunities for artists, and to that end, was an important member of the Craft Development Network.
Her flair and enthusiasm for craft in its widest forms, and the practitioners who create it, can be found across Fife Contemporary's programme today. As her colleagues within the organisation, we will of course miss her hugely, and we wish her much happiness (and far less stress!) in her well-deserved retirement. We also look forward to future developments with her successor, Kate Grenyer. As they say, 'watch this space'!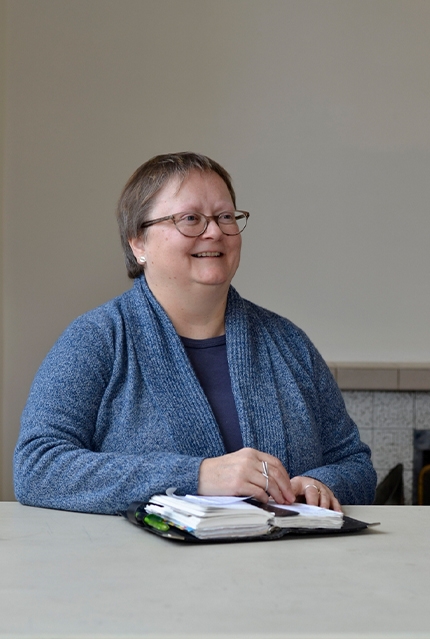 Image: Diana Sykes in 2015 / Photography by Carolyn Scott
---
Visit Fife Contemporary on their website, Facebook, Instagram and Twitter.