Scottish perfumer Jorum Studio and Craft Scotland are delighted to continue their partnership with the Jorum Craft Award, launched in 2020. Celebrating Scotland's hand-crafted talent and selecting one maker per round to assist with the development of their creative practice.
The Jorum Craft Award has now run for three successful rounds, with the winner of Round 3 of the award to be announced this Autumn.
In this mini-series, we talk to Chloe Mullen, the co-founder of Jorum Studios about their motivations for creating the opportunity. As well as previous winners of the Jorum Craft Award, about what winning means for the development of their creative practice.
---
Jorum Studios, previously known as Jorum Laboratories, launched in 2010 by Scottish perfumer Euan McCall, who specialised in formulating fragrances for cult brands.
Since 2016, Jorum has been operated equally by Euan and partner Chloe Mullen, launching Jorum Studio in 2019.
Chloe and Euan have been quietly building a new, world-class perfume making industry in Scotland from their base in Edinburgh. Jorum Studios focuses on hand-crafted yet innovative fragrances, taking a crafted approach to both formulation design and manufacturing processes, hand- making everything in-house.
Craft Scotland caught up with Chloe to find out about the progression of Jorum as a business, and how she hopes the Jorum Craft Award will help independent makers develop their careers.
We last caught up in 2019, what's been happening for Jorum Studio since then?

It's been non-stop at Jorum! Since 2019 we have continued to grow as a business and a brand, increasing our international reach through selective stockists as well as opening our flagship store in Edinburgh's Stockbridge. We're continuing to collaborate with, and commission works from makers from across disciplines.

Tell us about your new premise in Stockbridge, was it important for you to have a studio/working space with the retail premise?

We opened our first store in May 2021, and it's been wonderful to be able to interact with people again. We've all experienced a degree of isolation over the past 18 months so being able to converse with customers and share ideas and experiences with new people – in person - over the past few months has been all the more special.
The space not only showcases our fragrances but gives us an opportunity to showcase the wonderful makers that we have worked with. In fact, we are planning on showcasing some pieces from a previous Jorum Craft Award winner, and.ILC (Isla Cruickshank) during the Christmas period. The store is a wonderful hub of creativity and discovery and we're thrilled to be able to incorporate our celebration of craft too.
Within the store we also have a micro-lab where we're able to create and develop fragrances. Currently, this is more out of necessity as it allows us to work on the "behind the scenes" stuff while being present at the store but it's an opportunity to give people a bit of an insight into our process. We also have part of our archive of vintage fragrance materials which we not only use for reference when creating fragrances, but to offer some context to customers on the wider fragrance industry, which is relatively unknown to most people.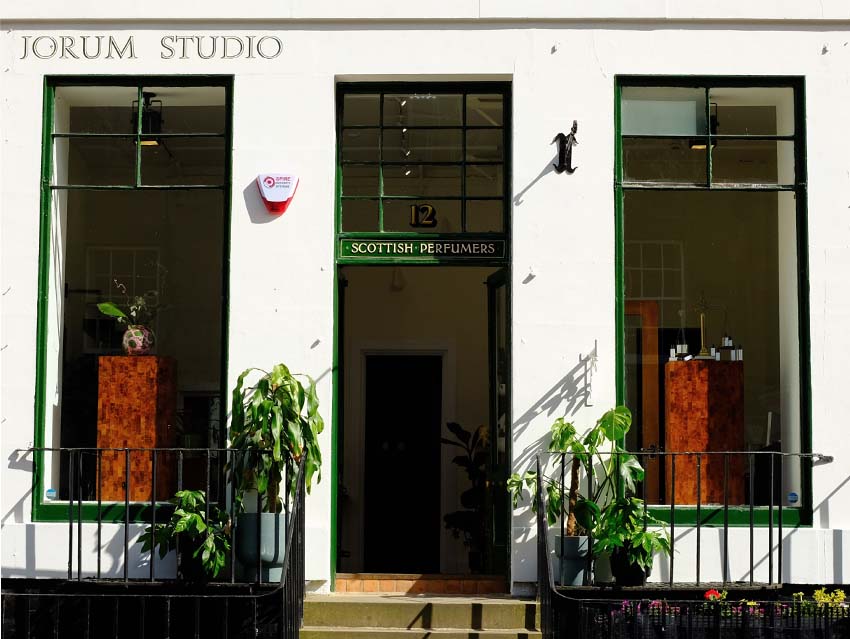 Image: Jorum Studio/ Stockbridge, Edinburgh
St Stephen Street in Stockbridge is fast becoming "The neighbourhood" for independent shopping in our capital, what other neighbouring shops/spaces are you particularly interested in and why?

We have some great neighbours in the area, not only on St. Stephen Street but throughout Stockbridge. Around the corner we have Dick's on North West Circus Place – they present incredibly crafted clothes from curated international brands as well as very special crafted objét that can't be found anywhere else in the city, let alone the country! We also have Aetla further down on St. Stephen Street who showcase sustainable and ethical jewellery from independent designers. We're a bit obsessed with plants and Dahlia on Deanhaugh Street is our go-to for foliage and dried grasses. Not to mention the fantastic charity shops throughout Stockbridge where many a treasure can be found.
Together, Jorum Studio and Craft Scotland have now supported three makers through the Jorum Craft Award. What has this experience revealed to you about Scotland's contemporary makers?

I love how much of themselves contemporary makers put into their pieces. Not just in terms of skill and technique, but an emotional transference in some ways. Having that sense of personal connection is emphasised when you can see the level of time and care that has been taken to craft their pieces. It's also wonderful to see that so many contemporary makers are turning their craft into commercial businesses, but doing so in a way that is still creatively sustainable and nourishing to them.
Tell us why previous winners' Isla Cruickshank, Stephen Kavanagh and Florence Dwyer's work caught your eye during the selection process?

Isla, Stephen and Florence all craft undoubtedly beautiful pieces via different mediums. For us what ties them all together is the vision to apply their skills in new ways. We love the notion of progressing their craft in this way.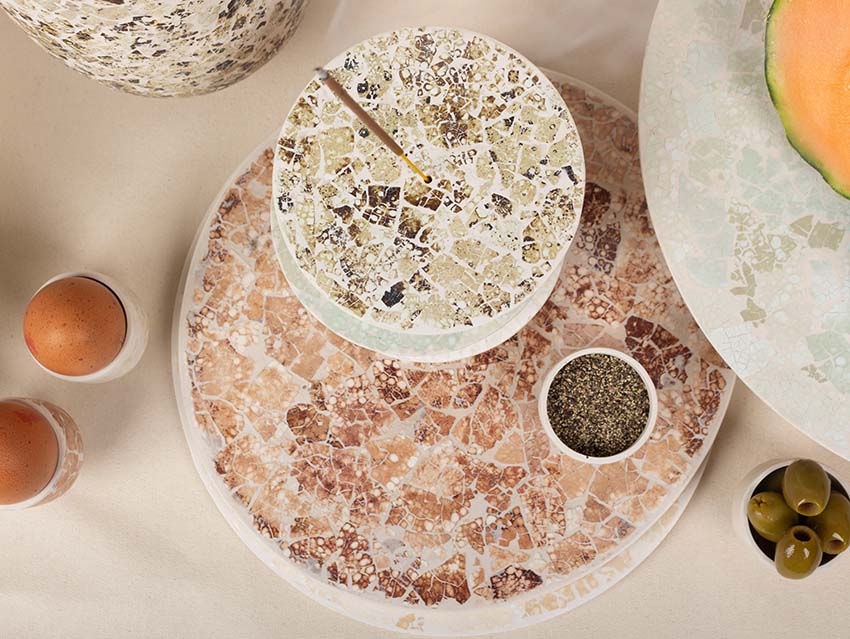 Image: Isla Cruickshank/ Photography by Harry Anderson
What's coming up for Jorum Studio for the rest of 2021?

Submissions for the third round of the Jorum Craft Award have just closed and we're so excited to fund more makers. This will be the last round in 2021 but we will be continuing the Award through 2022 and beyond, hopefully growing the fund as Jorum Studio grows.
We're also due to release the 2021 editions of our Psychoterratica fragrance collection. Each year we have a limited release of these fragrances and encourage customers to share ideas of how the fragrances could be developed. We used the feedback received on the 2020 editions as a jumping off point for the 2021 editions, so it very much feels like a collaborative project.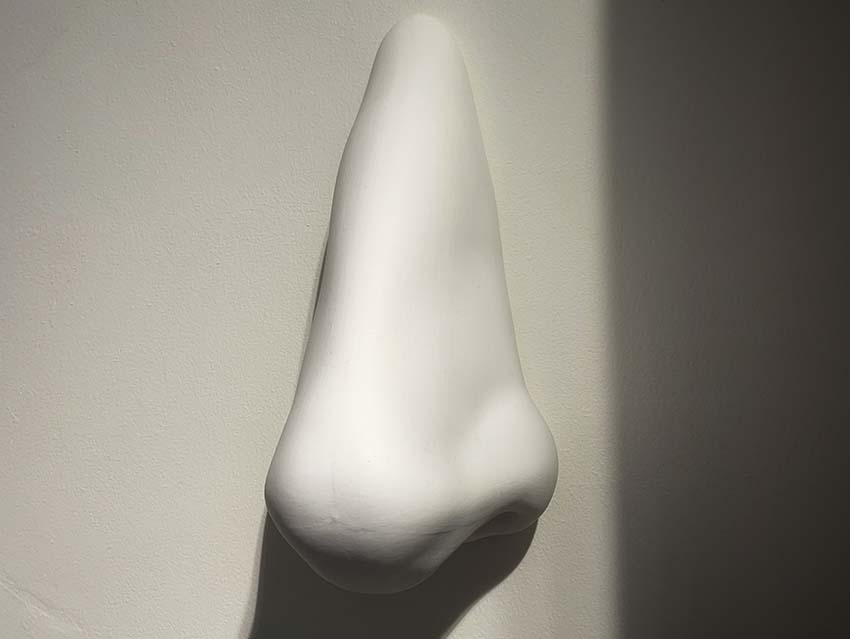 Image: Jorum Studio
This interview has been lightly edited for clarity or condensed.