Welcome to The Craft Edit, where we bring you insights into what's happening within the craft sector in Scotland.
This month, Scottish-based makers are winning prestigious prizes, learning new skills and we're looking forward to a strong Scottish contingent at Collect in February 2018.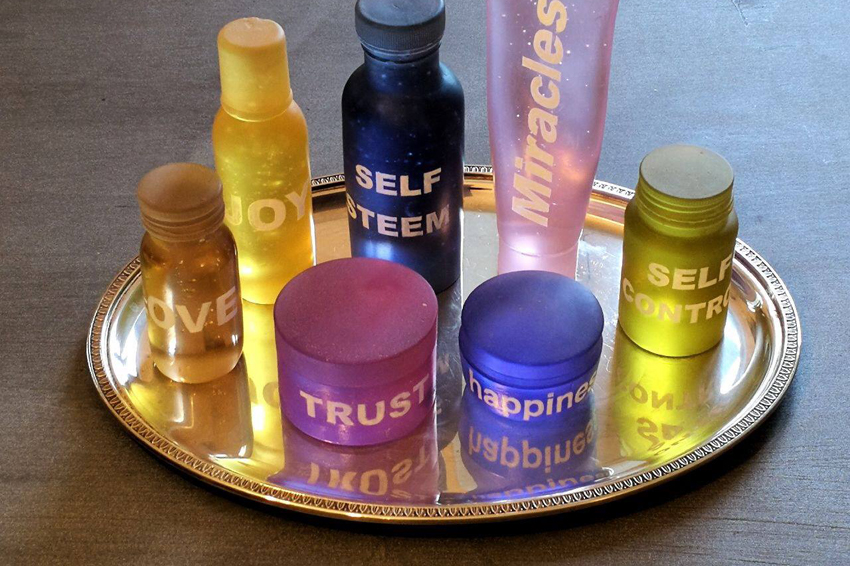 Maker: Silvia Levenson / Photography: Unknown
North Lands Creative to make Collect debut in 2018
Scotland is well known as a centre of making excellence, and Scotland will be strongly represented at Collect 2018. Alongside the Scotland: Craft & Design presentation by Craft Scotland, and supported by Emergents, North Lands Creative will showcase the work of four glass artists. Collect is the leading international art fair for contemporary objects presented by the Crafts Council.
New work from Emma Baker (UK) and Alan Horsley (Edinburgh), will show alongside work by Anne Petters (Germany), a multi-media artist with a strong background in glass, as well as work by Silvia Levenson (Italy) whose work has been exhibited around the world and is part of several public collections. Each of the glass artists have strong links to North Lands Creative.
Alongside North Lands Creative and 33 other galleries, Craft Scotland will present Scotland: Craft & Design at Collect 2018. This collection of exquisitely crafted statement pieces from 17 technically accomplished makers. After two successful showcases under our Scotland: Craft & Design brand at London Design Fair we are thrilled to present the work of some of Scotland's most talented makers in a fine art context at Collect 2018.
The North Lands Creative presentation is supported by Highlands and Islands Enterprises Go Global fund, and North Lands Creative is funded by Creative Scotland.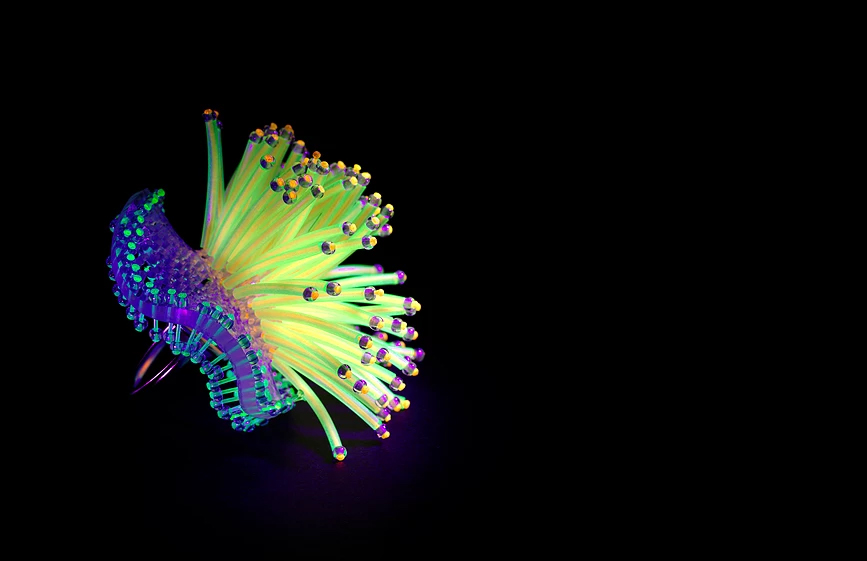 Maker: Wanshu Li / Photography: Shannon Tofts
ECA Graduate wins prestigious JOYA Award
Congratulations to Scottish-based maker Wanshu Li, who has won the JOYA Award 2017 at the Barcelona Art Jewellery Fair in October 2018. For her final graduate collection at the Edinburgh College of Art's (ECA) jewellery and silversmithing department, Wanshu Li created a multisensory jewellery collection called Go with the Glow. Inspired by marine life, particularly jellyfish, her pieces feature tactile moving parts with fluorescent and UV properties.
Previous winners include contemporary London-based jeweller Liana Pattihis (2016) and South Korean artist Jeemin Jamie Chung (2015). JOYA Barcelona Art Jewellery Fair is the main art jewellery event in Spain; it is part of Barcelona Jewellery Week along with Barcelona Watch Experience.
JOYA promotes the best in international art jewellery. Located at Arts Santa Mónica as a cultural space, it brings together domestic and international artists, galleries, schools and collectives with conferences and parallel events in Barcelona.
Read Wanshu Li's full interview with Klimt02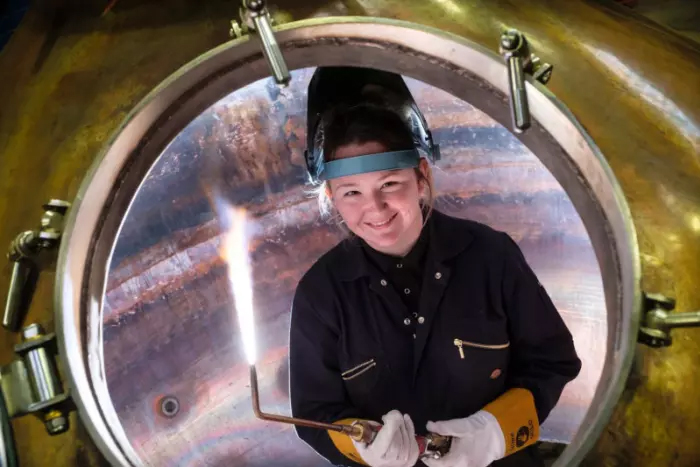 Image credit: The Scotsman
First female coppersmith
Great to hear about a resurgence in craft skills amongst younger people! The Scotsman recently reported on the first female recruit to learn the age-old traditional coppersmith trade, part of the whisky industry. 18-year-old Rebecca Weir has not been put off by gender stereotypes as she takes up her exciting new apprenticeship. Coppersmiths have used the same tried and tested methods for centuries to make the famous stills which are at the heart of Scotch whisky distillation.
At Diageo Abercrombie in Alloa, Clackmannanshire, Rebecca and the other apprentices will learn the art of hand-beating copper sheets and then welding them into whisky stills. They will also be trained in computer-aided design techniques – allowing them to blend new and innovative skills with hand-craftmanship.
Traditional copper pot stills are an integral part of the Scotch Whisky production process. Every distillery in Scotland has different shapes and sizes of stills, and this plays a crucial role in creating the different characteristics of the spirit produced at each distillery. Copper stills gradually wear out during the distillation process, with sections having to be replaced periodically. This means that each still or section of still produced at Abercrombie has to be precision-crafted to ensure it exactly matches the still or section it is replacing. Hand-crafting with large wooden mallets and hammers remains at the core of the coppersmith's art.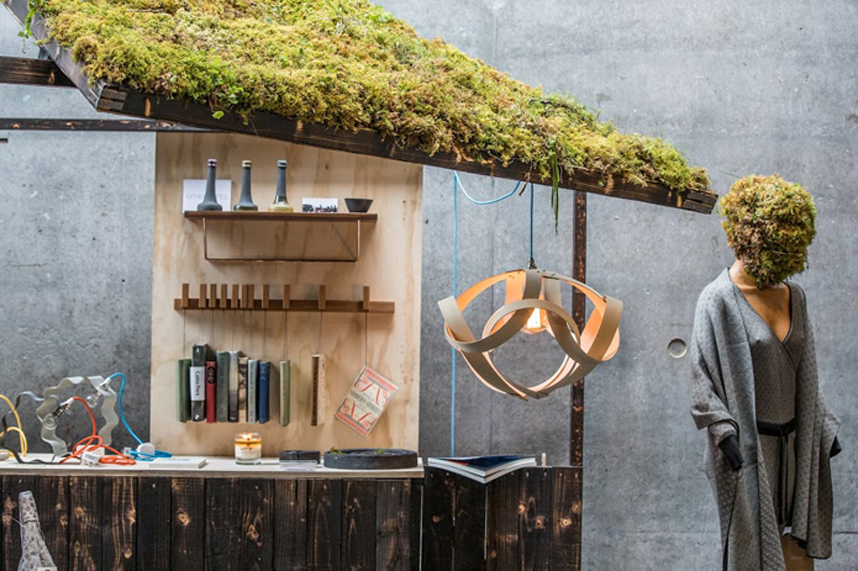 SHIFT brings Scotland and Iceland makers
Fantastic news! Emergents have received funding from Creative Scotland's Open Project Funding to support SHIFT: a new collaborative design project between Scottish designer/makers and their Icelandic counterparts. You can read more about the first SHIFT cohort in The Craft Edit: June.
Pamela Conacher, Director of Emergents said: "This is a fantastic opportunity for Highlands and Islands makers to work with their Icelandic collaborators to develop new ways of working, create new work and share challenges and processes."
Creative Scotland's Open Project Funding supports the arts, screen and creative industries, with projects that help them explore, realise and develop their creative potential, widen access to their work, and enrich Scotland's reputation as a distinctive creative nation connected to the world.
If you would like support to make your craft project happen, why not check out the guidelines to see if you can apply to Creative Scotland's Open Project Funding.
Share your news!
We're always on the lookout for the latest in Scottish craft news. If you have any stories you would like to share, send them to hello@craftscotland.org.