The Craft Edit is your monthly insight into Scotland's thriving craft sector. Hear all the latest news from awards and funding, to artist residencies and special collaborations.
---
John Byrne Award celebrates Scotland's finest makers
Winners of the John Byrne Award were announced at the awards ceremony held at Central Hall, Edinburgh on Saturday 7 March 2020.
Each of the six categories, as well as for the John Byrne Annual Award of £7,500, were selected by John Byrne Award staff and panel of judges including Innis & Gunn and Edinburgh Napier University. From the 2000 entries, submitted from 1 February 2019 to 31 January 2020, twenty-one were shortlisted, among which three makers.

Recent Edinburgh College of Art graduate, Jasmine Linington was nominated for the Award for Innovation, presenting a new idea. Her piece explored whether seaweed could be created into desirable textiles and contribute to a more environmentally friendly textile industry. Jasmine creates luxury textile pieces woven from seaweed fibres, exploring the sustainable material as an alternative fibre, embellishment and dye, to combat fast fashion. Earlier last year, Jasmine received the Craft Scotland Graduate Award 2019/20, created in 2018 to raise the profile of undergraduates who work in a craft discipline that Craft Scotland support.
The Award for Positivity celebrates artists that inspire positivity and optimism. Juli Bolanos-Durman, who was one of three artists to be nominated for the awardin the category, is known for facilitating the transformation of waste material and reimagining perspectives with hope. Her Wild Flowers collection comprises of found and blown glass, transformed through heritage hand-cutting techniques.
Maker Pinkie Maclure received the Award for Skill and Artistry, for exhibiting exceptional skill and technical execution in any medium. Her winning stained glass piece titled Are Pills For Ills, Or Ills For Pills? raises awareness of the dangers of drug addiction. Pinkie took the medium of stained glass to tell stories, tackle thought-provoking and contemporary subject matter, and link the characters of the past with my her own neighbours and adversaries. She creates bespoke lightboxes and architectural glass, incorporating clients' personal stories as well as her own interpretations of poetry, music and literature.
The John Byrne Award champions creativity and curiosity, accepting entries of any creative work, 365 days a year, from everyone over 16 year olds living or studying in Scotland. They award annual and quarterly prizes (£7500 and £500) to the most reasoned, constructive, and compelling entries, and exhibits all entries on their official website.
UKFT grant awarded to young Scotland-based weavers
Three young weaving technicians have received in-depth training through UKFT's young textile technician fund, allowing more flexibility and new capabilities at Bute Fabrics.
Craig McKay, a 19-year old sample warper, Sean Hannah, a beamer and warper aged 25, and Stephen Reynolds, a tuner aged 27 received three days of training from German machinery manufacturer Groz-Beckert at the Bute Fabrics factory on the Isle of Bute. The training was focused on the Super Vega healding machine, which allows an empty loom to be set up for the new warp, before the new warp has been made, allowing for a faster turnaround.
UKFT secured support from The Worshipful Company of Clothworkers, The Worshipful Company of Drapers and The Worshipful Company of Weavers to match-fund 50% of the costs of in-depth training for young textile technicians.
UKFT's scheme builds on the success of other match-funded technician training programmes and is open to companies with textile technicians under the age of 30 across the UK.
Originally established by the 5th Marquess of Bute in 1947, Bute Fabrics provided employment for ex-servicemen and women returning home at the end of the Second World War.
Based on the Isle of Bute in Scotland, Bute Fabrics produces a wide range of naturally-inspired yet technically-advanced fabrics, which are sold around the world. The company works with contemporary interior designers, architects, furniture manufacturers, and product designers.
The firm weaves custom bespoke fabrics for leading contract wholesalers in the US, and exports its products to Japan, Australia and Scandinavia, as well as within the UK and Europe.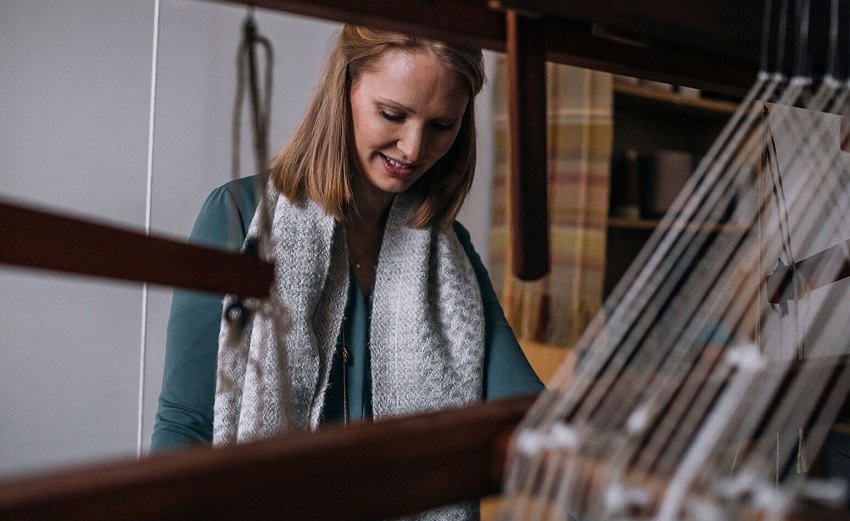 Image: Araminta Campbell / Photographer unknown

Edinburgh-based textiles nominated as one of Walpole's Brands of Tomorrow

Araminta Campbell, a luxury textiles company based in Leith, Edinburgh, has been selected as one of the Walpole's Brands of Tomorrow programme.
This prestigious programme, in association with Mishcon de Reya and Coutts, offers UK-based brands the opportunity to learn from experts in British luxury, and to benefit from the many connections and insights they offer. These are brandsThe selected brands operate with a turnover of under £5 million that will pioneer growth, export goods and services, create employment and drive innovation in luxury for the coming decades.
Araminta attended the launch party at Ennismore Sessions House in London on 27 February 2020, along with 11 other aspiring luxury brands selected for the programme.

Bringing together inspiration from nature, carefully sourced natural fibres and meticulous craftsmanship, Araminta Cambell marks a return to textiles that are rooted in people and place. From their handweaving studio in Leith, Araminta and her small team create luxurious handwoven accessories and interiors, custom tweed and tartan inspired by the Scottish landscape.

Founded in 2007, Walpole's Brands of Tomorrow has helped develop and nurture over 100 emerging luxury brands through a 12-month programme of networking, workshops and mentorship, and has proudly seen them become leaders in their respective fields.
Hamilton & Inches invests in the future of Scottish jewellery
High-end jewellers, Hamilton & Inches has helped further the future of craftsmanship in Scotland by continuing to invest in apprenticeships and training.
Jenna Watson, Paul Kirkos and Dario Batzella have all successfully passed a series of traineeships and apprenticeships, recognised at the Edinburgh Assay Office – part of the Incorporation of Goldsmiths, in early February.
Jenna Watson completed her traineeship within the goldsmith workshop, where she developed her skillset under Hamilton & Inches' master jeweller Chay McClory. Dario Batzella, following his studies at the Italian Mint in Rome, achieved his traineeship in engraving within the silver workshop, overseen by master engraver Ruaridh Malcomson.
The three students have already made an impact within Hamilton & Inches, designing award-winning pieces and creating new collections, including contributing to the world's first collection of 22ct Scottish Gold fine jewellery. Their achievements demonstrate Hamilton & Inches' commitment to showcasing Scottish craftsmanship as well as highlighting the importance of provenance and sustainability.
The Incorporation of Goldsmiths of the City of Edinburgh has been in existence since before 1492 and received its Royal Charter in 1687. Items of gold, silver, platinum and palladium are given the famous Edinburgh Castle hallmark, which has been used since 1485 and is recognised around the world. Based on George Street since 1866, Hamilton & Inches has maintained its own silver workshops since their inception and has held a Royal Warrant as silversmiths for more than 120 years.
Image: Claire Henry / Photography by Aimi Gallego
Claire Henry tableware for East Coffee Company
Glasgow-based East Coffee Company are now using tableware from maker Claire Henry.

Claire Henry is a small-batch production potter based in Scotland. With a nod towards mid-century Scandinavian design, Claire throws forms with a speckled stoneware clay on an electric wheel. Her pieces are minimal in their shape and profile, drawing from forms by Lucie Rie and Giorgio Morandi, and taking inspiration from Scotland's ever-changing landscape. Each piece is thrown, trimmed, and glazed by hand, where slight variations of shape and colour are celebrated.
Her work can be found in private collections in the UK, South Korea, Europe and North America.

Thrown from a speckled white stoneware clay developed in the UK, the tableware has warm, rustic undertones. Designed with strength and durability in mind, the pieces are made for everyday use.

Claire has collaborated with several independent restaurants including 27 Elliott's in Edinburgh, East Coffee Company in Glasgow, and has thrown all the tableware and vessels found in Glasgow's Southside cafe Short Long Black - a place that also stocks a selection of her pottery.

Learn more about craft this month:
---
Share your news with Craft Scotland. Email a press release and high-quality photography to hello@craftscotland.org.