The Craft Edit is your monthly insight into Scotland's thriving craft sector. Hear all the latest news from awards and funding, to artist residencies and special collaborations.
---
Jeweller Ebba Goring appointed Director of The Incorporation of Goldsmiths
The Incorporation of Goldsmiths of the City of Edinburgh has appointed jeweller Ebba Goring as its new Director. Ebba aims to continue the Incorporation's work to promote ethical gold and silversmithing.
Before joining the Incorporation, Ebba was a self-employed jeweller working in recycled precious metals and was a member of the Fairtrade Goldsmith Scheme. After graduating with a Jewellery and Metal Design Honours degree from Duncan of Jordanstone College of Art and Design, her bespoke fine jewellery pieces have been purchased by clients around the world.
In addition to taking commissions at her studio and selling online, Ebba stocks at galleries and boutiques in the UK, USA and Japan.
Ebba's work is inspired by a love of traditional needlework and a passion to translate textile skills that have been handed down through generations, into a new material that will preserve them forever.
Her latest collections draw on her fascination with historic jewellery, costume and textile motifs, especially from the Jacobean and Elizabethan eras.
Ebba was previously the Incorporation's Programmes Manager and delivered November 2019's fifth annual Elements festival, as well as leading on the organisation's Ethical Making Programme and educational projects. She has taken over the role of Director from Mary Michel, who was appointed in 2012 and drove The Incorporation to make Scotland a world-leader in ethical gold and silversmithing. Mary also founded Elements, Scotland's festival of gold, silver and jewellery, which is run with Lyon & Turnbull fine art auctioneers.
The Incorporation has championed jewellers and silversmiths, and protected consumer rights since the 15th century. Today, it promotes silversmithing and jewellery across Scotland and trades as the Edinburgh Assay Office, which has been hallmarking goods since 1457.
100 makers to open their doors for May bank holiday
Every year, up to 100 professional artists and makers open their studio doors over the late May bank holiday weekend, offering visitors the chance to get behind the scenes of artistic practice.
Now in its 18th year, Spring Fling Open Studios 2020 is highly regarded as one of the UK's most successful contemporary visual art and craft events. The annual event features 87 studios, spanning 6 routes across our magnificent region from Drummore in the West, to Sanquhar in the North, and Eskdalemuir in the East.
Makers can demonstrate and explain their processes and inspirations, plus, visitors have the opportunity to buy a piece of art direct from the artist. Clare Dawdry, Amanda Simmons, Morag Macpherson, and Daniel Lacey are among the 100 makers opening their doors. See the full list.
In addition to the core event, over the Spring Fling weekend visitors can enjoy a number of projects such as EDGE, Spring Fling Rural Mural (SFRM), Spring Shows, plus, a series of local, national and international exhibitions. Visitors can also travel between studios the green way on one of the Spring Fling Bus Tours.
All studios will be open daily 10.30am to 5.30 pm on Saturday 23 to Monday 25 May 2020 with some studios offering evening openings.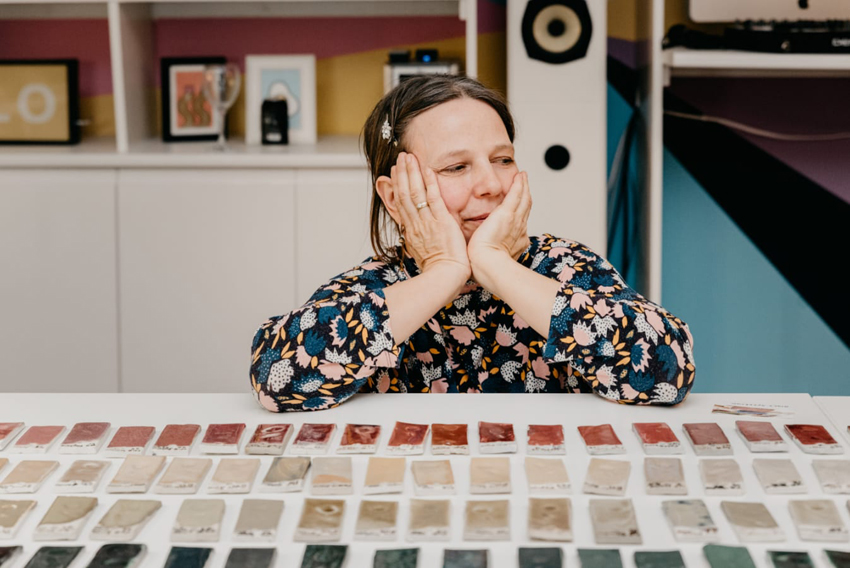 Image: Helen Partridge Love with Glaze Spectrum / Image courtesy of Glaze Spectrum
Scottish craft on display at new Aberdeen Art Gallery
Aberdeen Art Gallery has reopened after major refurbishment and features an array of work from Scotland-based makers, highlighting the sheer skillset of the sector.
Glaze Spectrum is a reference library of natural glazes, created for ceramicists, artists and students. The library includes 456 tiles, over 240 unique glazes, plus oxides and base glazes, carefully curated by ceramic technician Helen Partridge Love.
In early 2017, Helen was asked by Aberdeen Art Gallery to make a library of ceramic glaze test tiles for the wall of their applied arts section. In response, Helen challenged herself to make the brightest spectrum possible using 8 common metal oxides and no commercial stains.
Two versions of this glaze library of test tiles can be viewed in person. One is on the wall of the ceramics workshop at Gray's School of Art, where all the glaze tests were mixed in their glaze lab and fired in their kilns. The other is on display to the public in Gallery 5 - Crafting Colour.
Collaborating with creative agency Design and Code, the data Helen collected over the years was transformed into this digital resource. Helen hopes this teaching tool will draw people into the world of glazing and that they will begin to understand the chemistry and experiment themselves.
Other work from Scotland's finest makers on display includes Naomi Mcintosh, Anna Gordon, and ceramicist James Rigler. His sculptural piece, Primitive Form, is now a permanent installation at the entrance to the Cowdray Hall concert venue. Borrowing from a range of styles, from ancient Greek temples to the Italian renaissance and neo-classicism, the sculpture remixes the art gallery's architecture. This eye-catching piece, which draws visitors into the new gallery, was specially commissioned by the Friends of Aberdeen Art Gallery & Museums.
The Friends of Aberdeen Art Gallery & Museums is a non-profit Registered Charity which provides support and contributions to Aberdeen Art Gallery & Museums, its collections and activities. Aberdeen Art Gallery is the main visual arts exhibition space in the city of Aberdeen, open daily Monday to Sunday at various times.
New e-book exploring metalwork available to download
A comprehensive e-book exploring metalwork in Britain has been published.
Making Form details the revival of British fine metalwork by designer/makers dating back to the 1970s, and explores silversmithing and blacksmithing processes seen throughout this time period. There are illustrations and discussions of work by the following makers; Adrian Hope, Malcolm Appleby, Michael Job and Black Ox Arts, Michael Lloyd, Stephen Bottomley, Sarah Hutchinson and Norman Cherry.
With help from former Director Mary Michel and Archivist Elspeth Morrison of The Incorporation of Goldsmiths, the book was released on Thursday 17 October 2019.
The book launch was held at the School of Jewellery at Birmingham City University. The event saw authors Kenneth Quickenden and Lee Hewett, as well as prominent metalworkers, discuss the publication. Kenneth was previously the Head of the School of Theoretical and Historical Studies, as well as a Research Professor at Birmingham City University. Lee is an artist, lecturer, and researcher based at Birmingham School of Art. He is currently undertaking a PhD at the Royal College of Art.
Priced at £4.99, you can purchase the book on iBooks or download a PDF sample of the book through the Making Form website.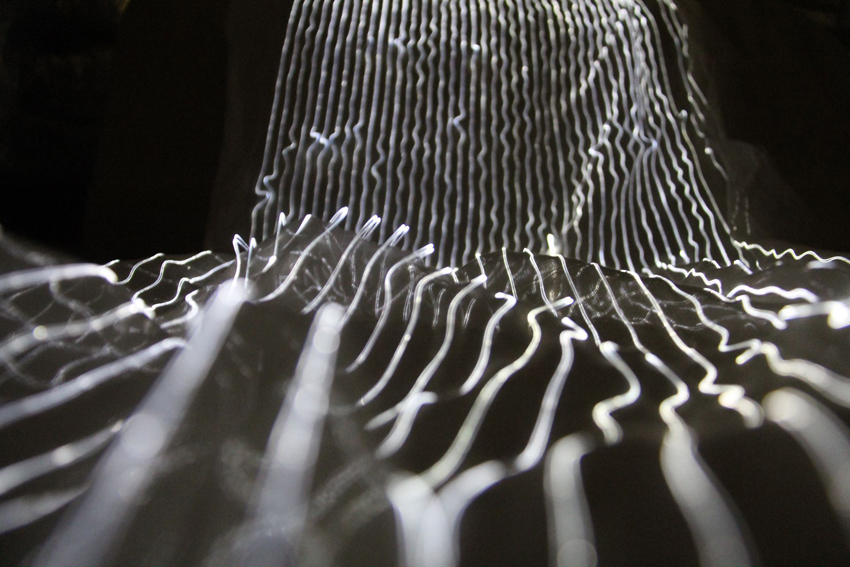 Sarah Taylor's light-emitting textiles project with MYB Textiles Ltd / Image courtesy of Textiles Scotland
Weavers awarded for contribution to Scottish Industry
Earlier this month, makers from across Scotland were awarded for their contribution to Scotland's prominent textiles industry by the Master Court of The Incorporation of Weavers of Glasgow.
To maintain its links with the modern textile industry, the Incorporation of Weavers takes a keen interest in the support of makers likely to contribute to Scotland's innovative textiles industry.
The following makers were awarded at the Deacon's Choosing Dinner, held on Friday 14 February 2020:
Most Innovative Textile or Fabric: Sarah Taylor
Best Newcomer to the Weaving Industry: Mariam Syed and Caitlyn Blair
Lifelong Service to Weaving: Margaret-Anne Speirs and James Donald
Best New Woven Fabric: Jenny Smith (1st place), Ailis Dewar (2nd place) and Rachel Evison (3rd place).
Craft Scotland Director Irene Kernan took part in the selection process of the Industry Awards, alongside Design Director Margo Graham (MYB Textiles Ltd), textile designer Stacey Keen (Alex Begg), Managing Director John Glen (Bute Fabrics Ltd) and Design Manager Louise Sullivan (Johnstons of Elgin).
The Weavers of Glasgow date back to the Middle Ages, when members of the craft were those entitled to make and sell woven clothes within the ancient burgh. The craft became incorporated by a charter from the famous Archbishop Gavin Dunbar as feudal lord of Glasgow in 1528, however, it is known to have been in existence as far back as 1514.

Learn more about craft this month:
BBC iPlayer: Aramintina Campbell on Escape to the Country
The Sunday Post: Hell for Leather
Fife Contemporary: Products created by carers in Fife, working with Fife-based artists
Deadline: Arts and Crafts textiles celebration to showcase magnificent Cape of Clouds
The Herald: Dundee textile firm creates jobs in sustainable fabric production drive
The National: Marchmont House hosting a '21st-century' celebration of textiles
The List: SSA | VAS Open 2019
The Herald: Glass work sold to help Australia bush fire victims
Glasgow Lives: Chris, 43, west end, furniture and cabinet maker
BBC News: The makers behind the vegan-friendly kilt
Ingrained Culture: Scotland-based maker unveils First World War Centenary Memorial
Insider: Tech entrepreneur builds a haven where artists and makers can preserve connection to the past
---
Share your news with Craft Scotland. Email a press release and high-quality photography to hello@craftscotland.org.