Here's the second half of our two-part series about the Craft Scotland Graduate Award 2019/20. We talk to textile designer Jasmine Linington (Edinburgh College of Art) and ceramicist Alison Thyra Grubb (Gray's School of Art), about sourcing seaweed to produce sustainable textiles, and the relationship between clay and digital printing.
The Craft Scotland Graduate Award launched in 2018 to raise the profile of undergraduates who work in a craft discipline that Craft Scotland support. Discover more about the award on the Craft Scotland Graduate Award project page.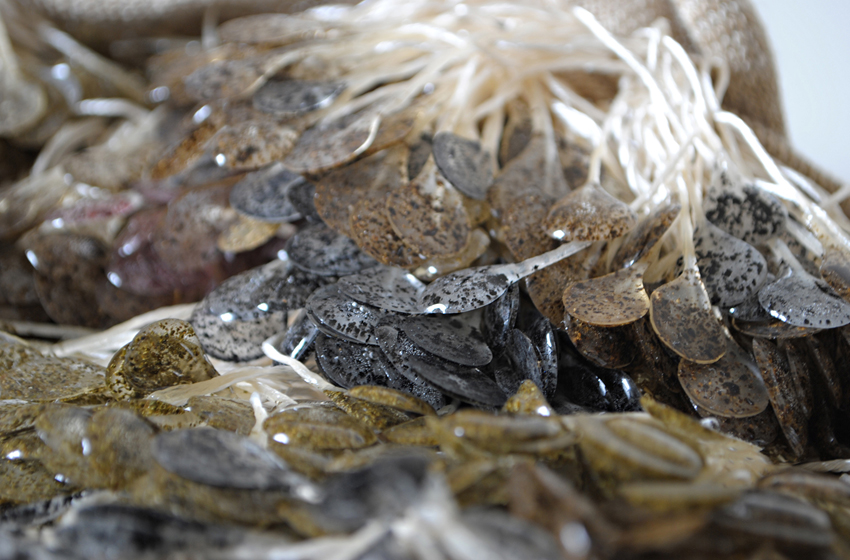 Jasmine Linington / Image by the artist
Jasmine Linington (Textiles, Edinburgh College of Art)
Jasmine Linington is another maker concerned by the devastating environmental impacts of the fashion and textile industries, a theme we explored with Craft Scotland Graduate Awardee Claire Frickleton in the first half of this series.
This commitment motivated Jasmine to learn more about seaweed, a sustainable material that she uses as an alternative to synthetic textiles within her work. With an inquisitive and explorative approach to her practice, she has been experimenting with a variety of seaweed species foraged from beaches close to Edinburgh. Exploring the material as a fibre, natural dye and as an embellishment piece, seaweed is a sustainable and versatile resource.
"I felt it was important for my degree show to display not just the textiles, but also the journey and process to get to the final collection too. Jars of seaweed were displayed to show a small variety of the species foraged from the east Lothian coastline, as well as a map showing the beaches."
Mindful of harvesting seaweed correctly, sustainably and legally, Jasmine has obtained a small-scale seaweed harvesting licence that gives her access to harvest this material from some beaches along the East Lothian coastline.
"I am very lucky, as my practice involves lots of trips to the beach to forage for seaweed, as well as constantly looking for new forms of inspiration while I am there."
Staying true to her values, Jasmine aspires to make beautiful, timeless textiles that are treasured forever. Her innovative, luxury textile pieces and fabrics are created through digital and hand embroidery techniques and have been naturally dyed and embellished with seaweed. Speaking about her course, Jasmine said:
"The wonderful tutors really pushed and nurtured my creativity and my thought process, in the sense that they are incredibly encouraging towards material exploration and experimentation with very much of a can-do attitude."
Since completing her Master of Fine Arts in Textiles at Edinburgh College of Art, Jasmine has been busy setting-up her Edinburgh-based studio. She is currently developing unique, sustainable alternative products for customers and clients, offering bespoke textile pieces along with interior artwork and wall-hangings. Jasmine also joined the cohort for COMPASS: Next Generation Programme 2019.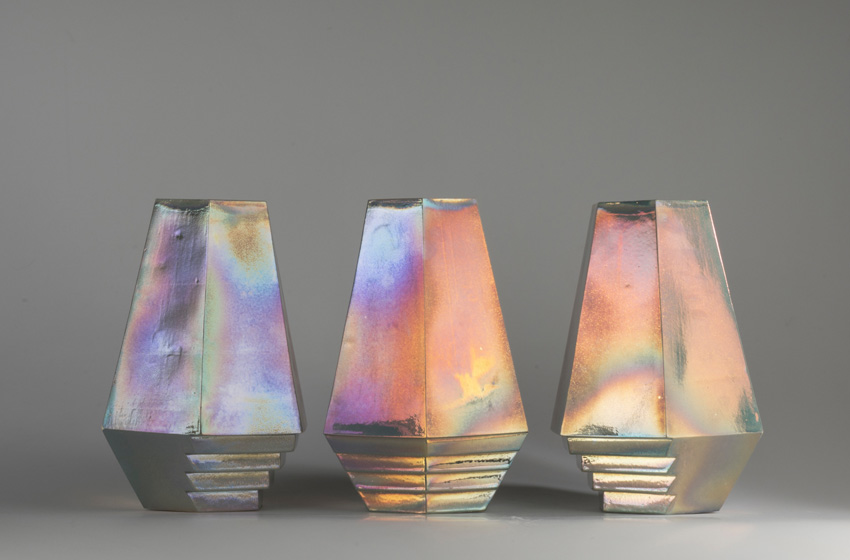 Alison Thyra Grubb / Image by the artist
Alison Thyra Grubb (Ceramics, Gray's School of Art)
After working in retail and administration for several years, and being made redundant, Alison Thyra Grubb decided to follow her creative passion to attend art school. It was at Gray's School of Art that she discovered her love of ceramics.
Currently based in Aberdeenshire, Alison creates geometric slip cast ceramics with lustre glazes. Her practice combines the precision of 3D printing technology with the unpredictability of in-glaze lustres to create iridescent vessels. These glazes are reduction fired in a gas kiln and give different results each time, making each piece unique.
Using digital technology is a huge part of the design process, as the models for her pieces are 3D printed. Alison creates the plaster moulds in precise geometric forms for slip casting, resulting in an exact replica of the 3D print in clay. To further define her process, she prints her own tools in order to make the mould-making process more efficient.
"I see these marks left by the machine as a kind of digital fingerprint and I only sand certain surfaces on my forms to try to emphasise these textures."
Since graduating, Alison has taken up a residency at Gray's School of Art creating layered textured pieces using a base glaze recipe and experimenting with adding various oxides. She aspires to set up her own ceramics studio in Aberdeenshire and continue to develop lustre glazes.
"My residency is giving me the opportunity to get more experience with teaching as I hope to provide creative workshops for children and young people in the future. As a Brownie leader I have led ceramics workshops with children in the past and it is wonderful to see how creative and excited the girls get when given a lump of clay to create anything they want."
Alison recently joined the inaugural cohort for COMPASS: Next Generation Programme 2019, our learning and development programme for makers at the start of their career. She is continuing to work on making vessels inspired by bismuth.
---
In the first half of our series, we learned more about silversmith Harriet Jenkins (Glasgow School of Art) and textiles designer Claire Frickelton (Duncan of Jordanstone College of Art and Design). Read it here.
We look forward to seeing what's next from the talented makers. You can keep up-to-date with the progression of their practice over the next year on our Craft Directory, and visit our project page to learn more about the prestigious award.