Welcome to The Craft Edit, where we bring you an insight into what's going on within the craft sector in Scotland.
Andrew Lamb wins prize at Goldsmith's Fair for Vortex Brooch
Aberdeen-based jeweller Andrew Lamb (above) was awarded the accolade for Best New Design during week two of Goldsmith's Fair which ran from September 25 - October 7. His piece Vortex Brooch was described in Benchpeg by Joanna Hardy, jewellery specialist and Antiques Roadshow regular, who selected the award:
"This for me is craftsmanship of the highest calibre. Andrew Lamb is a goldsmith that keeps pushing his boundaries as a goldsmith...This is an antique of the future without any doubt."
Inspired by illusion and the mesmerizing effects of optical art, Andrew combines fine lengths of 18ct gold and silver wire to construct sculptural, three-dimensional jewellery. He now exhibits and sells his award-winning jewellery worldwide, with work featuring in prestigious public collections in the UK and abroad. Andrew Lamb graduated from Edinburgh College of Art in 2000, completing his Masters at the Royal College in 2004.
Goldsmiths' Fair is internationally-renowned as the premier UK showcase for contemporary jewellery and silver. Didn't make it? You can listen to all the talks from the event with The Goldsmith's Company podcast series.
Spotlight on ceramics with National Museum of Scotland revamp
In Spring 2019, National Museum of Scotland will reveal the final chapter in its 15-year transformation with the launch of three new galleries: Art of Ceramics, Ancient Egypt Rediscovered and Exploring East Asia. The vision for this ambitious project was to transform visitors experience, restoring the Grade A listed 19th-century building to its former grandeur whilst improving accessibility and creating new public spaces.
Celebrating the versatility of ceramics, the new gallery Art of Ceramics will highlight ceramics' creative potential across art and science around the world. Pieces on display will range from the 11th century to the present day, highlights include ancient Greek pottery and an earthenware figure by contemporary Dundee-based ceramicist Stephen Bird. The gallery will also feature examples of alternative uses of ceramics, including scientific applications such as false teeth from the 19th-century. The Art of Ceramics gallery was enabled by generous funding from the Sir James Miller Edinburgh Trust.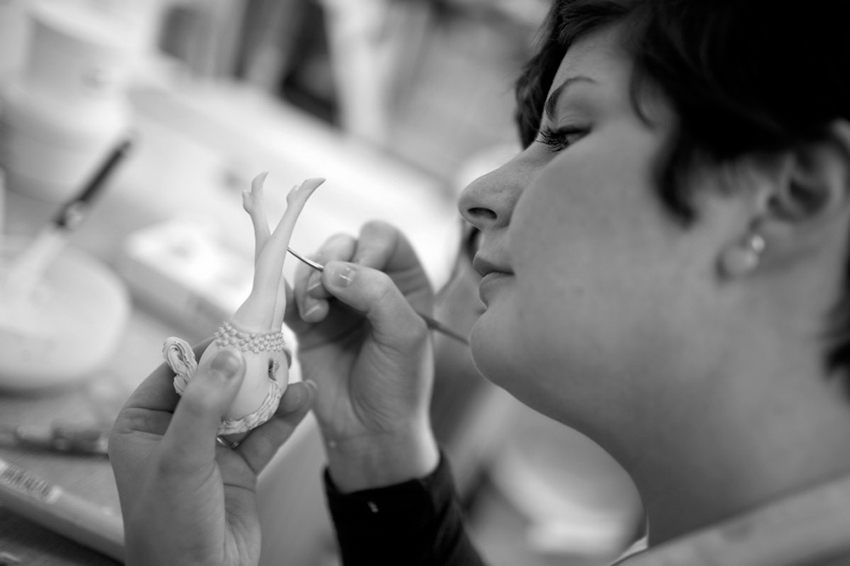 Rebecca Wilson | Photography Unknown.
Creative Scotland funds two international craft projects
Great news for the craft sector, two makers have been selected for Creative Scotland's Open Project Funding for August 2018. Ceramic artist, Kevin Andrew Morris has received funding to undertake a residency and attend a symposium at the International Ceramic Research Center, Denmark. This project will encourage international knowledge exchange within crafts and investigations for the future development of ceramics.
Ceramicist and jeweller Rebecca Wilson (above) was granted funding to facilitate the creation of new works for the Sieraad Art Jewellery Fair, a renowned international jewellery fair for wearable art, in Amsterdam in November 2018.
Artists, groups, and creative organisations can apply to Creative Scotland's Open Project Funding for money to support them in their artistic or creative projects.
Music meets craft at the SAY Awards
Finalists of the prestigious Scottish Album of the Year (SAY) 2018 were presented with a bespoke piece of textile art at the award ceremony in September 2018.
Internationally acclaimed musicians and some of Scotland's most exciting breakthrough artists gathered in Paisley last month to attend SAY Awards 2018. Following on from two previous collaborations, the Scottish Music Industry Association (SAY Awards organisers) worked with InCube, a support hub for creative businesses in Renfrewshire, to find a unique design for this year's prize commission.
Geri Donnelly, founder of Obsidian Ore, was the winner of SAY Design Commission for the artists' prizes, each piece featured a soundwave from a song on each artists' shortlisted album. Combining different fabrics and threads together to create ten pieces of unique artwork, Geri was inspired by Paisley's rich textile heritage and the iconic Paisley Shawls.
Hilary Goodfellow, Campaign Producer for The SAY Award said:
"The SAY Design Commission recognises the enduring links that exist between the fields of music, art and design in Scotland, and it was a real pleasure to again partner with InCube whose incubators continue to constantly innovate. Judging the submissions was really difficult as the standard was so high, but we all felt that Geri's prizes are a fantastic creative response to the brief."
---
Share your news with Craft Scotland. Email a press release and high-quality photography to hello@craftscotland.org.