The Craft Scotland Conference 2018 - New Ways of Seeing, brought together makers, curators and craft enthusiasts to get inspired, make connections and share knowledge. Here craft curator, consultant and writer Tina Rose provides her insight into the two days of discussion facilitated by an amazing line-up of speakers.
Materiality is a very fashionable word right now and this has led to craft discussions often only focusing on materials and the process of making. What is frequently excluded or forgotten is what beats at the very heart of craft which is the idea and emotion that inspired the maker to create the object.
What led them to create this particular object in this way and with these materials? This is what makes craft so moving and engaging and it shone through at the Craft Scotland Conference 2018 - New Ways of Seeing, guest curated by Rose Watban.
At first, this appears to be a relatively simple theme, however, each speaker had been allowed to interpret it in their own way. The openness of inviting them to discuss this from their viewpoint allowed different perspectives and layers to emerge.
It was fascinating to consider the different ways makers see materials. Artist Michael Brennand-Wood discussed the inherent qualities of textiles, saying:
"Apart from your mother's skin, fabric is the first texture we come into contact with, it's almost primal."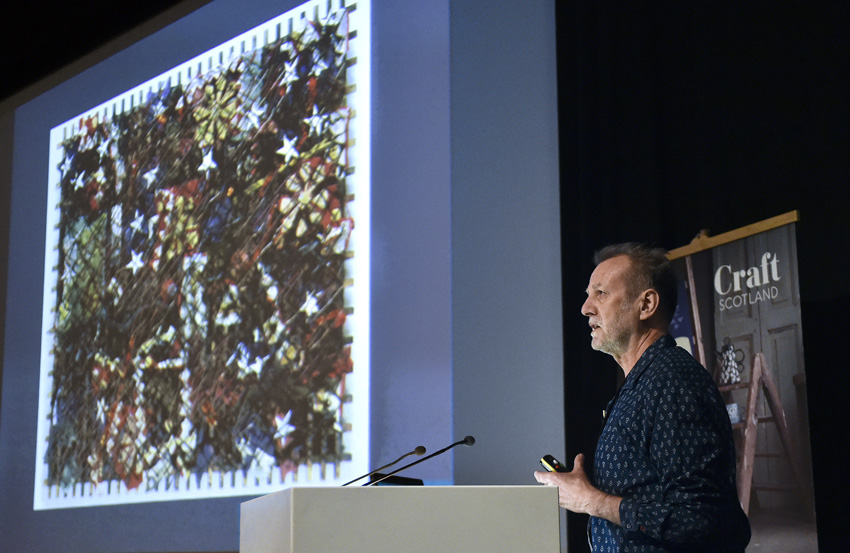 Michael Brennand-Wood discusses the medium of textiles at the Craft Scotland Conference 2018 - New Ways of Seeing / Photography by Neil Hanna
Working with different textiles to create his own visual language, Michael describes himself as an explorer with ideas coming from the history and context of the material and the work that has previously gone into creating it.
Metalsmith Adi Toch explores surface and different colouring techniques to create extraordinary effects on metal and describing her vessels.
"They actually take in and also give which makes them quite human." - Adi Toch
She is curious about the life of the objects she makes, treasuring the time when she makes it but then seeing the object as having a whole life without her which for her is quite a special thing.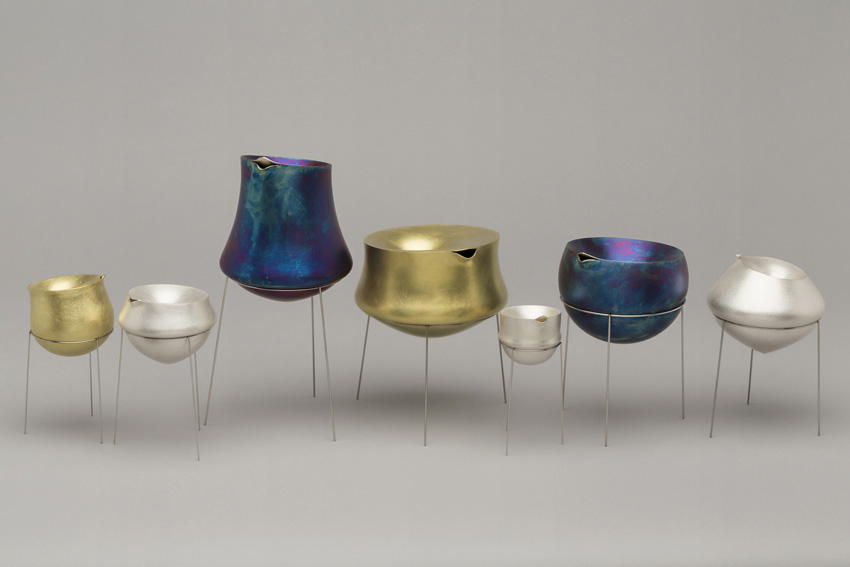 Adi Toch Talk To Me Vessels on Stilts 2017 / Photography by Sylvain Deleu
Each of the makers talked about their journey into craft and how materials became their way of self-expression. For almost every maker the starting place for this journey was their family, childhood or heritage. Artist and furniture maker Yinka Ilori talked about growing up in a London community as part of a Nigerian family and struggling to fuse the cultures together. Love for colour, print, unity, happiness and memories of Nigerian parables, come from his childhood experiences and now inform and inspire his brightly coloured re-cycled furniture installations.
"No matter how long the neck of the giraffe is; it still can't see the future." – Nigerian parable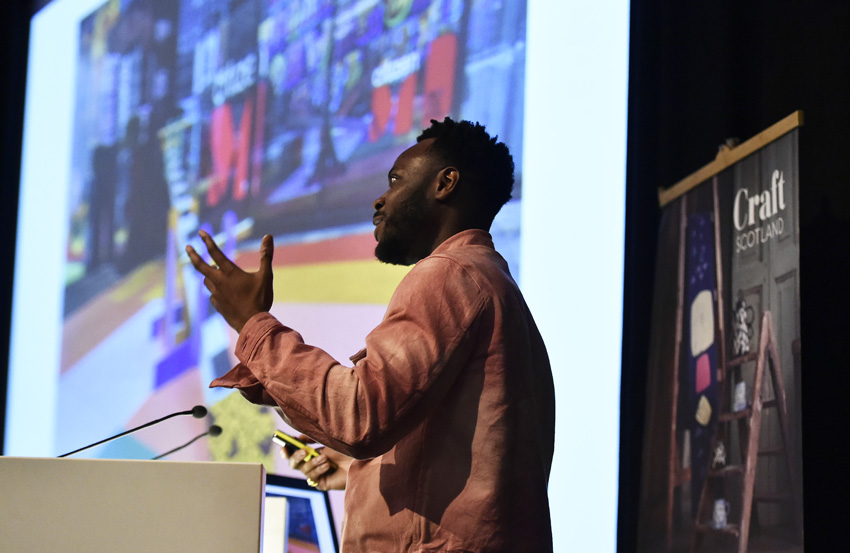 Yinka Ilori speaking at the Craft Scotland Conference 2018 - New Ways of Seeing / Photography by Neil Hanna
Yinka Ilori - Do Good Because of Tomorrow at Milton Keynes Art Centre 2016 / Photography by Andy Stagg
Animals have a special place in the work of jeweller Felieke van der Leest and she talked about the experience of growing up in the Dutch town of Emmen where there was no art gallery or museum, but there was a zoo, so it was normal for her to see elephants and giraffes.
Curator Ben Divall was drawn to textiles through his experience as a child when he remembers watching an enormous Swedish floor loom arrive at his home. He now designs with Rosie Kavanagh as Kmossed, creating one of a kind digital printed hand-loomed scarves.
Identity and gender also emerged several times as an influence. Jeff Zimmer, who moved from USA to Scotland, talked about how being an outsider when arriving in new places and his growing awareness of his sexual identity together influenced his practice as a glass artist. His dramatic multi-layered glass paintings convey luminous dark landscapes wherein a beautiful sky a drone flies as a prick of the conscience.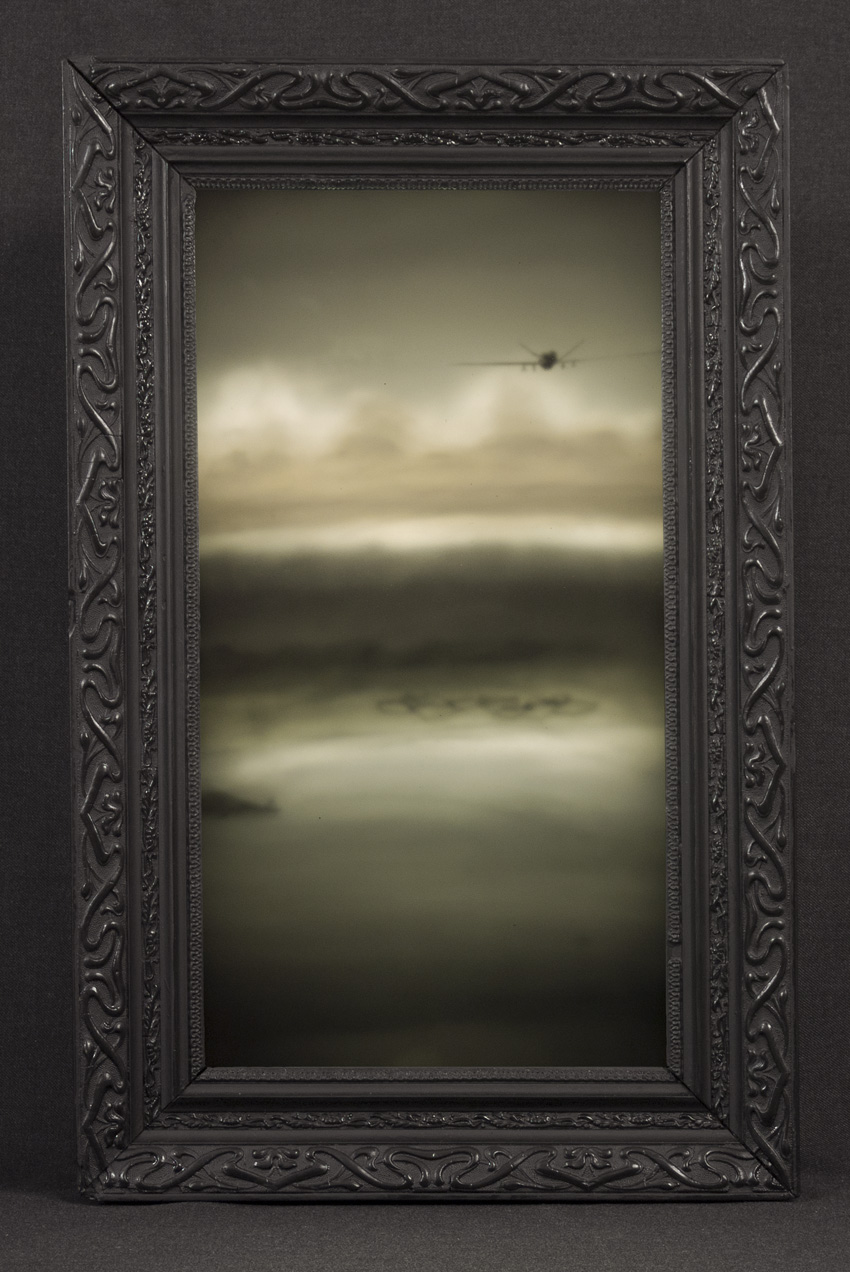 Jeff Zimmer Disconnect Between Action and Consequence (Drone 1) 2013 / Photography by Jeff Zimmer
As well as considering what has influenced and inspired their way of seeing the world, makers spoke about the impact they want their work to have on other people. Some want to make them smile and enjoy wearing it, others use humour to engage audiences or to start a conversation about topics that are not easy to discuss. Then there are the subversive craft objects with hidden messages which look comfortable but are not when viewed more carefully.
Sarah Kettley, Head of the School of Jewellery and Design at Edinburgh College of Art discussed using new technology as a material in itself with a person-centred approach to bring together interactive craft with wellbeing and mental health.
In his presentation, Lars Sture, curator at Norwegian Crafts talked about the Pile o'Sápmi by artist Máret Ánne Sara which was created as a protest and a symbol of the Norwegian government's forced slaughter of reindeer belonging to indigenous Sámi herders in Finnmark. She created the original work as an installation of 200 reindeer heads outside the Inner Finnmark District Court when her brother brought a case against the Norwegian government. A photograph of Pile o'Sápmi Supreme, a hanging curtain featuring 400 reindeer skulls, was shocking and unforgettable.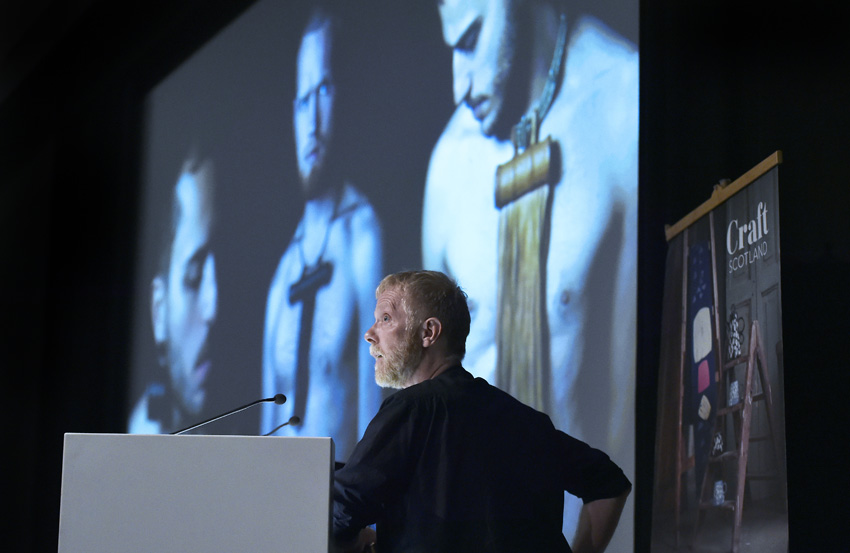 Lars Sture speaking at the Craft Scotland Conference 2018 / Photography by Neil Hanna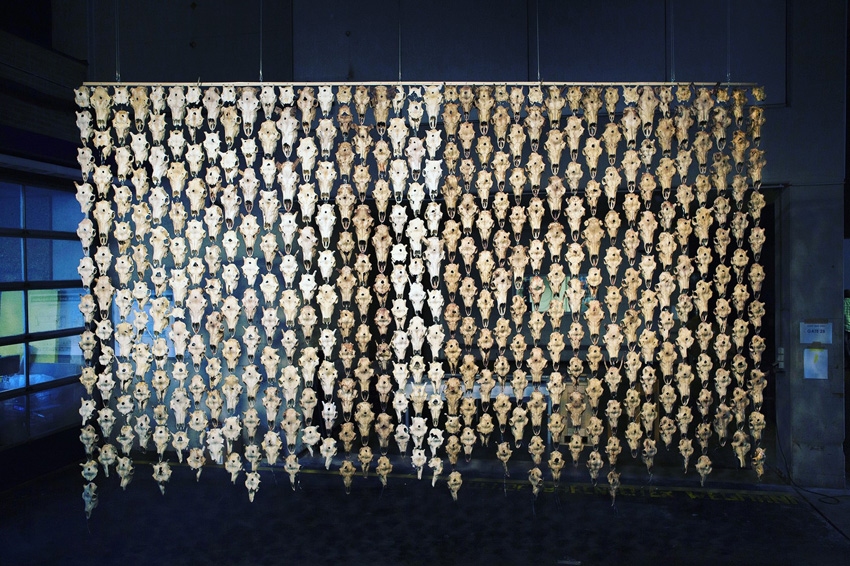 Pile o'Sápmi at Documenta Maret Anne Sara 2017 / Photography unknown
The link between politics and craft came up in various contexts during the conference. Scottish textile artist Jilli Blackwood shared her experience of designing the uniform for the Scottish team to wear at the 2014 Commonwealth Games and the challenges she faced over her interpretation of a national identity. Lars Sture talked about the danger of budget cuts in museums and collections being transferred potentially restricting specialist knowledge of craft and curatorial investigation.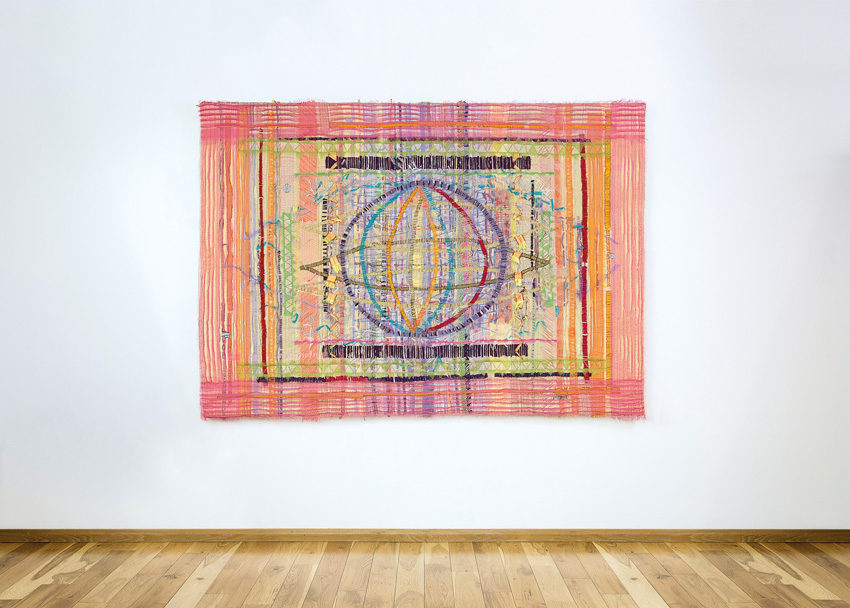 Jilli Blackwood Rhythm on display at the Beatson West of Scotland Cancer Care Centre, Glasgow / Photography unknown
The impact of policy on the programming of exhibitions in museums was mentioned by Celia Joicey, Director at the Dovecot Studios. She also discussed the importance of people writing about craft and design and her hopes for future exhibitions of Scottish textiles.
It had been apparent at the beginning of the conference that curator Rose Watban did not intend to influence our thinking and instead wanted us to make our own connections between the speakers and the theme. This was a bold approach and a clever one, as it meant we each had to interpret information through the lens of our own knowledge, interests and experiences, in fact, through our own ways of seeing.
"My idea had been that we'd be looking at material subverting our usual way of thinking about everyday objects, everyone that spoke did that for us. An extra-ordinary couple of days." – Rose Watban, Guest Curator
---
Tina Rose is a consultant, curator and writer based in Edinburgh. She is the founder of social enterprise Really Interesting Objects CIC and is committed to promoting the value of craft.