Welcome to The Craft Edit, where we bring you an insight into what's going on within the craft sector in Scotland.
February has been a positive month for the craft sector with the recent announcement of UKFT taking over management of Textiles Scotland, plus major commissions involving leading Scottish designers and makers.
---
The Tiled Corridor commission for NHS Mental Health hospital
A ceramic artwork comprising of almost 2,500 colourful tiles has been commissioned for The Royal Edinburgh Hospital, an NHS hospital dedicated to mental health.
The Edinburgh Lothian Health Foundation commission titled The Tiled Corridor (seen above) was designed by local maker Frances Priest, known for her ornately drawn and coloured ceramic objects. Frances combines a studio-based practice with site-specific projects, residencies, and commissions; exploring interwoven elements of place and community through drawing and making.
Her latest commission covers an area of approximately 14 x 2.5m. Consisting of 2000 tiles manufactured by Craven Dunnill Jackfield, plus an additional 300 made by Frances in her Edinburgh studio, it recalls the golden era in decorative tile use.
The Tiled Corridor is a response to historical research of two Victorian tiled stairwells in Craig House, a former site of the Royal Edinburgh Hospital. The research was supported by curator Gillian Crumpton at The Jackfield Tile Museum in Ironbridge, England.
The project, managed by Becky Brazil of Edinburgh's Voluntary Organisations' Council and installed by Peter Navratil of Recrafts (stone & ceramics tilers) took approximately six months to complete.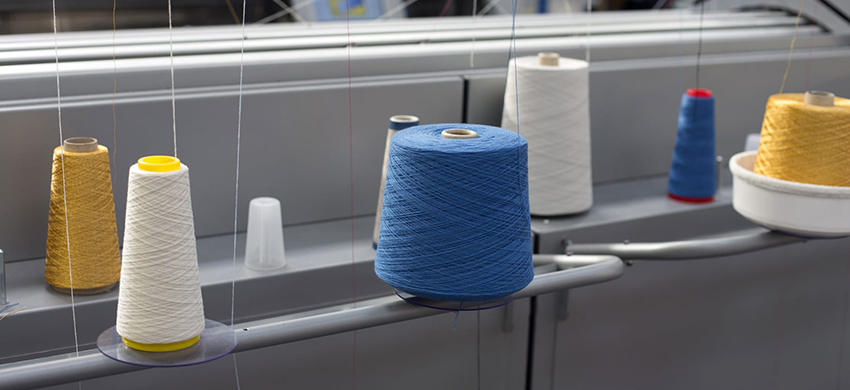 Source: https://bit.ly/2SnhY3t
UKFT take over management of Textiles Scotland
An exciting new development between UKFT (UK Fashion and Textiles) and Textiles Scotland (formerly STLA, Scottish Textiles & Leather Association) will provide new opportunities for Scottish companies to be part of a wider network while retaining a national, Scottish focus.
The UKFT brings together 2,500 designers, manufacturers, agents and retailers to promote their businesses and the industry in the UK and throughout the world, and as the UK's largest provider of trade show access funding, it helps companies reach new markets overseas.
They are currently developing a new membership offer with the industry that will help Textiles Scotland become a self-sustaining organisation, using its expertise to develop effective strategies for Scottish members. Members will be represented by Textiles Scotland along with receiving access to information and assistance, seminars, professional training, and through interaction and collaboration with industry partners and colleagues.

In addition to this, Textiles Scotland were recently awarded £10,000 of funding from Interface, a central hub that connects businesses in all sectors with Scotland's world-leading academic expertise to help them grow.
With this funding, Textiles Scotland will explore the use of virtual and augmented reality to improve garment pattern design. This project is in collaboration with the University of Strathclyde in order to boost innovation amongst business and academics in the creative industries.


Creative Scotland's Open Project Funding awarded to creative recipients
At the end of last year, Creative Scotland awarded £857,510 of National Lottery funding to 39 creative practitioners through its Open Project Funding.

Creative Scotland's Open Project Funding supports the arts, screen and creative industries, with projects that help them explore, realise and develop their creative potential, widen access to their work, and enrich Scotland's reputation as a distinctive creative nation connected to the world.
Individual makers, designers, and creative businesses were awarded, as well as organisations working across the sector including the Scottish Glass Society - an artist-led, charitable organisation promoting the appreciation and development of contemporary Scottish Glass.
Through this funding, Scottish Glass Society kicked off 2019, their 40th anniversary year, with the major announcement of new SGS @ 40 project co-ordinators joining the Board.
Tracey Kelly and Karen Shaw of arts agency Vis a Vis, and creative freelancer Kirsten Gow, are currently developing a programme of exhibitions and artists talks, alongside a five-year development plan for the society in order to promote and support the work of its members.­
Funding has also been granted to Design Exhibition Scotland for June 2019, curated and produced by Susanna Beaumont. The aim of th­e exhibition is to further develop, exhibit, and champion excellence in contemporary furniture and functional design from Scotland, in Scotland.

Iain Munro, Acting Chief Executive at Creative Scotland said:
"We are delighted to support such a terrific range of artistic practice and programmes. These awards will enable the creation, touring and presentation of arts and creative projects for audiences across Scotland and develop the artistic practice of emerging and established artists and creative practitioners."
If you would like support to make your project a reality, why not check out the guidelines to apply for Creative Scotland's Open Project Funding.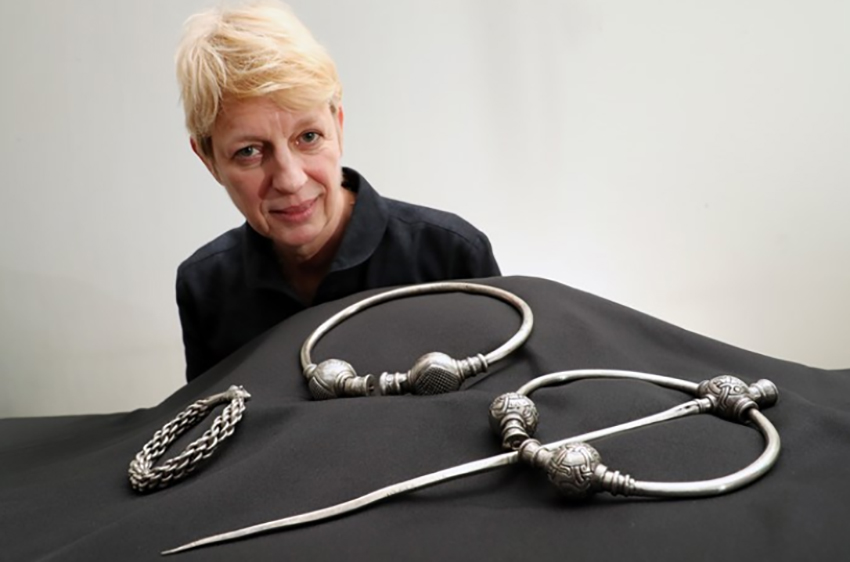 Simone ten Hompel / Photography by Stewart Attwood / Source: https://bit.ly/2UPtp0M

Commissioned silver artwork soon to be on display at the National Museum of Scotland

Another exciting commission in Scotland worth mentioning is the extraordinary piece of contemporary silverwork set for display in the National Museum of Scotland next year.
Following close consideration of applications made by leading makers and designers, The Glenmorangie Company awarded the commission to German-born artist Simone ten Hompel.
Simone ten Hompel, who is based in the UK, has been working with metal for over 40 years. She is regarded as one of the most inventive silversmiths of her generation and one of Britain's most critically acclaimed craftspeople.
Simone will work closely with archaeologists from the National Museums Scotland over the coming year; delving into the early medieval collections in order to craft a new contemporary work of art in silver. The major art piece will be inspired by the collection as well as themes from the research carried out within the Creating Scotland project, with support from The Glenmorangie Company.
Creating Scotland is part of the latest phase of the long running The Glenmorangie Research Project, focusing on archaeological evidence from the ninth to twelfth centuries to tell the story of the formation of the early nation state of Scotland.

The Glenmorgie Company is home to Glenmorangie and Ardbeg, regarded as two of the world's most respected and inspiring single malt whisky brands.
Look out for the finished silverwork in 2020, when it will be on display as part of the permanent collection within the National Museum of Scotland.

Scottish craftmanship a strong feature at Highland hotel
A highland hotel, famous for its Braemer Gathering (Scotland's premier Highland game) has been lovingly restored with the very best of Scotland's contemporary design and craftsmanship.
The newly renovated Fife Arms, a 46-room inn based in the centre of Braemar, Aberdeenshire, was given new life by Swiss art dealers and collectors Iwan and Manuela Wirth, who turned the previous village inn into a beacon of Scottish culture featuring contemporary craftsmanship, textiles, architecture and design.
Leith-based Araminta Campbell is amongst the handful of prominent designers featured. Araminta Campbell was commissioned to create a house tartan seen in the drawing room of the inn and a house tweed that can be found throughout the hotel as upholstery and wallcoverings.
Contemporary pieces can also be seen by Dumfries and Galloway-based traditional slipware potters Fitch & McAndrew, who showcased their pieces at our Summer Show 2016.
Also featured is ceramicist Pascale Rentsch, who creates bespoke tableware and home décor inspired by nature in her studio in Haddington, East Lothian.
---
Share your news with Craft Scotland. Email a press release and high-quality photography to hello@craftscotland.org.