For the fifth year of the Craft Scotland Summer Show and the 70th anniversary of the Edinburgh Festival Fringe, we have an exciting programme of exclusive craft workshops all taking place at White Stuff, George Street, Edinburgh. Our most colourful is run by fashion designer Emily Millichip; where she takes you on a tropical journey to create your own hand-appliquéd accessories in leather and felt. We caught up with Emily after her first Carmen Miranda-inspired workshop to find out how it went, and to discover more about her fashion journey and signature style.
Hello, Emily! First of all, why don't you tell us a little bit about yourself?
I am independent fashion and accessories designer. I make clothes inspired by rebels and my fantasies of living in the Tropics, often using textiles sourced on my travels. As well as designing for my own brand, I run fashion and textile workshops and do freelance work for clients including interiors companies, theatres and performers.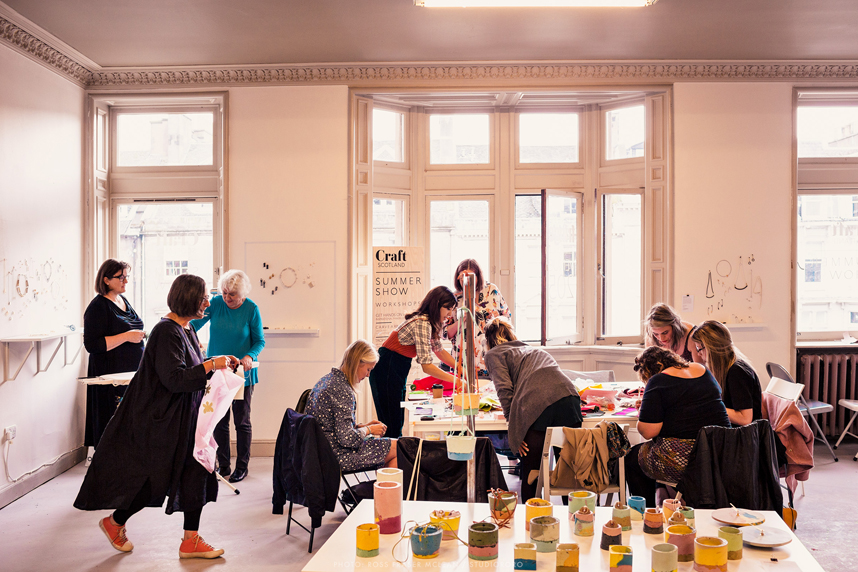 How did you end up doing what you do?
I came to this via a very roundabout route. I originally went to Edinburgh University to study Indigenous Religions and Social Anthropology. Unsurprisingly, I found it difficult to get a job that utilised this expertise, so I ended up working in office jobs where I would cry in the toilets and try to dodge rubbish chat at the water cooler. After a string of random jobs involving potato farms, charity shops, and miserable journalists in grey suits I retrained in fashion technology and manufacture and instantly set up business. In a way, I have come full circle because my anthropology background has come in very useful when travelling, particularly when studying, researching and buying textiles. It has also made me aware of the impact of cultural appropriation, and how exploitative the fashion industry can be to other cultures. Colonialism is not a good look, darling.
How do you start designing a piece?
It often starts with me daydreaming about a scenario or a trip I want to go on, and then I go about designing the ideal wardrobe for this situation. There have been many constant sources of inspiration - a futuristic trailer park on Mars being my personal favourite - although to be honest these days a lot of my fantasies revolve around holidays and/or rest. These will probably remain fantasies as I am not very good at actually switching off.
What's your favourite part of your making process?
I enjoy the initial design work, and then actually wearing the finished piece. It's the in between bit I struggle with. I also enjoy the technical side of pattern cutting, even though I hate maths. The making is just a tiny part of a bigger world that I am creating though, and everything feeds into that, from the photography to the social media posts, to web design. I enjoy weaving the web.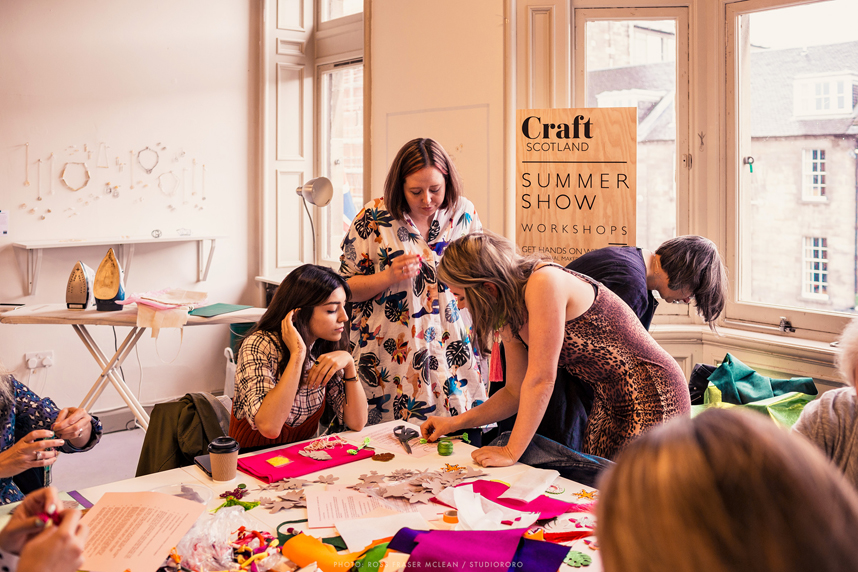 What's the hardest part of your making process?
I am an impatient perfectionist so sometimes the actual sewing is a torturous process. I swear a lot when I am sewing. A lot.
What was your inspiration behind these particular workshops?
I am very intrigued by the dark side of paradise and Carmen Miranda is the perfect symbol of that. On the one hand, you have this form of high kitsch with tropical fruits and frills and a big wide smile. But behind all of that is a frustrated and troubled woman, who in her later life struggled with alcohol and drug addictions. It's that tension between paradise and vice that draws me in. With the earrings workshops, I just find that the world is yet to provide me with a pair of earrings big enough, so I just decided to create my own.
What's your favourite thing about running workshops?
My favourite thing about running workshops is getting to connect with people I may only have spoken to online or via social media. I am lucky to have built up a supportive and engaged following over the years, and it often feels like a community rather than a brand. I also love seeing the different ways people interpret a design brief or select colours and materials that I would never have thought of. One of my earliest school memories is of arguing with my home economics teacher because she told me that I couldn't use red stitching on my purple felt fish. Surprise, surprise, I did it anyway and she loved it, so I think that experience taught me not to be dictatorial about other people's design choices. I can definitely be dictatorial about other things, but not that.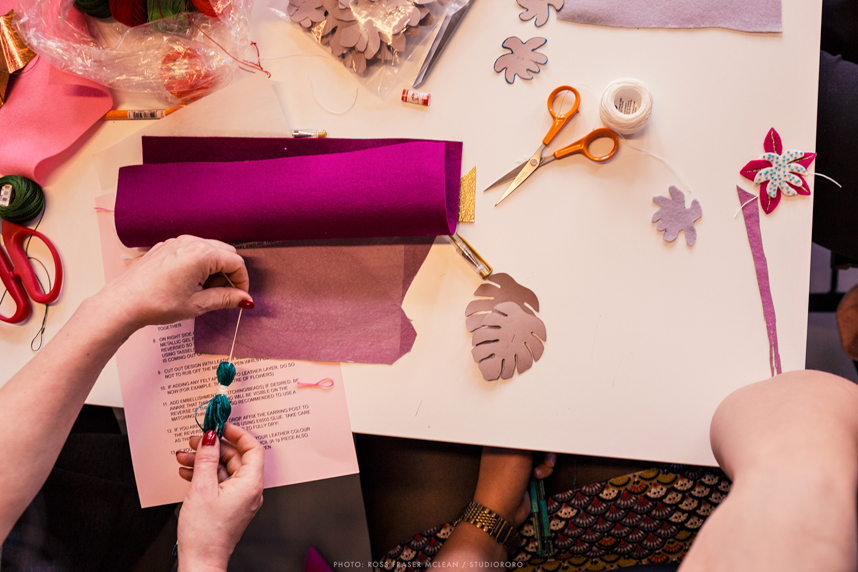 How did your first Hand-Applique Tropical Bloom Earrings workshop go? Any highlights?
It was great. The designs are quite complex so there is a lot of room for experimentation. That means that everyone is doing something different which can be challenging but it's worth it to see the variety of designs at the end. And it's great to imagine all of these maximalists going out into the world with big tropical flowers & silk tassels coming out of their ears.
Is there a particular piece from the workshop you are most excited about?
My favourite in terms of what I want to wear is the Tropical Bloom Earrings. These are essentially supersize tropical leaves and flowers with giant silk tassels hanging of them. Maximalist is probably the best word to describe them.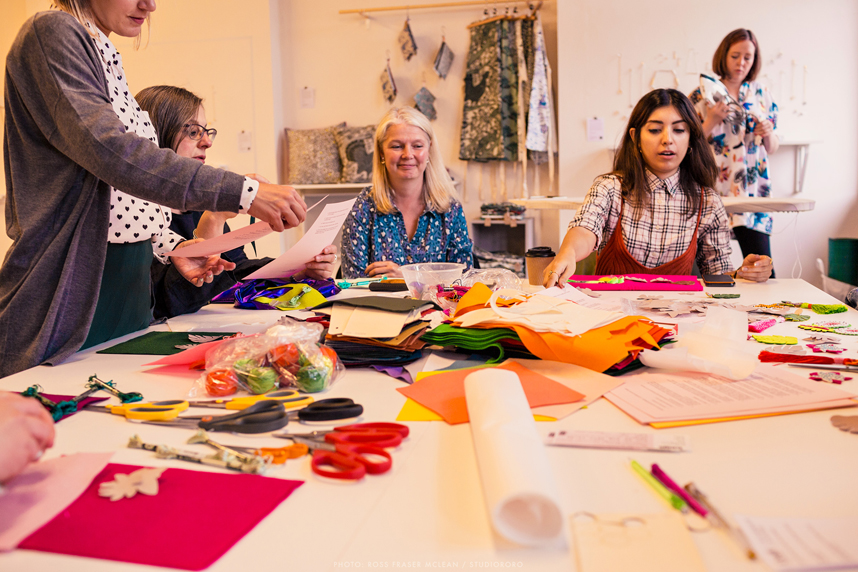 What makes this piece so fun to make?
Working with materials and colours on a smaller scale gives me greater creative freedom. Because of how decorative these earrings are there is a lot of potential to experiment with different colours and textures. We have been working with amazing foil leathers in bubblegum pink, mango, fuchsia, champagne and lime, merino wool felt in colours including marigold, emerald and mint, tiny little Mexican and Japanese glass seed beads and heavy silk embroidery threads. It's also really interesting to see how other people select these elements to make their own designs and come up with amazing pieces that I have never even thought of.
Thinking about one of your finished pieces, is there a celebrity you imagine would love to own your work?
I am not really interested in celebrity culture, I am actually struggling to think of a single celebrity right now! I am more inspired by the idea of an anonymous girl who goes on solo adventures wearing fantastical clothes that no one will ever see. The right clothes can weave a magical web around you that makes everything an adventure. What is more exciting? Wearing a blue sequinned cape at a party, or wearing a blue sequinned cape at midnight on the sea wall with only red wine and the moon for company. Solo magic trumps magic for human consumption every time. Celebrities are rubbish.
And just for fun! What piece of craft do you aspire to own?
A Tibetan tiger rug, please. And anything raffia. Oh, and one of Emily Fong's banana paintings.
Who inspires you – do you have an Instagram account or blog you can recommend?
I love Jen Gotch, the founder of Ban.do. She is really hilarious and has great style. I enjoy the way her personality is such an integral part of her work because the whole point of creativity in my mind is to express yourself, not to just be some faceless brand. I also just really admire women who are committed to the concept of fun. There are enough sour faces in the world.
Follow #edsummershow on Twitter, Instagram and Facebook to keep up to date!
This interview has been edited and condensed for clarity.