Celebrate new and established talents this month, with a unique knitwear pop-up space, Scotland's annual jewellery festival and new initiatives to support makers in Aberdeenshire.
Read on with October's The Craft Edit.
---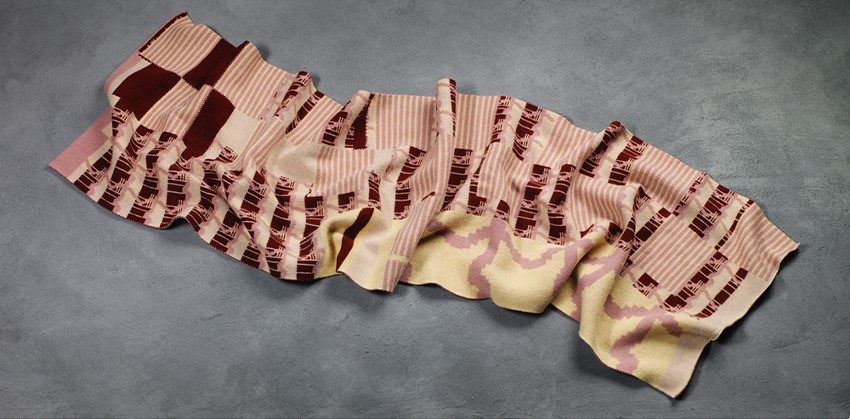 Jeni Allison / Photography by Shannon Tofts
Five knitwear designers to take over Dovecot Studios' pop-up space in-store for the Knitwear: Chanel to Westwood exhibition
Designers Di Gilpin, Jennifer Kent, Jeni Allison (Custom Loop), Annie Hall, and Todd and Duncan, will be taking over a pop-space in the Dovecot Studios' shop to coincide with the new exhibition Knitwear: Chanel to Westwood (15 October 2022 – 11 March 2023). There will also be the opportunity for visitors to design their own custom knit with new app Custom Loop.
Contemporary knitwear designer Jeni Allison has developed a dual-purpose web app with a canvas component called Custom Loop, in partnership with Knit One and supported by Creative Informatics. Custom Loop allows customers to "design" their knits with predefined interchangeable and moveable elements. Orders of your own custom-knitted scarves or blankets can be placed in-store.
The pop-up space will also feature a curated selection of items by Scotland-based designers Jennifer Kent, Di Gilpin, and Todd and Duncan, and Leeds-based knitwear designer Annie Hall.
Di Gilpin creates hand-knitted one-off pieces and special commissions in the finest Lalland Lambswool out of their Comielaw Farm, Balcaskie Estate workshop. Di Gilpin collaboration with Paris-based La Fetiche also features in the Knitwear: Chanel to Westwood exhibition itself.
Kinross-based Todd and Duncan were founded in 1867 specialising in cashmere. All Todd and Duncan yarn is produced in Scotland, and they are the only Scottish spinner offering cashmere yarn to fashion houses and quality manufacturers worldwide.
Based in Glasgow, Jennifer Kent creates modern knitwear, accessories, and interior products, with a minimal aesthetic and impeccable attention to detail. Knitwear designer Annie Hall is based in Leeds, and loves creating playful design for jumpers, blankets and scarves, taking inspiration from her own illustrations works.
This curated knitwear pop-up will be open until March 2023, when the corresponding exhibition is set to close. For more information visit dovecotstudios.com
Look Again and We Are Here Scotland collaborate to support BPoC creatives
Gray's School of Art's creative unit Look Again and We Are Here Scotland are launching a new project to encourage and support creatives who are Black and People of Colour (BPoC) in their practice.
This initiative seeks to address the lack of opportunities available to BPoC creatives in Scotland, and will consist of two commissions. The successful applicants will be invited to organise an exhibition at the Look Again Project space in Aberdeen in 2023 and will also be able to host a public talk or workshop. Applications are open to individual practitioners, collectives or artist groups.
The project is supported by funding from Look Again's Seed Fund commissioning programme, that is supported by Aberdeen City Council, and aims to support emerging artists and designers, who have connections to the North East of Scotland.
Hilary Nicol, Co-Director at Look Again said of the project: "This new partnership will provide an opportunity to put a spotlight on Aberdeen and the North East, and to deliver a programme of national significance that will support creatives who are Black People and People of Colour."
Ica Headlam, founder of the community interest charity We Are Here Scotland, is an alumnus of the Look Again Creative Accelerator course, and founder of the Aberdeen-based clothing company Big up the Deen and co-founder of Big up the Doric. Of the project, her said: "Both [We Are Here Scotland and Look Again] recognise that there still remains a need for to amplify the artistic talents that exist within the Black and PoC community."
We Are Here Scotland has made a substantial impact supporting the voices of Black People and People of Colour across Scotland over the past two years, with wide-ranging support including the Creator's Fund and pilot project INCUBATA.
Discover more about the project on www.rgu.ac.uk. Learn more about We Are Here Scotland on their website www.weareherescotland.com.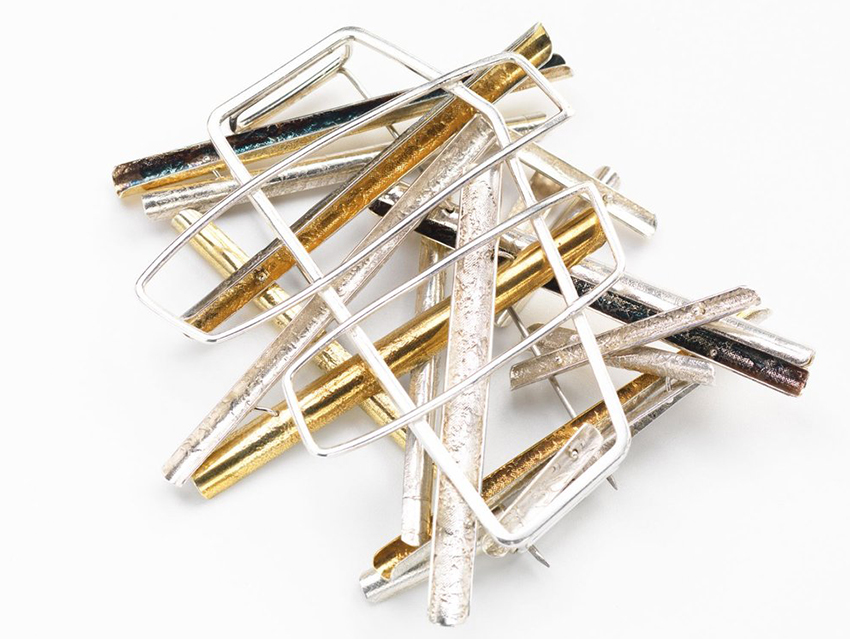 Crags Brooch by Saskia Gavin / Photography courtesy of Elements
Elements festival of jewellery, silver and gold opens is back for its 4th edition this month
Scotland's annual festival of jewellery, silver and gold, Elements, will open its doors on the weekend of 28 to 30 October 2022 at Lyon & Turnbull in Edinburgh. Organised by the Scottish Goldsmith Trust, the event will feature 50 of the UK's most talented Jewellers and Silversmiths, as well as exclusive talks and workshops.
This year, the festival will also pay tribute to the late Dorothy Hogg MBE, celebrating her achievements and unique talent as part of a spectacular new exhibition of award-winning work from across the years by the Goldsmiths' Craft and Design Council (GC&DC).
The former head of jewellery and silversmithing at Edinburgh College of Art, Dorothy was awarded the GC&DC Lifetime Achievement award in 2010. The work on display has been lent by the Goldsmiths' Company, who described Dorothy as "an unsurpassed craftswoman". Ebba Goring, CEO of The Scottish Goldsmiths Trust, said: "It's fitting that there should be a special section of the exhibition dedicated to the vision, skill and achievements of Dorothy Hogg - a world-class maker and designer who did so much to educate young designers and to promote jewellery and silversmithing." This will be the first exhibition of Dorothy's work since her passing in March 2022.
The festival will also feature the Graduate Showcase, exhibiting works by selected graduates from five of Scotland's Art Colleges. Visitors will also have the opportunity to purchase the work at Lyon & Turnbull. You can read more about the selected graduates in each of the colleges on the Elements' website:
Elements will take place Friday 28 to Sunday 30 October 2022 at Lyon & Turnbull, Edinburgh. For more information and to book visit elementsfestival.co.uk
New curated department store comes to Aberdeen this winter
DEPARTMNT is a curated department store by Second Home Studio + Cafe and supported by Aberdeen City Council.
Following the closures of John Lewis, Debenhams and BHS in the past years, Aberdeen non-profit arts organisation Second Home Studio + Café decided to build a new kind of store ahead of the festive season. DEPARTMNT will host work from local designers, and participating artists will keep 100% of their profits.
Second Home Studio + Cafe is a CIC based in Aberdeen focusing on making art more accessible. Their mission is to maximise creative potential in the city by creating income-generating opportunities for makers and spaces which encourage creativity for all.
DEPARTMNT will be located at 8A Gaelic Lane, Aberdeen and will open its doors to the public from Saturday 12 November to Friday 23 December 2022. Visitors can expect to find gorgeous gifts from local artists and designers.
Visit www.departmntaberdeen.com and follow the project on social media to keep up to date.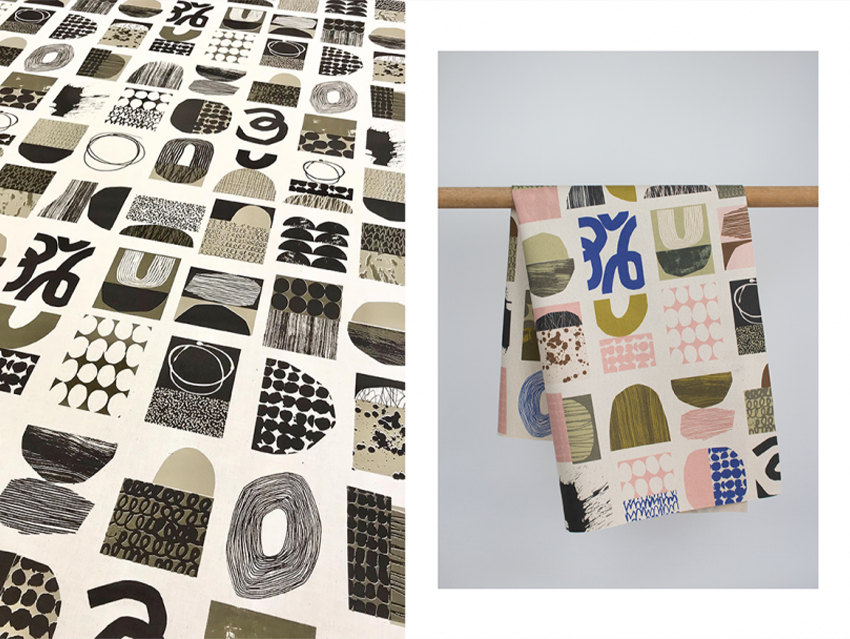 Rosanna Dyke / Photography courtesy of the artist
Graduates from Scotland shortlisted for Global Design Graduate Show
Now in its third edition, ARTS THREAD's Global Design Graduate Show is the biggest online showcase of graduating creatives worldwide. In partnership with GUCCI, the ARTS THREAD panel of industry experts has reviewed over 5,489 submissions from across the world to select outstanding graduates in art and design. Judges this year included crafts professionals, editors and curators from organisations including the Dutch Design Foundation and the Romanian Jewelry Week, publication Aesthetica Magazine and fashion house Mugler.
The competition which was open to undergraduate and postgraduate students in any related creative discipline and located anywhere in the world, features outstanding works by graduates from Scottish colleges and universities in all craft categories judged.
In the fashion and textiles category, discover projects by graduates Millie Collins, Rosanna Dyke and Emily Dickson (BA Fashion & Textile Design, Glasgow School of Art) as well as Hope Connachan-Holmes (BA Textiles, Edinburgh College of Art).
The craft category features wearable sculpture by Marly Merle (Duncan of Jordanstone College of Art & Design), and jewellery projects Chaos by Lucy Pearl Petts and Terra Incognita by Samantha Galloway (BA Silversmithing & Jewellery, Glasgow School of Art)
Explore all shortlisted projects at www.artsthread.com/events/globaldesigngraduateshow
Read more:
---
We want to hear from you! Share your contemporary craft news for inclusion in next month's The Craft Edit.
Contact the Craft Scotland team with more information, URLS, images and/or a press release via email hello@craftscotland.org.
Header: Moon Phases Signet Ring by Dingyuan Liu / Photography by the artist