Image: Ellie Turner / Photographer Grant Anderson


Welcome to our Make Your Own Story feature, a series of interviews with craft makers. Hear from makers who have fascinating stories to tell about living and working in Scotland. We hope their stories will inspire you and spark new interpretations of craft.
---
Hello, Ellie! Tell us about your practice...
I make interactive textile surfaces and props that explore play and stimulation, particularly for individuals with support needs. I use various methods of screen-printing onto fabric to create engaging and manipulated surfaces. Some of these fabrics are then turned into 3D objects or left as a sample piece of fabric to interact with. I also utilise materials that introduce other sensory elements into the work, such as sound and smell.

Tell us about your degree show piece at Gray's School of Art in 2016​. How did you go about researching what textures and effects your audience would be interested in?
My graduate textile exhibition focused on the important relationship that individuals with Autism have with sensory stimulation. The motivation to research and develop this work stemmed from my own experience; growing up with my brother, Callum, who has Autism.
Having a natural interest in playing with and being familiar with someone who experiences the world differently to myself was my starting point for the project. I began researching into how individuals with Autism experienced and reacted to different sensory elements whilst drawing from a lot of my own experiences with Callum to strengthen this. I also worked with children and young people with Autism so I was constantly learning and being inspired by the way each individual explored their environment and the objects within them.
One of the first parts of research that I did was visit sensory rooms, which I photographed, taking note of colours, shapes, the layout of the room, textures etc. My colour palette developed from a series of photographs I took at one of the rooms where a light was reflecting off of the brightly coloured toys, creating a softer but still engaging range of colours. I knew that lots of brightly coloured toys and equipment could be overwhelming so I wanted to create a palette that wouldn't overwhelm but still engage.
I also looked at textures and shapes within the home environment, referencing memories and experiences of growing up with Callum and I developed these into my work, which influenced my material choices and print compositions. Callum interacted with some of my early fabric samples, without me giving him much guidance on how to, and the work evolved in response to this. I focused on creating interactive, tactile surfaces through screen-printing and material manipulation, and then worked on combining other elements like sound and smell.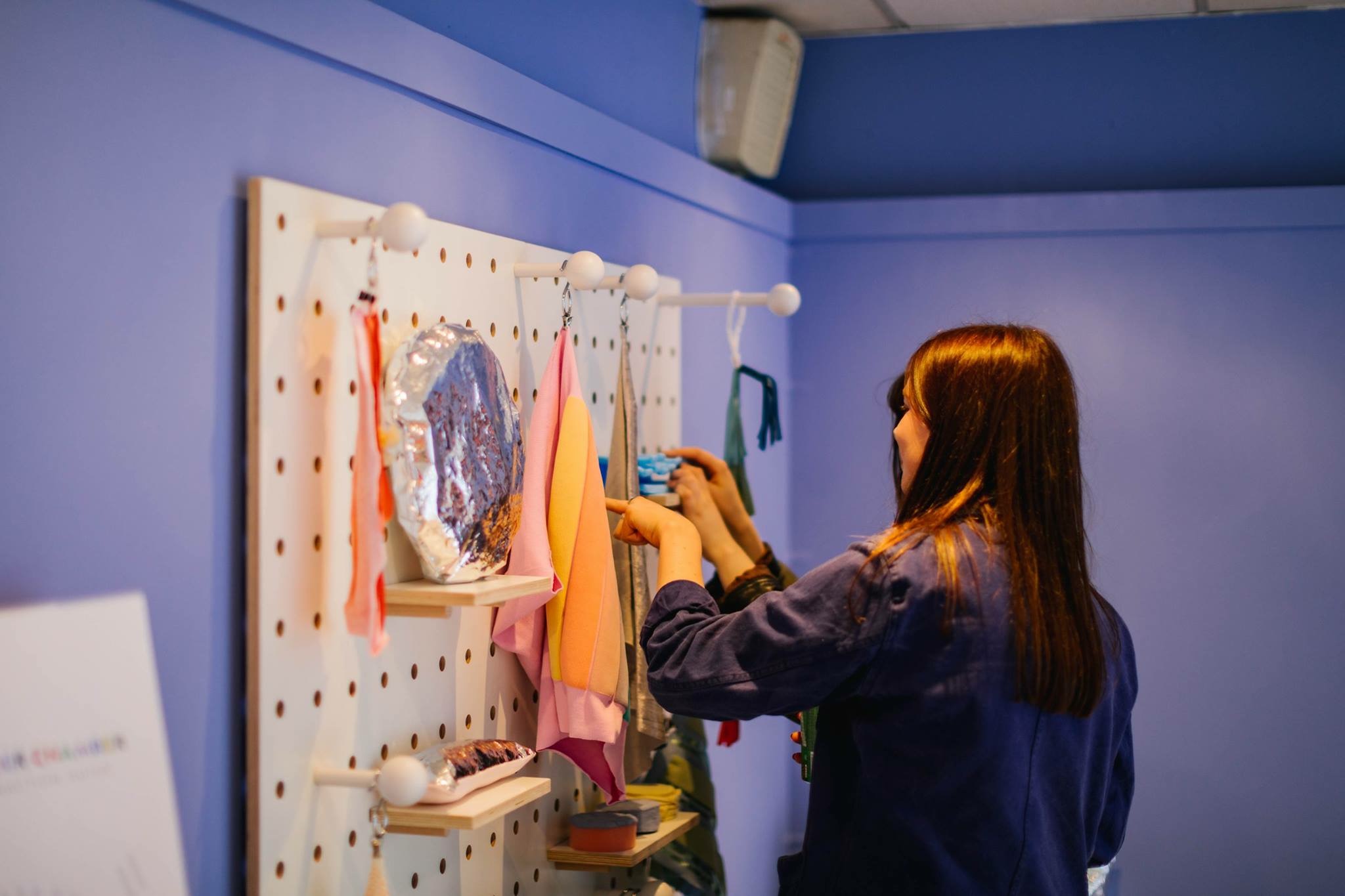 Image: Ellie Turner / Photography by the artist

I hand-dyed the fabrics that I worked with to achieve the colours from the palette I had developed. In my development process I tried out various printing methods to achieve different textures and documented these. I began using a heat reactive binder to print onto and manipulate the surface of the fabrics I used, which created traceable, raised textures. This process often involved stretching the fabric out as far as I could on the printing table before printing and, once the binder reacted to the heat, the fabric took on a sculptural quality.
I experimented with layering the heat reactive binder to create more exaggerated 3D surfaces and also began testing out scratch and sniff pigments in the binder. I transferred the pigments successfully into the binder I printed with, creating a calming lavender-scented scratch and sniff print that I used in one of my final pieces of work.
I tested out different ways to include sound, using polystyrene packaging and squeakers in some of the pieces to engage the audience and encourage them to explore the work through their hands, eyes and ears. My final collection consisted of a body of textile samples and four large constructed, pillow-like objects. Sound, smell, weight and spacial awareness formed the basis for the four objects, each one focusing on one of these elements.

What's the driving influence behind your practice?
I think that being Callum's sister has definitely influenced the way that I work and has made me passionate about creating meaningful and engaging experiences for others. I have been brought up to be understanding and aware of other people's needs so I suppose that has created an interest in making work that supports and can create an experience for other people.

Was The Wonder Chamber at the Look Again Festival 2018 a continuation of this work or did you introduce new approaches?
The Wonder Chamber was a continuation of this work but it definitely introduced new approaches for me too. The work exhibited at Look Again was designed to be interacted with by anyone with any support need, not solely Autism. Outwith my creative practice, I had been working with individuals with varying support needs, often physical, and I wanted to make the work accessible to anyone.
I still used screenprinting as one of my main methods of making but I used a wider range of colours compared to the palette I developed in my graduate collection and I introduced new materials. I think the encouragement and support from the Look Again team really pushed me to experiment and expand my style of making.
I worked with new materials such as rubber and reflective sheeting, which was at times challenging but I think it helped me to step out of my comfort zone and experiment. I particularly enjoyed working with the reflective sheeting that I had sewn into individual objects as well as combining it with other materials. It is an unforgiving material; it can't be unstitched once sewn like most fabrics, which made it more difficult to work with but it also took the pressure off of making the object 'perfect' because I had limited control over it.
I also made a small manual for The Wonder Chamber, describing how the props could be interacted with and this included instructions for people supporting others to interact, for example, a carer or parent. I think this approach was important so that there was supporting material there if people needed it.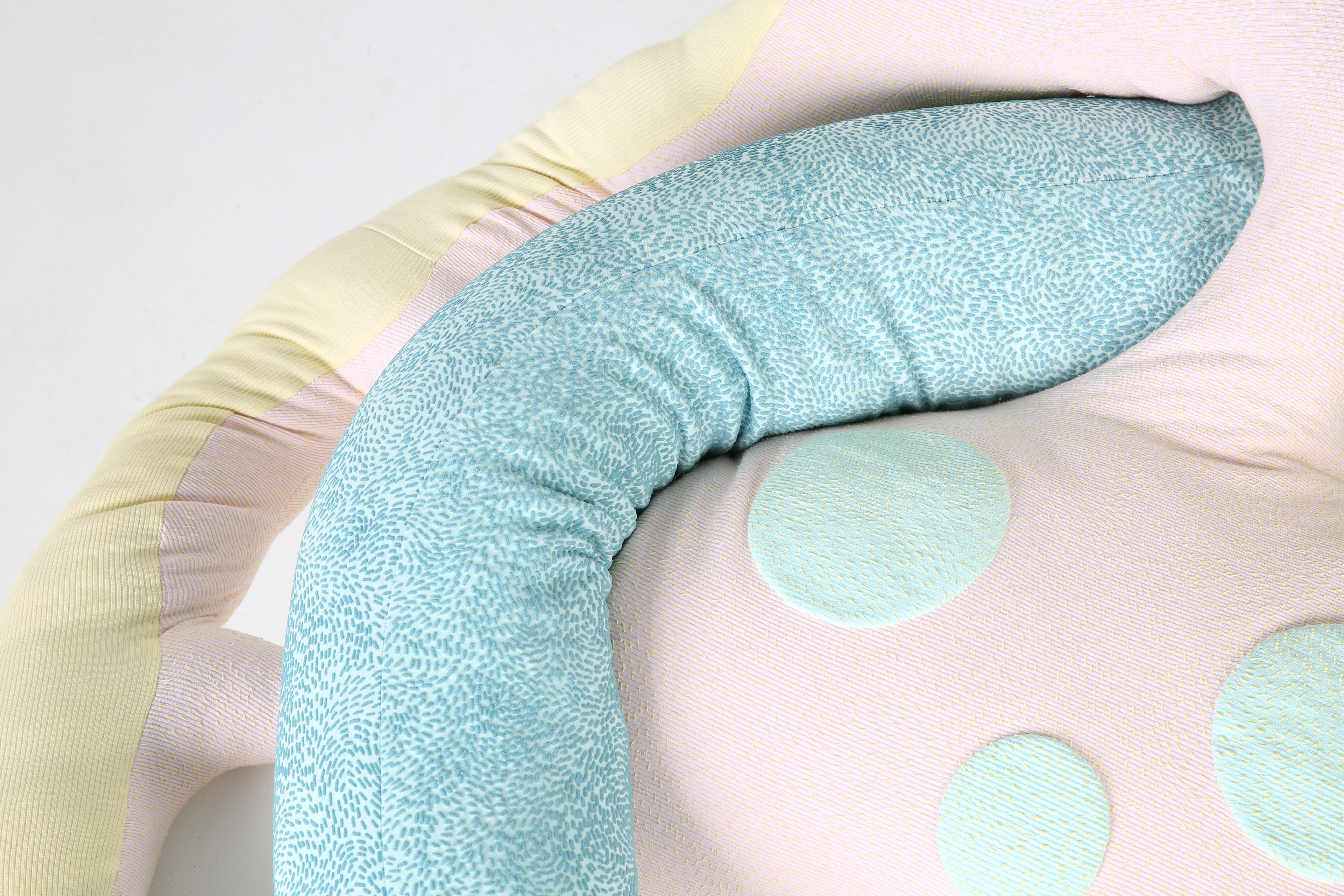 Image: Ellie Turner / Photographer unknown
How do you hope the audience will react to your work?
I hope that it makes people smile, be playful, even laugh sometimes! It's nice to see people develop their own way to interact with the work. Sometimes people have asked me 'What is it supposed to be?' about a piece I've made and it's always interesting to try and answer or to see what they think, because I think that the work can manifest in different ways for different people.

Some of my favourite examples of people describing what work I've made looks like or what it is are:
"mouldy cheese, cauliflower, a macaron, a party ring, a giant handbag, a big cheerio, a snake, a slug, a cupcake, tea towels, draft excluders, face cloths - a strange mix of food and household items!"
Some of the best reactions I have had have been from children and young people who don't need to read a description about the work, they just want to play. Whilst exhibiting in London, a young girl, about the age of 2, came up to my work and tugged on one of the pieces displayed and her mum told her not to. I explained to her that it was okay and she could sit on top if she liked. She motioned to her mum and said 'shoes!' so that she could take them off - a kind of universal prompt for 'I'm ready to play.'
I have also had many lovely responses from people who reference a family member, or a friend who may have Autism or another support need, who have said how much they think they would enjoy the work - it's so great to get that kind of feedback.
Do you have any advice for makers who are looking to expand their practice into the realm of health and wellbeing?
It is really rewarding making work that has a practical purpose for others and I think it helps build your confidence as a maker when you can see your work providing an experience for someone. The research and development phases are really important and you should know your target audience well and involve them in your designing process.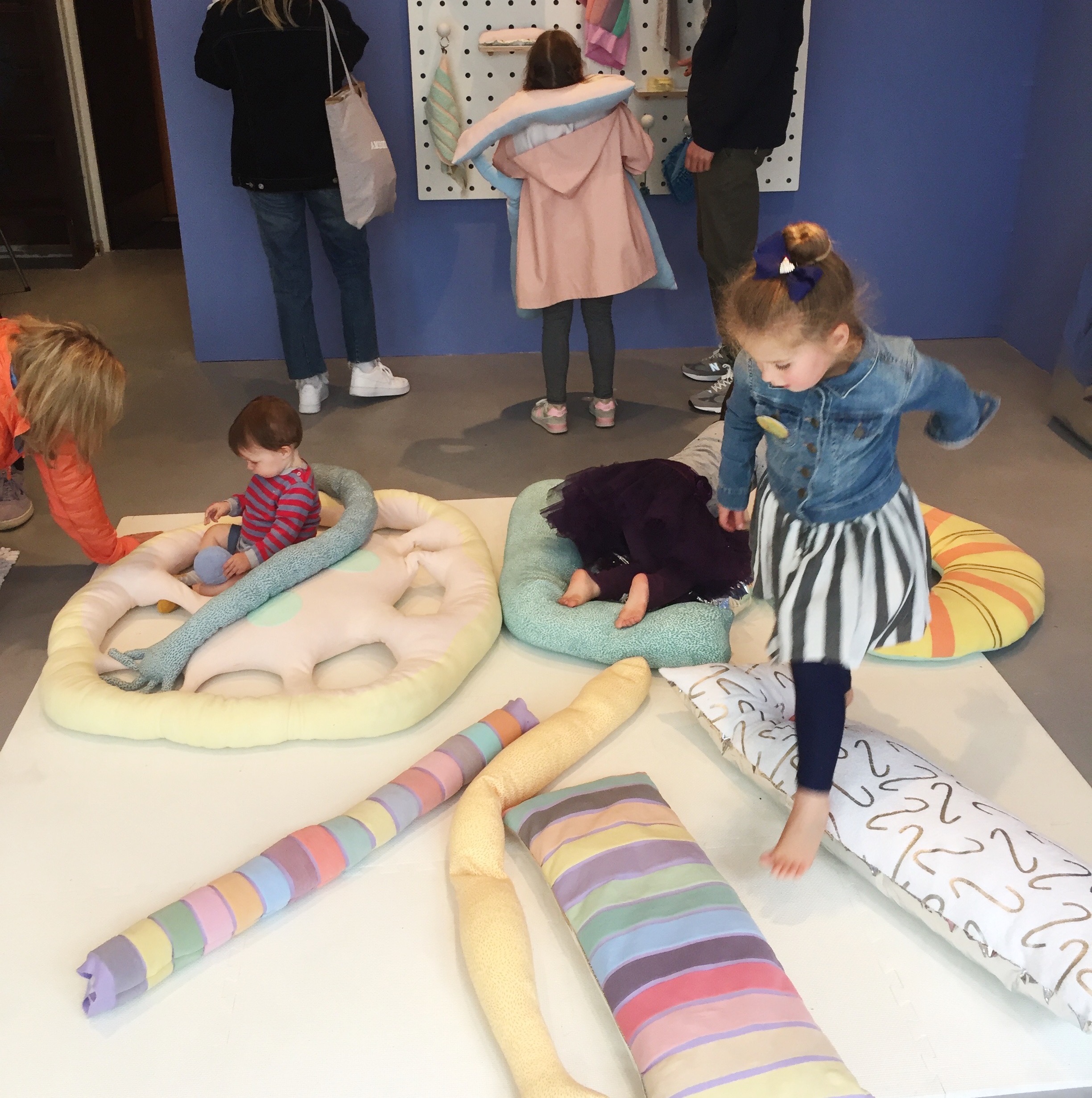 Image: Ellie Turner / Photography by the artist
How has living and working in Scotland influenced you as a maker?
There are lots of great opportunities as a maker in Scotland and I think that has definitely influenced my choice to live and work here. There are so many great funding opportunities and I was lucky to have been supported through the VACMA scheme and mentoring programme the year after graduating.
These funding and support opportunities were so vital to me, especially post-graduation, as they helped me to continue and develop my practice. I think being from and living in Aberdeen has also influenced me as a maker as there's a really great scene of artists and designers actively engaging in culture within the city.
Being part of the Look Again Festival was such a highlight for me because the festival is based in Aberdeen, run by an amazing team of women from Aberdeen and involves so many artists, designers and volunteers also from the city. It felt really important and special to be a part of.
What's next for your practice?
I recently received funding from Creative Scotland's See Learn Share Fund to do a work experience and skill share with Soundplay Dome which is an accessible interactive musical sensory space, based in Glasgow. They are doing a tour over February and March and I'm going to join them for one of the weekends during the tour which should be really great. I think learning from other creative practitioners who work within the health and wellbeing sectors is a great way to develop and expand my own knowledge as a maker.
As I'm growing as a designer and maker I've realised the importance of taking time to learn from other people and give myself space to think and develop ideas. I used to think that I should be making work at any opportunity I could but I now know how essential it is so take time to process ideas and not put so much pressure on myself to be making constantly.


Discover Ellie Turner and her designs by visiting her website.
This interview has been lightly edited for clarity.