Reflections on Lockdown is a five-part series that explores the experiences of the Scottish craft community during the lockdown(s) and moving into the new normal. Read Part One with Cally Booker, Part Two with Emily Stephen, Part Three with Joanna Kessel and Part Four with James Donald.
As lockdown restrictions ease across the country, the Craft Scotland team reflect on their experience during the Coronavirus (COVID-19) pandemic.
Along with many other organisations across the country, work at Craft Scotland has changed over the past year – this includes changes to our overall programme as well as the way in which we work.

Following the Scottish Government's guidelines to safe working, the Craft Scotland team have been working from home and are starting to flexibly return to the office.
In this article, we explore adjusting to working in new ways and new environments, as well as sharing thoughts on the craft community.
Image above: Irene Kernan (Director, Craft Scotland) with Natalie Melton (Creative Director, Crafts Council) just before the first lockdown at Craft Scotland showcase at Collect 2020 / Photography by Claudia Rocha
---
Irene Kernan, Director

Craft Scotland's Director Irene (pictured above) oversees our programme and operations to ensure we are supporting Scotland's thriving craft sector. Before her role at Craft Scotland, Irene was the Director of Edinburgh Sculpture Workshop.

The move from the office to working from home was not at all easy for the first few weeks, partly because I am IT-inept but also, because of the general maelstrom of uncertainty and mild panic about what was happening. Now I am really enjoying the focus that working from home allows, although I miss being able to throw out ideas for discussion with the team or have a chat in the kitchen.
Pressured into re-considering my work-at-home wardrobe by social commentators, I also experimented with what Vogue would call "a relaxed pant", but that didn't work at all for me so I abandoned that idea pretty swiftly!

I suppose I enjoyed the simplification of life because we suddenly had very limited choices. I always appreciate living in Edinburgh but, once again, I have been grateful that we moved here. It has been lovely to have a choice of beautiful green spaces for walks and because the city feels like a lot of small villages strung together. This meant the sense of community remained - in the local shops that could stay open and the cafes and bars that started offering takeaways to stay in touch with their customers.
However, it has also made me very aware of how precarious our lives are – either financially, or politically. I feel so lucky to be working in the craft sector where process and skill is paramount. I am really interested in how art is made – whether it's a play or film, or a ceramic object – and makers are so very generous in sharing their inspiration and thinking.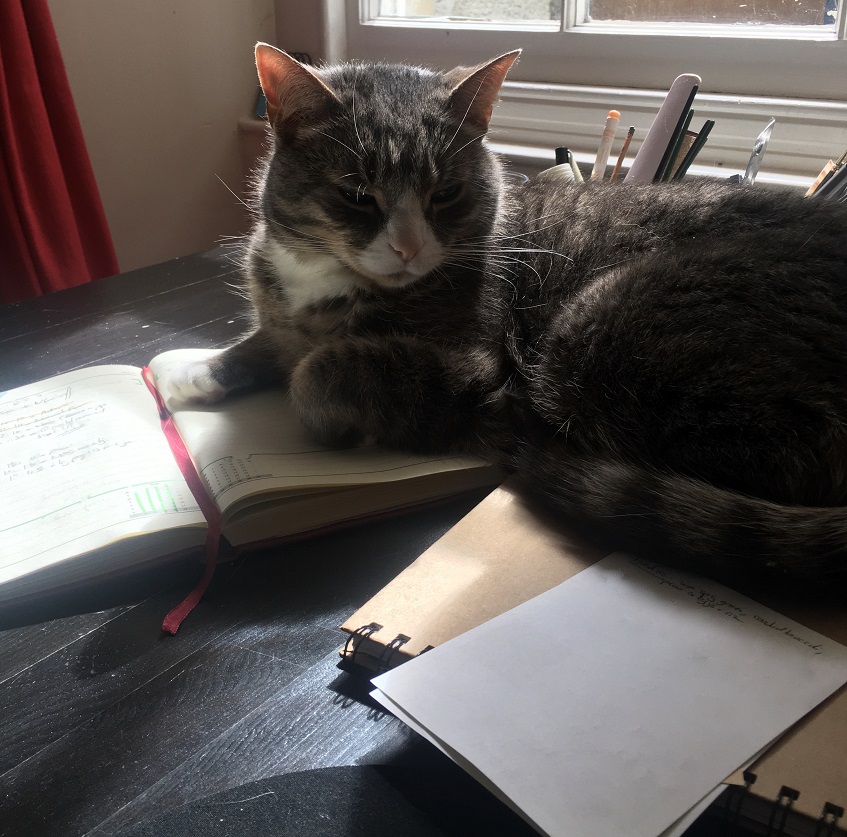 Image: Mayanne's roommate's cat Ash

Mayanne Soret, Communications & Digital Coordinator

Mayanne is fascinated by all things digital and how it affects the way we relate to art, ourselves and each other. Before joining Craft Scotland, she worked in digital communications for the performing arts, and as a freelancer, she helped develop a range of projects surrounding visual arts, digital culture, and photography.

I am lucky that I was able to continue working full-time from home, which meant keeping a routine that is fairly similar to the one I usually go by – although still new to me as I had only started with Craft Scotland a little over a month before the first lockdown in March 2020.
I thought early on that the lockdown would likely go on for a little while, so I tried to check in regularly with myself and see if anything in my routine needed change to combat lockdown anxiety and burnout.

It may seem minor, but I have been listening and watching new things more proactively and enthusiastically. I usually love re-watching, re-reading and so on, but over lockdown I've actively sought out new films, series and music. I don't think it is so much needing to find something to keep me occupied than a way to compensate for not seeing my friends or family. Of course, the characters of a new book or tv show will not replace my real-life social circle, but fiction always allows you to step out of yourself for a bit. I think that has become especially important now that so many of us have had to spend much longer with ourselves than we probably ever have, and that can feel so claustrophobic - even if you're used to enjoying your own company!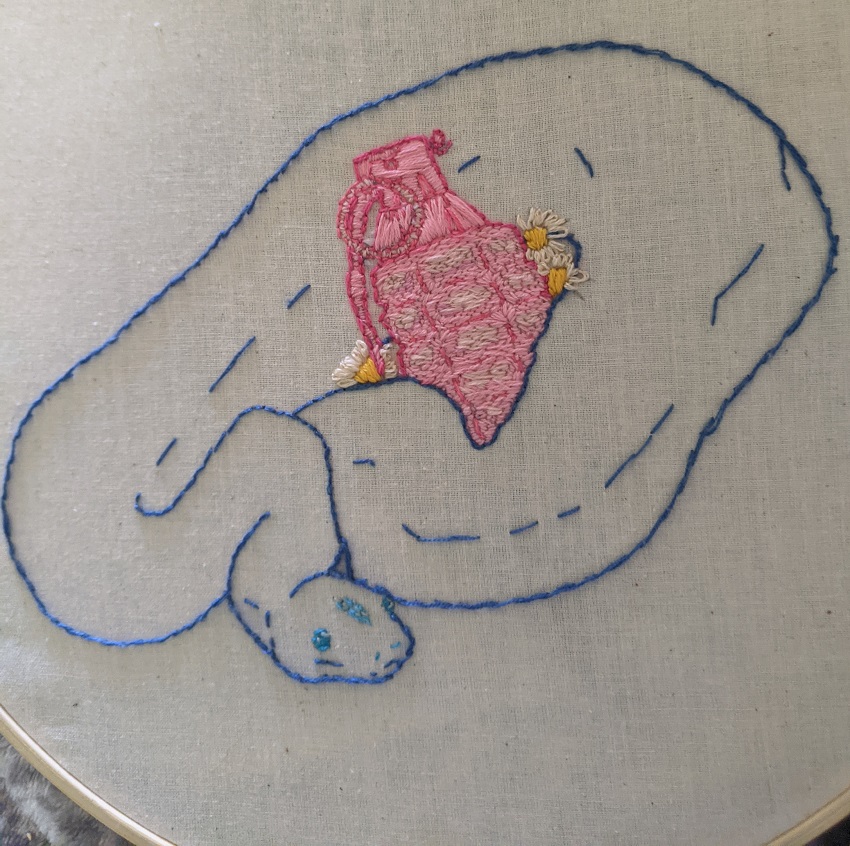 Image: A work in progress embroidery piece by Amy Lou

Amy Lou Davies, Marketing & PR Assistant
Amy Lou Davies contributes to our successful marketing and PR campaigns by creating engaging digital content, expanding our networks and supporting our PR and Press campaigns.
From learning Italian to hand embroidery, I feel I have tried my hand at almost everything during the lockdowns to avoid boredom.

Embroidery in particular is something I can spend hours doing, and there's something soothing about the continuous to and fro of the needle through the fabric. I can get lost in the cycle; I suffer from dermatillomania so it is particularly good at keeping my hands busy when I am stressed.
As I've worked in tech (particularly marketing) for almost eight years now, I'm becoming more set on spending time off-screen, craving a tactile sensation the textures of textiles provide. Plus, the more I learn of the innovative techniques and extraordinary skills of Scotland's textiles designers, the more I want to develop my own craft practice.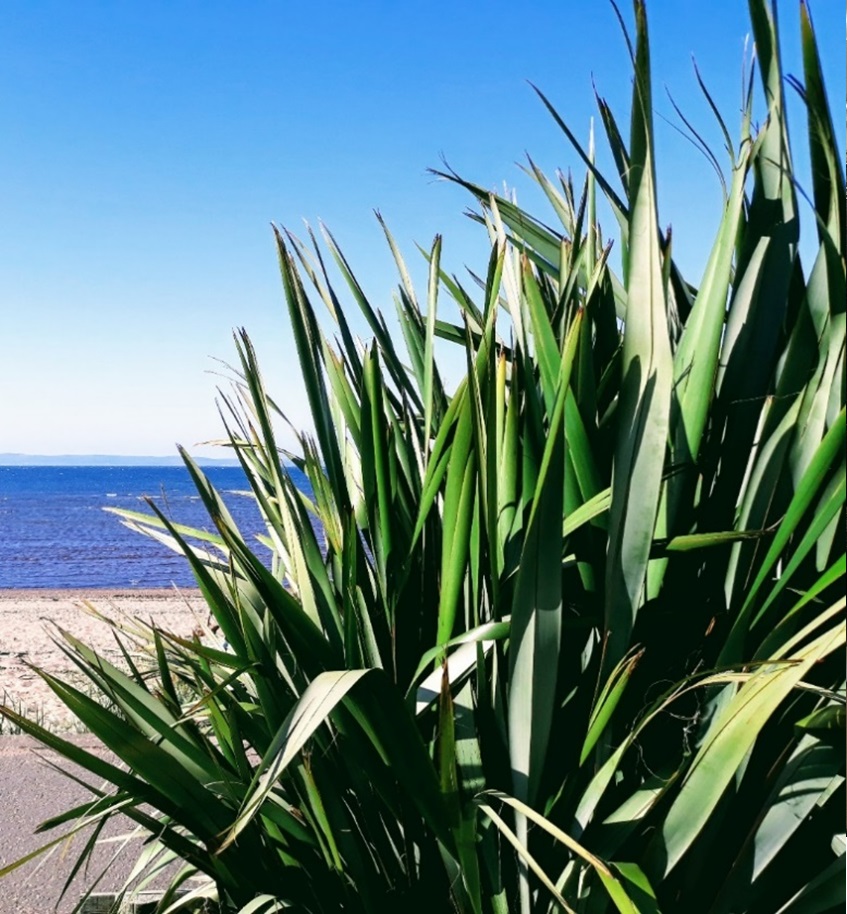 Image: Tanwen regularly visits the beach

Tanwen Llewelyn, Programme Coordinator (Learning)
Tanwen studied Masters in Design and Applied Arts Glass at Edinburgh College of Art from 2002 to 2003 and went on to become an Artist in Residence at the glass department for five years, where she taught first and second-year undergraduate students. Tanwen has her glass work in the prestigious Dan Klein and Alan Poole Associates Glass Collection at the National Museums Scotland. She is also a proud and fluent Welsh speaker.
If I were a colour right now I think I would be orange, as I'm feeling optimistic that things are progressing slowly, however, I've been through all shades during lockdown.
My highlights include having a fantastic team to work with - I'm a proud member of the Craft Scotland team. Second would be trailing through my nieces hundreds of silly cartoons and GIFs she sends me. Finally, when mum and dad discovered Skype or seeing my partner again after many months apart.

One thing I found difficult to deal with during lockdown was the loss of community, not just through being unable to see my work colleagues, friends and family but also through the teaching that I do. For the past two years, I've been employed through local government to provide evening pottery classes at a nearby secondary school. We run these classes three nights per week and pre- Coronavirus (COVID-19) there were talks to expand this to Saturdays too.
Pottery can be a very fulfilling and enjoyable experience for our learners. I work with adults of all ages although it's most popular with people who are retired. For many of these adults going to pottery class may be the only time they interact with other members of their community. Some are widowed, have serious health issues, or use it as a chance to meet with friends. People come for all sorts of reasons but it's evident that craft is a great way of building social interactions and confidence within our communities, and without it we are left with scenarios of a broken society, isolation and poor health outcomes.
I feel for all the makers who, like myself, have lost their ability to teach classes. Not only do we rely on it for additional income but also, we love it for the people who we have come to know. I miss the faces, the conversations, the broken kilns and the fire alarms.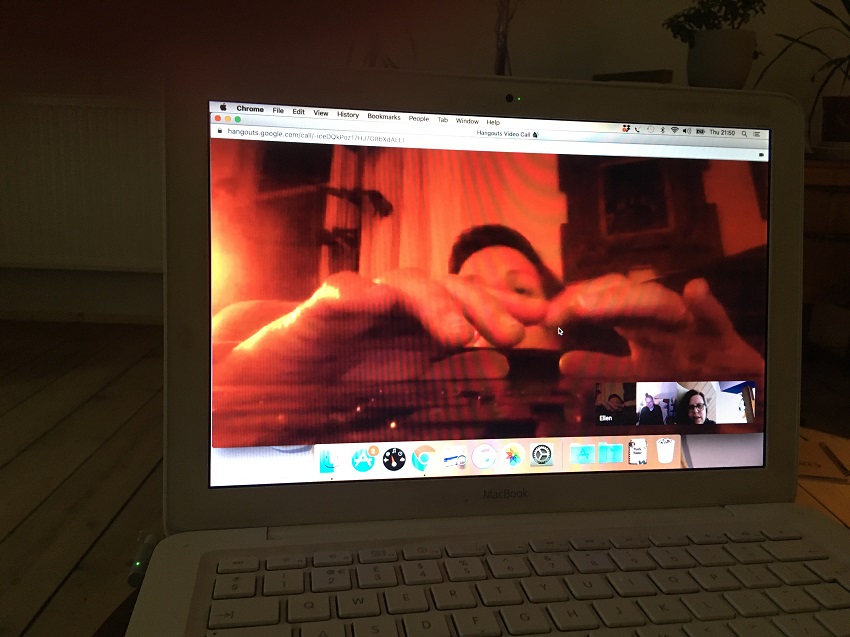 Image: Gwenan videocalling friends

Gwenan Davies, Programme Assistant

Gwenan supports the Programmes Team in delivering our programme of activity, providing administrative support for events, webinars, selection panels and evaluation. Her interests are seeing exhibitions and shopping at charity shops. She makes art, painting and writing- but you haven't seen her work anywhere (yet).

I was furloughed for nine weeks during lockdown. Living alone, I thought I was going to find it very difficult but in fact, the lockdown was mostly fine - all things considered. I had the luxury of working on my own projects, painting every day; and managed to keep busy, making a conscious effort to keep in touch with the outside world and speak to people. I did have to take sporadic news and social media breaks when anxiety levels were high. But apart from that, I took advantage of the rare time to myself, to escape the pressures of contemporary life.

During lockdown, I reflected on the privilege of my situation- my biggest problem was ensuring I had enough to do, and enough contact with others. With the money saved from not leaving the house, I set up standing orders to charities such as Refuge and paid into fundraising causes like Glasgow Night Shelter.
Witnessing friends, independent makers and small businesses lose their income, I thought how important it is in the coming months to make a conscious effort to support them, buy their products and see their exhibitions.
The arts are often seen as a source of funding that can be cut, seen as a 'nice extra' - but during lockdown I saw how fundamental the arts are, to entertain us, make us think and to process emotions. I think of those TV drama binges, the arts and crafts projects, the books we read, and the music we dance to in our living rooms.
---
You can also read our three-part series Making in Lockdown exploring the innovative ways in which makers in Scotland adapted their craft practice during Coronavirus (COVID-19). Discover Part One of Making in Lockdown, with makers Agnes Jones, Cara Louise Walker, John Cowan and Sally-Ann Provan.
Read Part Two with designer/makers Carolyn Kinnaird, Ciara Isabel, Louise Forbes and Stephanie Fradette, and finish off with Part Three featuring Heather Shields, Kate Trouw and Jeff Zimmer.
This interview has been lightly edited for clarity.
Reflections on Lockdown with the Craft Scotland Team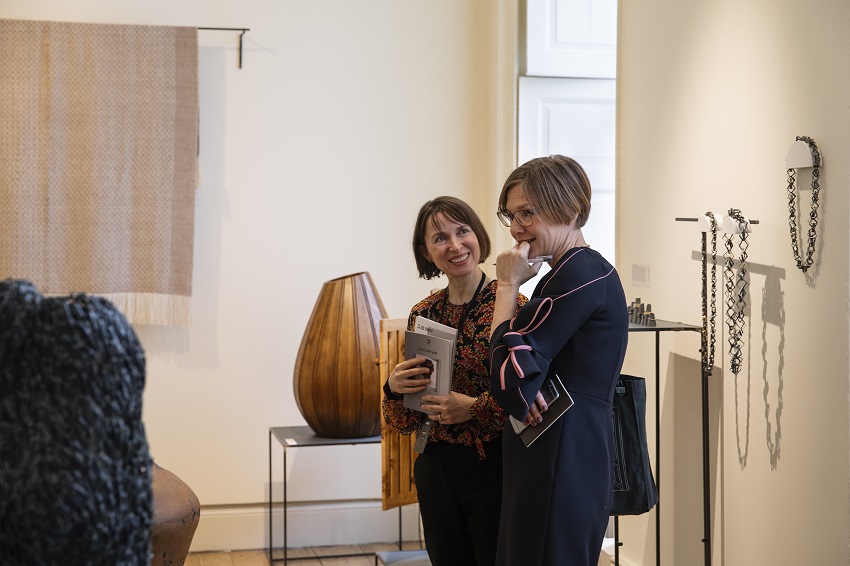 Transparent