The Craft Edit is your monthly insight into Scotland's thriving craft sector. Hear all the latest news from awards and funding, to artist residencies and special collaborations.
---
First Minister meets with Scotland designer/makers

Design curator and writer Dr. Stacey Hunter has curated The First Minister's Local Heroes Collection, presenting innovative contemporary objects on show in the First Minister, Nicola Sturgeon's personal office.
The collection comprises of ten pieces made by Scotland-based designer/makers, makers include Jonathan Pang, Frances Priest and Jennifer Gray (pictured above). The ten designers discussed with Nicola Sturgeon the international reach of Scottish design and the value it brings to contemporary Scottish life.
Dr. Stacey Hunter selected the pieces from fine ceramics, glass and furniture to high-tech jewellery and product design engineering. As the founder and director of Local Heroes, she set up the project to highlight high-quality Scottish design. The loaned pieces will be rotated on a rolling basis.
Local Heroes is a curatorial agency developing Scotland's design culture and presenting the work of outstanding Scottish designers nationally and internationally.
Image: Harry Morgan / Photographer unknown
Edinburgh maker receives LOEWE Craft Prize Special Mention
Harry Morgan received a special mention for his work Untitled from Dichotomy Series, 2018. An emerging maker based at Custom Lane in Edinburgh, his work has been known for its unusual marrying of materials and experimental approach to traditional process.
The LOEWE Craft Prize seeks to acknowledge and support international artisans who demonstrate an exceptional ability to create objects of superior aesthetic value. The prize for the winning entry is 50,000 euros and is selected by the Jury, as well as the works of the finalists selected by the Experts Panel will be included in an exhibition and accompanying catalogue LOEWE Craft Prize 2019 in Tokyo.
After a month-long process that saw over 2500 submissions, the jury panel crowned Japanese artist/maker Genta Ishizuka as their overall winner of the LOEWE Craft Prize for his piece Surface Tactility #11, 2018. The jury comprised of creative industry leaders and luminaries, LOEWE Creative Director Jonathan Anderson and the previous year's winner ceramicist Jennifer Lee.
Amongst the 29 finalists, was Edinburgh-based maker Andrea Walsh, whose work explores the box and vessel form using a range of materials including ceramics, glass and metal. UK-based artist/maker Kazuhito Takadoi, along with Harry Morgan, received a special mention for his work KADO (Angle), 2018.
Genta Ishizuka's winning piece and all the finalists' works will be showcased at a free exhibition until Monday 22 July 2019, at Isamu Noguchi's indoor stone garden Heaven inside the Sogetsu Kaikan building in Tokyo. From ceramics, furniture and glassware, to basketry, jewellery and blacksmithing, the show demonstrates the artists' quests to reconcile the ancient with the avant-garde.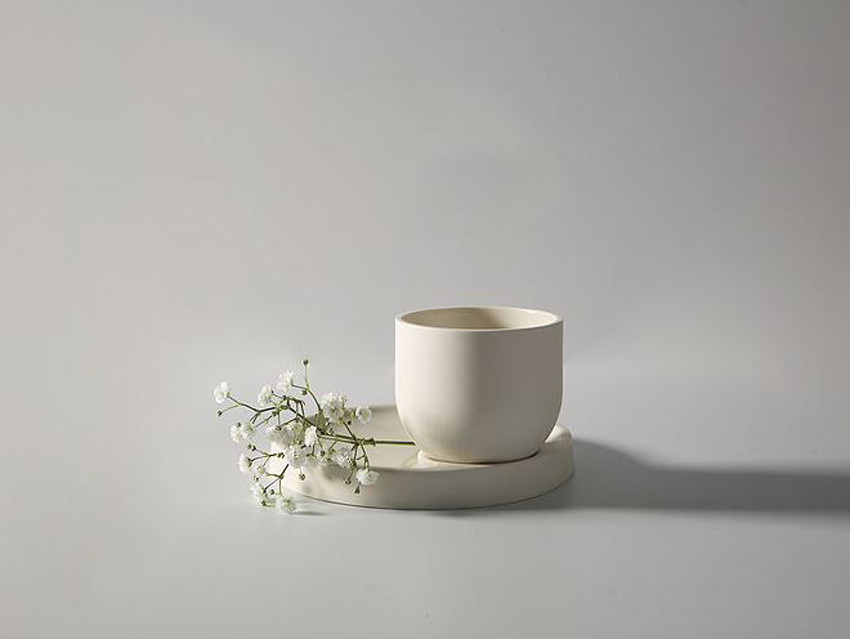 Image: Scott Crawford / Photographer unknown

Kilmarnock artist receives national award in Scottish Design Exchange competition

Scott Crawford, a graduate from Gray's School of Art, Aberdeen has won Young Designer of the Year 2019 at the Scottish Design Exchange (SDX) competition, which aims to recognise and young designers aged 16 to 25 living in Scotland.
Scott graduated with a BA (Hons): 3D Design (First Class) in 2017, specialising in ceramics. As an interior and object designer based in Glasgow, he is influenced by both Scottish form and heritage alongside Scandinavian minimalism. His work focuses on creating minimalist forms enhanced by luxurious materials and naturally inviting colour palettes.
As winner of the award Scott will receive £1,000 prize money, as well as free selling space on the SDX website and in its stores in Edinburgh and Glasgow. Scott will use the money to invest in marketing his products to a wider audience.
Since it was launched in 2015, SDX is a not-for-profit social enterprise which has provided retail space to over 300 makers, allowing them to turnover more than £1.1 million in revenue.

ECA Graduates receive awards at Graduate Fashion Week
Edinburgh College of Art students were awarded five of the top prizes at this year's Graduate Fashion Week in Shoreditch, London.

Brian McLysaght received three awards for his menswear collection: the Christopher Bailey Gold Award sponsored by Swarovski, the Conscious Design Award and the Hilary Alexander Trailblazer Award.
Brian was selected by the judging panel for his innovative menswear collection made from sustainable and biodegradable wood, paired with organic and recycled fabrics. This winning collection was inspired by the role of clothing in 20th Century decolonisation movements, particularly the Swadeshi movement in India.
Alexandra Fan received the Womenswear Award and the David Band Textiles Award for her innovative workwear collection made from biodegradable latex, while Rosie Baird received the George Catwalk to Store Award for her collection inspired by Scottish storytelling.
Graduate Fashion Week, now in its 28th year, welcomed more than 30,000 guests over the course of the four-day event at The Old Truman Brewery, Shoreditch, London, and showcased 25 catwalk shows featuring graduates from the most prominent BA fashion courses.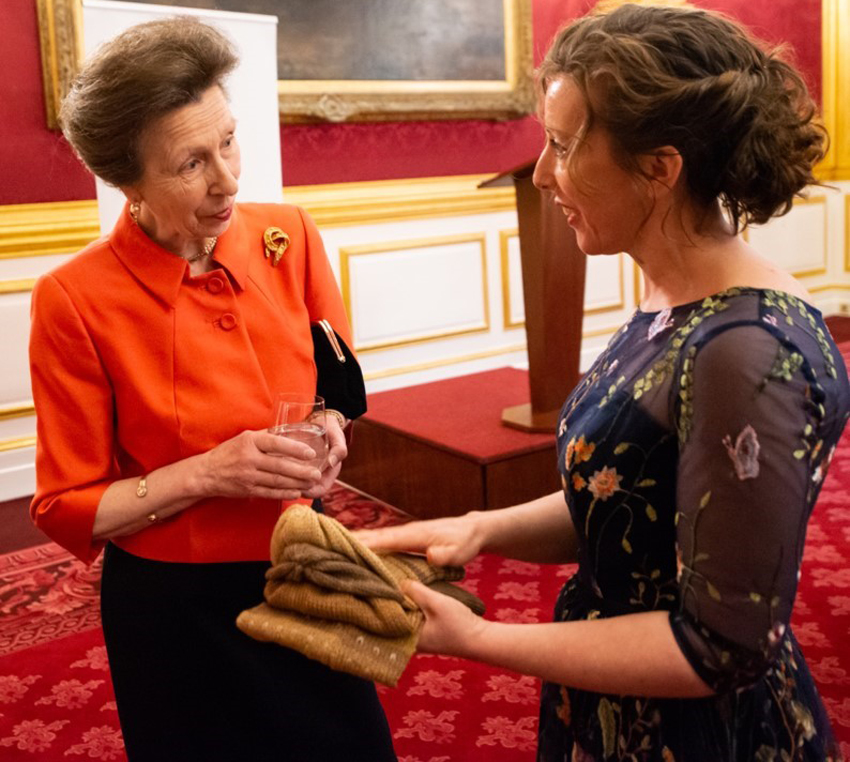 From left: HRH The Princess Royal and Dwynwen Hopcroft (Loch Ness Knitting) / Photographer unknown
HRH The Princess Royal gifted with exclusive range from Loch Ness Knitting project

In May, owner of Loch Ness Knitting Dwynwen Hopcroft was invited to St James's Palace, London for the launch of The Prince Philip Gordonstoun Foundation - a legacy of support for bursary and scholarship students at Gordonstoun.
Loch Ness Knitting, located in Drumnadrochit on the shores of Loch Ness, is founded on a commitment to work in a sustainable way, ensuring resources are protected for future generations. Owner Dwynwen is passionate about creating original knitwear and yarn inspired by the Highland landscape.
Since October 2018, Dwynwen has been working with the Gordonstoun School, in Moray, on the project Mighty Acorns, using the leaves, barks and acorns of two felled oak trees to create a unique collection of knitwear. Over time, the oak leaves became dye to be used on wool - this was then knitted up into an exclusive range of hats, scarves and cowls. Sales of these items will raise funds for the newly established The Prince Philip Gordonstoun Foundation.
Dywnwen attended the launch to meet with some former scholarship students and presented HRH The Princess Royal with hats from the Mighty Acorns collection for her grandchildren.
Share your news with Craft Scotland. Email a press release and high-quality photography to hello@craftscotland.org.