Craft Scotland returned to Collect, the leading international fair for contemporary craft and design, in March 2023.
If you missed the opportunity to visit Collect 2023 in person at Somerset House, you can still explore our participating makers in our interview series.
We invited Corinne Julius, journalist, broadcaster, critic and curator who specialises in contemporary craft and design, to review Craft Scotland's showcase at Collect 2023, held at Somerset House in London.
---

As a Londoner, I am jealous and always blown away by what is achieved in Scotland. Craft is highly valued and respected in Scotland and makers receive considered support, as well as financial investment. The sector is supported by a rigorous tertiary education system that teaches skills alongside conceptual design. The results are evident in the diverse range of makers in every medium, producing intelligent, thoughtful, well executed and often innovative work. As a journalist and curator, I often find myself turning to Scotland-based makers. Last year in my show Future Heritage at the Design Centre Chelsea Harbour, 4 out of 12 makers, were based in Scotland and one was a Scot resident in London. The support and encouragement they receive in Scotland is integral to their practice.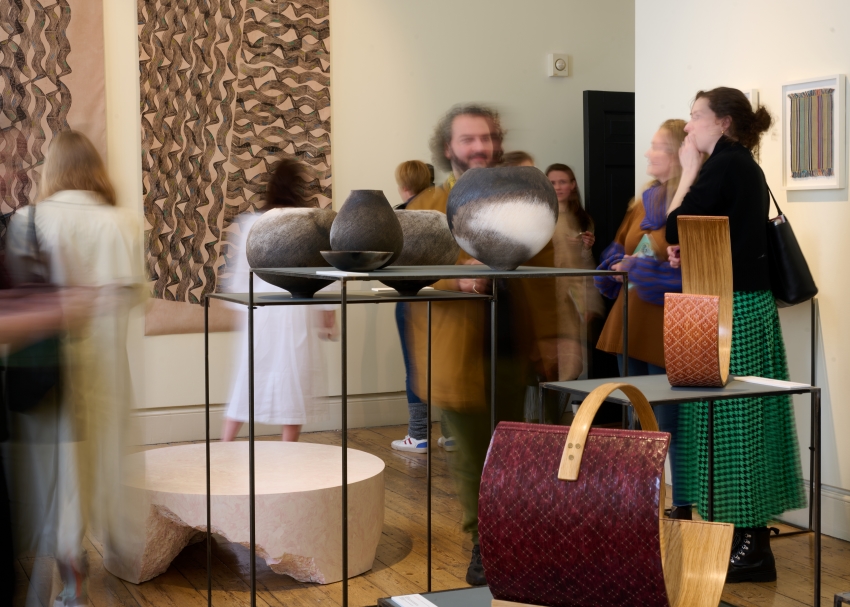 Image: Collect 2023 Craft Scotland / Photography by Calum Douglas

That is true of the makers selected for this year's Collect. A strong theme in the Craft Scotland's Collect selection is the tweaking of traditional techniques, reformulating historic materials or processes to create challenging and unexpected work. SHY Design Studio use scagliola, traditionally used for surface decoration to create furniture and vases, building up surfaces that are subsequently carved out to create new forms and patterns. Similarly lseabal Hendry uses the traditional boat building technique of steam bending, but unusually combined with thatching and basket weaving skills to create sizeable baskets made of interlaced strips of leather and cotton. They are a significant development from her smaller scale bags. Exploring the opportunity to grow a maker's practice is a key element in being selected for Collect.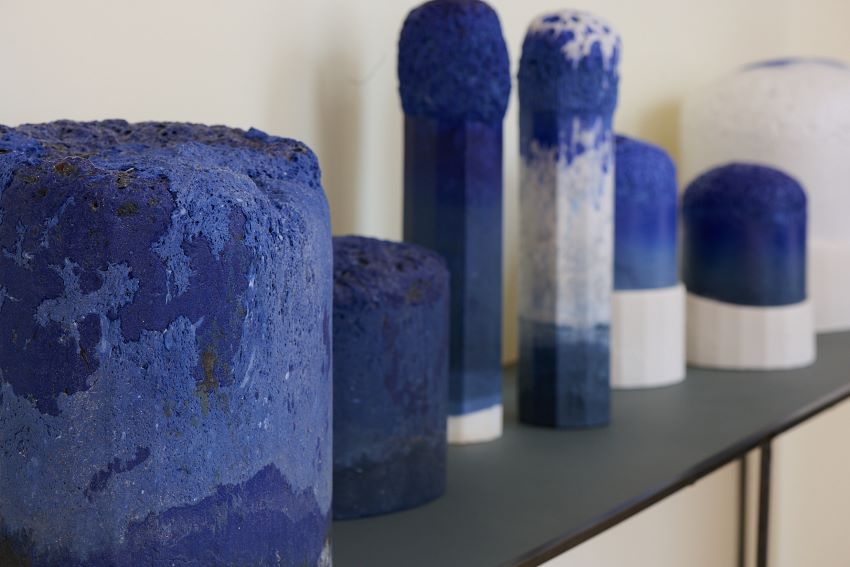 Image: Charlott Rodgers / Photography by Calum Douglas

Textile skills such as weaving are much in evidence this year. Textile which is not often exhibited at Collect, is well represented in Craft Scotland's selection. Textile art is undervalued in Britain, in part because of a lack of knowledge, the fact that few galleries show it and importantly that collectors need considerable space to display it. Yet Craft Scotland is relishing that challenge. Mariam Syed is working with Islamic geometric patterns as an inspiration for weave constructions - all with almost invisible imperfections that allude to the fact that only Allah can be perfect. Her colour palette of blues and beige is a homage to the shrine of Sufi Saint and poet Shah Abdul Latif Bhittai in Hala, Pakistan.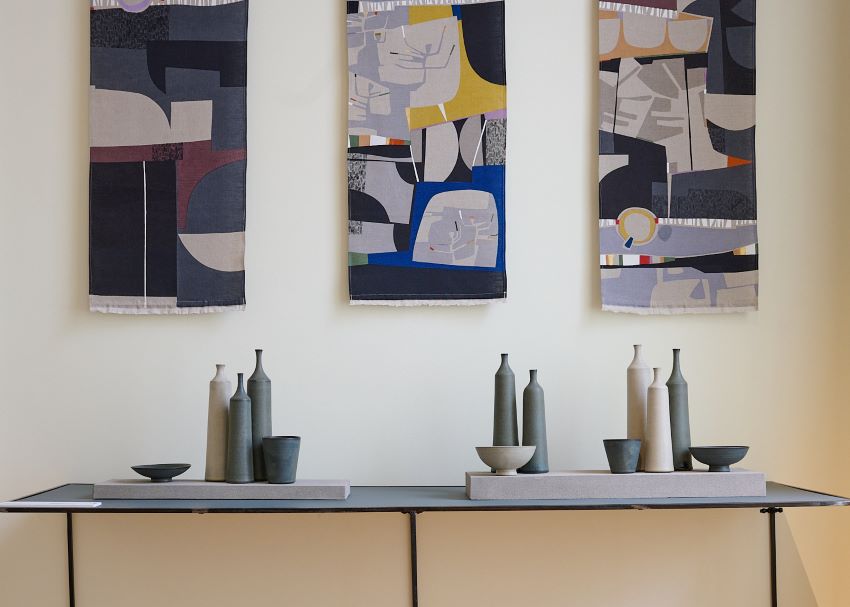 Image: Eve Campbell (background) & Borja Moronta (foreground) / Photography by Calum Douglas

Eve Campbell's aesthetic is similarly influenced by architecture but also by the geography of Scotland's West Coast. The overall bold colours and shapes of her screen printed textiles have a mid-century feel, crossed with a strong dose of Victor Pasmore. In contrast Kate Owens shows large black and white printed textiles, with a slightly Japanese feel. Her work reflects on movement, using choreography to make large-scale prints that roll out across lengths of fabric, sewn together into hangings.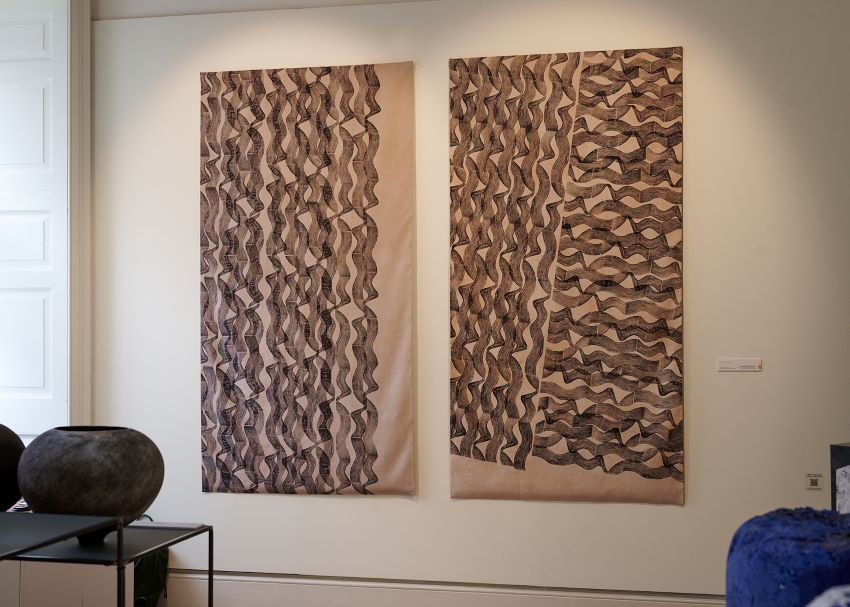 Image: Kate Owens / Photography by Calum Douglas

The British are not strong collectors of glass compared to the Americans, but Scotland, particularly Edinburgh, has become a centre for glass makers, who experiment in very different ways with their material, but also use it as a medium of communication.
SUH MOONJU creates appealing, somewhat kitsch, glass figures that investigate different emotional states, playing with expectations about the history of glass figures. Charlott Rodgers in her Yves Klein blue, foamed glass sculptures reflects on her roles as maker and mother. She is a further example of flouting rules and conventions in her production techniques, combining glass and Parian slip. Both makers use intense colour to investigate emotion.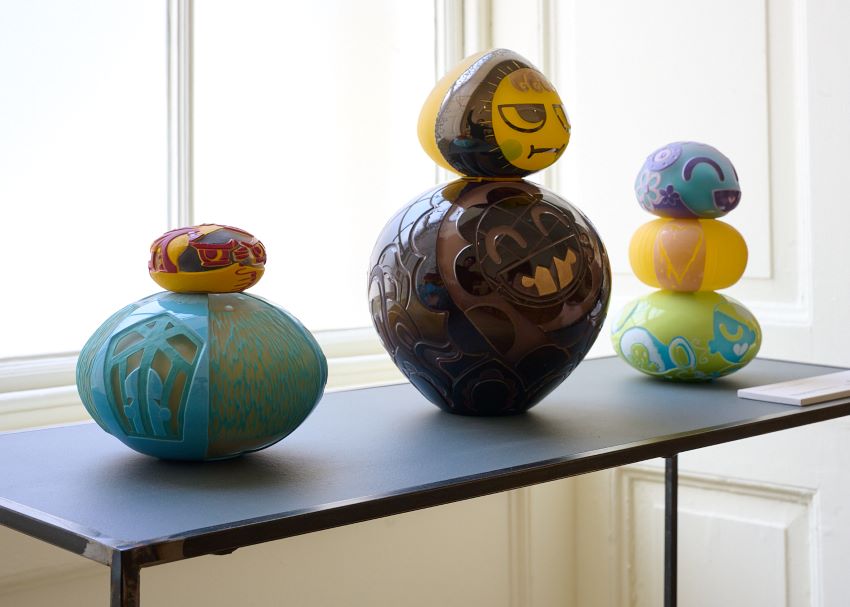 Image: SUH MOONJU / Photography by Calum Douglas

Playing with colour is also a major element in the work of jeweller Elizabeth Jane Campbell, who takes enamel using it in a simple, bold way to examine colour theory. Her work has a strong sense of architecture as do the architectural yet also functional ceramics of Borja Moronta. His use of form is precise and he plays with the spaces between objects. He is developing installations made from functional pieces that reflect his birthplace in Northern Spain. These installations have a feel of still lives by Morandi, offering a space for contemplation. That mindfulness is evident in the large moon-jar, quiet pots by Ruth Elizabeth Jones, whose forms seem to carve into the surrounding space.

Image: Ruth Elizabeth Jones / Photography by Calum Douglas

To me part of the thrill of Collect, is seeing makers employ considerable intellectual rigour, create objects with strong narratives and develop their skills and push techniques; a summation of head, heart and hand. It is the joy of the craft sector that makers encompass all 3 areas. The Craft Scotland selection is intense, but very considered and will hopefully appeal to a wide range of visitors and collectors.
---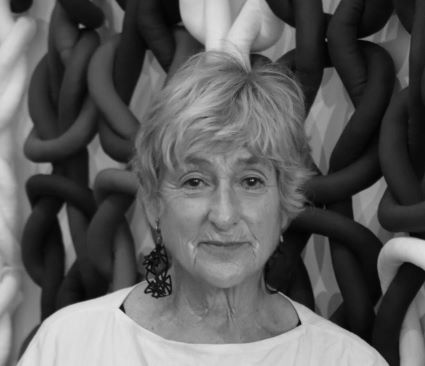 Corinne Julius is a journalist, broadcaster, critic and curator who specialises in contemporary craft and design. She curates the annual interiors craft show Future Heritage.
Image: Corinne Julius / Photography by Anna Ray
Craft Scotland at Collect 2023 by Corinne Julius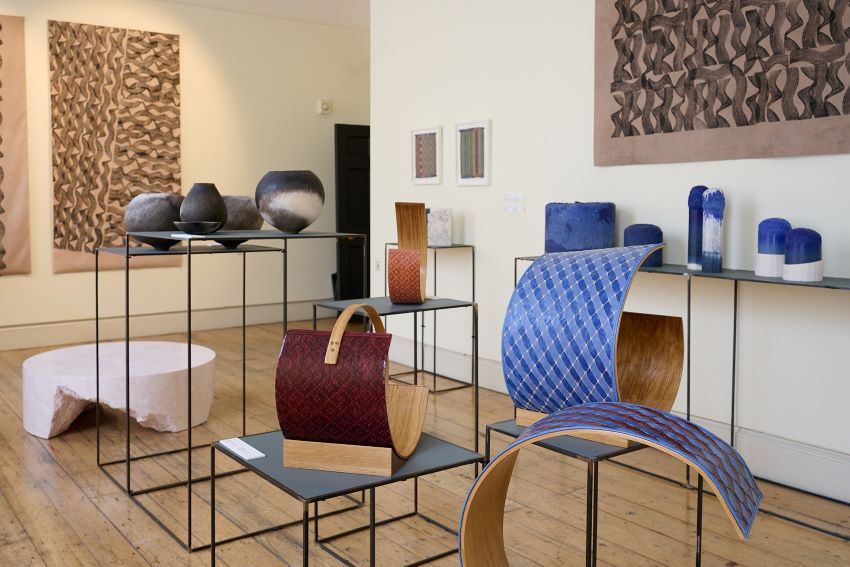 Transparent