In March 2022, Garvald Edinburgh presented the ceramics showcase From The Ashes at Custom Lane, Leith, featuring works by their pottery workshop members.
The potters worked from their workshop in Dalry, with ceramics pit-fired at the Tiphereth Camphill on the edge of the Pentlands. Together, they created a unique body of work uniting ancient processes and a contemporary outlook, while forming new connections and growing the community. While the works featured in the exhibition were all created before the pandemic, the show's key themes of transformation, time, patience and community have only grown in relevance since.
We caught up with Morven Macrae, the Exhibition Co-ordinator at Garvald Edinburgh. She tells us more about exhibition, the Pottery workshop's works, and what's next for the Garvald's makers.
---

Hi Morven, could you tell us a bit more about Garvald and the work you do?
Garvald Edinburgh is a charitable organisation offering creative opportunities and support for adults with a learning disability and/or autism across 5 sites in Edinburgh and Midlothian. We provide high quality facilities and support for our members to develop their skills and build community. Focussing on craft, artistic work, food production and performance, members are supported to explore their creative potential. The members produce handcrafted products that are for sale and this interaction between buyer and maker fosters a sense of personal value and worth.
At the pottery workshop which organised the exhibition From the Ashes, Colin Ashcroft is the Workshop Leader, and Hannah Cooper is a Workshop Support Worker. I am the Exhibition Co-ordinator for Garvald.
The potters whose work featured in the exhibition are based at Orwell Arts in Dalry. Hannah said of the workshop: "We have a strong sense community; together and with a great deal of fun, we are proud to make high quality art and craft items."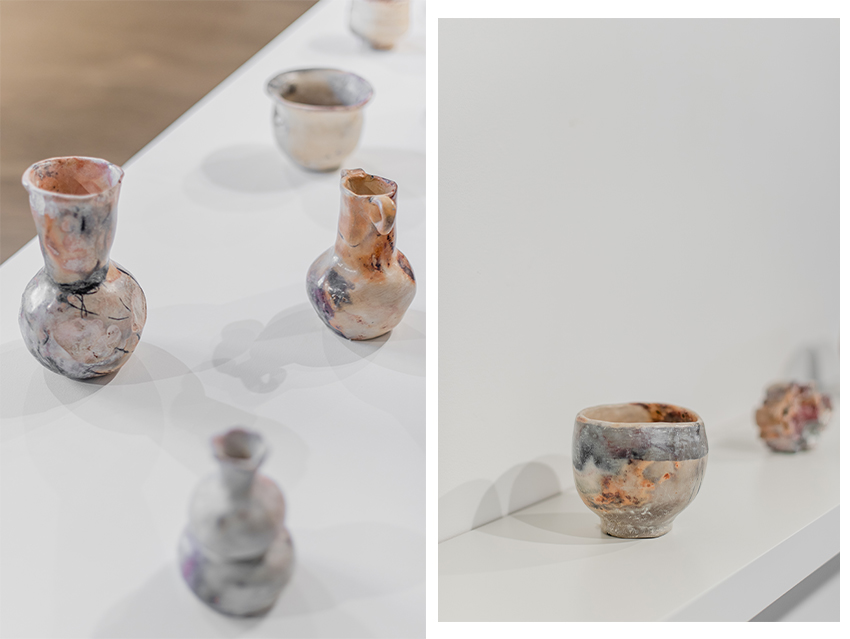 Photography: Shaun Barton-Ducasse
How did the idea for the exhibition From the Ashes first emerge?
The main motivation in developing the project was to enjoy new experiences together, being outdoors in a beautiful setting and working with very ancient firing techniques. The idea for the exhibition came as the pottery emerged from the pit and we saw how beautiful it was.
We have had diverse and joyful Garvald group exhibitions in a number of venues in Edinburgh over the years, but this is the first time we have presented a collection of work from a single workshop. This allowed us to really highlight the quality of the work and the depth of skills within one craft workshop.
After the exhibition was delayed by the pandemic, the potters were delighted to rediscover their work, dust it down and experience it exhibited in such a beautiful space. It reminded them of the long summer days spent preparing the fire pits, and reignited a passion for the process in the members. The workshop group has been exploring more outdoor firings processes this summer motivated by the experience of revisiting their work at From the Ashes.
For the exhibition itself, we incorporated accessible interpretation including BSL translation via QR code for this exhibition which was particularly important for our deaf artists, and we plan to make it standard practice. A pottery member was responsible for recording the audio descriptions with support from our media team. Having their involvement in the presentation raised their confidence and ensured their voice is in the heart of the process.
There were many people who believe in the work of Garvald Edinburgh who offered support to bring the exhibition into being: the Camphil Community at Tiphereth, Dieny at Custom Lane, Rachel and team at Boom Saloon and the brilliant Neuk Collective. In fact, we recommend Neuk Collective's manifesto for arts organisations aiming to be more accessible in communications but perhaps do not know how and where to start.
In Custom Lane we presented the work with minimal interpretation and a small series of evocative images, therefore we wanted to produce a narrative publication that included the members experiences and described the life in the project. Produced by Boom Saloon, the publication added further storytelling to the exhibition, recounting the sunny days and barbeques that were had at Tiphereth. Having something tangible to keep such as this lovely publication is appreciated by the makers.
Creating and fostering these relationships and new communities makes a huge difference to all the makers and staff.
"Experiencing their work being presented in a manner that highlights its quality and in venues that have a reputation for excellence boosts the members confidence and self-belief. "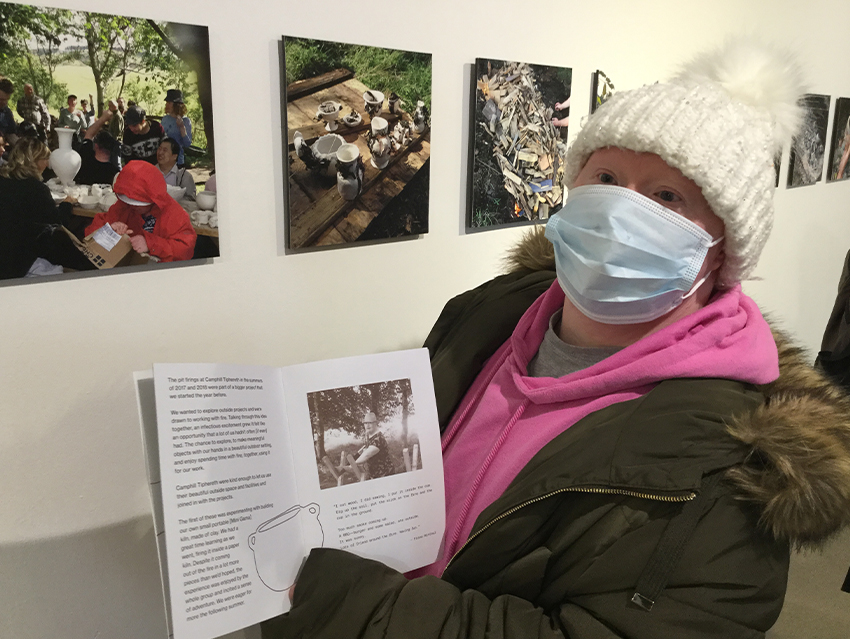 Maker Fiona Rintoul with the exhibition brochure / Photography Morven Macrae
Garvald believes strongly in the benefits of craft-making to mental health and wellbeing, and to our sense of community. Do you think the possibility for makers to share their work with the wider Edinburgh community adds to this?
Absolutely! Experiencing their work being presented in a manner that highlights its quality and in venues that have a reputation for excellence boosts the members confidence and self-belief. The affirmation that their unique work is seen and valued fosters a sense of personal value and purpose. There is an interaction-based quality to craft processes and exhibiting and sharing the work of Garvald makers - that it is bought, used and appreciated - builds respect and appreciation for the makers and their skills.
Exhibiting in various venues across Edinburgh enables the makers to be recognised for their abilities and talents and raises their profile as makers.
In addition, it also questions residual perceptions of learning-disabled makers abilities and affects change in terms of inclusion. Learning disabled artists and makers voices should be part of Scotland national creative landscape and dialogue.
Garvald Edinburgh offered an adapted service throughout the pandemic with our staff supporting a small number of members in studio who could not remain at home, whilst connection was maintained for those shielding at home via a range of engagement avenues.
Staff teams facilitated daily zooms supporting members to maintain friendships, and also developed and delivered creative kits and regular newsletters. A range of project videos remain on our www.garvaldedinburgh.org.uk website with open access.
Whilst we worked incredibly hard to maintain our communities in a virtual world, the time away from the studios re-iterated how vital access to physical workshop spaces and in-person community are in fostering and maintaining skills and social wellbeing for the adults we support. We believe being and making together is vital.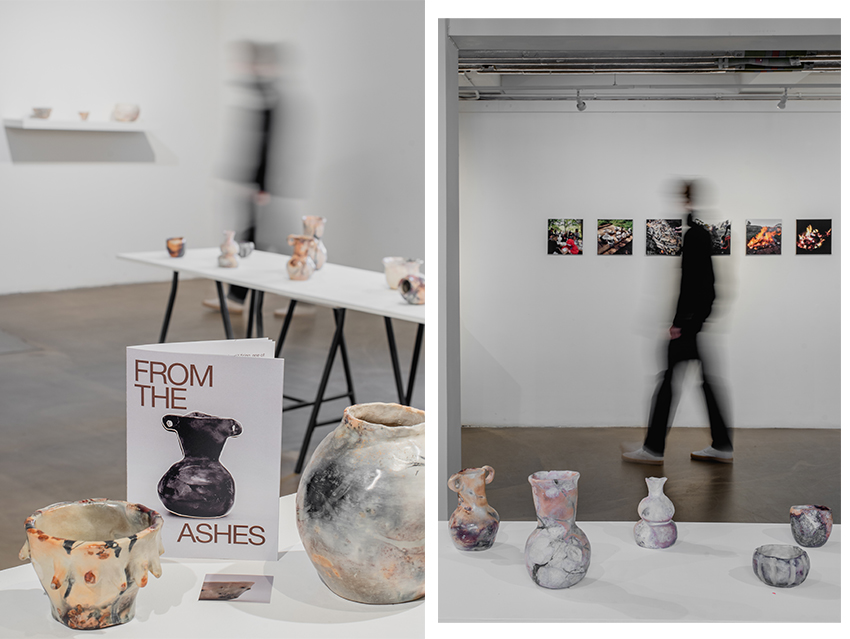 Photography: Shaun Barton-Ducasse
How did the makers and the public interact with the exhibition? What were the show's highlights?
A group of potters visited the show together. There was an atmosphere of real excitement on the journey. It was a lovely experience to see memories being rekindled by the work and photos on display, and a sense of pride seeing it in that setting. Members of the group pointed out the pieces they had made, and spent time taking it all in.
One of the Pottery Workshop members, Sarah Laing said: "The Gallery was quite nice. It was nice to see my work there. It's nice to have an exhibition-we can see it and other people can see it. It might be bought by some people. I'd like that. It would give me a nice feeling inside - happy."
The café in the gallery was also a big hit and having a cuppa together was a moment of shared celebration. Other workshops visited the show and there was a celebratory response; it has motivated others to ask for their work to be shown.
There has also been a hugely positive response from the public and the exhibition was a near sell-out. There was a great diversity of people viewing the work and engaging in the process. Visitors commented on the beauty, fascinating primal process and high quality of the work.
One very lovely response to the exhibition happened a month or so after the show. A local Potter from Fife had been to the exhibition, their partner was so interested in the work of Garvald that they got in touch to offer us a donation of Kiln fibre. Kiln Fibre is a specialised material that is very useful in outdoor firings, so we jumped at the chance and had a great trip to Fife to pick it up.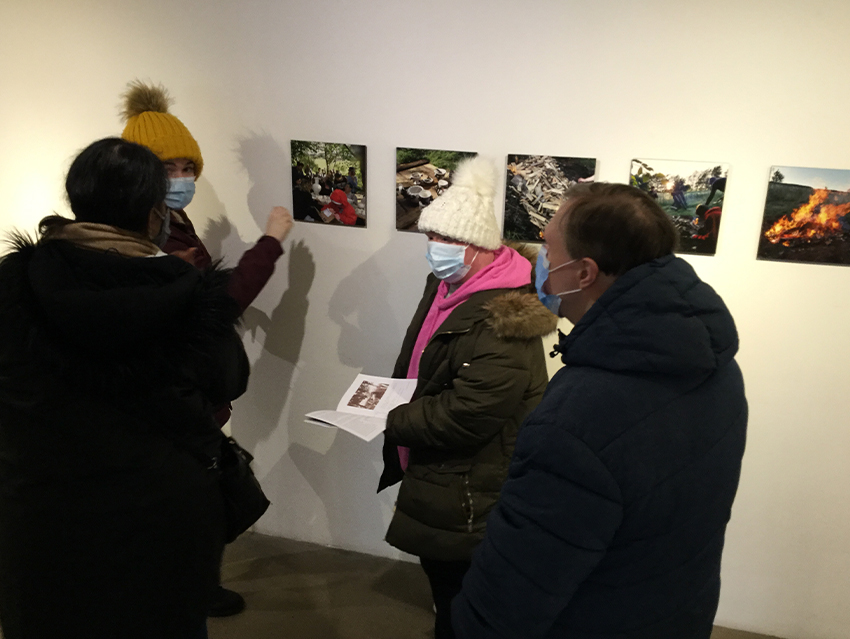 Maker Fiona Rintoul explains the potters' process / Photography Morven Macrae
Where next can people see and buy works from Garvald's Craft Workshops, including the Pottery Workshop?
Our Garvald Weaving workshop will be featured in the new 5th edition of We Are Makers publication. Garvald artists and Glass makers will have a stall at Edinburgh Art Fair, at the O2 Academy from 17 to 20 November. Finally, our annual Christmas Bazaar will be back for the first time since 2019, scheduled for the 26 November at our Edinburgh sites and the 27 November at Mayfield House in Midlothian. These are lovely social events alongside being our main selling event of the year.
Do keep an eye on social media for upcoming details.
---
You can learn more about Garvald Edinburgh's work at www.garvaldedinburgh.org.uk. You can browse and purchase craft objects created by Garvald's members at www.garvaldmakers.com.
Follow Garvald Edinburgh on Facebook, Instagram and Twitter.
This interview has been lightly edited for clarity.