To celebrate #GreenArts Day 2020, we present 7 recent projects making craft greener in Scotland.
The annual online celebration of environmental sustainability in the arts, Green Arts Day, hosted by Creative Carbon Scotland, brings together organisations across Scotland committed to make their practice greener. Whether you are working from home or self-isolating, you can join in celebrating some of the people involved in these fantastic environmental and sustainable projects happening right now in Scottish cultural community.
This year, Green Arts Day takes place today on Wednesday 18 March 2020, and will coincide with the launch of Creative Carbon Scotland's Green Arts Initiative Annual Report.
Join the conversation on Twitter by following #GreenArts and tagging @CCScotland and @CraftScotland. We would love to hear how you are incorporating sustainability to your practice.
Any future dates mentioned are subject to change. Please visit the organiser's websites and social media for up to date information.
---
1. Think plastic, just not as you know it
Think Plastic: Materials and Making, a new exhibition at the Royal Botanic Garden of Edinburgh, brings makers and scientists to reflect on our uses of plastic.
The exhibition brings together artist/makers Lorna Fraser, Carol Sinclair, Fiona Hutchison, Fiona Pilgrim, and Carla Edwards, with scientists Mike Shaver and Peter Wilkie. In their work, they explore the possibilities of transferring sustainable, recyclable, and environmentally responsible plastics from the laboratory into artworks. Through the lens of art, the show encourages us to reconsider our relationship with plastics and to question the choices we make as consumers.
On March 24, The Royal Botanic Garden and Applied Arts Scotland will also run Closing The Loop, a digital workshop for makers exploring environmentally sustainable approaches to materials and making.
The exhibition is on until Sunday 17 May 2020.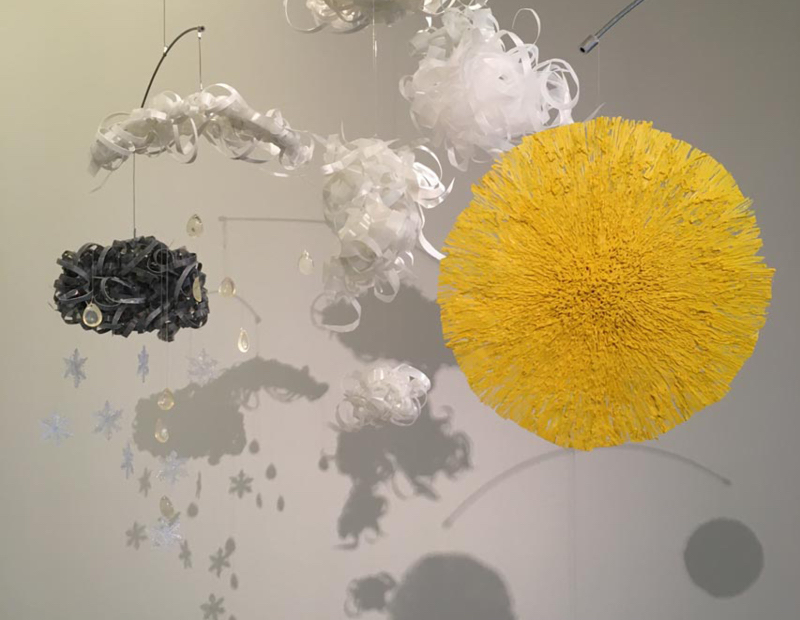 Tipping Point by Carol Sinclair
2. Circular economy for all
Ostrero brings circular economy workshops to Scottish schools with creative learning project Making Circles.
Based in Edinburgh and created in 2016 by Mary Michel and Marian Brown, Ostrero is a research and advocacy body aiming to raise awareness of the benefits of the circular economy and assist organisations with the development of circular economy solutions.
Creative learning project Making Circles is designed for pupils from P4 to S3, in collaboration with teachers, to tie in with the Curriculum for Excellence. Workshops take place over a half-day, where pupils design and create objects applying circular economy principles to achieve a zero-waste classroom with guidance from a professional maker.
From Thursday 4 June 2020 to Sunday 16 August 2020, designs and photographs from the project will be shown in the Learning Centre at the National Museum of Scotland in Edinburgh.
Making Circles is still open for booking for the upcoming academic year.
3. Climate emergency in Fife
Fife Contemporary declared a Climate Emergency in late 2019, following on from Fife Council's decision to do so in September of the same year. As part of their declaration, Fife Contemporary is looking to programme events and exhibitions tackling environmental questions over the next two years.
The organisation has already started on their pledge toward a greener art scene in Scotland and beyond, by organising events such as Climate Emergency in Practice as part of Scotland Climate Week in October 2019. Most recently, they have been recruiting a Project Curator / Producer for an exhibition centring environmental issues and practice, to be shown Spring 2021.
4. Making Green with Data
In February 2020, Creative Informatics (CI) dedicated their Studio and Labs programme to investigating how data can inform and create greener making.
On Friday 13 February 2020, CI Labs #10 at the Royal Botanic Garden of Edinburgh considered how data and environmental concerns are changing the craft sector in Scotland and beyond. Ceramic artist and chair of Applied Arts Scotland, Carol Sinclair discussed how data guided her to use biodegradable plastic in her practice. The event also looked at data and textiles, with weaver Lynne Mennie talking about her interest in sound data and how they have inspired her weaving pattern, and maker Deirdre Nelson, who used bird watching data to create unique knitting patterns.
A week later, CI Studio #5 asked how data can be used to inform better design, sustainable craft practices and the circular economy. Speakers included Fife Contemporary's Director Diana Sykes discussing the organisation's declaration of a Climate Emergency, Creative Informatics' Inge Panneels talking about her research into the carbon footprint of glass work. The event also included conversations around Scotland-based models of circular economy with the Edinburgh Tool Library, Karen Ridgwell, from Architecture and Design Scotland who runs the Materials Library at the Lighthouse in Glasgow, and Ricardo Weigend, whose research into the circular economy models for small SME's at Edinburgh Napier University also contributed. This was framed by a talk from Cool Farm Tools, who uses farming to question what data, by whom and for whom, is needed to inform better decision making when choosing materials.
CI Labs are informal, monthly events which pop up at venues across Edinburgh. CI Studio are regular, informal events open to anyone working in the creative industries interested in learning more about data-driven technologies. The project is funded by the Creative Industries Clusters Programme managed by the Arts & Humanities Research Council as part of the Industrial Strategy, with additional support from the Scottish Funding Council. The programme is part of the City Region Deal Data Driven Innovation initiative.
5. New narratives for Applied Arts Scotland
This year's Applied Arts Scotland's symposium, Old Stories, New Narratives, will take place at the Lyth Arts Centre in Caithness from Wednesday 1 July to Friday 3 July 2020. It will explore sustainability, identity and collaboration.
The event will look at themes on the current climate crisis and its relationship with craft, including; material and production, business models, community enterprises and ethical consumption. Ultimately, asking how craft can make the arts more sustainable. It will be an opportunity for makers and organisations to share new ideas about practice, existing structures and work in progress, and help map out potential changes. The three days event will also include an exhibition and skills sharing workshops, all investigating issues of sustainability in a diverse array of craft practices.
You can book early bird tickets for Old Stories, New Narratives now.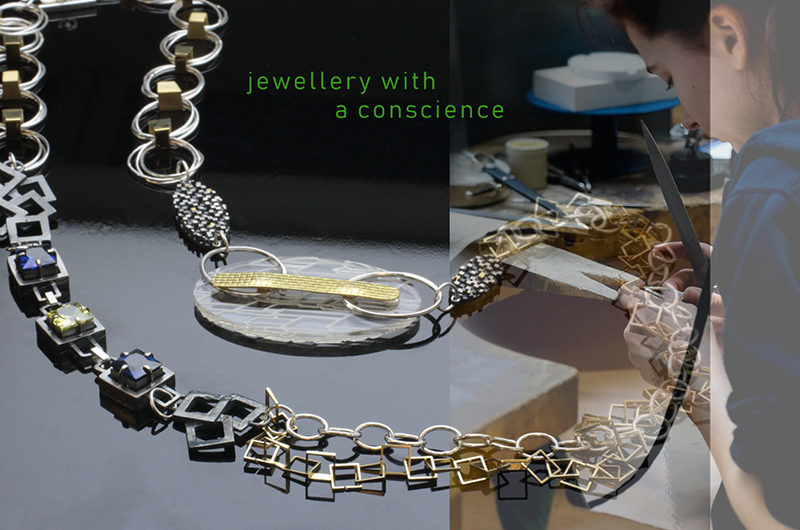 Glasgow City College - entry to the Green Gown Awards 2019
6. The next generation of responsible makers
In 2018, the Jewellery Department at City of Glasgow College signed the Incorporation of Goldsmith's Ethical Making Pledge and followed up by joining Craft Scotland's Green Craft Initiative. Their goal is to promote change and encourage zero waste in the workshops, as well as to raise awareness of issues surrounding ethical making and sustainability among the students.
In a blog post for Creative Carbon Scotland, Lisa Mcgovern, Green Champion of the Jewellery Department and Curriculum Head for Craft Design at City of Glasgow College, describes the Department's approach to Ethical and Green Making.
The department is focused on making changes to both practice and curriculum. In the workshop, students are encouraged to recycle their scraps to make new material and move away from single-use items, and on a larger scale, the department also has the ambition to move to the sole use of ethically sourced precious materials. In the curriculum, students are introduced to research and case studies on ethical making, and student ambassadors are nominated to take part in ethical making information sessions organised by the Incorporation of Goldsmiths. There is now an annual Eco-Awareness week, including circular design workshops and talks on Fair Trade from the Scottish Fair Trade Forum.
In 2019, the Jewellery Department were finalists in the "Next Generation of Learning and Skills" category in the Green Gown Awards UK & Ireland, celebrating excellence in sustainability at academic institutions. Lisa also notes that the overall work produced by students after the pledge was more innovative and exciting, and that this project has succeeded in raising awareness and engaging students to be the next generation of responsible makers.
7. An online centre for ethical making
Created by the Incorporation of Goldsmith, the Ethical Making Resource is an online practical information guide for silversmiths, goldsmiths and jewellers. The Ethical Making Resource goes further to provide a thorough centre of information for all involved in jewellery.
The website presents information for makers to understand the supply chain of precious metals and gems, working conditions and the principles of Fair Trade, in order for them to make informed ethical decisions. It also hosts a list of ethical suppliers, and an up-to-date database of the major participants, organisation and campaigns. You can find guidelines on making studio practices greener, everything from chemical alternatives to sustainable packaging.
With its commitment to making research accessible, the Ethical Making Resource website also provides information on key contemporary issues in the jewellery industry through an online library of articles and current research.
The Incorporation of Goldsmiths' 2020 symposium, Change Making, will focus on how innovative design strategies and alternative sourcing methods can help jewellers and makers to design out waste, source ethically and create better brands. The initial date has been postponed, please check The Incorporation of Goldsmiths website for the latest information.
---
If these projects have inspired you, you can learn more about how to get involved with the Green Crafts Initiative. A partnership between Creative Carbon Scotland and Craft Scotland, it is designed to be a sister project to the Green Arts Initiative.
The Green Crafts Initiative celebrates and encourages environmentally sustainable practices in the Scottish craft sector. Read about our resources and how to take the pledge.
You can also explore our Make It Green series on the Craft Journal, with interviews on sustainability in textiles with Jasmine Linington and Peter Van Der Werf, protecting woodlands with furniture maker Angus Ross, and green practice in stained glass with David Mola.
---
More readings and resources on the projects:
Stefanie Cheong on innovative materials for a sustainable practice for the Applied Arts Scotland blog
Tina Rose on the role of sustainability in craft for the Applied Arts Scotland blog
Inge Panneels: Glass – A Material Anthropocene
Lisa McGovern talks further about City of Glasgow College's Ethical Making Pledge for the City of Glasgow College blog.
The City of Glasgow College Department of Jewellery's entry to the Green Gown Awards.