Craft Scotland returned to Collect, the leading international fair for contemporary craft and design, in February 2022.
If you missed the opportunity to visit Collect 2022 in person at Somerset House, you can still explore our participating makers with our new online gallery and interview series. Discover all works available for purchase, available online until Friday 27 May 2022.
We invited Grant Gibson, former editor of Blueprint and Crafts Magazine, to review Craft Scotland's showcase at Collect 2022, held at Somerset House in London.
---
It was impossible to ignore a palpable sense of relief around the corridors of Somerset House at this year's Collect. After all, last time around the Crafts Council's fair devoted to high end, gallery-led making, was held in the shadow of a new virus that had devastated swathes of China and was in the process of ravaging Milan. Its arrival on these shores was inevitable but very few could have envisaged the profound effect it would have over the ensuing years.
However, now the galleries were back and visitors too. Things were slightly different of course. You needed to provide a Covid pass before you could get anywhere near the fair's entrance. A few of the regular names – TingYing, Vessel Gallery and London Glassblowing, for instance – weren't exhibiting this time and, as a result, there were a fistful of new galleries for visitors to discover. Some things remained the same though: the material dexterity on display and the quality of work was staggeringly high. In some regards, the Craft Scotland room provided a microcosm of the wider show. It was driven by a passion for, and intelligence in, materials; the work was eclectic; and it contained a dash of joy.
Craft Scotland at Collect 2022 on Craft TV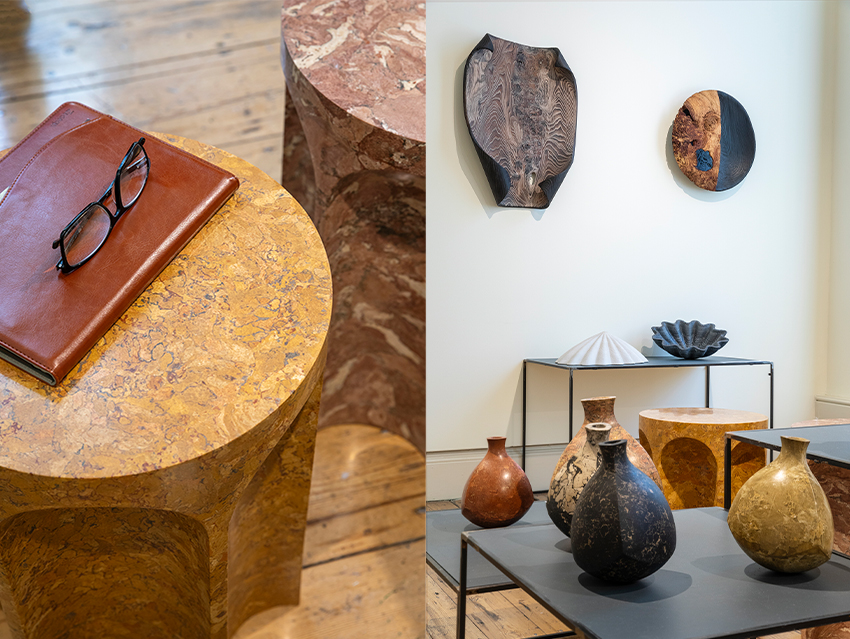 Left: CHALK, Right: CHALK (foreground) Duke Christie (background) / Photography by Claudia Rocha
Work from a handful of the makers played with trompe-l'oeil techniques, where the pieces weren't quite as they seemed. CHALK's side tables and vessels – which had a very satisfying wobble when they were pushed – looked as though they were made of stone, or marble even. It was only when you examined them closely that you realised they were actually fashioned from Gypsum, a material more often used in the construction industry, using a plastering technique from the 16th century, entitled scagliola.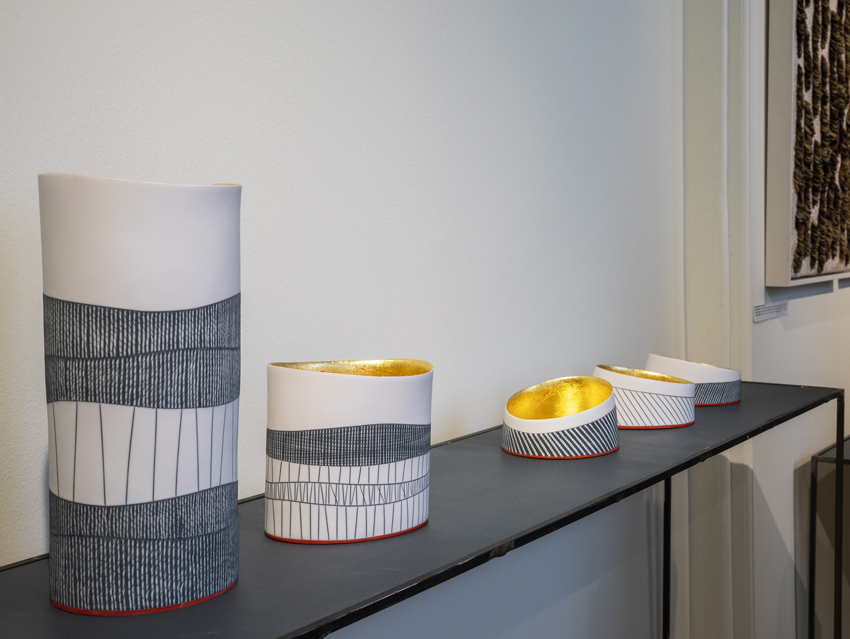 Lara Scobie / Photography by Claudia Rocha
At a glance, visitors might have been fooled into thinking that Forres-based maker Duke Christie's vessels were clay rather than wood, while his Limpet pieces were, well, shells instead of limed and scorched ash. Elsewhere, Susan Cross's jewellery (with one exception) used oxidised silver, subverting ideas of preciousness by making the material look like graphite, as if it had been drawn by pencil in the air. The technique also allowed the flashes of colour to sing.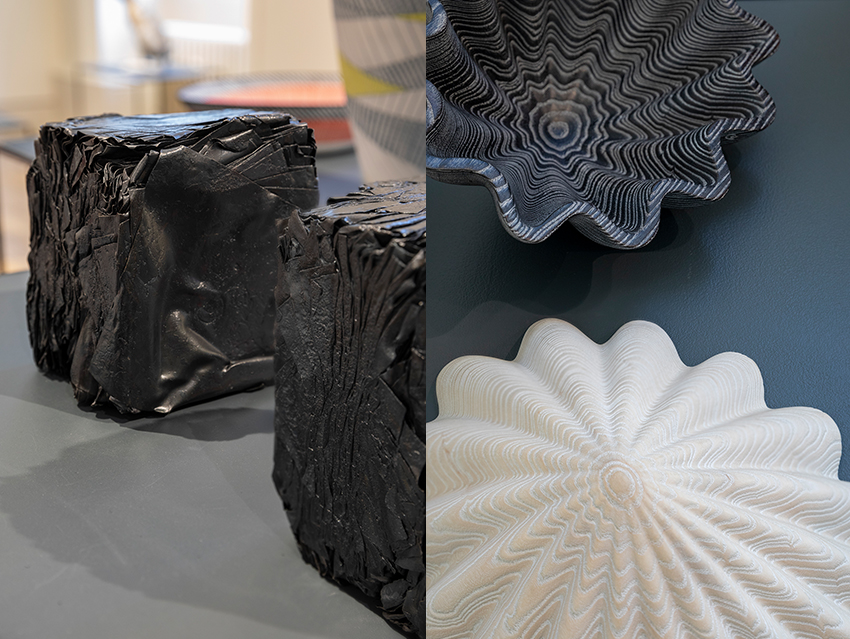 Left: Daniel Freyne, Right: Duke Christie / Photography by Claudia Rocha
Likewise, Daniel Freyne's extraordinary oblong, chunks of metal resembled pieces of burned timber. Interestingly, the metalsmith's work seems to have taken a step change during the pandemic. At Collect 2020, he showed some muscular, beautiful, but reasonably conventional vessels. His latest series, Anchor, was an investigation into notions of strength. The pieces were highly textured and a little bit brooding. They were one of the highlights of the fair.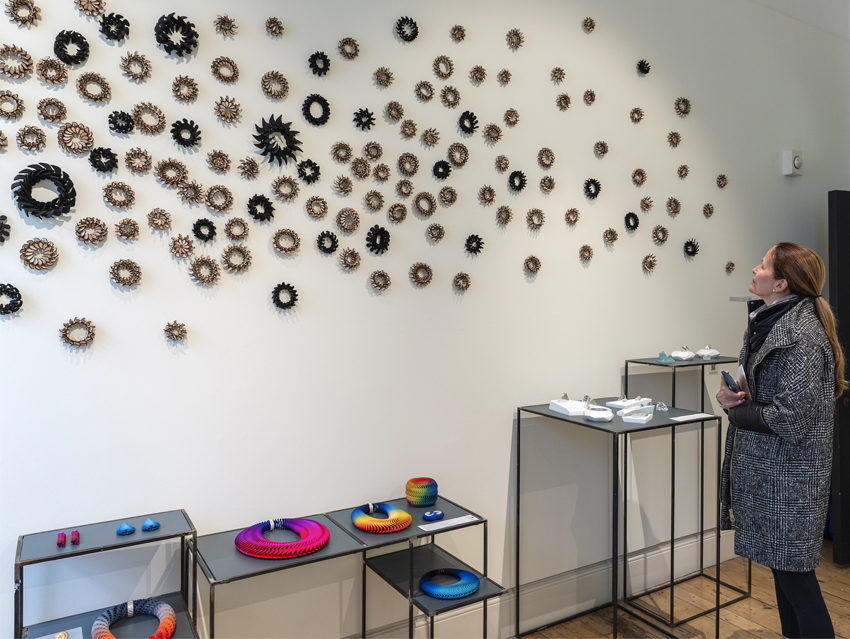 Naomi Mcintosh (wall) Lynne MacLachlan (left) and Eileen Gatt (right) / Photography by Claudia Rocha
Naomi Mcintosh was also on the Craft Scotland stand two years ago and is another whose work appears to have progressed markedly. When I first came across the artist, who is based in the Cairngorms National Park, she was predominantly making jewellery. Recently though, her output has become more overtly architectural – reflecting a background studying architecture at the Bartlett School of Architecture University College London.
At last year's London Design Biennale, for instance, she showed Quiet Garden, with gallery Ruup & Form, which featured a series of lantern-like wooden sculptures hanging from the ceiling of Somerset House. And, for Collect, she produced an installation of different sized, wall-hanging pieces made of slotted wood that were inspired by her hillside garden and her sister's on the other side of the world in South Australia. The piece acted as an effective gateway at the entrance of the installation, while at the far end of the room (and drawing visitors through the space) were a pair of significantly larger works.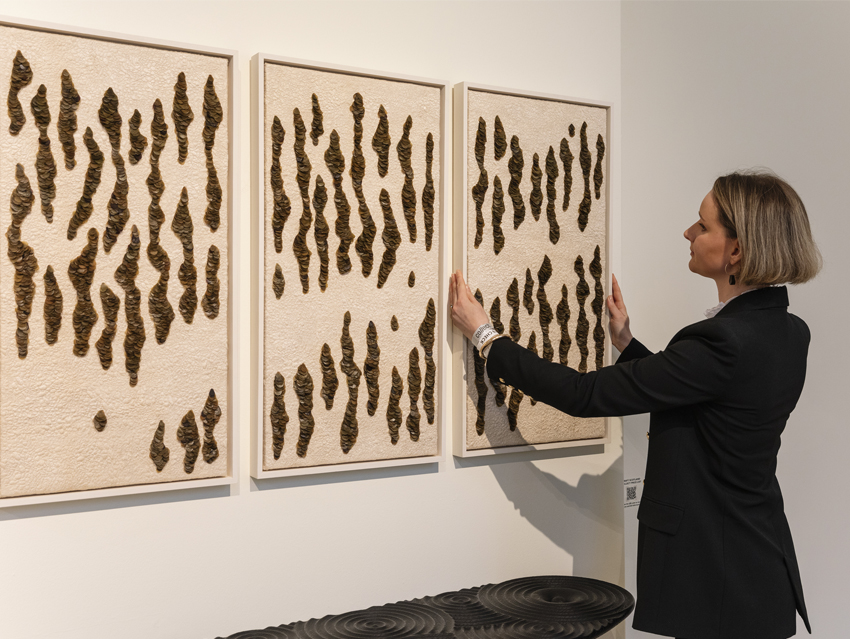 Jasmine Linnington / Photography by Claudia Rocha
Jasmine Linington's wall pieces – including a triptych and two individual works – also played tricks on the eye. They looked as if they're sewn with conventional cotton thread but actually the maker employed a very different material, seaweed. The fibres, which act as a base fabric, were sourced from German manufacturer, smartfiber AG, but the textile designer has also extracted pigment from seaweed to create a natural dye. In a show that was noticeably light on anger after several tumultuous years, this was a political piece with a small 'p'.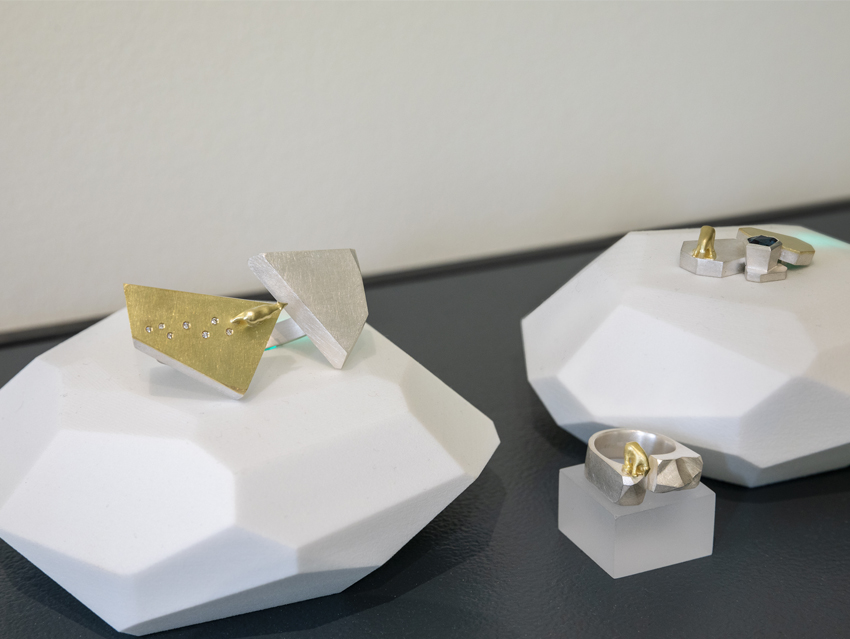 Eileen Gatt / Photography by Claudia Rocha
The environmental crisis was also the subject of Eileen Gatt's jewellery. The Black Isle-based maker has spent much of her career focusing on the issue of global warming, drawing inspiration from Polar culture, and her Aurora Collection was no exception. Her pieces, fashioned from silver, gold and gemstones, featured a recurring motif of miniature polar bears, emphasising the threat they face as the planet inexorably warms.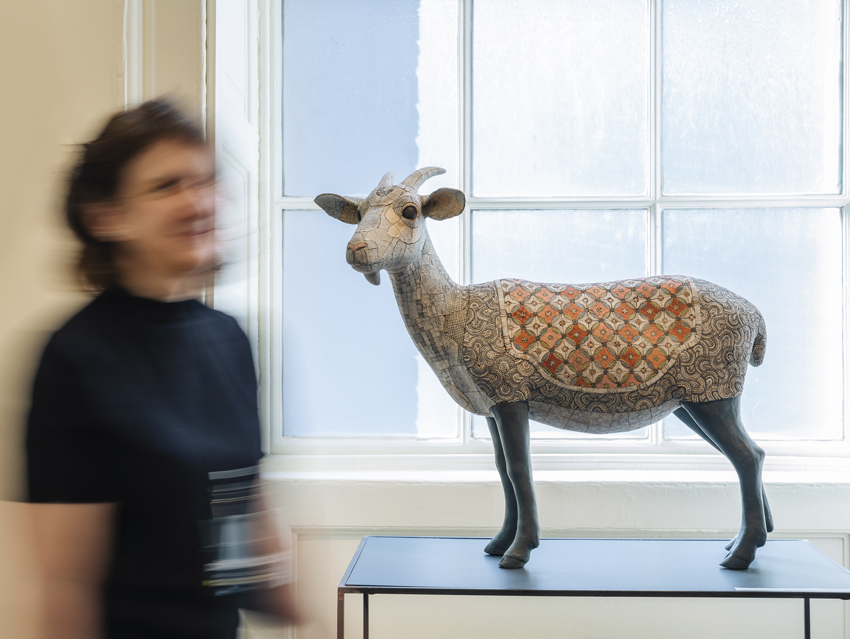 Susan O'Byrne / Photography by Claudia Rocha
While much of the work on display was abstract, there was space for some figurative pieces too. Susan O'Byrne used to collect small plastic animals as a child, which has fed directly into her ceramic work. To create the delicately patterned sculptures of a hare and a goat, she made a wire frame and then applied layers of printed pieces of porcelain paper, giving the animals a fascinating, mosaic-like skin.
And interplay between pattern and form was the key element in Lara Scobie's slip-cast vessels. The Edinburgh-based ceramist showed five pieces that appeared to have a relationship. A pair lent into each other as if in conversation, another angled backwards, slightly aloof from the crowd, while the two largest pots sat side-by-side ignoring each other – it was almost as if they were waiting for a bus. Their arrangement brought the pieces to life delightfully.
Heather Woof was another maker whose work is based around pattern. Her intricate but elegant jewellery pieces, made from silver and gold, came from a month-long residency at Cove Park on Scotland's west coast. From a studio overlooking Loch Long, she created abstract line drawings in response to her environment, which she subsequently transformed into necklaces.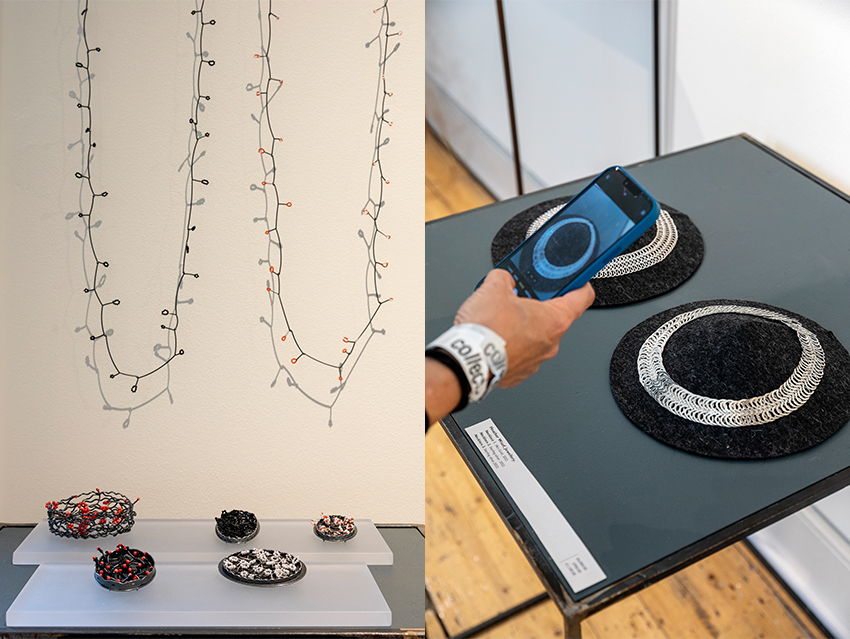 Left: Susan Cross, Right: Heather Woof / Photography by Claudia Rocha
In among the gamut of materials and techniques, there was a nod to technology. Lynne MacLachlan's sculptural, colourful jewellery was made from 3D printed nylon before being meticulously hand finished, proving (if proof were need needed) that craft doesn't stand still, but instead is constantly evolving and exporting new ways of working.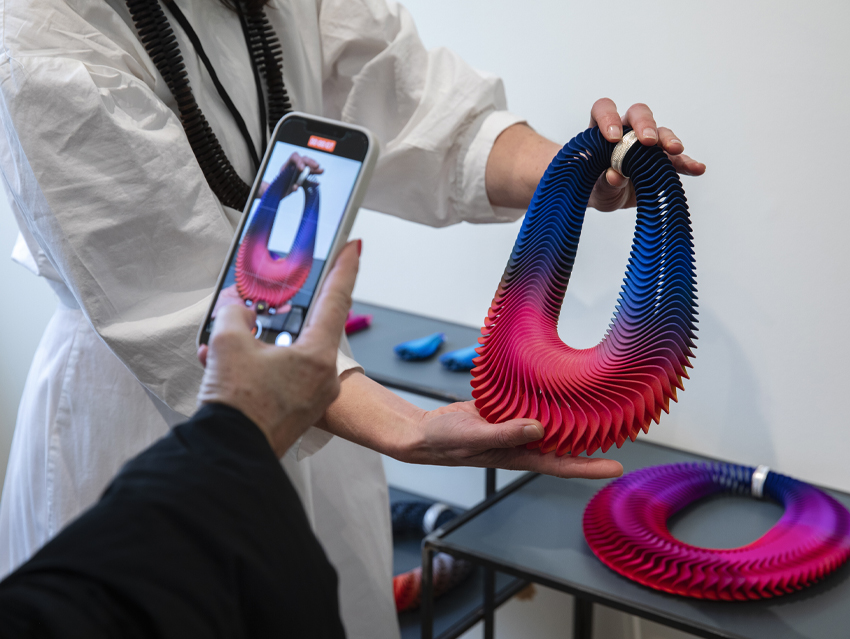 Lynne MacLachlan / Photography by Claudia Rocha
Creating an installation selected from open-call applications by a panel – which, this year, consisted of Helen Ritchie, Curatorial Research Associate at the Fitzwilliam Museum, Susan Holland of the National Design & Craft Gallery, Design & Crafts Council of Ireland, and Craft Scotland's Head of Programmes Jo Scott – isn't straightforward.
The desire to explore the breadth of a nation's makers can sometimes compete with curatorial storytelling. And there was plenty going on here, yet, there was also a sense of coherence. The room was an intriguing saunter through the collective skills of a country, ranging from established craft materials, such as metal and clay, through to ones visitors might not have been expecting, think seaweed and Gypsum. It was thoughtful, inventive and, seemed to me, to be a rather wonderful advertisement for Scotland itself, which is surely the point.
The room also fitted perfectly with the rest of Collect. It has been a very long, and financially troubling, two years for exhibition organisers since Covid first struck. But at Somerset House, there was a sense of friendships being re-forged and the excitement of being able to physically see work once again. It would be nice to think that we are moving out of the darkness and into some kind of normality.
Craft Scotland at Collect 2022
---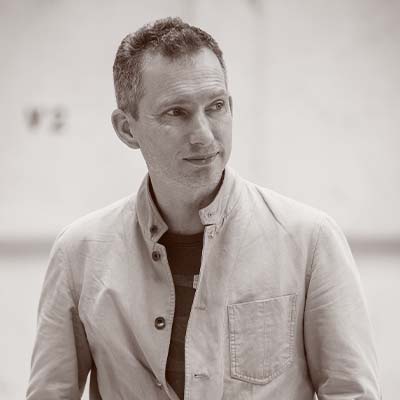 Grant Gibson is a UK-based design, craft and architecture writer and podcaster whose work has been published in: The Observer, New Statesman, The Guardian, Daily Telegraph, FRAME, Dwell, House & Garden and many others. He is a former editor of Blueprint and Crafts
Grant was made an honorary fellow of the Royal College of Art in 2011 and is a fellow of the Royal Society of Arts. In 2019 he launched the award-winning podcast Material Matters with Grant Gibson.
Grant Gibson / Photography by Gareth Gardner
Top image: Craft Scotland at Collect 2022 / Photography by Claudia Rocha